Asian Continentals: Sethuraman, Ganguly lead alongside Wei Yi
SP Sethuraman and Surya Ganguly have found themselves at the top of the leaderboard after four rounds at the 17th Asian Continental Championship in Makati City in Manila, Philippines. After a quick draw against Wei Yi in the third round, GM Ganguly defeated the reigning World Junior Champion, GM Parham Maghsoodloo in the fourth round to move up to the top spot. Wei Yi, the third co-leader after round four defeated Alireza Firouzja in a sharp Sicilian while Sethuraman got the better of compatriot Lalith Babu MR.
Only one super-GM at the top
Of the four super Grandmasters in the fray, only Wei Yi had managed to evade an upset in the opening round of the 17th Asian Continental Championship. At the conclusion of the first four rounds, Wei has found himself on the top of the leaderboard along with two Indian GMs -- SP Sethuraman and Surya Ganguly. Each of the leaders has won three and drawn one of their first four games, bringing their tally to 3.5/4. The top Indian in the field, GM Vidit Gujrathi, continued to suffer and has remained at 2.5/4.
Half a point behind the leaders, at 3.0/4, is a pack of six players. While five of them are strong Grandmasters, one -- quite surprisingly -- is a modestly rated FIDE Master from Malaysia: FM Lye Lik Zang. Only 14 years old, Zang is rated 2321 but his rating performance thus far stands at a stunning 2799! In his four games, he has beaten GMs Ehsan Ghaem Maghami (IRI, 2537) and Abhimanyu Puranik (IND, 2544) while holding Vidit Gujrathi (IND, 2701) and Nguyen Ngoc Truong Song (VIE, 2641) to draws!
Round 2
There were a lot of upsets in the first rounds, at least in the games of the top seeds. Wang Hao, the top seed of the tournament, had conceded a draw in his opening game. In the second round, too, the Chinese number three, could not make a strike; instead, he suffered a shock defeat to the Indonesian FM Ervan Mohamed.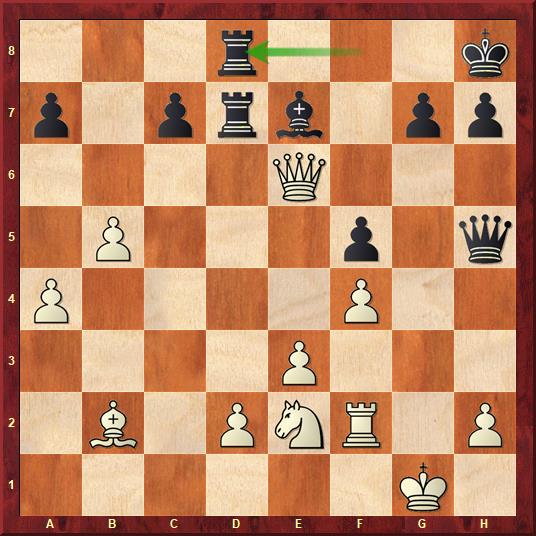 Black was virtually forced to exchange queens here with 32...Qg6. But Wang simply defended his rook with 32...Rfd8 and allowed the stunning 33.Bxg7+! There followed 33.Kxg7 34.Rg2+ Qg6 and Black resigned soon afterwards.
Meanwhile, SP Sethuraman, who had the white pieces against GM Susanto Megaranto in a Caro Kann Defence, had a strong position within the first 30 moves. But to finally break through the Indonesian Grandmaster's defence, it took him a good 77 moves.
Round 3
Going into the third round, nine players shared the lead with a perfect 2/2 score but none of the nine seemed to be in the mood to score a hat-trick. Most games ended in short, sedate draws. In fact, the top board encounter between Wei Yi and Surya Ganguly concluded in merely 14 moves.
The all Indian encounter between Adhiban Baskaran and Abhijit Kunte was no different. The two signed peace in a Nimzo Indian Saemisch just 17 moves into the game.
Like his other teammates on top boards, Vidit Gujrathi also drew his game. But in his case, this was his second draw against a lower rated player. Playing against Lye Lik Zang, the Indian number three found himself in trouble in the middle game. Similar to his first-round game, the Indian number three had to give up an exchange in order to avoid checkmate.
Black is well advised to take on d6 here and maintain equality but Vidit had other plans. He tried 21...Rad8 in the game and was forced to give up an exchange after 22.Be5+. Soon, white was clearly better — if not winning — but chose to sue for peace and let his opponent slip away with a half point.
Round 4
After their quick draw respite in the third round, both Ganguly and Wei Yi came out with strong wins in round 4. Playing on board 1 against the Iranian sensation, Firouzja Alireza, Wei was in his element in a closed Sicilian and whipped a win out in 27, deploying some sharp tactics.

Surya Ganguly was also pitted against a talented Iranian -- the reigning world junior champion, Parham Maghsoodloo. In a Queen's Gambit, Maghsoodloo was made to suffer almost all through the middlegame by Ganguly, who had the black pieces. The knock out punch came on the 32nd move when the Bengali Grandmaster offered a knight sacrifice that netted him a couple of pawns.
Meanwhile, Vidit Gujrathi continued struggling with his form and conceded his second straight draw to GM Susanto Megaranto. In the Scandinavian Defence, Vidit, who had the white pieces, agreed to sign peace within 22 moves.
Standings (top 10)
| | | | | | | | | | | | | | | | | | | | | |
| --- | --- | --- | --- | --- | --- | --- | --- | --- | --- | --- | --- | --- | --- | --- | --- | --- | --- | --- | --- | --- |
| Rk. | SNo | | | Name | FED | RtgI | Bdld | Pts. | TB1 | TB2 | TB3 | TB4 | TB5 | Rp | n | w | we | w-we | K | rtg+/- |
| 1 | 11 | | GM | GANGULY Surya Shekhar | IND | 2621 | | 3,5 | 0,0 | 3 | 2584 | 8,5 | 9,5 | 2917 | 4 | 3,5 | 2,20 | 1,30 | 10 | 13,0 |
| 2 | 2 | | GM | WEI Yi | CHN | 2728 | | 3,5 | 0,0 | 3 | 2572 | 8,5 | 10,5 | 2890 | 4 | 3,5 | 2,89 | 0,61 | 10 | 6,1 |
| 3 | 8 | | GM | SETHURAMAN S.P. | IND | 2664 | | 3,5 | 0,0 | 3 | 2521 | 8,0 | 9,5 | 2841 | 4 | 3,5 | 2,83 | 0,67 | 10 | 6,7 |
| 4 | 51 | | FM | LYE Lik Zang | MAS | 2321 | | 3,0 | 0,0 | 2 | 2593 | 7,5 | 9,5 | 2799 | 4 | 3 | 0,66 | 2,34 | 20 | 46,8 |
| 5 | 7 | | GM | NI Hua | CHN | 2683 | | 3,0 | 0,0 | 2 | 2555 | 8,5 | 10,0 | 2738 | 4 | 3 | 2,72 | 0,28 | 10 | 2,8 |
| 6 | 17 | | GM | ABDUSATTOROV Nodirbek | UZB | 2546 | | 3,0 | 0,0 | 2 | 2540 | 8,0 | 9,5 | 2715 | 4 | 3 | 2,12 | 0,88 | 10 | 8,8 |
| 7 | 10 | | GM | LU Shanglei | CHN | 2636 | | 3,0 | 0,0 | 2 | 2525 | 8,5 | 10,0 | 2734 | 4 | 3 | 2,50 | 0,50 | 10 | 5,0 |
| 8 | 14 | | GM | JUMABAYEV Rinat | KAZ | 2602 | | 3,0 | 0,0 | 2 | 2475 | 8,0 | 9,5 | 2691 | 4 | 3 | 2,54 | 0,46 | 10 | 4,6 |
| 9 | 9 | | GM | NGUYEN Ngoc Truong Son | VIE | 2641 | | 3,0 | 0,0 | 2 | 2463 | 7,0 | 8,0 | 2657 | 4 | 3 | 2,88 | 0,12 | 10 | 1,2 |
| 10 | 21 | | GM | LALITH Babu M R | IND | 2529 | | 2,5 | 0,0 | 2 | 2610 | 8,5 | 9,5 | 2650 | 4 | 2,5 | 1,85 | 0,65 | 10 | 6,5 |
---