Asian Continental 2022 R7: Praggnanandhaa grinds a 137-move marathon over six hours
When someone plays against the world champion and beats him multiple times, something is bound to rub off him. R Praggnanandhaa has assimilated Carlsen's style of grinding in the endgame. Having a tiny spec of practical chances meant Pragg will push. That's what he did and eventually his opponent, GM Karthikeyan Murali crumbled after fatigue set in due to the course of over six hours of play and 137 moves long mentally and physically exhausting battle. GM Aravindh Chithambaram tried too hard to score a win against IM Koustav Chatterjee and it cost him dearly. Harsha, Praggnanandhaa, Shamsiddin Vokhidov (UZB) and Koustav are the four leaders 5.5/7. Among Women, Nandhidhaa maintains her sole lead 6/7, Priyanka Nutakki is close behind 5.5/7. Round 8 starts today at 2:30 p.m. IST. Photo: Shahid Ahmed
Koustav stuns Aravindh, Nandhidhaa still in sole lead
The Asian Continental Chess Championship 2022 witnessed the longest game of the tournament spanning for over six hours and 137 moves. One might fathom that the players would immediately retire to the room after it but they would be farthest from the truth. Even after such a long game, they analyzed it for another 30+ minutes. Yes that is the true passion for the game, one continues to learn and discuss about the game.
Open: Praggnanandhaa - Karthikeyan: 1-0
GM Karthikeyan Murali (2623) made an inaccuracy in the double rook and knight endgame against GM R Praggnanandhaa (2687).
40...a5 turned out to be the critical mistake for Black. 40...Rd7 would have kept the game going 41.Rxd7 Nxd7 42.b4 a6 43.Ra3 Nb8 and it is not easy for White to make a progress. 40..a5 allowed 41.c6 which forced Black to give up an exchange to prevent the c-pawn from being promoted. The resultant double rook vs rook and knight had the possibilities of a draw for Black. However, the fatigue played a key role in Karthikeyan missing his chances to save the half point.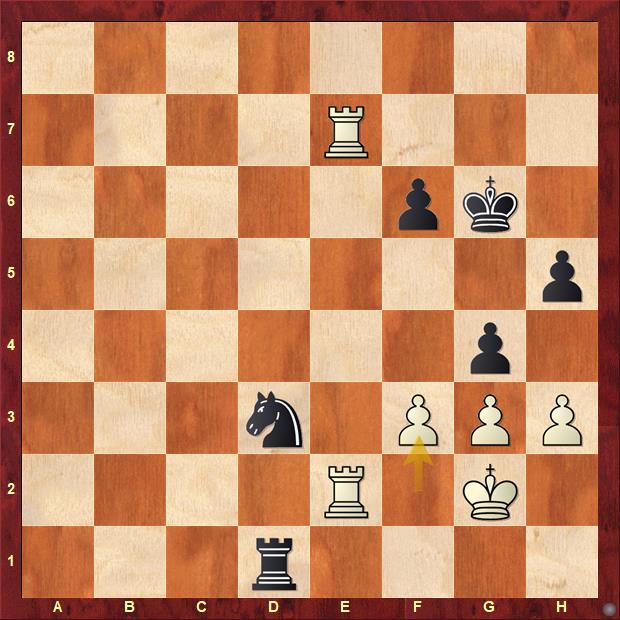 The 91-move long endgame had a few opportunities for Black to save the day. One of the best ones was after 55.f3 Nc1 56.Re1 Rd2+ 57.Kg1 Nd3 58.Rf1gxh3. White cannot keep his rook on the second rank after 55...Nc1 as the knight will keep pinballing the rook until he leaves the rank to avoid repetition. Although Karthikeyan had over four minutes and Praggnanandhaa had merely 38 seconds left on the clock, this was the best opportunity Karthikeyan had to save the game in the double rook vs rook and knight endgame.
Sethuraman - Vokhidov: 0-1
GM Sethuraman S P (2645) made a positional mistake against the Olympiad Gold medalist GM Shamsiddin Vokhidov (UZB, 2568).
Vokhidov shared in a post-match interview that he found 19.Bc3 to be a strange move. After 19...Bxf3 20.gxf3 Bf4 21.Nxb7? turned out to be a significant mistake for White. 21...Rxe1+ 22.Rxe1 Qc8 23.Nc5 Qh3 gave Black a decisive advantage.
Aravindh - Koustav: 0-1
GM Aravindh Chithambaram (2625) employed the Scotch Game which GM Harsha Bharathakoti did against IM Koustav Chatterjee (2496) in the fifth round and got him in trouble. However, this time Koustav came prepared and he was not going to make the same mistake. Aravindh did not play 6.e5, instead he deviated 6.Nd2. After 26 moves, the game liquidated into a balanced rook and bishop endgame. It seemed like the game is heading towards a draw.
53.Rf7?? is what cost Aravindh the game. Sometimes the desire to win even in drawn position can cloud judgment which is what happened with White. Draw was the best result for either side, yet anyone trying too hard had to pay a heavy price for it. 53...Rf1 54.Ba5 Bd4 55.Rd7+ Ke4 56.Re7+ Kf5 Black sensibly shifted the king towards the kingside to prevent the advancement of the kingside pawns.
White had one last chance to save the game after 62...Kf5. Can you find it? There is no deadly discover check here for Black, so 62...Kf5 is not as good as Black wanted it to be. A simple bishop retreat to d6 would have sufficed.
Aditya Mittal - Abhimanyu: 0.5-0.5
GM-elect IM Aditya Mittal (2486) had a winning position against GM Abhimanyu Puranik (2603). He made a practical decision to reach the first time control by making 40 moves comfortably. The decision cost him the advantage and he had to settle for a draw instead.
36.Qg3 Be2 37.Nxf7+ Kg8 38.Rf5 was the beautiful finish for White. 38.Rf5 is what White missed, that's why he decided against Qg3 and opted 36.Qf4. It allowed Black to save the game 36...Bxh3 37.Nxf7+ Kg8 now the white queen itself is blocking the path of the f1-rook, moreover Black has few discover check ideas too.
Women: Nandhidhaa - Padmini: 0.5-0.5
WGM Nandhidhaa P V (2309) was pressing for the better part of the game against IM Padmini Rout (2390).
The above position certainly seems quite difficult to play for Black. However, Padmini provided staunch defense and traded pieces at the first opportunity she got. 30...axb5 31.Na1 Rd2 32.Rxb5 Qf6 33.Rd5 Rd8 34.Nb3 Qxf3 35.Bxf3 R8xd5 and Black is out of the woods. What White could have done was to try not to exchange pieces to maintain the tension.
Nilufar - Priyanka: 0-1
WGM Nilufar Yakubbaeva (UZB, 2350) resigned after 21st move as she was feeling unwell. WGM Priyanka Nutakki (2326) earned the full point and reduced the gap with Nandhidhaa.
Rakshitta - Divya: 0-1
In a battle among the reigning National champions, National Women winner, WGM Divya Deshmukh (2338) prevailed over National Junior Girls winner WIM Rakshitta Ravi (2219).
Rakshitta needed to take her chance and opt for the sharper 17.Nxe6 fxe6 18.Qxe6+. She probably decided against it due to 17...Rfe8 which would have forced her to go 18.Nxg7 Kxg7 19.0-0. Instead, she chose 17.Nb3 Qb6 18.Qb5 Ba6 19.Qxb6 axb6 20.Bf1 Bf6 21.Bxa6 Rxa6 soon Black gained the a4-pawn and White had to resign as checkmate was inevitable.
Soumya - Nisha: 1-0
IM Nisha Mohota (2181) got herself a substantial advantage in the middle game, thanks to her passed pawn at a4. IM Soumya Swaminathan (2326) showed her never-give-up attitude.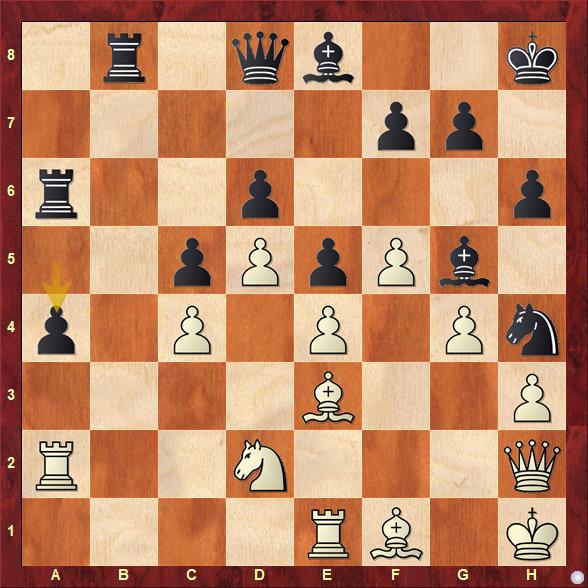 Black's position is quite pleasant and keeping the a4-pawn alive ideally should be the primary goal. Practically it was not an easy task. Soon she decided to give it up to gain material and activity 45.Qg3 Rab6 46.Rea1 Rb2 47.Be2 a3 48.Bd1 Rxa2 49.Rxa2 Rb2 50.Rxa3 Rxd2 51.Bxd2 Bxd2 52.Qf2 Bb4. Black still had decisive advantage.
Black can afford to give up the e8-bishop as the vulnerable white king can be exploited through back rank weakness. 58...Kg7 was needed to prevent Qxf6. Instead, 58...Qa8 was played which allowed White to go for a full point 59.Bxa8 Qa1+ 60.Kg2 Qb2 61.Kf3 Kg8 62.Bxf7+ Kf8 63.Qc8+ and the checkmate is unstoppable.
A total of 91 players including 31 GMs and 39 IMs in the Open, 49 players including 7 IMs, 14 WGMs and 17 WIMs in the Women, are taking part from 13 countries across the world including India. The nine-round Swiss League tournament will take place from 26th October to 3rd November 2022 at The Leela Ambience Convention Hotel, Delhi. It is organized by Delhi Chess Association. The time control of the tournament is 90 Minutes for 40 moves + 30 Minutes with increment of 30 second from move 1.
Replay Round 7 Open games
Replay Round 7 Women games
Round 7 Open results
Round 8 Open pairings
Round 7 Women results
Round 8 Women pairings
Links
---