Asian 2019 Round 2: Karthikeyan does a Kramnik
In what was every bit classy chess, Murali Karthikeyan won his second game in a row when he defeated Xu Zhihang of China. India's triple crown champion Aravindh Chithambaram was also in his element when he grabbed the chance to create a demolishing passer against Zhao Yuanhe. Sethuraman S.P. beat Raunak Sadhwani in a Najdorf when the latter made a careless move. In the women's section, Bhakti Kulkarni continued her conquest by beating Hoang Thi Bao Tram. It was round 2 at the Asian continental championships 2019 and in this report we bring you the most important moments of the day's excitement.
Karthi, Sethu and Vishnu on 100%
Murali Karthikeyan's performance stood out today for it's uncanny resemblance with Kramnik's Berlin immortal against Aronian in the Candidates 2018. Let's first have a look at the idea executed by Kramnik:
Aronian - Kramnik, Candidates 2018
Let's come back to Karthikeyan's game against Xu Zhihang from the Asian Continental 2019, Round 2:
Murali Karthikeyan - Xu Zhihang, Round 2
Karthikeyan played 12.Rg1!? - the beginning of a devious plan. White intends here to storm out with g4 and g5 against Black's castled king. Black is certainly not lost but practically it is very difficult to defend against such a direct onslaught. The game went 12...Rae8 13.g4 Qd8 14.g5 and what followed next was a heavy rampage along the g-file.
The full game with comments is presented below: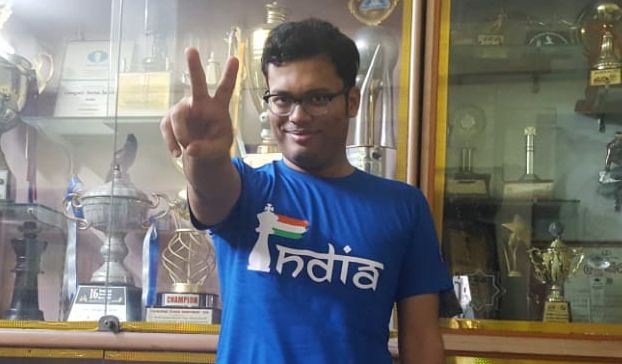 The following was the turning point in the game:
Aravindh Chithambaram - Zhao Yuanhe, Round 2
In a roughly equal position Black has just moved 22...Na4?! - a mistake that gives White serious edge. Aravindh didn't miss anything when he played 23.Nc6! the game continued 23...Bxc6 24.Bxg7 Kxg7 25.dxc6 and White got a monster of a passer in the c6 pawn.
Raunak Sadhwani - Sethuraman S.P, Round 2
When two bright young talents faced each other at the Asian #Chess Chp today, look what a cracker of a slugfest they produced! Praggnanandhaa - Firouzja 27...g3!!?? @PlaychessCom @ChessBase @ChessbaseIndia pic.twitter.com/2fuZHmNNQ4

— Venkat Saravanan (@reachvsara) June 8, 2019
Here's the game with Tactical Analysis (computer generated analysis). The variations may not be 100% accurate, but they give you an idea of how complicated the game was!
Results of round 2
Standings after round 2
| | | | | | | | | | | | | | | | | | |
| --- | --- | --- | --- | --- | --- | --- | --- | --- | --- | --- | --- | --- | --- | --- | --- | --- | --- |
| Rk. | SNo | | | Name | FED | Rtg | Pts. | TB1 | TB2 | TB3 | TB4 | n | w | we | w-we | K | rtg+/- |
| 1 | 28 | | GM | Tran Tuan Minh | VIE | 2526 | 2,0 | 2665 | 1,0 | 2,0 | 0,0 | 2 | 2 | 1,03 | 0,97 | 10 | 9,7 |
| 2 | 32 | | GM | Liu Yan | CHN | 2504 | 2,0 | 2625 | 1,0 | 1,0 | 0,0 | 2 | 2 | 1,11 | 0,89 | 10 | 8,9 |
| 3 | 31 | | GM | Vishnu Prasanna. V | IND | 2511 | 2,0 | 2603 | 1,0 | 1,5 | 0,0 | 2 | 2 | 1,13 | 0,87 | 10 | 8,7 |
| 4 | 16 | | GM | Karthikeyan Murali | IND | 2593 | 2,0 | 2504 | 1,0 | 2,0 | 0,0 | 2 | 2 | 1,36 | 0,64 | 10 | 6,4 |
| 5 | 9 | | GM | Sethuraman S.P. | IND | 2613 | 2,0 | 2482 | 1,0 | 2,0 | 0,0 | 2 | 2 | 1,41 | 0,59 | 10 | 5,9 |
| 6 | 23 | | GM | Xu Yinglun | CHN | 2548 | 1,5 | 2707 | 1,5 | 2,0 | 0,0 | 2 | 1,5 | 1,01 | 0,49 | 10 | 4,9 |
| 7 | 24 | | GM | Praggnanandhaa R | IND | 2537 | 1,5 | 2682 | 1,5 | 1,5 | 0,0 | 2 | 1,5 | 1,03 | 0,47 | 10 | 4,7 |
| 8 | 25 | | IM | Li Di | CHN | 2535 | 1,5 | 2639 | 1,5 | 2,0 | 0,0 | 2 | 1,5 | 1,08 | 0,42 | 10 | 4,2 |
| 9 | 29 | | IM | Xu Yi | CHN | 2526 | 1,5 | 2606 | 1,5 | 2,5 | 0,0 | 2 | 1,5 | 1,12 | 0,38 | 10 | 3,8 |
| 10 | 50 | | FM | Zou Chen | CHN | 2415 | 1,5 | 2606 | 1,5 | 2,0 | 0,0 | 2 | 1,5 | 0,51 | 0,99 | 10 | 9,9 |
| 11 | 54 | | IM | Akash G | IND | 2404 | 1,5 | 2597 | 1,0 | 1,5 | 0,0 | 2 | 1,5 | 0,51 | 0,99 | 10 | 9,9 |
| 12 | 37 | | IM | Krishna C R G | IND | 2481 | 1,5 | 2583 | 1,5 | 1,5 | 0,0 | 2 | 1,5 | 1,28 | 0,22 | 10 | 2,2 |
| 13 | 57 | | IM | Rahul Srivatshav P | IND | 2395 | 1,5 | 2561 | 1,5 | 2,5 | 0,0 | 2 | 1,5 | 0,57 | 0,93 | 10 | 9,3 |
| 14 | 1 | | GM | Vidit Santosh Gujrathi | IND | 2707 | 1,5 | 2548 | 1,5 | 2,5 | 0,0 | 2 | 1,5 | 1,50 | 0,00 | 10 | 0,0 |
| 15 | 3 | | GM | Firouzja Alireza | IRI | 2682 | 1,5 | 2537 | 1,5 | 2,5 | 0,0 | 2 | 1,5 | 1,46 | 0,04 | 10 | 0,4 |
| 16 | 6 | | GM | Nguyen Ngoc Truong Son | VIE | 2639 | 1,5 | 2535 | 1,5 | 1,5 | 0,0 | 2 | 1,5 | 1,38 | 0,12 | 10 | 1,2 |
| 17 | 10 | | GM | Gupta Abhijeet | IND | 2606 | 1,5 | 2526 | 1,5 | 2,0 | 0,0 | 2 | 1,5 | 1,33 | 0,17 | 10 | 1,7 |
| 18 | 18 | | GM | Xu Xiangyu | CHN | 2583 | 1,5 | 2481 | 1,5 | 1,5 | 0,0 | 2 | 1,5 | 1,38 | 0,12 | 10 | 1,2 |
| 19 | 2 | | GM | Le Quang Liem | VIE | 2694 | 1,5 | 2478 | 1,0 | 1,5 | 0,0 | 2 | 1,5 | 1,57 | -0,07 | 10 | -0,7 |
| 20 | 8 | | GM | Lu Shanglei | CHN | 2624 | 1,5 | 2444 | 0,5 | 1,0 | 0,0 | 2 | 1,5 | 1,51 | -0,01 | 10 | -0,1 |
Women's Section
Following was the position when Bhakti (with the black pieces) started to look dominant:
Hoang Thi Bao Tram - Bhakti Kulkarni, Round 2
Results of round 2
Standings after round 2
| | | | | | | | | | | | | | | | | | |
| --- | --- | --- | --- | --- | --- | --- | --- | --- | --- | --- | --- | --- | --- | --- | --- | --- | --- |
| Rk. | SNo | | | Name | FED | Rtg | Pts. | TB1 | TB2 | TB3 | TB4 | n | w | we | w-we | K | rtg+/- |
| 1 | 16 | | | Ren Xiaoyi | CHN | 2255 | 2,0 | 2370 | 1,0 | 1,5 | 0,0 | 1 | 1 | 0,34 | 0,66 | 20 | 13,2 |
| 2 | 18 | | WIM | Mahalakshmi M | IND | 2245 | 2,0 | 2338 | 1,0 | 1,5 | 0,0 | 2 | 2 | 1,29 | 0,71 | 20 | 14,2 |
| 3 | 1 | | IM | Saduakassova Dinara | KAZ | 2458 | 2,0 | 2305 | 1,0 | 1,5 | 0,0 | 2 | 2 | 1,48 | 0,52 | 10 | 5,2 |
| 4 | 3 | | WGM | Kulkarni Bhakti | IND | 2380 | 2,0 | 2293 | 1,0 | 1,0 | 0,0 | 2 | 2 | 1,33 | 0,67 | 20 | 13,4 |
| 5 | 15 | | WGM | Kurbonboeva Sarvinoz | UZB | 2259 | 1,5 | 2378 | 1,5 | 2,0 | 0,0 | 2 | 1,5 | 1,12 | 0,38 | 20 | 7,6 |
| 6 | 14 | | WFM | Li Yunshan | CHN | 2264 | 1,5 | 2371 | 1,5 | 2,0 | 0,0 | 2 | 1,5 | 1,11 | 0,39 | 40 | 15,6 |
| 7 | 17 | | WIM | Dauletova Gulmira | KAZ | 2252 | 1,5 | 2337 | 1,5 | 1,5 | 0,0 | 2 | 1,5 | 1,25 | 0,25 | 20 | 5,0 |
| 8 | 8 | | WGM | Zhai Mo | CHN | 2358 | 1,5 | 2314 | 0,5 | 1,0 | 0,0 | 2 | 1,5 | 1,32 | 0,18 | 10 | 1,8 |
| 9 | 5 | | WFM | Munkhzul Turmunkh | MGL | 2371 | 1,5 | 2264 | 1,5 | 2,0 | 0,0 | 2 | 1,5 | 1,39 | 0,11 | 20 | 2,2 |
| 10 | 4 | | IM | Sukandar Irine Kharisma | INA | 2378 | 1,5 | 2259 | 1,5 | 2,0 | 0,0 | 2 | 1,5 | 1,41 | 0,09 | 10 | 0,9 |
Related:
---