Asian 2019 Round 1: Vidit sizzles, Bhakti's grit and Nihal's sapient show
The Asian continental open and women's championship 2019 has begun in Xingtai, China. In round 1 top seed Vidit Gujrathi punished his opponent Dai Changren for his dubious play. The youngest 2600 player in the world, Nihal Sarin, displayed superior positional understanding by subjecting his Filipino adversary to a slow grind. Elsewhere, Vaibhav Suri suffered a shocking defeat at the hands of a much lower rated Zou Chen. In the Women's section the encounter between Bhakti Kulkarni and Swati Ghate lasted for a staggering 80 moves and saw fortune change hands multiple times. The Asian Championships is a key event in the calendar, because top five in open and the winner in women's section qualify for the World Cup 2019. In this report we bring you the highlights of the first day's action.
The Asian continental open and women's championship 2019 is a nine-round Swiss event taking place from 6th to 15th June in Xingtai, China. The open section of this event determines five qualifiers for the 2019 World cup, while the winner of the women's event qualifies for the 2020 Women's World Cup. The time control is 90 minutes for the first 40 moves and 30 minutes for the rest of the game with 30 seconds increment for every move from move one.
Open Section
Let us begin by looking at Vidit's victory in round 1 of the event:
Vidit Gujrathi - Dai Changren, Round 1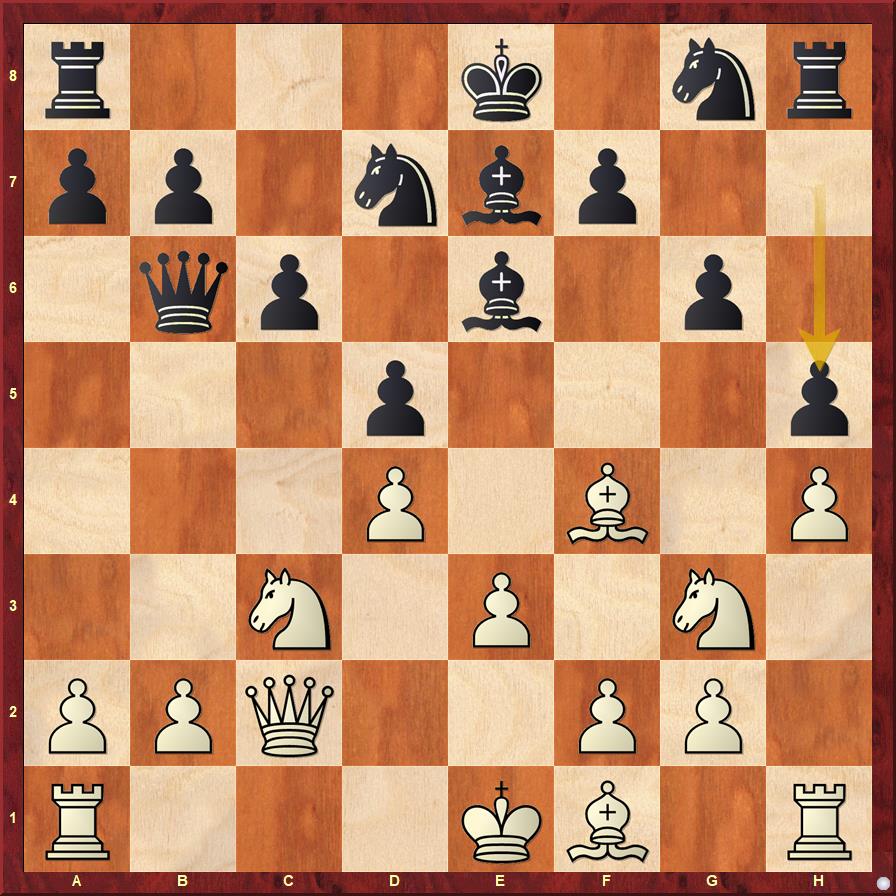 The above is after Black's 11...h5?! It is from around this point White slowly starts taking control of the game, the weakening pawn-push has given up the g5 square which begins to look like a tempting outpost for White. The simple 11...Ngf6 would have been a better move for Black.
After few more moves White has successfully lodged his knight on g5 and is looking to bring his rook on the open e-file when Black went 16...Kf8?, a mistake that immediately sealed Black's fate. After 17. d5! c5 18.d6! Bf6 19.Nd5 White took complete charge of the position.
Nihal Sarin was just in his element against Laylo Darwin today. The following shows position after White's 11th move:
Nihal Sarin - Laylo Darwin, Round 1
Certainly, White isn't winning in this position but he has a perceptible edge. His pieces are better developed and occupies more space, on the other hand Black will always face issues with developing his f8 bishop. This is just the kind of position that Nihal excels in!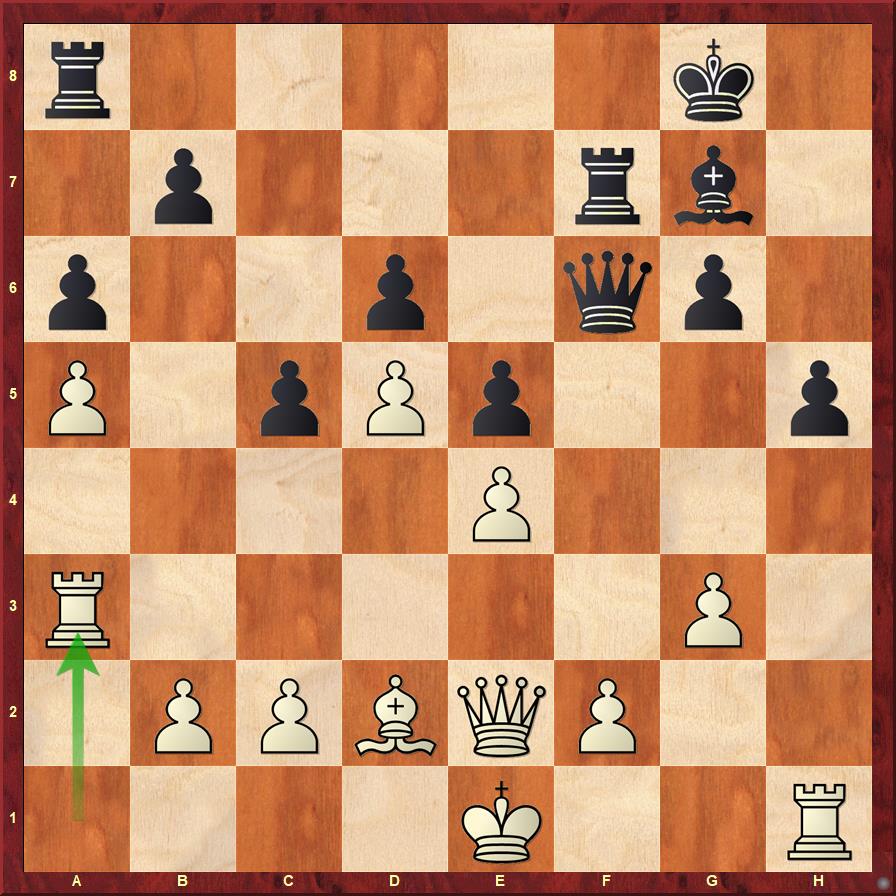 The above shows position after White's 21.Ra3! - a fine rook lift, White slowly closes in on the kingside and all Black can do is wait and watch. After 21...Raf8 22.Rh2 Qd8 23.g4! h4 24.g5!
Black gave away an exchange in desperation at this point but nothing worked. The game was resigned on the 44th move in a lost ending.
Vaibhav Suri made an unfortunate blunder in the following even position to lose his game against Zou Chen.
Vaibhav Suri - Zou Chen, Round 1
27.Kg1 Qh3 28.Nh4 would have been perfectly fine but White casually moved 27.Kh1? and this is a huge mistake - in this case 27...Qh3 is simply winning. The point is now 28. Nh4 is met with 28...Ng2!! and White can't go 29.Nxg2 because of 29...Ng4! In the game 28.Rg1 Nxd3 was played and White soon crumbled.
Results of round 1
Women's section:
In the Women's event Bhakti Kulkarni played a crazy game against Swati Ghate that was full of ups and downs. Let us look at the key moments from this stupendous encounter:
Bhakti Kulkarni - Swati Ghate, round 1
Black has just played the rash 23...f5, this allows the powerful 24.e5, of course 24...dxe5 can't be taken because of 25.d6+ discovery. In the game 24...Nh5 25.e6 Nf6 was played and White had a decisive advantage. It seemed the game would be over quickly from here but fate had something else in store.
As they say, winning a won game is the most difficult. In the above position Black has played 35...Ng7, White is definitely winning but what should be a good course forward? 36.Rde1 was played here, which seems normal at first glance but a closer look reveals that after 36...Rexf7 37.exf7+ Qxf7 White has lost most of the advantage. Instead getting the knight out from f7 with Nh6+ would have helped White to keep his edge. Back to equillibrium the game kept going on and after some 14 moves the following position was reached:
The above is after 50.Kg2 and it is Black who is in the driver's seat here. The connected passers on the queenside looks quite menacing. But surprisingly, fortunes changed hands yet again. After 50...Qf6 51.Qxf6+ Black erred with 51...Kxf6 and the game returned back to equality.
In the above, after 51...Rxf6 52.Rb8 Rf8 would have preserved Black's initiative. In the game the initiative fizzled out after 51...Kxf6 52.Rb8 Ke5 53.Rxc4
Fast forward 15 more moves, White has survived the scare and now has an edge, 68.Ra7+ Ba6 has turned the tables over again. From here, it was not long after that Black succumbed under pressure and resigned in the following totally lost position:
The player with the better resolve prevailed!
Results of round 1
Round 2 begins at 11.30 a.m. IST and you can follow the games live here
Completed games
---