Nielsen on ten years of Mexico 2007 (R09): Nothing against the Marshall, yet Anand leads by a full point
After his round 8 draw against Gelfand, Vishy Anand was in a half point lead over the field at the Mexico World Championship 2007. In round 9 he was up against Levon Aronian. Anand opened the game with 1.e4 and Aronian replied with the fashionable Marshall Gambit. Did Anand have anything up his sleeve? Well, team Anand had come up with a new idea of retreating the rook to e2 followed by f3 and Kf2. This all looked pretty artificial and within a few moves the peace treaty was signed. Not a great result for Vishy, but on the bright side, both his main competitors Gelfand and Kramnik suffered losses to Grischuk and Morozevich respectively and Vishy raced to a full one point lead over the field!
World Championship 2007 Mexico Round 9
In round 8 Anand had drawn his game with the black pieces against Gelfand. He had a half point lead and in round 9 he was up against Levon Aronian.
Round Nine:
Picture Gallery: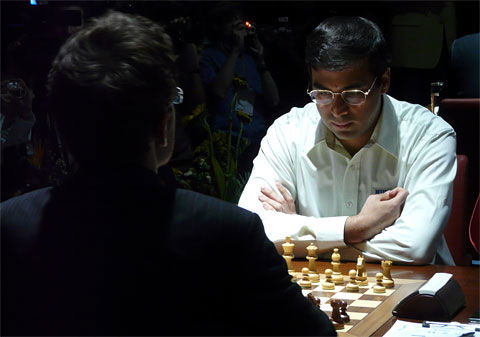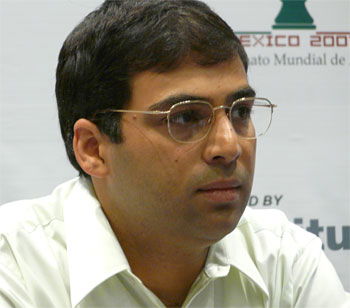 Because of Gelfand and Kramnik's loss, Anand now had a full one point lead over the field.
Photos by Frederic Friedel in Mexico Society
---
Vishy Anand vs Levon Aronian
by Peter Heine Nielsen
"Aronian was one of the favourites, and very well prepared opponent, however at this point, I would say in the tournament he was not one of the favourites any more. He had this bad start against Vishy, he had to gamble to get back, and I think he even lost another game with white against Gelfand, if I remember correctly. Aronian was not really part of the group fighting for the World Champion's title. He was not even close to fighting for top honors. He was still a pretty good player at the time, though.
I think we also spoke about Vishy's white openings, and how we had sort of waved away the Petroff, but put a lot of our energy into the Marshall, expecting it to come in four to five games. The first two games were incredible successes, with Vishy playing good opening ideas and getting a nice position, executing them extremely well. You can see, however, that we now are just scraping the barrel; this opening game was not exactly a success. Had Aronian been a little more ambitious it could have become quite unpleasant, and I think, in the end, Vishy was very happy to draw this.
There are scenarios where the queens are exchanged in such a position and Black is doing fine. In this position with the queens on this is definitely excellent compensation for Black. I was relieved that a draw was agreed at this point. Vishy didn't really think that drawing all the games would be enough to win the title and hence was still trying to get an advantage with white. With this draw we moved one step closer to the World Championship title.
---
Round nine game analyzed by Mihail Marin:
This series of articles intends to celebrate this huge occasion in Indian chess - our star becoming the undisputed World Champion.
Previous articles:
Road leading up to the tournament
R01: Anand saved against Gelfand
R02: Beautiful novelty 17...c5 against Aronian
R03: An opening debacle in the Petroff
R04: No gamble in time scramble
R05: Svidler Marshalled by Anand
R06: Gelfand joins Anand at the top
R07: Anand beats Grischuk with anti-positional 34.h5!!
R08: Anand draws against Gelfand, maintains half point lead
A special thanks to Avathanshu Bhat for his help in compiling the article
---