Nielsen on 10 years of Mexico 2007 (R08): Anand draws against Gelfand, maintains his lead
Anand became the undisputed World Champion for the first time in 2007 at the World Championship event held in Mexico. We are celebrating this occasion with inputs from his second Peter Heine Nielsen. We have reached the 8th round of the tournament. After round 7 Anand was leading with a half point gap, followed by Boris Gelfand. In the eighth round it was an all important duel between Gelfand and Anand. Vishy played a new idea in the Catalan that involved moving his bishop twice and taking his queen to what seemed like a passive square. But Vishy and Nielsen had worked out all the details and Anand effortlessly held the draw. Let's go over this game with analysis by Peter Heine Nielsen.
World Championship 2007 Mexico Round 8
The World Championship 2007 took place from September 12 to 30 in the Sheraton Centro Histórico Hotel in Mexico City. Eight players were fighting it out for the highest title – the tournament was a double round robin. The prize fund was US $1.3 million.
Picture Gallery: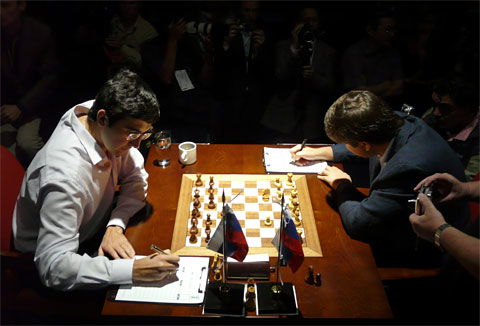 Photos by Frederic Friedel in Mexico City

---
Boris Gelfand vs Vishy Anand
by Peter Heine Nielsen
"It was indeed tense. Being in the lead was a very pleasant tournament situation, but in some ways I would say that a good tournament situation, creates more nerves than a bad one. Vishy was very much en-route to becoming the World Champion, which would of course be fantastic but we are only halfway, and there is still a lot of work left to be done. In this game,
he was facing Gelfand, who was actually doing quite well in the tournament; he was one of the main guys trailing Vishy at the time.
Vishy played quite an interesting game with a strong novelty, in fact we even had some debate before the round, because I saw Kramnik as a bigger rival; the really big game would be in the 10th round where he would be facing Kramnik. It sounds ridiculous now, but at the time I thought maybe Gelfand is a bit too old, and that he might not try to become the world champion, he is just happy to stay in a good situation, and that he would be happy with a draw anyway. So why to use the new idea! I thought it would be wasted. But Vishy doesn't really think like that. He just plays the new idea and what needs to be done for the next rounds is seen later.
A few days before the World Championship began Sandipan was playing in an open tournament and I was watching that game live. The same position arose on the board and Sandipan played 10...Bd6!? I was quite tensed, but then the opponent played 11.Bg5 and I was relieved that the new idea was not revealed.
In this position Vishy agreed to a draw. I was slightly surprised because the engines back then were showing this position as slightly better for Black. But it turns out that Vishy made an excellent practical decision. By drawing the game, he assured that he had a better tiebreak score as compared to Gelfand because Vishy had won a game with black and his individual score with Gelfand was even. So in order for Gelfand to overtake Vishy he had not only bridge the half point deficit but also score half a point more than Vishy! On the other hand if Vishy would have lost this game, then Gelfand would have not only wrested the lead but also would have had a better tiebreak. In hindsight, this was once again a clever decision.
Round eight game analysed by Mihail Marin:
This series of articles intends to celebrate the huge occasion in Indian chess of our star Vishy Anand becoming the undisputed World Champion. Follow us on the journey.
Previous articles:
Road leading up to the tournament
R01: Anand saved against Gelfand
R02: Beautiful novelty 17...c5 against Aronian
R03: An opening debacle in the Petroff
R04: No gamble in time scramble
R05: Svidler Marshalled by Anand
R06: Gelfand joins Anand at the top
R07: Anand beats Grischuk with anti-positional 34.h5!!
A special thanks to Avathanshu Bhat for his help in compiling the article
---