35th Leon Masters: Vishy Anand beats Jaime Santos Latasa, advances to the Final
The Magistral de Leon is an annual traditional event. The main event of the 35th edition will see Vishy Anand, Jaime Santos Latasa, Boris Gelfand and Andrey Esipenko battle in a Knockout Rapid tournament. Anand defeated Jaime 2.5-1.5 in their first Semifinal match. He will face the winner of Gelfand and Esipenko in the Finals on Sunday. Despite starting the Semifinal with a loss, Anand immediately struck back in the second game. After a draw in the third game, he won the fourth one again to win the match and secure his place in the Final. Anand is certainly aiming to win the Leon Masters for the tenth time. Painting: Luis Zotes, Photo: Torneo Magistral de Ajedrez Ciudad de León
Anand aims for his tenth Leon Masters triumph
Jaime - Anand: 1.5-2.5
Vishy Anand lost the first Rapid game against Spain no.3 GM Jaime Santos Latasa.
Jaime - Anand, Game 1
Black's king is still at the center of the board and the rook at d8 is under attack. Ignoring the threat and offering a queen exchange was bound to cost Black heavy. 19.Qg4 Rd7 20.Bh4 Kf8 Black's position certainly looks uncomfortable. 21.a4 h5 22.Qf5 b4 23.cxb4 Nxb4?? 24.Rad1 now Black cannot take on d1 twice due to his own back-rank being weak, Qc8 threat is looming large. There is no way to defend the d7-rook. Thus, Black resigned.
Anand - Jaime, Game 2
Black should have played 24...a4 or Bxe3 to keep things balanced. Even after 25.bxa5 Bxe3 is still very much playable. However, 25...Bxa5 put Black is more trouble than he wanted. White does not need to rush playing Qa2, first 26.Nf5 Bxf5 27.exf5 f6 28.Bxb5 Rc5 29.Bc6 Nd8 30.Qa2 Rb8 31.Nb1 now White saves his own back rank and Black has no good way to save the pinned bishop. Anand won the game and levelled the score 1-1.
The third game ended in a draw. The score remained tied at 1.5-1.5.
Anand - Jaime, Game 4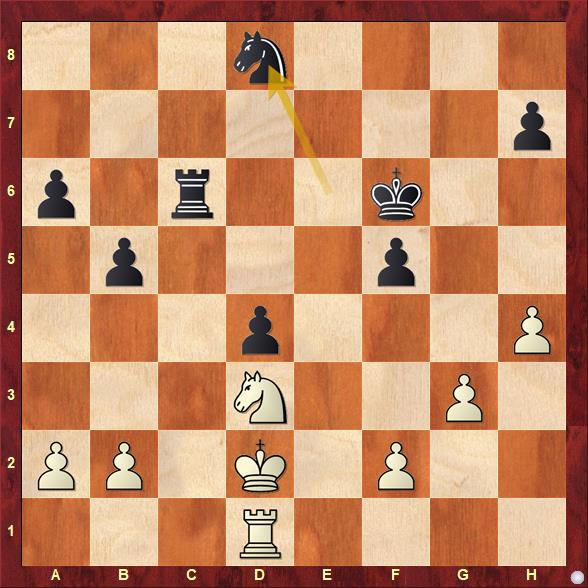 Although Black had a fragmented pawn structure in the endgame, it was far from over. Black went for a slow maneuver, which is still not worrisome for him. 41...Nd8 42.Nf4 Rd6 43.Rc1 Rc6 44.Re1 Rd6 45.Re8 Nc6? now White gets a complete decisive advantage as the fall of f5-pawn is inevitable. 46.Rf8+ Ke5 47.Nd3+ Ke6 48.Nc5+ Ke5 49.f4+ Kd5 50.Rxf5 Kc4 51.Nd3 the checkmate threats at Rc5 and b3 are unstoppable. Thus, Black resigned and Anand won the match.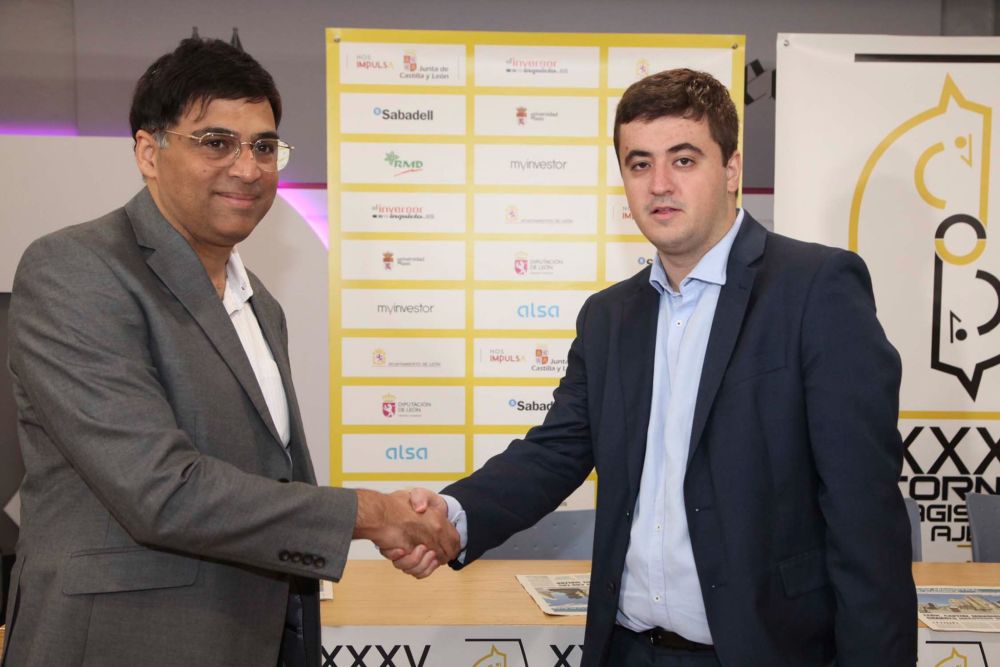 The time control is 20 minutes + 10 seconds each for four Rapid games. In case there is a tie, two Blitz games of 5 minutes + 3 seconds each will be played. If still there is a tie, Armageddon will be enforced. Semifinal 2 between Boris Gelfand and Andrey Esipenko will start at 4:30 p.m. CET (8 p.m. IST) today, 9th July 2022.
Replay Semifinal 1 games
Links
Official site, fb and twitter
---