Blazing fast Gelfand wins 35th Leon Masters in Playoffs
The 35th Leon Masters Final went down to the wire. After four Rapid games ended in 2-2, Boris Gelfand won both Blitz Playoff games to win the tournament. Anand started the Final with a win, Gelfand leveled the score in the second game. The third game also went in favor of FIDE World Cup 2009 winner. Anand won the must-win fourth Rapid game to force Playoffs. However, this time, the legend from Israel became victorious unlike their World Championship Match a little over a decade ago in which Anand retained his World title successfully. Gelfand had already showcased his Blitz skills against Esipenko in the Semifinals. Photo: Official site
Six decisive games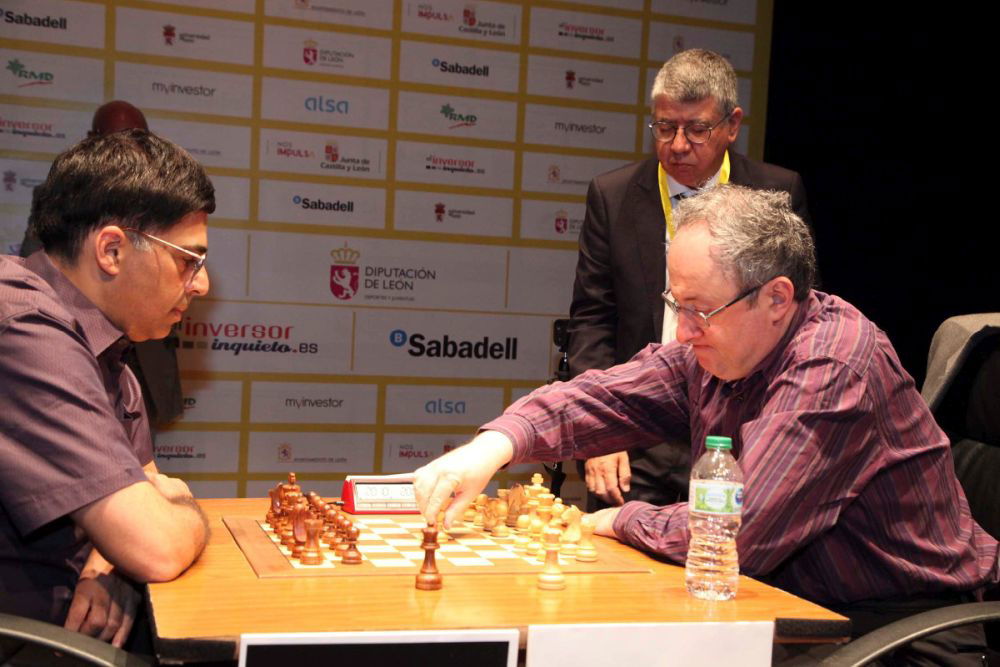 Gelfand - Anand: 4*-2
Vishy Anand started the day with a victory over Boris Gelfand.
Gelfand - Anand, Game 1
21.b3 turned out to be a positional mistake for White. 21...Nxd6 22.Qxd6 e5 23.h3 h5 24.gxh5 Rxc1 25.Rxc1 Qg5 Black is now completely winning. Lose pawns fall off the board became true. White's fragmented pawn structure became difficult to defend. White soon lost two pawns and had to resign.
Gelfand immediately struck back in the second game to level the score 1-1.
Anand - Gelfand, Game 2
White made a positional mistake 17.Qxd4. 17.Bxd4 would have been fine for White. 17...d5 18.cxd5 Bc5 19.Qd2 and we reach the diagram above. 19...Bxe3+ was played and Black won the prolonged game, after missing a quicker finish. Find out what Black could have done instead.
Gelfand won the third game to gain 2-1 lead.
Anand won the must-win fourth Rapid game after his opponent Gelfand, trapped his own rook in the endgame.
Gelfand won both Blitz Playoff games to win the tournament. The second game was a draw, since a draw would not have made any difference, Anand pushed for a win when it turned to a loss for him.
* - Rapid games ended in 2-2, Gelfand won the Playoff 2-0.
In case you are unaware of Gelfand's recent Blitz skills, you should check the final moments where Esipenko ran out of time against Gelfand
The time control is 20 minutes + 10 seconds each for four Rapid games. In case there is a tie, two Blitz games of 5 minutes + 3 seconds each will be played. If still there is a tie, Armageddon will be enforced. Semifinal 2 between Boris Gelfand and Andrey Esipenko will start at 4:30 p.m. CET (8 p.m. IST) today, 9th July 2022.
Replay Final games
Links
Official site, fb and twitter
---