1st FIDE Olympiad for PwD 2023 R1-2: India makes a good start
The first edition of FIDE Olympiad for People with Disabilities started on 30th January 2023. India is represented by five players - Soundarya Kumar Pradhan, IM Shashikant Kutwal, Kishan Gangolli, Darpan Inani and Naveen Kumar A. Apart from Soundarya, the remaining four have scored at least one win each. India as a team won both matches. They whitewashed Panama in the first and defeated Cuba 3-1 in the second round. Currently, six teams are at a perfect 4/4. Tenth seeded India will face the strong second seeded Israel in Round 3 which starts today at 7:30 p.m. IST. Photo: FIDE / Mark Livshitz
Two wins in-a-row
The six-round Swiss-league team event is played in a Classical time control at the 1st FIDE Olympiad for People with Disabilities. Team India is led by IM Shashikant Kutwal who is a former IPCA World Champion.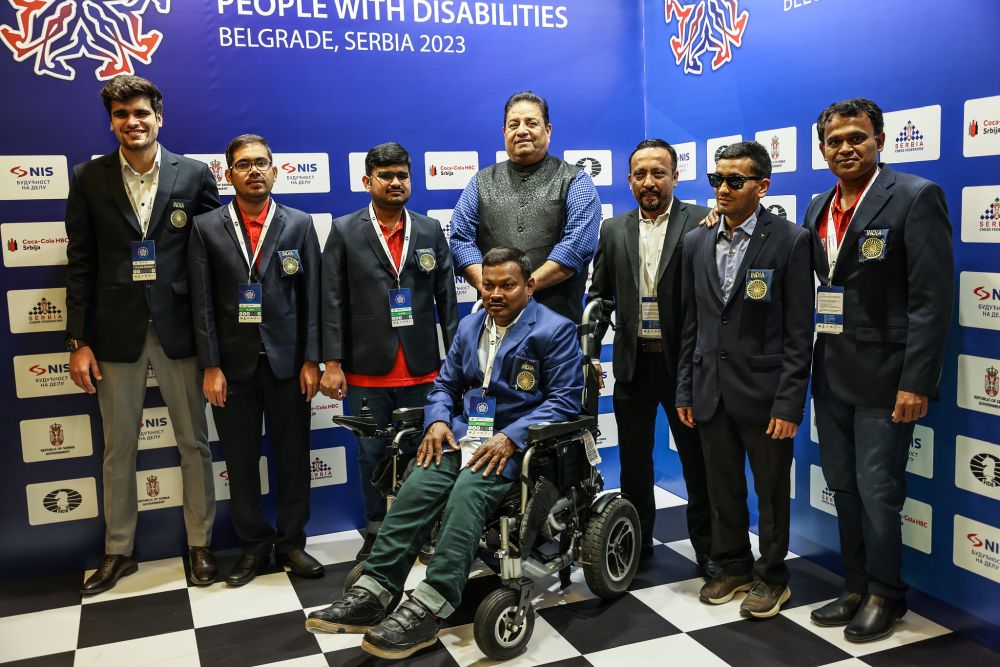 Round 1: Panama - India: 0-4
IM Shashikant Kutwal (2182), Kishan Gangolli (2059), Darpan Inani (2016) and Naveen Kumar A (2014), all four scored comfortable victories in the first round against Panama.
The volunteer in the yellow t-shirt is making Darpan's moves on the DGT board after he plays them on his braille board.
Round 2: India - Cuba: 3-1
IM Shashikant Kutwal, Kishan Gangolli and Darpan Inani won their respective games. Both Shashikant and Darpan had to fight hard to score their wins. Soundarya Kumar Pradhan (1881) who replaced Naveen Kumar A, lost his game against a much stronger IM Pedro Morales Romero (2339).
Kishan - Alberto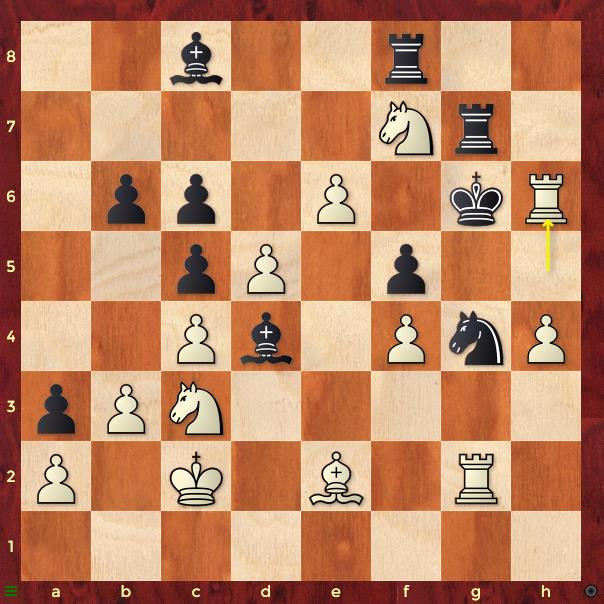 Kishan Gangolli made a picturesque checkmate against Alberto D Interian Rodriguez (2082).

Photo Gallery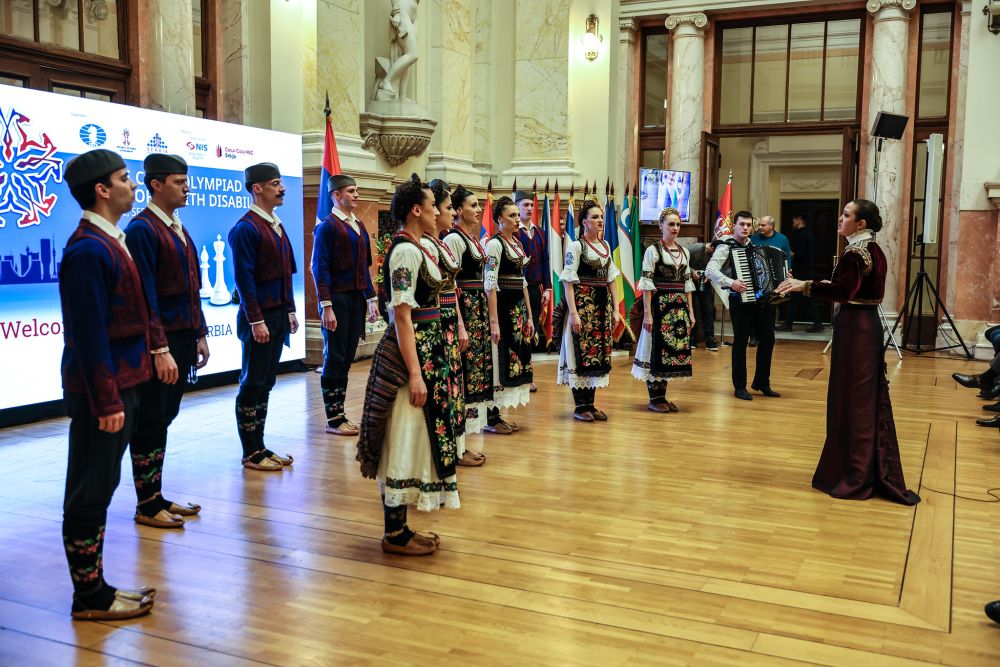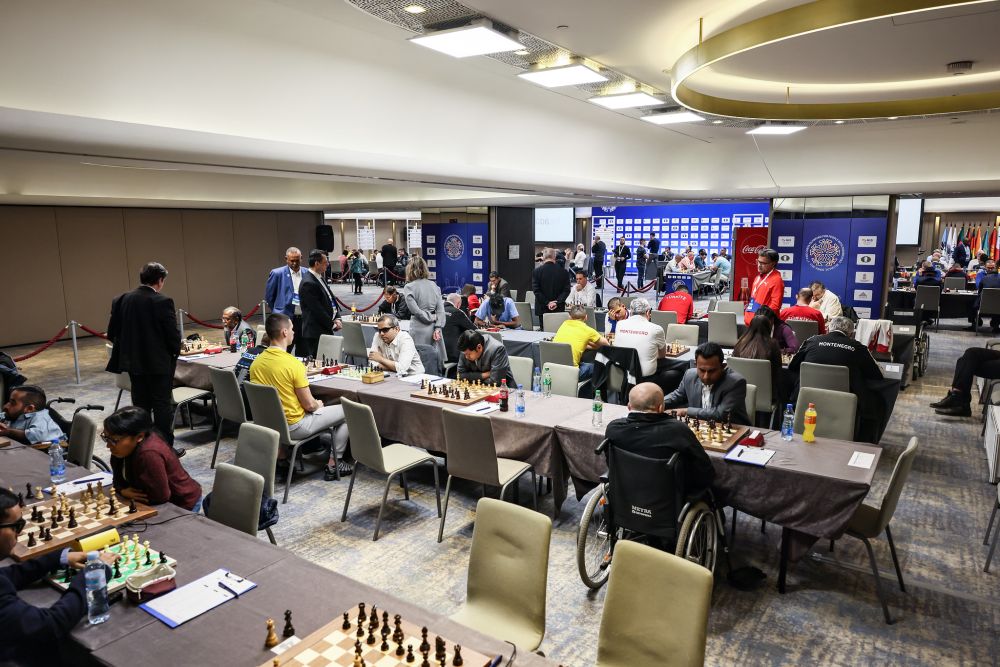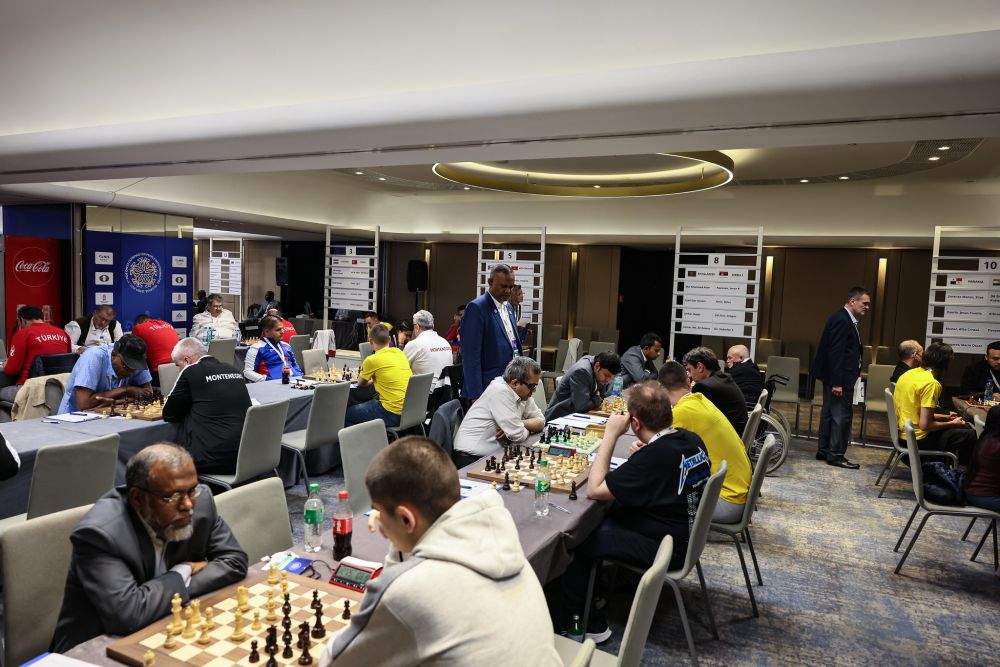 Replay Round 1-2 games
Schedule
Everyday round starts at 7:30 p.m. IST from 30th January to 3rd February 2023. The final round on 4th February starts 3:30 p.m. IST. The time control is 40 moves in 90 minutes, plus 30 minutes, plus 30 seconds per move from move 1
Round 2 results
No.
SNo
Team
Team
Pts.
MP
Res.
:
Res.
MP
Pts.
Team
Team
SNo
1
7
IPCA
IPCA
3
2
1½
:
2½
2
3
Poland
POL
1
2
2
ISR
Israel
3
2
3½
:
½
2
3
Serbia 1
SRB
8
3
9
FID
FIDE
4
2
3
:
1
2
3
Hungary
HUN
3
4
10
IND
India
4
2
3
:
1
2
3
Cuba
CUB
5
5
6
PHI
Philippines
3½
2
2½
:
1½
2
2½
Czech Republic
CZE
11
6
12
ROU
Romania
4
2
1
:
3
1
2
ICCD
ICCD
13
7
26
ZIM
Zimbabwe
2
1
½
:
3½
2
2½
Serbia 2
SRB
18
8
4
CRO
Croatia
1½
0
1
:
3
0
½
Uzbekistan
UZB
20
9
14
GER
Germany
1
0
2
:
2
0
1
Kazakhstan
KAZ
21
10
22
ZAM
Zambia
0
0
½
:
3½
0
1
Venezuela
VEN
15
11
23
PAN
Panama
0
0
1
:
3
0
1
Bangladesh
BAN
16
12
17
TUR
Turkey
1
0
2
:
2
0
1½
Kyrgyzstan
KGZ
24
13
19
MNE
Montenegro
1
0
3
:
1
0
0
Kenya
KEN
25
Standings after Round 2
Round 3 pairings
No.
SNo
Team
Team
Pts.
MP
Res.
:
Res.
MP
Pts.
Team
Team
SNo
1
1
POL
Poland
5½
4
:
4
7
FIDE
FID
9
2
10
IND
India
7
4
:
4
6½
Israel
ISR
2
3
18
SRB
Serbia 2
6
4
:
4
6
Philippines
PHI
6
4
13
ICCD
ICCD
5
3
:
2
4
Hungary
HUN
3
5
5
CUB
Cuba
4
2
:
2
5
Romania
ROU
12
6
15
VEN
Venezuela
4½
2
:
2
4½
IPCA
IPCA
7
7
8
SRB
Serbia 1
3½
2
:
2
4
Montenegro
MNE
19
8
11
CZE
Czech Republic
4
2
:
2
4
Bangladesh
BAN
16
9
20
UZB
Uzbekistan
3½
2
:
1
3
Germany
GER
14
10
21
KAZ
Kazakhstan
3
1
:
1
3
Turkey
TUR
17
11
24
KGZ
Kyrgyzstan
3½
1
:
1
2½
Zimbabwe
ZIM
26
12
4
CRO
Croatia
2½
0
:
0
1
Panama
PAN
23
13
25
KEN
Kenya
1
0
:
0
½
Zambia
ZAM
22
Links
---