National Women's Premier 2016 begins today!
12 of the best Women players in the country have gathered in the city of Delhi to fight in the National Premier Championships. Padmini Rout will try to defend her title as top players like Eesha Karavade, S. Vijayalakshmi, Soumya Swaminathan, Mary Ann Gomes, R. Vaishali and others will try their best to stop her. It's going to be an exciting event and ChessBase India will bring you in-depth coverage of the tournament. As of now we have the curtain raiser, where you get to know the details of all the participants.
The 43rd Women's National Premier Championships begin from the 3rd of November 2016 in Punjab Bhavan, New Delhi. It is a 12 player Round Robin tournament that will determine the Indian National Women's Champion at the end of 11 rounds. Let us first have a look at the participants of the event: 
Starting rank list of players
FIDE Rating List - Top 10 Indian women players 
The rating favourite - Eesha Karavade
Eesha has been one of India's top female players for quite a few years now. In terms of theoretical knowledge she is on par with a full fledged 2500+ grandmaster. However, she has been unable to win a National Premier Championship till date. The reason? It is quite possible that she feels the pressure of being the favourite in women's tournament. In strong open events like the Qatar Masters or the Gibraltar or Isle of Man, she regularly holds her own against 2600+ GMs.
The evergreen S. Vijayalakshmi 
There was a period between 1998 to 2002 when one player dominated women's chess in India. That was S. Vijayalakshmi! She won five back to back National titles. The fact that she is back in good form speaks volumes about her tenacity and fighting spirit. She won the Women's Challengers 2016 and would be giving her all to win the title. 
The violent attacker - Soumya Swaminathan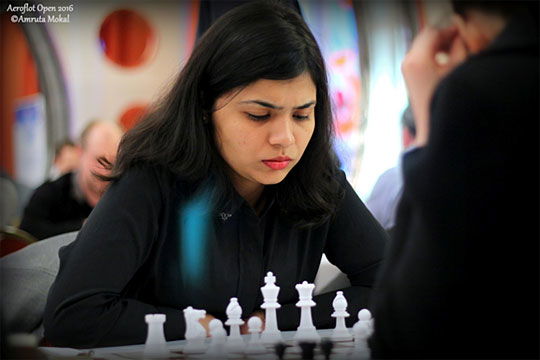 WGM Soumya Swaminathan would be tired of seeing the WGM in front of her name. She has the three IM norms and is 14 Elo points away from the IM title. She would really like to make a strong start and get her title. Soumya's attacking skills are well known and her opponents would be careful to give her the kind of positions she revels in. While the 2010 National Champion is definitely one of the favourites, a good start is very important for her in the tournament. Very rarely do we see her coming from behind and winning a tournament.
The defending champion - Padmini Rout
Padmini has won the National Premier twice in the last two years. While in 2014 and 2015 her graph was on the rise, this time she comes as a player in not such a great form. She lost a ton of rating points at the Olympiad in Baku. She will definitely want to make things better by winning her third straight title, but it is surely not going to be easy.
Cool and composed - Mary Ann Gomes
Mary doesn't like to prepare before her games. She likes to relax reading a book an then tries to give 100% on the chess board.The 2011 and 12 National Champion is quite cool and composed and this has helped her win many a tournaments. But her opening repertoire is quite narrow which might not be so ideal in such a tournament format. But who knows, she might surprise all of us with the new lethal weapons that she has prepared.
The prodigious talent - R. Vaishali 
It's her presence that makes the tournament exciting for the viewers. Born in 2001, she is just 15 years old. And she is not afraid of any of her opponents. The 2015 National Challengers Champion is ready to try out new stuff and surprised everyone when she played in the boys under-18 section in the World Youth. Maybe, she grew tired of winning the girls title every year. Will she be able to win the National Premier title this year?
The Dark Knight - Nisha Mohota
Nisha has been trying extremely hard since last few years to improve the quality of her play. For example, being a hardcore 1.d4 player, she started experimenting with 1.e4. While this lost her rating points, she definitely grew as a player. Will all her experience come together and help her to win the National Premier title? 
The old warhorse - Swati Ghate
Swati Ghate lives in Pune, but is originally from Sangli. She is an excellent attacker and a tactician. Her biggest weakness lies in finishing off tournaments. She must have led many events in the past, but more often than not manages to ruin her chances with some banal errors. Will she be able to control her nerves and win back the title that she once captured in 2006?
M. Mahalakshmi and Pratyusha Bodda are two talented youngsters of Indian women's chess. The former won the under-18 World Championship last year, while the latter represented India at the Olympiad 2016 and scored 2.0/2. Both of them are sure to create upsets, but the question is will they be able to prove their mettle against the strongest female players of our country?
In 2008, Kiran Manisha Mohanty had an Elo rating of 2316. Currently she is on 2117. It is clear that she has not being playing so well recently, but she has the experience of playing at this level on many occasions. Expect her to pull off some crucial points. 
Bala Kannamma is the lowest rated player in the group. This will definitely be a great learning experience for her.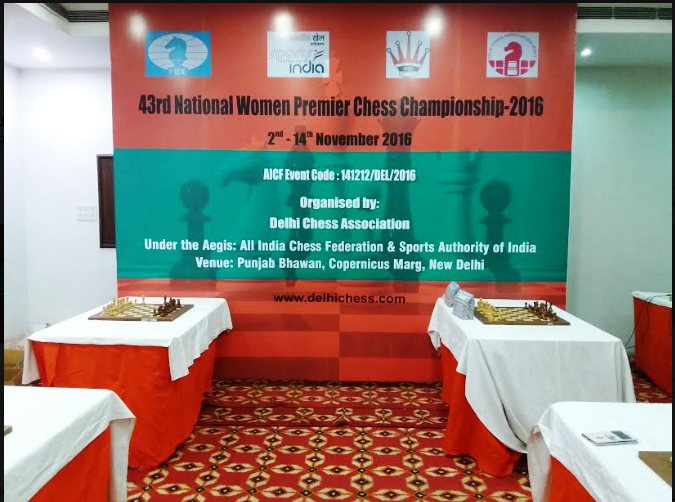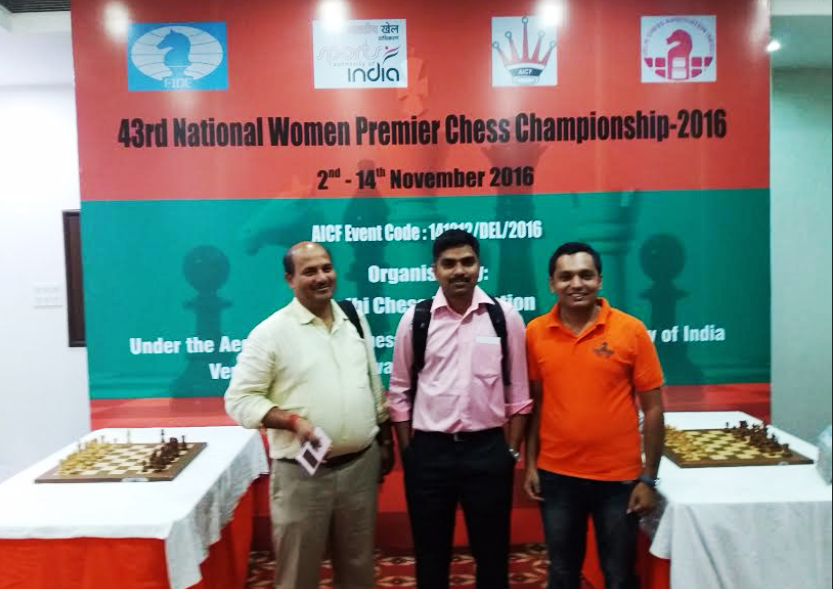 As Eesha gets ready to win her maiden title, as Vijayalakshmi looks to weave her magic again, as Soumya tries to complete her IM title, as Padmini looks forward to defending her National title, as R. Vaishali aims at making a mark amongst the big girls, as Nisha tries to make a comeback in her career, the 43rd National Premier is going to be an exciting tournament. Catch all the action on ChessBase India. Round by Round reports and much more. 
---