Trash talk, mate in one, and entertainment galore at Ultimate Moves 2018
Having witnessed an unhealthy number of 145 games over 5 days, and before the exciting Sinquefield Cup starts on Saturday the 18th August, the Saint Louis Chess Club had a breather of fresh air and laughter in the form of a fun event, 'Ultimate Moves' at the club on Thursday. It also marked the day when World Champion Magnus Carlsen arrived at the venue, energetic and smiling, with his characteristic sense of humour and confidence in tow, to the large bunch of Grand Chess Tour players who probably were already bored of each other after the Saint Louis Rapid and Blitz. ChessBase India correspondent V. Saravanan who is present present at the venue in USA to cover the Sinquefield Cup 2018 sends you a detailed picture of what took place in the special edition of Ultimate Moves 2018!
'Ultimate Moves' has the same format every year – the sponsor Rex Sinquefield and his son Randy Sinquefield fight each other in a combined game by dividing the Grandmasters into their own teams. Rex and Randy always start the game, and then the players switch for both the teams after every 5 moves, with the time control of 5 minutes for the whole game per team with 5 seconds gain per each move.
For the record, Rex Sinquefield's team had Fabiano Caruana, Maxime Vachier-Lagrave, Peter Svidler, Wesley So, Shakhriyar Mamedyarov and Sergei Karjakin, while Randy Sinquefield had Magnus Carlsen, Vishy Anand, Hikaru Nakamura, Alexander Grischuk, Leinier Dominguez and Levon Aronian. For the record, the match ended in favour of Team Randy with a 3.5 – 2.5 score!
Most of the time, the Grandmasters get an unconventional – even dubious – positions out of the openings, and then what follows is a delightful game of chess and fun. Everyone is encouraged to trash talk on the opponent team, and the comments and trolling gets much more enjoyable than the moves themselves.
The fun and laughter started right immediately from the beginning, and there were many many moments of pure hilarity for which we have to go through the entire video to enjoy the whole fun:
2nd Game: Team Randy – Team Rex
By rotation, Randy Sinquefield had once again occupied the table here, and he missed the immediate win with 40.Qf7, and continued instead with 40.Qg4 and exited the board, giving way to Magnus Carlsen who took the seat. Rex Sinquefield took quite some time, thought well, and counter-blundered with 40…Qe5, which was met with the holler "Noooooooooo!" from his own team mates, while the opponent team members started laughing.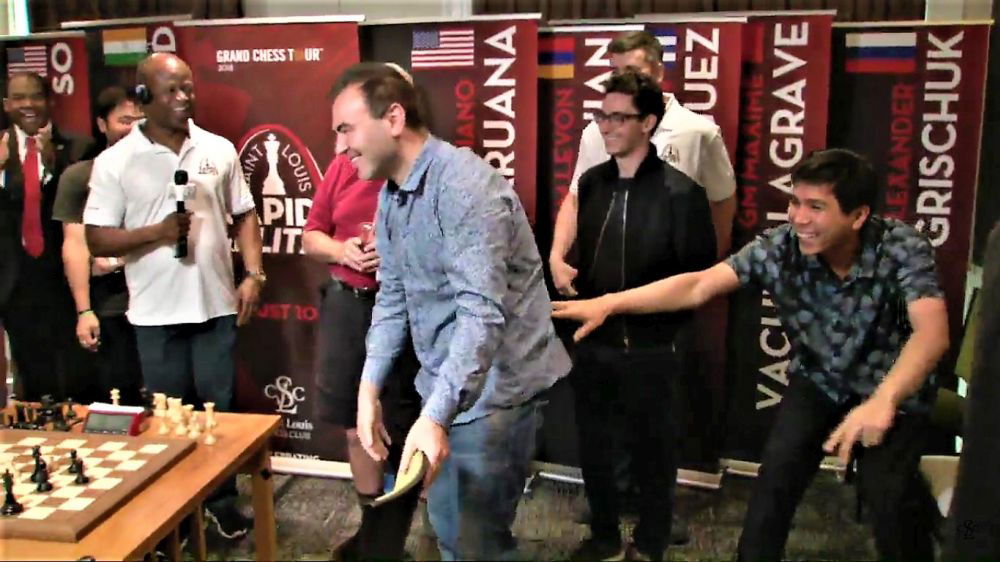 Carlsen brought the house down when he sat down to play an offbeat Sicilian transposing out of 1.e4 c5 2.Nf3 d6 3.Bc4 in the 4th game:
4th game: Team Randy – Team Rex
Asked about the position a chuckling Magnus said, "I have played (this) against Anish (Giri), he played 3...Nf6 4.d3 g6 5.e5 dxe5 6.Nxe5 e6 7.Qf3 and he was already losing a pawn", fondly (!) remembering his mutual Twitter troll Anish Giri, inviting loud laughter across the aisle. Of course, he was referring to Blitz game against Anish Giri from Paris Grand Chess Tour 2016.
But my moment of thrill with Magnus came on the 5th game, when Team Randy seemed to have acquired a flawed opening setup from the opening, and when the World Champion sat on the board across Maxime Vachier-Lagrave, he seemed to be in a spot of bother:
5th game: Team Rex – Team Randy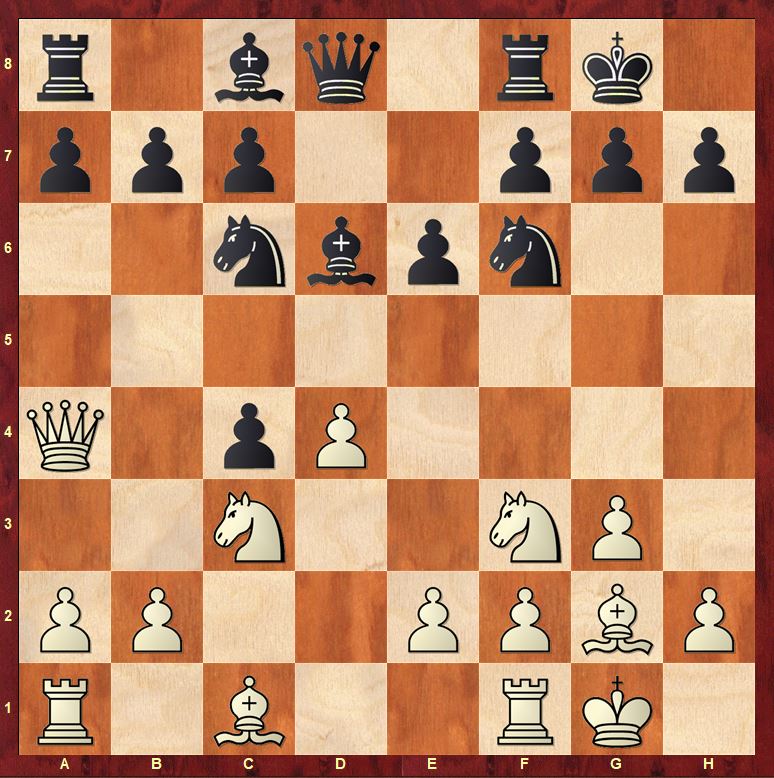 Magnus took a look at the position for a few seconds, and unleashed 8…a6 9.Qc4 b5!? as it took quite some time to work out 10.Qxc6 Bd7 11.Qb7 Rb8 12.Qxa6 Ra8 as a draw! Well, the World Champion had arrived indeed…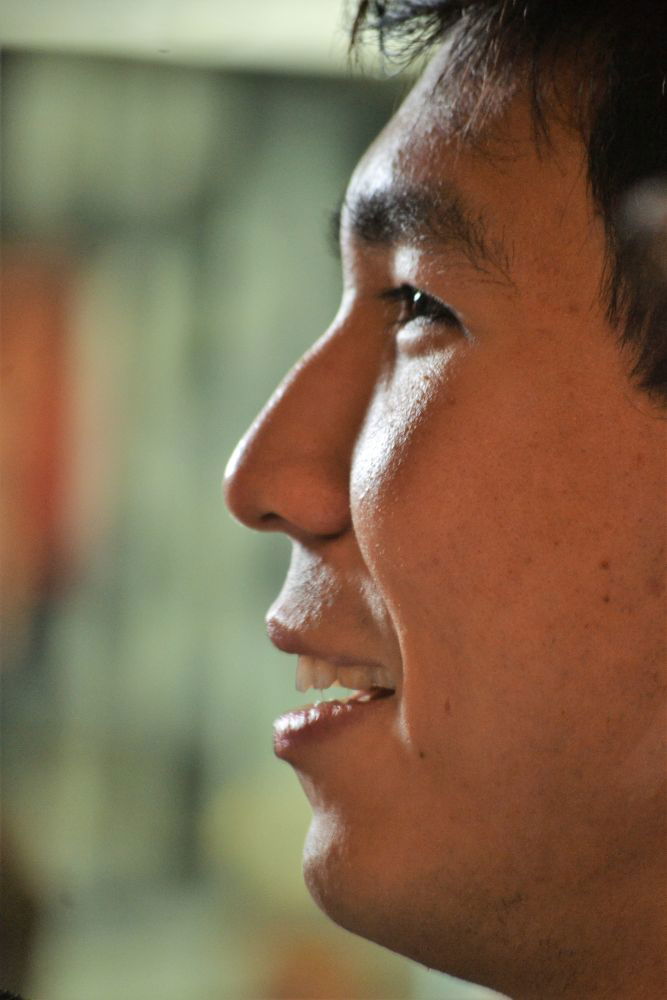 Without doubt, everyone let their hair down and enjoyed themselves…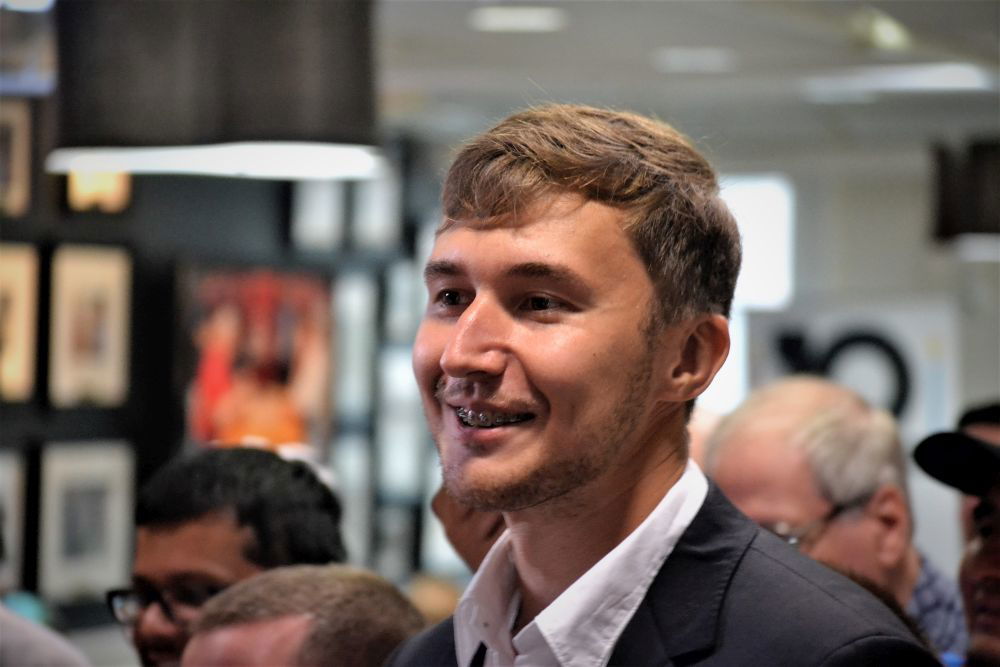 But the problem with chess players is that, they will get serious with their chess, often…
The first round of Sinquefield Cup 2018 starts on Saturday, 18-08-2018 and the IST for it is 23:30
About the Author
Saravanan Venkatachalam is an International Master and has been an active chess player in the Indian circuit, and has been consistently writing on chess since late 1980s. He turned complete chess professional in 2012, actively playing and being a second and a trainer to a handful of Indian players. He reports on chess tournaments, occasionally being a correspondent to national newspapers and news channels. Apart from chess, he is also interested in Tamil and English literature, music and photography.
Firstpost and ChessBase India have tied up to bring you high quality chess news coverage. You can follow the Firstpost website for daily articles published by Saravanan on the Saint Louis Rapid and Blitz and also Sinquefield Cup 2018.
---