Mark Taimanov passes away at 90
Mark Taimanov passed away in St. Petersburg aged 90. For decades he was one of Russia's leading grandmaster, internationally best known for his unfortunate match against Bobby Fischer. But has led a full life — as a child actor, concert pianist, World Championship Candidate, and a proud father. We have a detailed article with Mark's life story narrated by Mark himself!
Mark Taimanov passes away at 90
Mark Taimanov was truly an artist. He appreciated everything beautiful in his life as well as chess. "Women are my greatest passion. Music and chess only follow next. I want to quote the words of the great Siegbert Tarrasch: 'Chess, like love, like music, has the power to make man happy'," he said when asked about his priorities.
Mark Evgenievich Taimanov was born on February 7, 1926. He became a chess grandmaster at the age of 23, in 1952, and was in the world's top ten for over a decade. He played in the USSR Championships a total of 23 times and twice tied for first, losing the playoff against Botvinnik in 1952 and beating Averbakh and Spassky in the tiebreaks in 1956.
Taimanov played in the Candidates Tournament in Zurich in 1953, where he tied for eighth. In 1971 he was a candidate for the World Championship. For a modern chess fan, he was famous (or infamous) for losing 0-6 to Bobby Fischer in the World Championship Candidates.
1971...
At a personal level, I was first acquainted with Taimanov's chess because of the famous 1971 Candidates Match that he lost to Fischer. Being a Fischer fan, it was only natural that I went through the games and the literature concerning the match.
This may give you a rather negative opinion of the life Taimanov lived or the chess he played. But make no mistake: he was a strong grandmaster, defeating some of the best players at his peak. He has opening variations named after him in the Sicilian Defense and Nimzo-Indian.
Concert Pianist:
Taimanov says: "After World War II I finished the conservatory in Leningrad and together with my first wife I toured for many years in the Soviet Union and in many countries of the world. We belonged to the world's five best piano duos and also made records. My chess career ran parallel to that. I played rather successfully and even managed to become a candidate for the World title."
He liked Bach, Mozart, the romantics Chopin, Schumann and the Russians Tschaikovsky and Rachmaninov.
Now, while you enjoy Taimanov's reproduction of Mozart, enjoy his personal stories with photographs.
The Age of Love
by Mark Taimanov
Translated from the Russian by Ilya Krasik
I can introduce you to my parents. Here I think I am about five, the exact date of this photo is unknown. These are my amazing parents. My chess achievements are connected to the genes of my father – he was a passionate chess player; and a musical talent. From my mother's side, she was studying singing in the Kharkov Conservatory and was thought to have a bright artistic future. But then I appeared, and all attention was switched to the newborn.
Snapshots from "Beethoven" filmed in Leningrad in 1937. I was able to play the main role of a young violinist. This fact proved to be very significant in my fate – the film became popular, famous, it was noted by reward at the international festival in Paris in 1937.
This film featured a wonderful cast: for example Vladimir Gardin, national artist of USSR, who played my father.
The picture shows how I am playing a Beethoven violin concert at the end of the movie. It's worth mentioning that I was not a violinist, I had to learn how to play a violin for this movie – it was a risky move on the part of the movie authors, but they decided that after a few months I will be able to master correct violin setting, memorize primes and fingering. To actually play the violin was going to be the remarkable violinist Miron Borisovich Polyakin. And behind the conductor's control here is Karl Ili'ch Aliasberg, a wonderful conductor whose name was etched into the history of our city, because it was under his leadership during the Siege of Leningrad that the 7th symphony of Shostakovich was performed for the first time.
Why has this movie been so significant in my life? I at once became a famous actor, my photographs hung all over the city and when the Leningrad' Palace of Pioners was opened I was invited as an actor-pioneer. And when at the Palace' grand opening ceremony I was asked where (what club) I would like to study, an inner voice suggested – in a chess club. And so began my chess career, through music, through cinema…
Photograph 1940. Guests at the Palace Club: a very young Keres, and Botvinnik who was in charge of our club and our main teacher. Very few people pictured here are alive today. Except Keres and Botvinnik, one can recognize Samuel Osipovich Vainshtein, a remarkable organizer and administrator of our club. Pictured here are also master E. Stolyar and yours truly!
This is my game with Botvinnik. It's not written where it took place, but I am very young here and even Botvinnik is… We played a lot, even played in a match for USSR championship. This is someone whom I deeply respected, who was my main teacher, who took me under his wing and blessed me with attention beginning from school years. During my whole life, at critical moments, I would turn to him for chess advice. In particular, he gave me many interesting and valuable suggestions during my preparation for a match with Fischer. I remember one amusing recommendation: he suggested that during preparation period I should play a few training games with, as he put it, an "extra-strength grandmaster". What does it mean? My seconds were Vasukov and Balashov, we prepared together. I played these games against them. They would be in a different room, they were allowed to communicate, move pieces around, had an extra hour and could also consult chess literature. Nonetheless, I played this match quite well, scoring -1, which under the circumstances could be considered an achievement.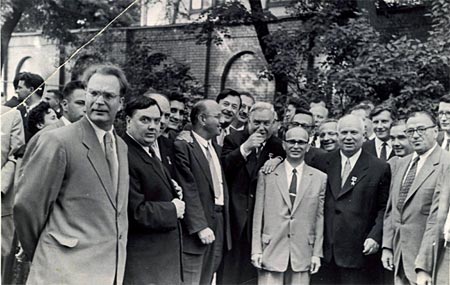 I am not present in this photograph, but this is a historic shot. In 1955 (I think) we were playing a match with a US national team in Moscow. On July 4th, Independence Day, a US ambassador to USSR arranged a reception at his suburban villa to which only member of politburo and chess players of both countries were invited. This photograph shows how Khrushchev and Bulganin tenderly embrace Reshevsky, to the left is Malenkov, Pervukhin.
The history of this photograph is this, I was approached by Shmulik, which is how we called Sammy Reshevsky, and said, "Mark, it would be such an honor if we could take a picture with the leaders of your country". I approached Nikita Sergeevich, (Khrushchev) and said "our American colleagues would like to take a photograph with you". "All right, gather everyone"… Next to Khrushchev on the right is the captain of American chess players, millionaire Mr. Bisno. There is Kotov looking out. There is Steiner… There are a lot of American chess players, as for our players naturally only Kotov is seen in forefront.
This photograph reminds me of another fate-turning moment for our chess. After some time Khrushchev approaches me and says" You guys, you are eminent chess players, often play abroad. Do you get paid for your performances? – "No, of course not, we are promoting the achievement of Soviet culture." He says: All right, what about when you perform at home?" "Yes, what would we otherwise live on"? I reply. He thought about it and says: "But this is wrong. How is it so? You don't take money from the rich capitalists, but you do receive it from us. This must be changed" Since Kruschev's team were standing right there next to us, soon a special order came out that allowed us to earn a fee for the appearances abroad.
I am pictured here with Vasiliy Vasilievich Smyslov. I think this was taken in late 50's. We are in London, at Trafalgar square. A long-standing friendship and musical interests unite me with Vasiliy Vasilevich.
We repeatedly performed together – I would accompany him, and he has an excellent baritone.
This is one of my most cherished photos. In it, following my game at the Capablanca memorial in Havana in 1964, is one of its organizers and spiritual leaders, one of the most legendary figures in the history of Latin America and of the revolutionary movements – Che Guevara. We were on very good terms, met at this and at other tournaments and even played chess in the Soviet embassy building. This was the brightest, romantic person, an idealist who thought that his place was in the barricades and not in the offices. This photo is also dear to me because it is signed: "To my friend Mark Taimanov. Che."
At one time Akexander Sergeevich asked me to invite Kasparov. I called him and said that you are most wanted and it's a nice event…He came with his mom. And in this photograph, you can see we are sitting at the table in sport jackets. However, this visit had a continuation. He came one more time and met a gorgeous lady named Dasha, a student of the university. To make the long story short, today Dasha is his wife. The day before yesterday she called. She visited my sister, Irochka at the hospital. Dasha sent her and Garik's best wishes. We have a newspaper "Business" which publishes greetings and congratulations to famous people and Garik wrote a greeting for my anniversary…
Another nice shot. A boat ride on the Neva River with our guests during the Internet match Paris-St. Petersburg, with Anatoly Karpov and my Nadya.
My Family
Finally, a series of my most precious photographs, reflecting the most important event, I think not only in the latter stage but in my entire life. 

And here are the authors of the twins. I must say that I am endlessly thankful to my co-author. Nadya (Mark's fourth wife) has presented me with a new life, so to speak, when it already seemed like most things were behind me. It turned out they weren't the most important ones…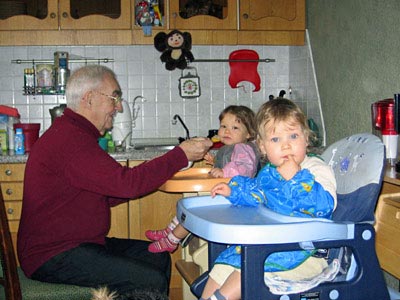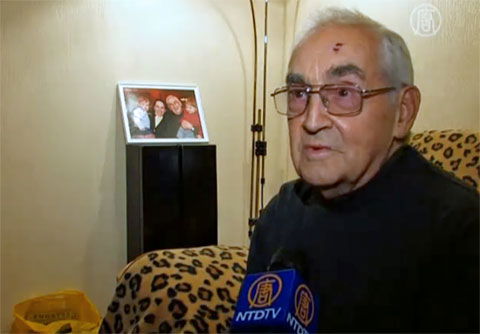 ---
Pictures and Information from the ChessBase archives. 
---