Saluting a 'Chess Playing' nation
Chess in schools (CIS) is a wonderful program that is being pushed in schools all over the world. However, there are always theoretical and practical difficulties in implementing the CIS program. FI Praful Zaveri is working hard to popularize the game of chess in the city of Mumbai. He made his way to Tsaghkadzor in Armenia to attend the international conference of Chess in Schools. Right from his taxi journey from the airport to hotel, to the closing ceremony of the conference, Zaveri experienced an unparalleled level of hospitality by his Armenian hosts.
It is indeed amazing that a small nation of about three million people has a place for chess in almost every household, where chess is a part of curricula across all its schools, where their stars are a household name, where the entire country erupts in a joy of winning an Olympiad or World Team Championship medal, and last but not the least where the President of the country takes pride in presiding over an international chess tournament! With all these qualities described above, this nation can rightly claim for a patent as a 'Chess Playing' nation!
Well, by now you must have judged that this nation is Armenia – a former Soviet republic lying between Asia & Europe and considered as one of the earliest Christian civilizations in the world.
I had the opportunity to experience all these during my sojourn at Armenia for international conference on 'Chess-in-Schools" with the subject – 'Theoretical and Practical Issues of Chess Education in Schools, which was held at Tsaghkadzor – a popular tourist place and a Ski resort about 50 Kms from the capital city of Yerevan.
It all started with our taxi ride from the airport to the 'Chess Academy of Armenia'. My colleague from Poland, IM Piotr Murdzia questioned the driver, "Mr. Driver, are you familiar with the name of Levon Aronian?" And, to our surprise, the driver informed that Levon is a household name in Armenia!
Our belief was further strengthened during the 2-days conference conducted, which was organized by the 'Chess Academy of Armenia' in collaboration with the Ministry of Education & Science of the Republic of Armenia and recognized by the Armenian Chess Federation & FIDE.
His ideas of CIS makes a wonderful reading and worth emulating:
Here are the excerpts:
"Why was chess included as a subject? Many people asked us this question in the preparatory and organizational period. So, indeed, why to include chess in schools program?
First, chess is a game that is just by nature. A little child of 5-6 years of age starts learning a game which is completely fair. There is no third party to hinder or do anything which will result in injustice. From a small age, a child plays and learns how to win fairly and lose fairly – to fight justly, win justly and lose justly. He learns to accept his defeat with dignity and to win with dignity, and when two players shake each other's hands they choose respect towards these values!"
Indeed inspiring! And, his vision to include chess as a compulsory subject has paid-off. Today, every kid in Armenian primary schools learns chess and this is supplemented by researches by the Armenian State Pedagogical University to find out the benefits of chess in the development of a child.
Of course, incorporating this program not only called for adequate funding, searches for chess teachers (the hardest part), designing a chess curricula and training the teachers to the use of this curricula.
The belief of the Government of Armenia that this program is indeed beneficial for a bright future of the children solved the funding part and this paved the way for provision of chess equipment to 1600 schools, training of 2500 teachers and designing of chess curricula, which I can say is one of the best in the world!
I have been given to understand that a team of 11-authors, who designed this curricular under the able of leadership of GM Smbat Lputian, have laid special emphasis on psychology.
The conference shared wonderful ideas on the following issues:
Main characteristics of chess textbooks in primary schools of Armenia
Analysis of the efficiency of teaching chess in schools
Chess as a mechanism for accumulating the intellectual capacity among primary students
The most important factors contributing to the Establishment of chess as a subject in primary schools
Chess as a tool to work with ADHD and special needing students
Chess teachers training in Armenia
Progress tracking in a large scholastic chess system
Chess as a language tool at school – A 'science' based practice.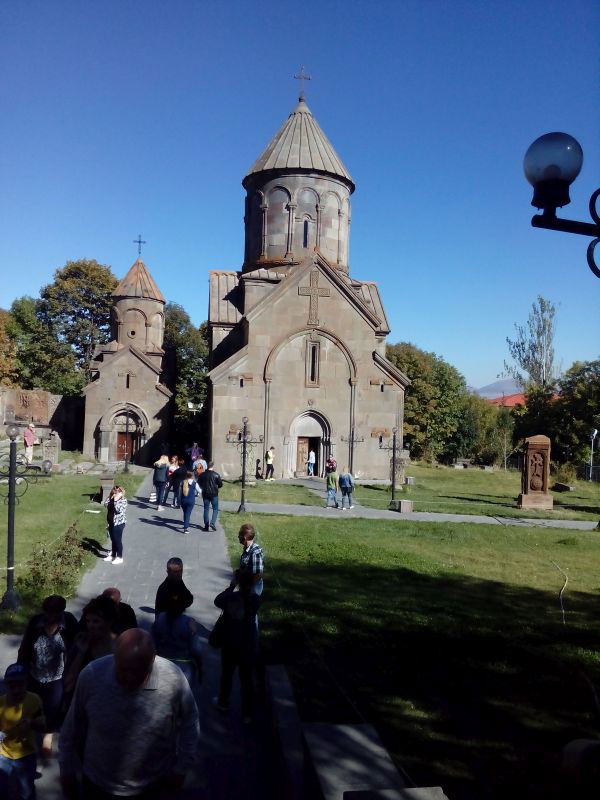 The meeting concluded with a roundtable discussion followed by a 'Gala Dinner' coupled with dancing and honouring of foreign participants by the Mayor of Tsaghkadzor.
The hosts took every care to see that participants from each country were made to feel special. For me, they decided to play the famous Bollywood title number from Dhoom 3 and they made me dance to this tune!
Later, the Secretary-General of the Chess Federation of Armenia, Mikayel Andriasyan informed me that they had also played the same song during the closing ceremony of Lake Sevan tournament and had asked the winner, GM Vidit Gujrathi, to dance to this tune! But, Vidit, who is a tad shy by nature, politely refused!
About the Author
FI Praful Zaveri is the founder of Indian Chess School Academy. He is a popular trainer in Mumbai and also the author of the critically acclaimed Chess Course book for beginners. His vision is to build the chess culture in his hometown Mumbai as well as India and help the country produce many more grandmasters in future.
---