1st Eco Camp in the lap of Himalayas
When a chess camp is held the students are taught different strategies related to the game of chess. It could be how to handle an IQP position, or how Najdorf is played, or the secrets of rook endgames! However, former Commonwealth Champion IM Atanu Lahiri thinks that it is important to have a more holistic approach. Chess players are a part of the society, and so along with chess they should be taught a few more things. What exactly are those things? Read on to know more!
​19 students from Himachal and Delhi participated in a seven day life changing residential camp on the Himalayas from 17th to 23rd March 2017. Conceptualized by noted chess trainer IM Atanu Lahiri, the players were subjected to uninterrupted educative sessions on chess, meditation, motivation, physical training and environmental awareness in the lap of snow clad Himalayas. ​Sudarshan Sharma, Secretary of Himachal Pradesh Chess Association, made all the necessary arrangements for the smooth organization of the camp.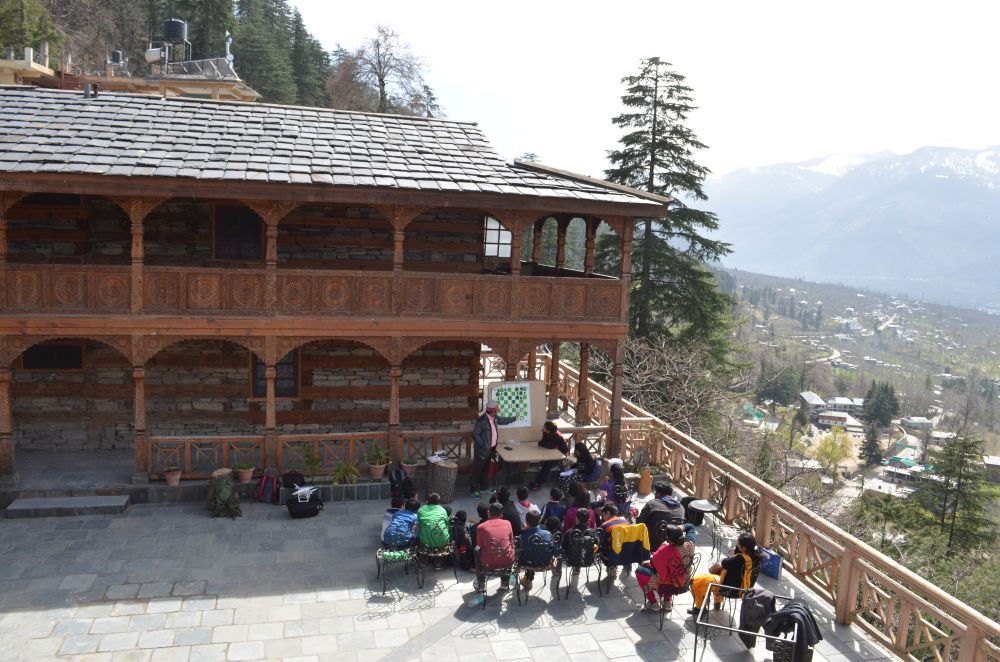 Noted enviournmentalist and social worker Mr. Budhha Ram Sharma helped the participants connect with nature. He told the students about the enviornmental benefits of tree plantation. Only theory is not enough. You must put what you learn into practice! The highlight of the camp was when the children trekked three kilometers on the slope of a mountain to plant sapling of Akhnoor tree with help from the local community.
​The participants were taken for an excursion to the heritage village of Naggar, about 40 Kilometers from Manali where the students visited the Museum of Nicholas Roerich the famous Russian painter, writer, archaeologist and philosopher who settled in the valley in the last century.
​For most participants,this camp is likely to be a life changing experience. Whether such holistic approach to chess training will produce future champions is to be seen, but for sure, such approach is likely to help the participants grow up to be successful in their personal life.
IM Atanu Lahiri is the secretary of West Bengal Chess Association. He left his job at LIC so that he can focus on his task as the secretary better and promote chess in his state and India. ChessBase India congratulates him for his unique ideas, enthusiasm and vision for the promotion of the game in the country. 
---