Essential classical chess books that you must read – Part II
In part II of the "Essential classical chess books that you must read", Srikanth covers "The Chess Mind" by Gerlad Abrahams. The experienced author and mentor from Chennai writes, "What can I say about this little gem of a book. A rare one and practically unknown even amongst most fervent chess enthusiasts!" Through this article you not only get to know about one of the most deep books every written about chess, but also get to sharpen your arsenal with a few tactical themes that are discussed along with modern examples.
Introduction to the series:
by IM Sagar Shah
In the first article of this series Srikanth wrote about the book ""Chess Struggle in practice - Tournament book on Zurich 1953" by David Bronstein". This article received a lot of praise from our readers and many people bought the book. In fact one of the readers Yamini Yuvrajan wrote in the comments section: "I bought this book. The games were great . But the quality of images is bad. It looks like someone took a xerox copy of the original." 
Yes Yamini, I was also one of the people who bought the book from Amazon India for Rs.699/-. The print really wasn't great, but the fact that I got the book in 2 days and that I could play over the games, more than compensated for the not so great print. For all those planning to buy the book, I would recommend keeping a magnifying glass by your side.
Before you read the review of "The Chess Mind" I would like to thank Srikanth for the great service that he is doing for Indian chess. Yes, writing about classical books is truly something that the Indian chess and the chess community in general needs. While we have a bombardment of modern chess information on a daily basis, the exploration of classical chess books is almost invisible. We are sure that the young guns in Indian chess will add these classical books to their repertoire as they go on to storm the gates of world chess elite!
In case you have missed it:
"The Chess Mind" by Gerald Abrahams
By Srikanth Govndaseshan
What can I say about this little gem of a book. A rare one and practically unknown even amongst most fervent chess enthusiasts! Like Bronstein, Gerald Abrahams too deals with abstract concepts and ideas. But is not chess basically a game of abstract ideation - very subjective and the moves and the ideas carry with it, the essence of abstract thoughts and ideas that transpire between two minds sitting across the board and the heat of the battle with horde of other thought processes going besides! Is not the pursuit of exactness or certainty a futile attempt, which only renders one stale and boring and this manifest outwardly on the board, on most occasions?!
The part one of this book; "Varieties of Mental Activity in Chess" deals with Vision, Common sense, Imagination, Errors, and how a game is won or lost; and the author clearly states the principles and explains them in detail along with practical examples, either through positions therein and also through the illustrative games given separately in the part two of this book.
For example, he states (and rightly so) that, "In chess, the mind comes as near as possible to pure vision, to that spontaneous act of intuition which apprehends and controls processes and relationships without being forced to do so." He further adds, "The mind is on a path ascending from elementary understanding to advanced understanding, through the ability to apprehend instantaneously the meaning of an involved sentence, or, in chess, the imminence of a tactical process: he must not only know the phrase, but understand its use in a sentence, and be able to use it himself. An element of memory is implied in the prior knowledge of chess, as of language; and the knowledge must be of generalised functions - or meanings - not specific moves; as one knows that a word like 'operation' means more than 'surgical operation'. But from this memory - as memory - or by inference from the knowledge of details and generalities, one does not apprehend a move. Always the important need is spontaneously to recognise the actual, practical, function of a piece in the given setting." - Abrahams
This spontaneous recognition of operatives in a given setting is pivotal in chess. And therefore, every position needs to be approached with fresh eyes! Alas, even great players fail here occasionally!
He gives the example of Alekhine - Euwe, match 1937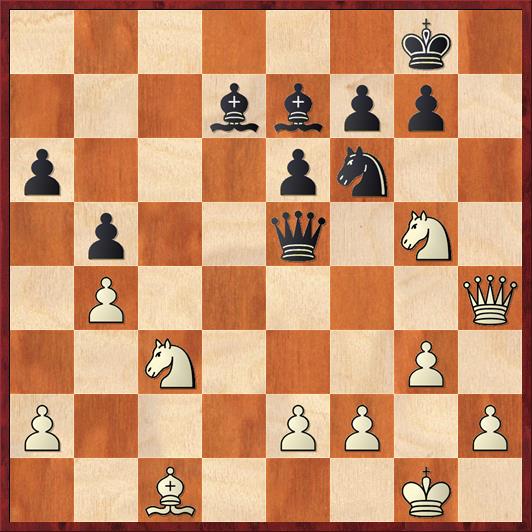 For two moves, both the World Champions missed Qh8!! a typical fork motif. We can add to this, the following example which happened in a later game between:
Petrosian and Spassky, 1966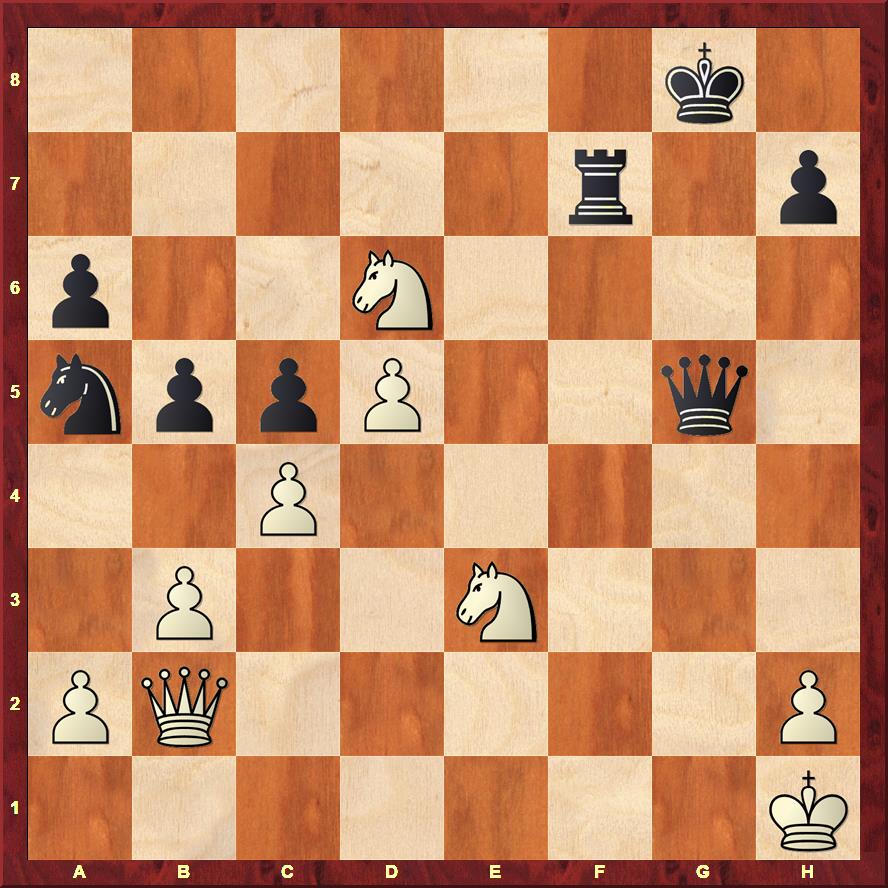 I can add one more striking example to this theme:
Chigorin - Rubinstein, Lodz, 1906
Forty years later, a strikingly similar position around the King occurred in:
Lundin vs Smyslov, Groningen 1946
Ideally, as Abrahams mentions, "when the mind is operating as it should, then ideas reveal themselves in an expanding light, and the limits of the mind seem to stretch like the legendary walls of the city to admit much that earlier it did not seem able to contain."
Though the aspect of mind and its involvement (intrusion!?) in the process of ideation in itself is a separate subject, which is outside the scope of this book!
One pre-warning: do not have a cursory look at the book and the simple examples that he gives and brush aside this as elementary! This book is far deeper than it appears and is very contemporary. Perhaps imperative. In fact, I would love to edit this book (as the paperback edition of this comes in a very poor binding and the book just disintegrates into pages very soon!) and have it reprinted adding appropriate examples and making it contemporary!
"In chess, awareness is not a simple and isolable mental process. Once the idea is seen, then it seems normal and logical, and easy to see again. Before it is seen there is no available process of inference that can help the mind to it, mechanically; and there are very many players of some degree of skill and experience who would never succeed in solving such a problem. When the mind is not revealing as effectively as is required by the situation, then one is omitting to take into account appearances from a field of apparent irrelevancy. The unexpected emerges from the dark; yet it was always there." - Abrahams
Take for example the following position which Shankland provides as an introduction to Jacob Aagaard's latest book, "Thinking Inside the box!":
Christiansen - Shankland
The move 18...Nxg3!! is non existent until its sequel 19...Ra2!! falls in the zone of perception. Yet no one can deny its existence and the moment you spot it, and after the euphoria subsides, it becomes a household occurrence - a common move!
Or take the modern day masterpiece, played only a few days back:
Ivanchuk - Shankland
The move 18.Rxc5!! vows its existence to Ivanchuk's genius. A purely positional sacrifice to ensure free mobility for his pieces and lack of coordination amongst black pieces!
This game and Chukky's idea befits what Abrahams said:"A good chess player does not know his limits, and does not acknowledge limits. He only refuses to attempt further seeing when he is satisfied with what he has seen, or when he is satisfied that so many possibilities are good and that the choices are relatively unimportant. It is in the nature of the chessboard that many positions can each be satisfactorily treated in quite different ways; and it could not be demonstrated in a position of that type that any one move was the best. There may be many 'best'; the choice would depend upon style. Nevertheless, Chess players are evidently limited because human capacity is limited." - Abrahams
And it is in acknowledging this human limitation and attaining the temerity and fearlessness in trying to go beyond and explore, lies greatness, which is inherent in every human being....chess players!
Chess is all about mind, abstract thoughts, ideas, and the best chess happens in the absence of mind's influence! Chess Mind will make you think how to think and most importantly, how not to think, the moment you go beyond what is being said there!
The subject dealt with in this book, makes me put it up high in the order of preference, even above some of the books by my most favourite authors Bronstein, Keres, Alekhine and others.
How to get the book:
We tried getting the book on Amazon. It is not available on Amazon India, but it did exist on Amazon.com. It costs 30.95 $ but does not ship to India. In case a lot of people are interested to get the book, you can write in the comments section below. If we do get sizeable amount of people who are interested, we will try to get them somehow to India. So let us know in the comments section. 
About Gerald Abrahams:
Gerald Abrahams (15 April 1907 – 15 March 1980) was an English chess player, author, and barrister. He is best known for the Abrahams Defence of the Semi-Slav, also known as the Abrahams–Noteboom Variation, or the Noteboom Variation:
1.d4 d5 2.c4 c6 3.Nc3 e6 4.Nf3 dxc4 5.e3 b5 6.a4 Bb4 7.Bd2 a5 8.axb5 Bxc3 9.Bxc3 cxb5 10.b3 Bb7 (ECO D31).

In 1933 he was third at Hastings in the British Championship, after Mir Sultan Khan and Theodore Tylor. Abrahams was known as a strong blindfold player. In 1934 he took on four strong Irish players, playing blindfold, at the Belgravia Hotel in Belfast, winning two games and drawing two. In the Anglo-Soviet radio match of 1946 he scored one win and one draw against Viacheslav Ragozin on board 10.

Abrahams was the author of several chess books, including Teach Yourself Chess (1948),The Chess Mind (1951), Handbook of Chess (1960), Technique in Chess (1961), Test Your Chess (1963), The Pan Book of Chess (1966), Not Only Chess (1974), and Brilliancies in Chess (1977).
About the author:
---