ChessBase India show with GM R.B. Ramesh
R.B. Ramesh is a legend when it comes to chess training in India. He was the reason why Indian won its first team medal at the Olympiad in 2014. Six Indian players won gold medals at the World Youth 2015 and they were all his students! He is also the coach of R. Praggnanandhaa the youngest IM in the world. This is a unique opportunity to ask him all the questions you had on your mind related to chess improvement and training. Ramesh will be the guest at the fourth ChessBase India show on 5th of April at 5 p.m. IST.
Fourth ChessBase India show with super coach R.B. Ramesh on 5th April at 5 p.m. IST
A small story at this point would be appropriate. Amruta and I are travelling with Jacob Aagaard to different cities all over India. Our last stop was Chennai. It was a star-studded session that we were looking at. There was the young Karthikeyan Murali, Aravindh Chithambaram both nearly 2600 on the Elo scale. Then there were these experienced GMs like M.R.Venkatesh, Sundararajan Kidambi, Shyam Sundar, Vishnu Prasanna. 
Jacob would give sheets of six positions to all these players and they would have to solve them and write their answer on the sheet. By mistake Jacob gave Ramesh the wrong sheet to solve. Ramesh blitzed through the six positions and then he got the right sheet and breezed through them as well! :) He was still in prime form! And this is after nearly 12-14 hours of coaching each day.
How does this man manage all of it? Well, you will know at the 4th ChessBase India show on 5th of April at 5 p.m. IST.
How to see the show live
Firstly you have to download the free native Windows software. You should go to play.chessbase.com and scroll down to the bottom of the screen. Click on the Free Download button.
After you have installed the Playchess client. You must login.
Enter your playchess username and password if you have one. (Note, the ChessBase Account credentials will work). Even if you do not have a Username or Password, you can enter as a guest. But it is better to create an account so that we know your identity when you are asking the question.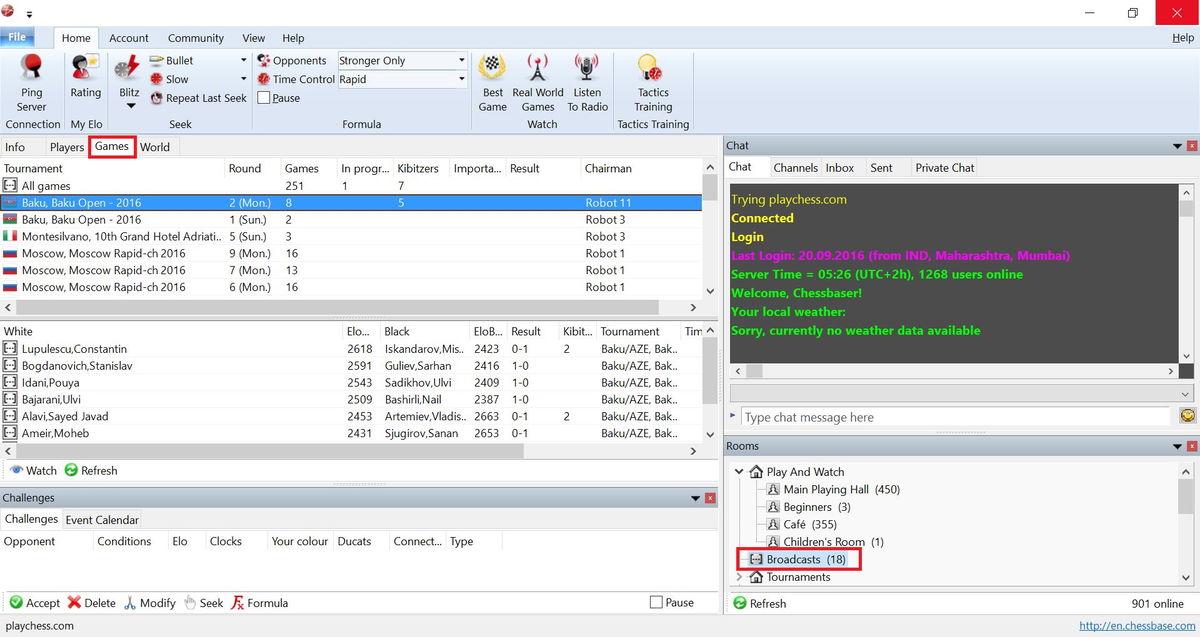 On the bottom right hand corner click on the room broadcasts and then click on the tab Games on the top. In the list you will find the fourth ChessBase India show with GM Ramesh RB at 5 p.m. IST
---