Ilamparthi, Sahithi, Divya, Jishitha, Arjun aim for gold!
Seven rounds have been completed at the Asian Youth Championships 2017. Five Indian players are on the first spot with many of them following them with half a point less! With two rounds to go we are all set for a huge tally of medals. A pictorial report from Uzbekistan by Gopakumar Sudhakaran.
Overnight sole leaders D Jishitha in Under-14 Girls and Sahiti Varshini in Under-10 Girls maintained sole lead with resounding victories in the seventh round of the Asian Youth Chess Championship at Hotel Grande Plaza on Thursday.
Continuing her fine run in the championship, Jishitha registered her seventh win from as many rounds stay at the top with perfect score. She defeated team mate Bommini Mounika Akshaya while Sahithi Varshini beat Ayaulum Kaldarova of Kazkhstan in seventh round battle to maintain her full point lead over team mate Savitha Shri and Shohradova Leyla of Turkmenistan.
In other categories, A R Ilamparathi took sole lead in Under-8 Open section after defeating Shams Mohammad Matin of Iran. Now he is enjoying half point lead over Alikhon Avazkhonov of the host nation with just two round remaining in the championship.
Aakanksha Hagawane in Under-18 Girls, Erigaisi Arjun in Under-14 Open and Divya Deshmukh in Under-12 Girls are the other Indians on lead at the end of seventh round matches. With six and half points in the kitty, Arjun shares the lead along with top seed Nodirbek Abdusattorov of Uzbekistan and Divya sharing the lead with Kamalidenova Merut of Kazakhstan with six points. Aakanksha have the company of top seed WGM Tokhirjonova Gulrukhbegim of Uzbekistan and Alinasab Mobina of Iran at top of point table with five and half points.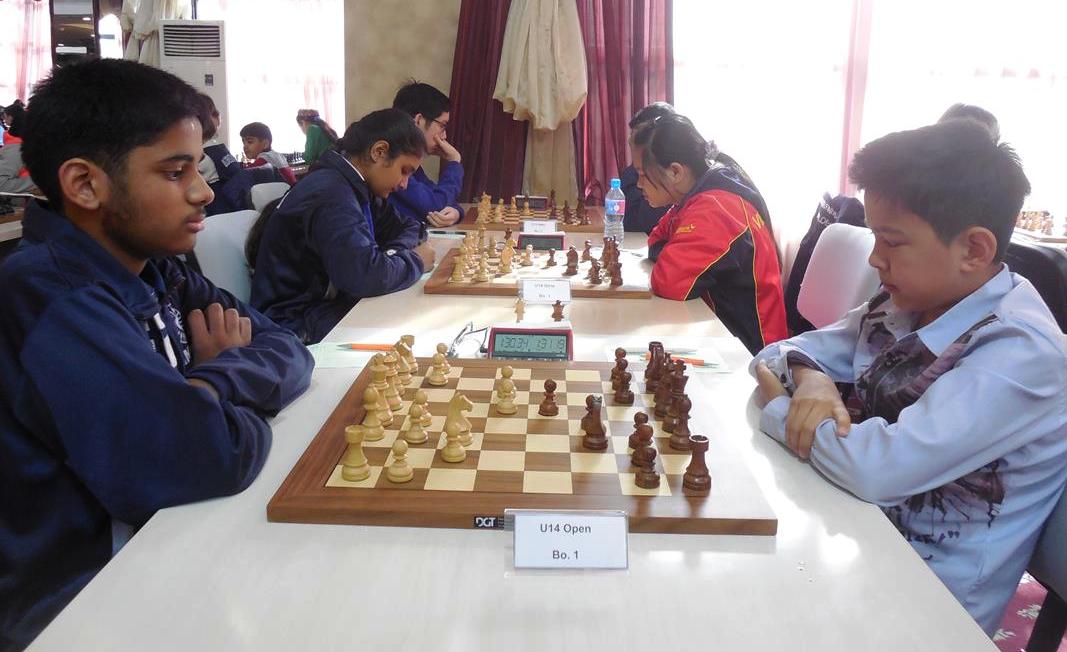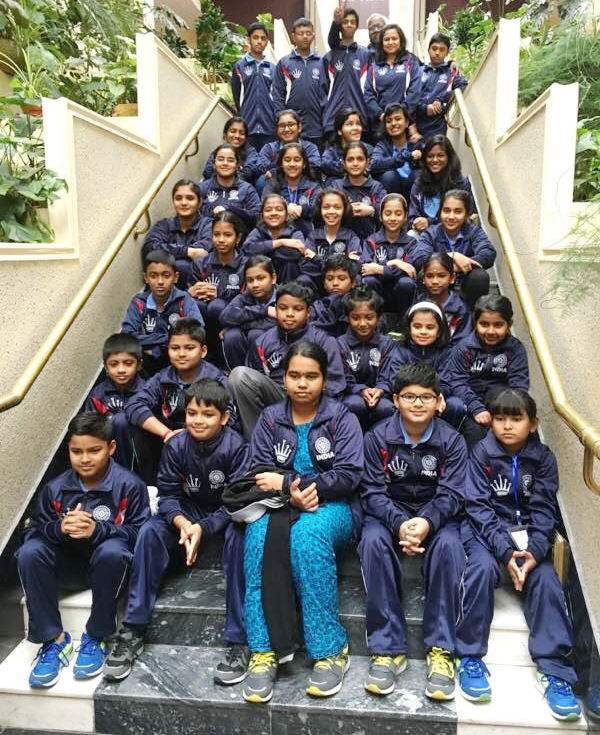 Round-7 Results of Indian Players :-
Under-18 Open :-  Pranavanda V  (4) lost to Tahbaz Arash of IRI (6.5); IM Makhnyov Denis of KAZ (5) drew with Kaustuv Kundu (5); Sai Vishesh C (4.5) beat Shvanov Georgiy of UZB (3.5).
Under-18 Girls :- Chandreyee Hajra (4) lost to WIM Aakanksha Hagawane (5.5); WIM Ivana Maria Furtado (4.5)  lost to WGM Tokhirjonova Gurukhbeguim of UZB (5.5) Nguyen Thi Minh Thu of VIE (4) lost to Ananya Suresh (5).
Under-16 Open :- Mitrabha Guha (4) beat Bekutrov Tamerlan of KAZ (3).
Under-16 Girls :-  Toshali V (4.5) drew with WFM Anwesha Mishra (4.5).
Under-14 Open :- Erigaisi Arjun (6.5) beat Daghli Arash of IRI (4.5)
Under-14 Girls :- Jishitha D (7) beat Bommini Mounika Akshya (4.5); Pham Tran Gia Thu of VIE (3.5) lost to Jyothsna L (4.5)
Under-12 Open :- Maghsoudloo Amir Ali of IRI (5) drew with Rohith Krishna S (5); Mukhamedov Khadiyatullo of UZB (4.5) drew with Pranesh M (4.5); Manish Anto Cristiano (4.5) beat Feng Jieming of CHN (3.5).
Under-12 Girls :- Heydari Zahra of IRI (4.5) lost to WFM Divya Deshmukh (6); Bhagyashree Patil (4) lost to Kamalidenvoa Meruet of KAZ (6); Rakshitta Ravi (5.5) beat Dhyana Patel (4); Chinnam Vyshnavi (5) beat Khabibullaeva Mokhinur of UZB (4); Kriti Mayur Patel (3) lost to Vuong Quynh Anh of VIE (4); Vishwa Vasnawala (3.5) lost to Shohradowa Lala of TKM (4.5).
Under-10 Open :- Tanmay Jain (5.5) drew with Saydaliev Akobirkhon of UZB (5); Dev Shah (4.5) beat Akylbek Zhaksylyk of KAZ (3).  
Under-10 Girls :-  Sahithi Varshini (6.5) beat Kaldarova Ayaulym of KAZ (4); Nguyen Linh Dan of VIE (4.5) lost to Savitha Shri B (5.5); Momunkulova Imannur of KGZ (3.5) drew with Riddhi R Patel (3.5).
Under-8 Open :- Shams Mohammad Matin of IRI (4) lost to  Ilamparthi A R (6); Pham Tran Gia Phuc of VIE (5.5) beat Priyansh Das (4); Li Ziheng of CHN (3.5) lost to Sriansh Das (4.5)
Under-8 Girls :- Shefali A N (4.5) lost to Ho Ngoc Vy of VIE (5); Saineha R M (3.5) lost to Lkhadvajed Gantulga of MGL (4.5); Suhaani Lohia (3.5) beat Odilbekova Maftuna of UZB (2.5).
Player overview for IND
| | | | | | | | | | | | | | | |
| --- | --- | --- | --- | --- | --- | --- | --- | --- | --- | --- | --- | --- | --- | --- |
| SNo |   | Name | Rtg | FED | 1 | 2 | 3 | 4 | 5 | 6 | 7 | Pts. | Rk. | Group |
| 1 |   | Ilamparthi A R | 1765 | IND | 1 | 1 | 1 | ½ | ½ | 1 | 1 | 6,0 | 1 | AYCC 2017 U8O |
| 6 |   | Priansh Das | 1342 | IND | 1 | 0 | 1 | 1 | 1 | 0 | 0 | 4,0 | 9 | AYCC 2017 U8O |
| 9 |   | Sriansh Das | 1258 | IND | 1 | 0 | 0 | 1 | 1 | ½ | 1 | 4,5 | 5 | AYCC 2017 U8O |
| 6 | WCM | Shefali A N | 1165 | IND | 1 | 1 | ½ | 1 | 0 | 1 | 0 | 4,5 | 6 | AYYC 2017 U8G |
| 7 | WCM | Suhaani Lohia | 1125 | IND | 0 | ½ | 1 | 0 | 1 | 0 | 1 | 3,5 | 17 | AYYC 2017 U8G |
| 14 |   | Saineha R M | 1008 | IND | 1 | 1 | 0 | 0 | ½ | 1 | 0 | 3,5 | 15 | AYYC 2017 U8G |
| 2 | CM | Dev Shah | 1857 | IND | 0 | 1 | 1 | 0 | ½ | 1 | 1 | 4,5 | 7 | AYCC 2017 U10O |
| 7 |   | Tanmay Jain | 1596 | IND | 1 | 1 | 1 | 1 | 0 | 1 | ½ | 5,5 | 2 | AYCC 2017 U10O |
| 1 |   | Savitha Shri B | 1636 | IND | 0 | 1 | 1 | 1 | 1 | ½ | 1 | 5,5 | 2 | AYCC 2017 U10G |
| 4 |   | Sahithi Varshini M | 1368 | IND | 1 | 1 | 1 | 1 | 1 | ½ | 1 | 6,5 | 1 | AYCC 2017 U10G |
| 14 |   | Patel Riddhi R | 1285 | IND | ½ | ½ | 1 | 0 | 0 | 1 | ½ | 3,5 | 19 | AYCC 2017 U10G |
| 4 |   | Manish Anto Cristiano F | 1947 | IND | 1 | 1 | 1 | 0 | ½ | 0 | 1 | 4,5 | 8 | AYCC 2017 U12O |
| 7 |   | Rohith Krishna S | 1934 | IND | 1 | 1 | 0 | 1 | ½ | 1 | ½ | 5,0 | 4 | AYCC 2017 U12O |
| 9 |   | Pranesh M | 1792 | IND | 1 | 1 | 0 | 1 | 0 | 1 | ½ | 4,5 | 7 | AYCC 2017 U12O |
| 1 | WFM | Divya Deshmukh | 2012 | IND | 1 | 1 | 1 | 1 | 0 | 1 | 1 | 6,0 | 1 | AYCC 2017 U12G |
| 2 |   | Rakshitta Ravi | 1923 | IND | 1 | ½ | 1 | 1 | 1 | 0 | 1 | 5,5 | 3 | AYCC 2017 U12G |
| 7 | WCM | Dhyana Patel | 1695 | IND | 1 | 0 | 1 | 0 | 1 | 1 | 0 | 4,0 | 13 | AYCC 2017 U12G |
| 8 |   | Bhagyashree Patil | 1658 | IND | 1 | ½ | 1 | ½ | 1 | 0 | 0 | 4,0 | 14 | AYCC 2017 U12G |
| 15 | WCM | Chinnam Vyshnavi | 1450 | IND | 1 | 1 | 0 | 1 | ½ | ½ | 1 | 5,0 | 5 | AYCC 2017 U12G |
| 17 |   | Vishwa Vasnawala | 1354 | IND | 0 | 1 | 0 | ½ | 1 | 1 | 0 | 3,5 | 17 | AYCC 2017 U12G |
| 21 |   | Kriti Mayur Patel | 1291 | IND | 0 | 1 | 1 | 1 | 0 | 0 | 0 | 3,0 | 20 | AYCC 2017 U12G |
| 2 | CM | Erigaisi Arjun | 2300 | IND | 1 | 1 | 1 | 1 | ½ | 1 | 1 | 6,5 | 1 | AYCC 2017 U14O |
| 4 |   | Jishitha D | 1859 | IND | 1 | 1 | 1 | 1 | 1 | 1 | 1 | 7,0 | 1 | AYCC 2017 U14G |
| 5 |   | Jyothsna L | 1848 | IND | 1 | 1 | ½ | 0 | 1 | ½ | 1 | 5,0 | 4 | AYCC 2017 U14G |
| 7 | WFM | Bommini Mounika Akshaya | 1753 | IND | 1 | 0 | ½ | 1 | 1 | 1 | 0 | 4,5 | 9 | AYCC 2017 U14G |
| 4 | FM | Mitrabha Guha | 2348 | IND | 1 | 0 | 0 | 1 | 1 | 0 | 1 | 4,0 | 10 | AYCC 2017 U16O |
| 2 |   | Toshali V | 1997 | IND | 0 | 1 | 1 | 1 | 1 | 0 | ½ | 4,5 | 5 | AYCC 2017 U16G |
| 7 | WFM | Mishra Anwesha | 1872 | IND | 1 | ½ | ½ | ½ | 1 | ½ | ½ | 4,5 | 7 | AYCC 2017 U16G |
| 8 |   | Sai Vishwesh.C | 2274 | IND | 1 | 1 | 0 | ½ | 1 | 0 | 1 | 4,5 | 6 | AYCC 2017 U18O |
| 11 |   | Kaustuv Kundu | 2195 | IND | 1 | 0 | 1 | ½ | 1 | 1 | ½ | 5,0 | 3 | AYCC 2017 U18O |
| 12 |   | Pranavananda V | 2169 | IND | 1 | 0 | 1 | 0 | 1 | 1 | 0 | 4,0 | 8 | AYCC 2017 U18O |
| 2 | WIM | Aakanksha Hagawane | 2272 | IND | 1 | 1 | ½ | ½ | 1 | ½ | 1 | 5,5 | 2 | AYCC 2017 U18G |
| 5 | WIM | Ivana Maria Furtado | 2111 | IND | 1 | 1 | ½ | 1 | 0 | 1 | 0 | 4,5 | 6 | AYCC 2017 U18G |
| 7 | WCM | Chandreyee Hajra | 1919 | IND | 1 | 1 | 0 | 0 | 1 | 1 | 0 | 4,0 | 8 | AYCC 2017 U18G |
| 9 | WCM | Ananya Suresh | 1900 | IND | 1 | 0 | 1 | 1 | 0 | 1 | 1 | 5,0 | 4 | AYCC 2017 U18G |
---