Hridaynath Award for the conqueror of Indian hearts!
It was an evening to remember! The Governor of the state, Bollywood super-star, eminent sports personalities from various disciplines and more than 600 fans had gathered to felicitate the pride of India and the honour of Indian chess Viswanathan Anand. Vishy was feted with the Hridaynath on the 12th of April 2016. The ceremony consisted of impeccable compèring, highly entertaining speeches and light Q&A session of 20 minutes with Anand. We not only have some beautiful pictures captured by Amruta Mokal but also the speeches and videos that give you an overall feel of how things transpired that evening. 
"Did you know that Anand has a planet named after him? It's called Vishy Anand 4538. Only four sportspersons have been bestowed with this honour before him – Donald Bradman, Jesse Owens, Arsene Wenger and Roger Federer! That's how great this man is and we are lucky to be in his company." This is how Dronacharya award winner Raghunandan Gokhale introduced the great five-time chess World Champion Viswanathan Anand on the 12th of April 2016 at Dinanath Mangeshkar hall, Vile Parle, Mumbai.
More than six hundred people gathered to witness the function where Anand was to receive the Hridaynath Award. Instituted by Hridayesh Arts, a Mumbai-based socio-cultural organisation that was established on Oct. 26, 1990, the "Hridaynath Award" is presented annually to individuals achieving eminence in their chosen field. Previous recipients of this award have been Lata Mangeshkar, Asha Bhosle, Amitabh Bachchan and A. R. Rahman. Vishy Anand is the first sportsperson to have been awarded this honour, ahead of players like Tendulkar, Dhoni, Nehwal, Paes etc. It just goes to show what a great achievement this is.
Eminent personalities graced the occasion with their presence: Governor of Maharashtra C.Vidyasagar Rao and the strongest chess player in Bollywood Aamir Khan. Aamir, who is never seen in any Bollywood awards ceremony, made it a point to be present at the event to cheer for his chess idol.

Anand's achievements in the field of chess have been unparalleled. Single handed, he has taken the sport to an entirely different level. As Ravi Abhiyankar, who is a very close friend of Anand, noted, "An Indian becoming a World Champion in chess is like an Indian beating the Kenyans and Ethiopians in Marathon, or an Indian car winning the Formula one, or an Indian actor winning the Oscar. None of these three things have happened till date, but Anand has been able to win the World Champion's title not once but five times!" Ravi continues, "You know, we often judge an entire community or a nation based on one or two people whom we know. It is called stereotyping. Chess fans in 180 countries judge all Indians, all of us by watching Viswanathan Anand. Thanks to him they think all Indians are intelligent, modest, soft-spoken, philosophical with a great sense of humour. In that sense, Anand has been India's greatest ambassador. He represents what is best in India and India is best represented by him."
Harish Bhimani was the master of ceremony. He has to his credit more than 19,000 recordings. He is considered by many as the most recognizable voice of India and the most travelled Indian compere. With his impeccable voice and sense of humour he made it a show to remember. One of Harish's anecdotes at the event: "I asked Vishy whether his wife plays chess, and Anand replied that he was happily married!"
Excerpts from the speech of Governor Vidyasagar Rao: "I learnt the game of chess when I was in prison in Warangal for a year in 1975 when emergency was declared in the country. One year is a long period if you think about it. I learnt a lot of things and chess was one of them."
"Before I conclude I will appeal to Anand to visit Maharashtra once every year, maybe for a fortnight, and conduct camps and provide insights to young chess players. He should make Maharashtra his second home! By 2020 the average age of Indians would be the lowest in the world, it would be 29 years! Almost eight years less than the average age in America and China. So young people are the future of our country. If you don't treat them properly there would be chaos and chess is a perfect tool to train the minds of these youngsters. There won't be any discussions like tolerance or intolerance if they are playing chess!"
A lot of famous sports personalities from chess and other sports attended the ceremony. They were also felicitated. Some of them were:
Charudatta Jadhav is the Head of Innovation Strategy at TCS and the General Secretary of the AICFB. He has represented India in six World Chess Championships for the Blind and two Olympiads, developed the world's only talking software for chess, and has scaled a 17,220 feet peak in the Himalayas among many other things. He has managed to achieve all his success despite losing his ability to see at the age of thirteen. His father was a mill-worker from Kurla in Mumbai and lost his job soon after his son lost his sight. Amidst all the darkness, chess was the ray of light that kept Charu moving forward. To rise from such a background to head an entire department in a corporate, to lead the complete set-up of blind chess in India, and do so successfully for almost two decades – truly an astounding story.
(Blind chess in India by Priyadarshan Banjan)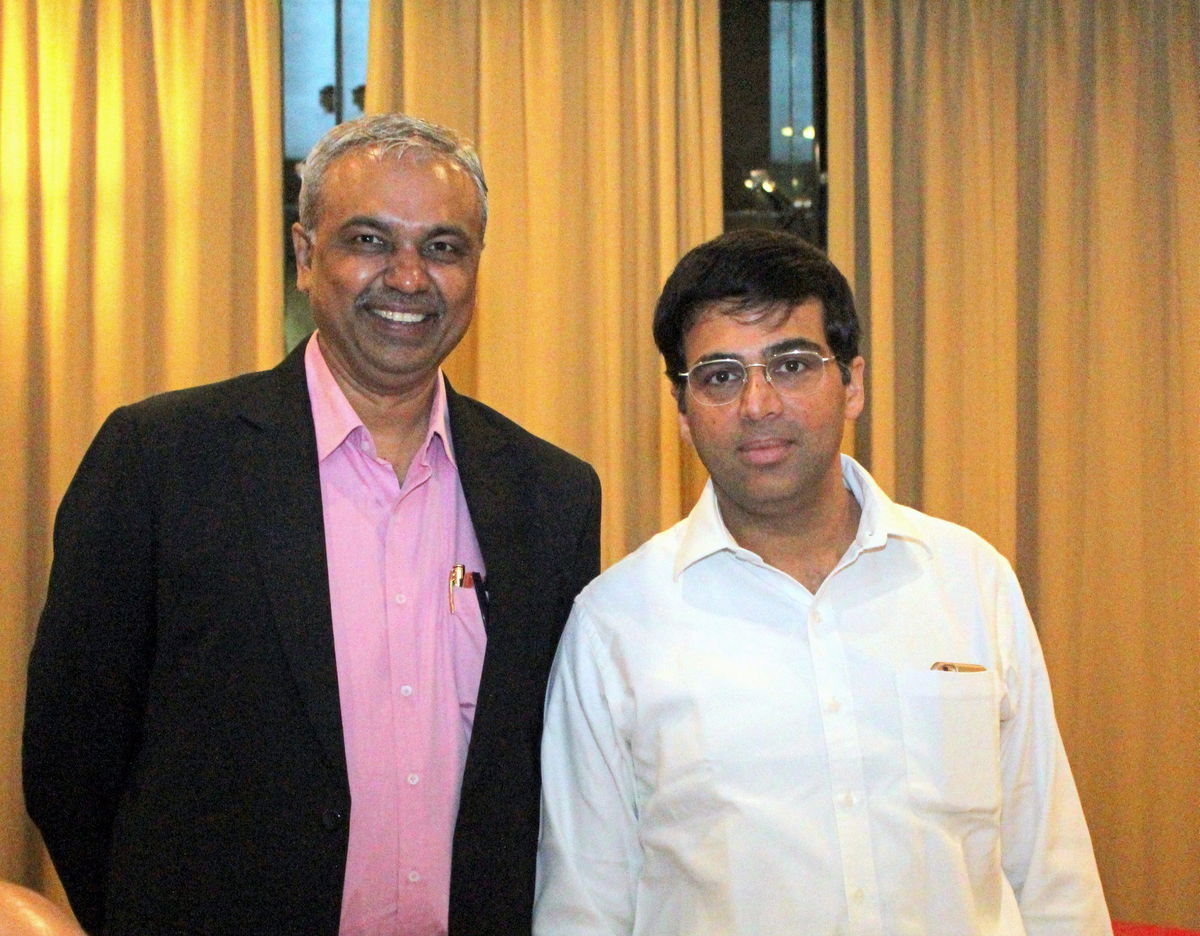 A 10-year-old boy came on the stage and asked Anand, "My sister beats me easily at chess. Yet, I see very few girls in the top 100. Why is that?" The way the boy narrated the question brought a huge smile on Vishy's face! "Okay, that's a brilliant question! I don't know what to tell you about your sister. It seems like a recipe of getting into trouble (Laughs). But, if someone is beating you regularly, just try to practice often. You may not notice it, and she may not, but one day you might suddenly beat her. Play with different people. By playing against different opponents, you learn something new and you would have changed the dynamic. As for why women underperform as compared to men in the top 100, there isn't really a good explanation for that. Or at least I don't have one. It is not an overtly physical sport, so I am not sure why women aren't as good as men in chess."
Another question dealt with who Vishy's idols were. "I grew up idolizing Mikhail Tal and when I later met him I liked him even more. He was very simple and fun loving. He was the kind of a person who would go to a bar and play chess with any chess fan. I liked him both for his games and personality. I also admired Bobby Fischer, although I didn't meet him until much later." If Anand had to choose one World Champion from the past with whom he had never played and would like to play, who would that be? "I am slightly curious about Paul Morphy. I always found his dominance very hard to explain. Not in the sense that I didn't understand how he was beating people but just how was it that he came out of nowhere and started beating just about everyone! So, maybe Morphy!"
While all this was going on, one boy suddenly came up on the stage, took the mic from Harish Bhimani's hand and asked, "How should I become a World Champion like you?" The entire crowd applauded, not only for the boy's question but also for his courage to go up to the stage unannounced. "It starts and you take it game by game. The most important thing is to practice often. That was a good advice in the past and it still is because the only thing that differentiates you from others is your playing skill on the board."
And to cap it off one of was a question which is on the minds of just about every parent whose child plays chess – how do we balance academics and chess. "In the beginning it was not so bad for me, as I wasn't playing so much chess to affect my studies. But later on, let me diplomatically say, I didn't make 100% anymore! I still did reasonably. I think it is just a question of blocking time for your studies, doing it and finding time to play. It's not a big conflict because I don't believe that the time you get in not playing chess will be immediately spent in studies and vice versa."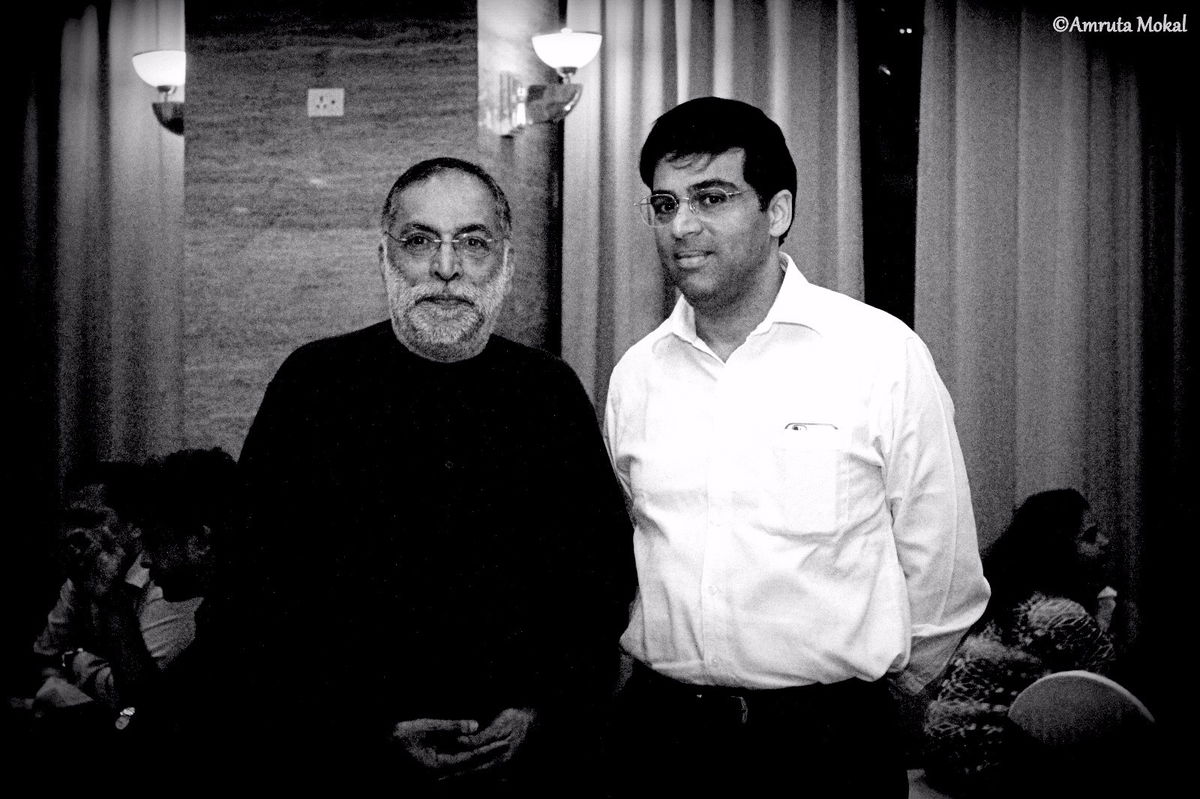 The Kamat family has more than 550 hotels all over India. Vithal Kamat is one of the most successful entrepreneurs of the country and has recorded his highly interesting journey in the book "Idli, Orchid and willpower", which was a Marathi bestseller. What would be his advice to young and budding entrepreneurs? Kamat replied, "Find the Gap, Tap and Map."
A wonderful evening thus came to an end. The Indian chess fraternity thanks Vishy Anand for all that he has done to popularize and develop a chess culture in this country!  
---