World Blitz Championship: Two leaders emerge in both groups
The first day of the King Salman World Blitz Championship 2018 was a tumultuous affair. While tournament lead changed hands multiple times, at the end of the day, two players shared the lead in both groups. In the open, it was Magnus Carlsen and Vladislav Artemiev who came out on top while in the Women's Kateryna Lagno and Sarasadat Khademalsharieh shared the lead. Vishy Anand had a nice start to the event but two losses towards the end of the day pulled him down on the leaderboard. We have a report with pictures and games.
World Blitz Championship, 2018
Play moved to the blitz time control at the King Salman World Rapid and Blitz Championship in St. Petersburg, Russia on Saturday. While the prize fund for both open and women's events remains the same -- $350,000 for open and $150,000 for women's -- the blitz leg is to be played over only two days. The men's event will feature 21 rounds while the women's would have 17. Rate of play is 3 minutes for the entire game with a two-second increment from the first move.
After having missed out by a slither in the rapid event, Magnus Carlsen spared no usurpers on the first day of Blitz. Scoring an unbeaten 9½/12 on the first day, he leads the tournament alongside Vladislav Artemiev, the sixth seed of the tournament. India's Viswanathan Anand, in the meanwhile, scored a decent 7½/9.
The women's group also saw two leaders share the top spot as Kateryna Lagno and Sarasadat Khademalsharieh finished the day with 7½/9 each. The recently crowned women's world rapid champion, Ju Wenjun, along with compatriots Lei Tingjie and Tan Zhongyi, is a close second at 7/9. India's Harika Dronavalli is another half-a-point behind at 6½/9 with eight others while Koneru Humpy reached 6/9 at halfway mark.
In the open group, it was a turbulent day as lead changed hands multiple times before the day came to a close. GM Rauf Mamedov of Azerbaijan was the first to take sole lead in the event scoring a perfect 5.0/5. In the very next round, however, he was toppled by GM Baadur Jobava on the top board while Iranian GM Alireza Firouzja defeated Peter Svidler to share tournament lead at first. In round 7, Firouzja defeated Jobava to take lead himself but his sole lead, too, was short-lived as he was defeated by Magnus Carlsen in the eighth round and was caught up by five other players.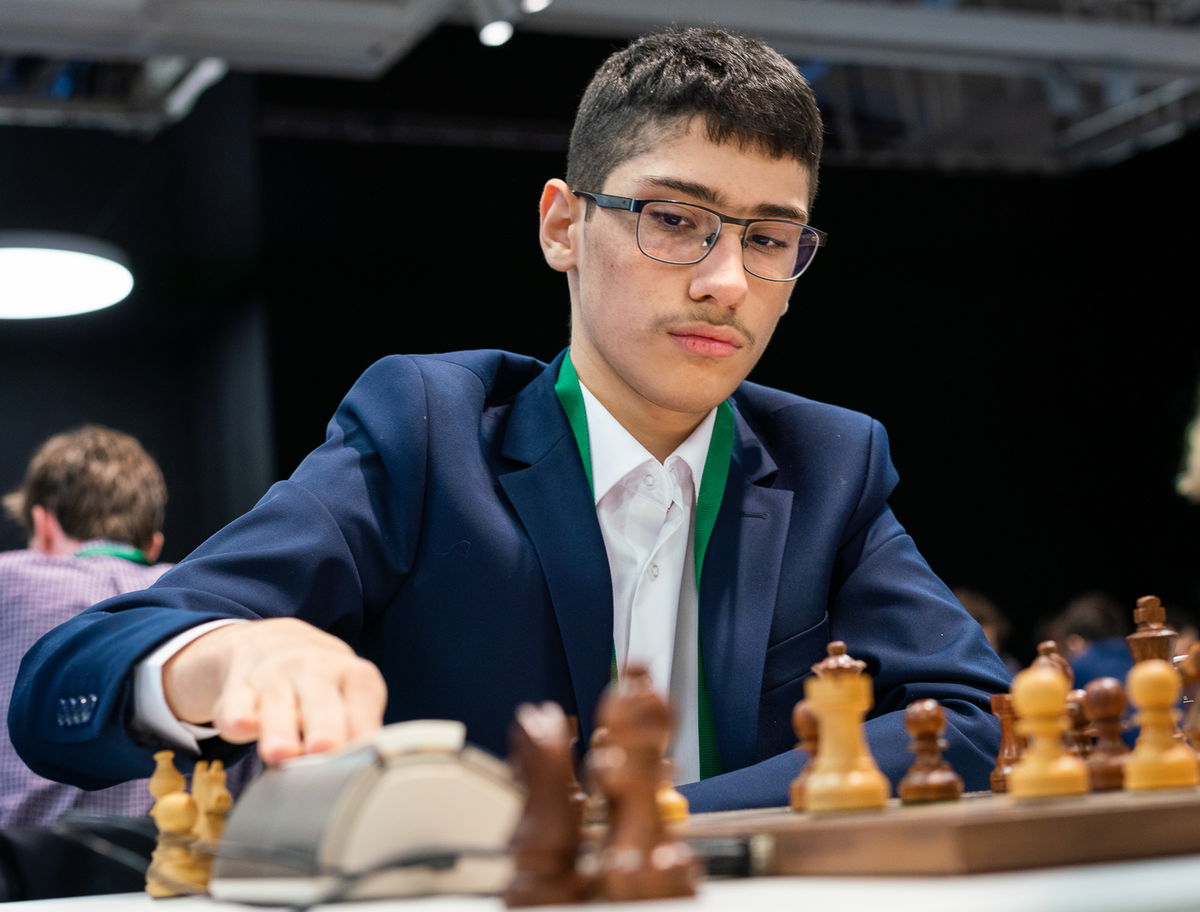 Having reached the top of the leaderboard after his win over Firouzja, Carlsen almost suffered the curse of being the tournament leader and was on the brink of a defeat in his ninth round game against Dmitry Andreikin. But miraculously, Andreikin faltered while converting. With his two far advanced pawns against Carlsen's rook, he was clearly winning in the endgame and had even found the winning plan. But in the time scramble, Andreikin inverted the order of moves that needed to be played and this led Carlsen slip away with a draw!
Andreikin vs. Carlsen
The tenth round saw luck smiling upon Magnus once again when he was involved in a complex but balanced struggle with GM Peter Svidler. Caught in time trouble, Svidler allowed a mate in 5 on his 35th move. When Carlsen missed it, Svidler, who was perhaps completely concentrating on his own counterattack, allowed the world champion a checkmate in one move. And this time, Carlsen saw it.
In his last two games, Carlsen was pitted against Aronian and Artemiev respectively. While he was able to put enough pressure on Aronian to make him crack, his game against Artemiev saw Carlsen on the back foot. Artemiev tried everything to induce errors from the world champion. He opened with an unconventional double fianchetto with white and then gave up a full piece on move 22, in order to provoke a complex battle. While he did succeed in complicating the position, the game ended peacefully after a 70 move long struggle.
Meanwhile, Anand, who was within a point's distance from the leaders until the sixth round, began to slip lower down the leaderboard due to back to back draws in rounds 6 and 7. In the eighth round, he suffered a shocking loss to Anton Korobov.
In a Queen's Gambit Declined, Anand had just come out of the opening when he blundered on his 15th turn and allowed his bishop to be pinned along the queen's file. Korobov quickly opened up the position and won the aforementioned bishop within the next five moves, forcing immediate resignation.
Anand came back with a commanding win in his following game over Evgeny Alekseev but lost again in the ninth round due to a tactical oversight against Illia Smirin of Israel. On his 24th turn, in a perfectly balanced position, Anand went for a doubling of rooks on the queen rook file. While this looked natural at first glance, it left Anand's king vulnerable. Smirin immediately broke in with a rook sacrifice, threatening a checkmate by force.
Undeterred nevertheless, Anand went on to score a win and a draw in his last two games of the day to finish with 7½/12.
While Carlsen and Artemiev lead at the close of day 1, there is a long list of very able grandmasters chasing them. And with nine more rounds to go, nothing is written.
Standings (Open)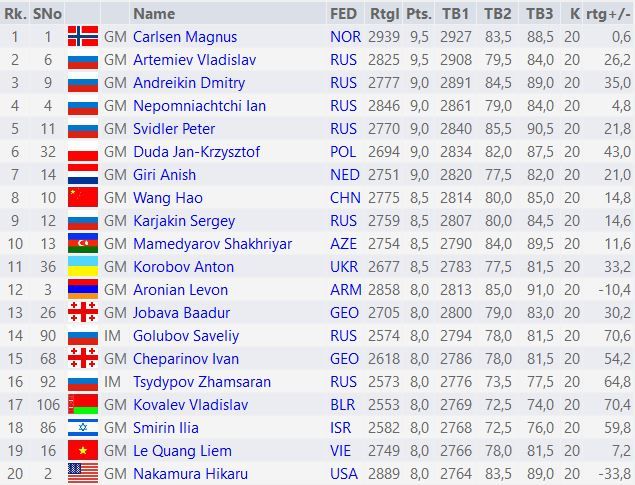 All games (Open)
Standings (Women)
All games (Women)

---