Nielsen on 10 years of Mexico 2007: Anand saved against Gelfand (R01)
ChessBase India is celebrating ten years of India getting its first undisputed World Champion. Viswanathan Anand became the World Champion when he won the World Championship tournament in Mexico 2007. It was an eight player double round robin tournament. Anand's second Peter Heine Nielsen met Sagar Shah in Vilnius and Tbilisi and the two broke down the event game by game. On 13th of September 2007, the first game was played by Anand against Gelfand. We bring you Peter Heine Nielsen's thoughts, pictures, videos and detailed analysis.
All pictures from Mexico provided by Ali Nihat Yazici
Round one: Anand draws against Gelfand with White
Participants of Mexico 2007
| | | | |
| --- | --- | --- | --- |
| Player | Nat. | Rtn | Birth |
| Viswanathan Anand | IND | 2792 | 1969 |
| Vladimir Kramnik | RUS | 2769 | 1975 |
| Alexander Morozevich | RUS | 2758 | 1977 |
| Peter Leko | HUN | 2751 | 1979 |
| Levon Aronian | ARM | 2750 | 1982 |
| Peter Svidler | RUS | 2735 | 1976 |
| Boris Gelfand | ISR | 2733 | 1968 |
| Alexander Grischuk | RUS | 2726 | 1983 |
This eight player double round robin event was going to determine the World Champion. It would also be an undisputed title because the reigning World Champion Vladimir Kramnik was playing here.
Results of round one
Round 1: Thursday, Sept. 13th 2007, 14:00h

Vladimir Kramnik

½-½

Peter Svidler

Alexander Morozevich

½-½

Levon Aronian

Viswanathan Anand

½-½

Boris Gelfand

Alexander Grischuk

½-½

Peter Leko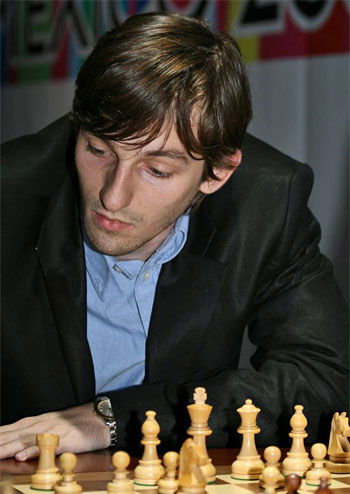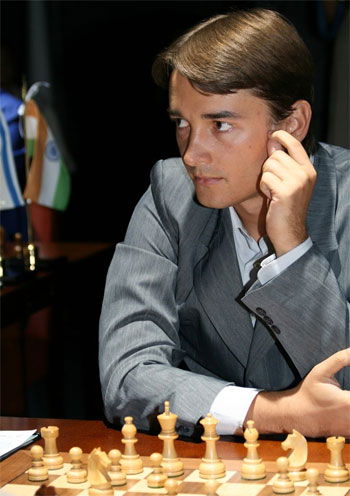 ---
Vishy Anand vs Boris Gelfand
By Peter Heine Nielsen
Boris Gelfand at that time was a player that no one thought could win the title. Everyone felt that he would finish last. This is pretty funny especially because he challenged Vishy for the World title in 2012. He was the oldest player in the tournament back then and no one believed that he was a force to reckon with. So Vishy beginning as White in game one against him seemed like a good start. However, here was the problem:
Vishy made the decision at the training camp before the tournament that we would not try to spend too much time on the Petroff. Instead we focused on more interesting lines. For the Petroff we decided that we would look at things in Mexico and if it was a draw, so be it. I think it was a great practical decision. But the first two games with the white were against the Petroff where we didn't get anything. Overall things ended well for us, but you can understand that we were running quite a bit of risk there.
Of course...Rxf4! This move was not missed by both the players, but they somehow convinced themselves that this was not working, after lines like Bxa7 for White. Actually ...Rxf4 was a very strong move which would have given Black a very serious advantage. It was as if during the game both the players had convinced themselves that a draw would be a good result for them. Gelfand felt that a draw with the black pieces against the top seed in the tournament was fine, while Anand was not too pleased with his position and happy with the draw.
The draw from such a position was a good outcome. What would have happened if Gelfand would have taken the pawn on f4? Anand was in tremendous form and it might have been possible that even if he would have lost the game nothing would have changed. At the same time no one would like to start the tournament with a loss and it could have well affected him. Luckily we would never know what would have happened if Gelfand had won this game! But it was a crucial moment in the tournament that could have changed chess history!
---
Round one game analyzed by Mihail Marin
This series of articles intends to celebrate this huge occasion in Indian chess - our star becoming the undisputed World Champion. Follow us on the journey. The second round was played on 14th September 2007 and you can expect an article on it tomorrow.
Previous articles:
Road leading up to the tournament
---