Visakh NR joint winner at the Alekhine Memorial 2019 in Voronezh
Fighting against some of the strongest Russian players on their home soil, India's 60th GM Visakh NR finished as the joint winner along with GM Boris Savchenko at the 23rd edition of the Alekhine Memorial in Voronezh. Visakh played some enterprising chess and took great risks to play for wins with both white and black pieces. In this report you will find not just pictures from the event, but also detailed game analysis and also four instructive video interviews. In those videos you can see how four GMs analyze their best games over a chess board with plenty of variations, concepts and ideas. A power packed report from Voronezh in Russia by Rupalli Mullick.
Savchenko wins 23rd Alekhine Memorial in Voronezh
For all those who have missed, here's round 1-5 report from Voronezh 2019
As expected, the Alekhine Memorial finished with a heavily fought battlefield since the top board players had to fight tooth and nail to stay ahead of the rest of the field. IM Sergey Pavlov (UKR), Arseniy Nesterov (RUS) and Azamaty Utegaliyev (KAZ) were clear leaders after five rounds with a 4.5/5, but 16-year old, untitled Arseniy Nesterov (RUS) won everyone's hearts with his fabulous, solid performance on the top table and managed to maintain a half point lead after round 6 over the rest of the players. At the end of the eighth round, Arseniy was at leading with 6.5/8, while there were 8 players trailing the 16-year-old by only half a point at 6.0/8. The ninth round presented many twists and turns and ended up with both Visakh and Savchenko tying for first place with 7/9. But due to a better tiebreak Savchenko clinched the title.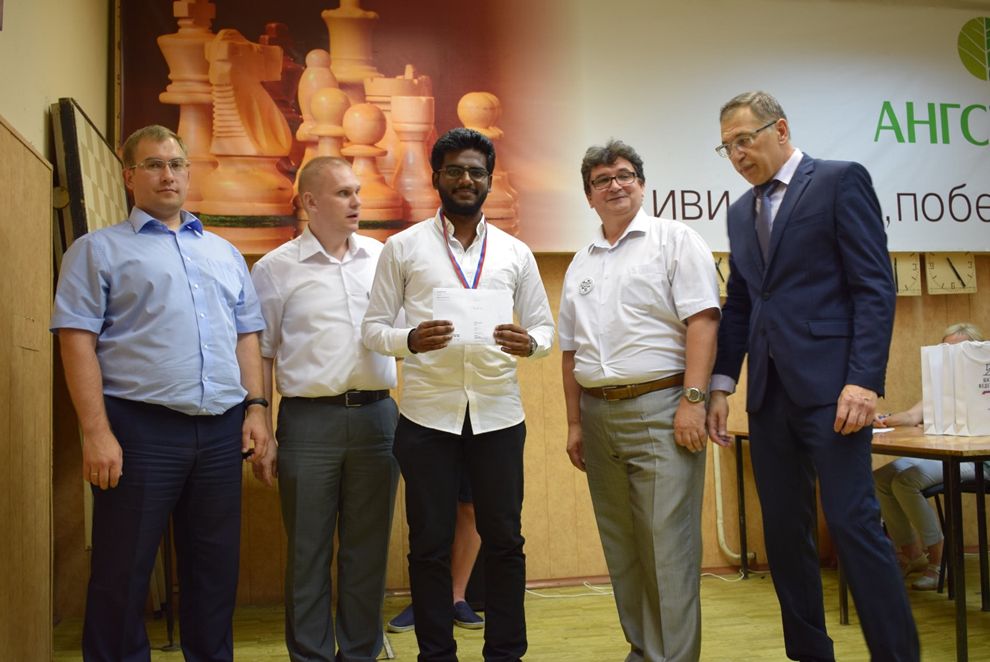 Final standings
| | | | | | | | | | | | | |
| --- | --- | --- | --- | --- | --- | --- | --- | --- | --- | --- | --- | --- |
| Rk. | SNo | | Name | FED | Rtg | Club/City | Pts. | TB1 | TB2 | TB3 | K | rtg+/- |
| 1 | 5 | GM | Savchenko Boris | RUS | 2567 | Москва | 7,0 | 49,0 | 45,0 | 6 | 10 | 8,9 |
| 2 | 17 | GM | Visakh N R | IND | 2518 | Индия | 7,0 | 47,0 | 43,5 | 5 | 10 | 10,9 |
| 3 | 13 | GM | Maiorov Nikita | BLR | 2527 | Беларусь, Минск | 6,5 | 51,0 | 47,0 | 4 | 10 | 12,1 |
| 4 | 3 | GM | Rozum Ivan | RUS | 2572 | Вологда | 6,5 | 51,0 | 46,5 | 5 | 10 | 6,4 |
| 5 | 35 | | Nesterov Arseniy | RUS | 2423 | Новгород | 6,5 | 50,0 | 47,0 | 5 | 10 | 27,9 |
| 6 | 19 | | Utegaliyev Azamat | KAZ | 2495 | Казахстан, Уральск | 6,5 | 50,0 | 46,5 | 4 | 10 | 14,8 |
| 7 | 4 | GM | Shaposhnikov Evgeny | RUS | 2572 | Саратов | 6,5 | 48,5 | 44,5 | 5 | 10 | 2,9 |
| 8 | 9 | GM | Meshkovs Nikita | LAT | 2550 | Латвия, Рига | 6,5 | 48,0 | 44,0 | 4 | 10 | 5,6 |
| 9 | 1 | GM | Kryakvin Dmitry | RUS | 2586 | Ростов-на-Дону | 6,5 | 46,5 | 42,5 | 4 | 10 | -0,1 |
| 10 | 23 | IM | Pavlov Sergey | UKR | 2473 | Украина | 6,0 | 52,5 | 49,0 | 4 | 10 | 12,5 |
| 11 | 18 | IM | Rios Cristhian Camilo | COL | 2513 | Колумбия | 6,0 | 52,0 | 47,5 | 5 | 10 | 7,0 |
| 12 | 24 | IM | Ruiz Castillo Joshua Daniel | COL | 2472 | Колумбия | 6,0 | 51,5 | 48,5 | 4 | 10 | 14,3 |
| 13 | 12 | GM | Svetushkin Dmitry | MDA | 2532 | Молдова, Кишинев | 6,0 | 50,0 | 45,5 | 5 | 10 | 5,7 |
| 14 | 7 | GM | Goganov Aleksey | RUS | 2559 | Санкт-Петербург | 6,0 | 48,0 | 44,5 | 5 | 10 | 1,9 |
| 15 | 8 | GM | Fedorov Alexei | BLR | 2553 | Беларусь | 6,0 | 47,5 | 43,5 | 4 | 10 | -1,7 |
| 16 | 11 | GM | Puranik Abhimanyu | IND | 2548 | Индия | 6,0 | 47,0 | 43,5 | 5 | 10 | 0,3 |
| | 25 | IM | Golubov Saveliy | RUS | 2460 | Хотьково | 6,0 | 47,0 | 43,5 | 5 | 10 | 10,3 |
| 18 | 22 | GM | Potapov Pavel | RUS | 2479 | Салехард | 6,0 | 45,0 | 42,0 | 4 | 10 | 5,8 |
| 19 | 15 | GM | Moiseenko Vadim | RUS | 2525 | Вологда | 6,0 | 45,0 | 41,0 | 4 | 10 | -2,3 |
| 20 | 28 | GM | Harutjunyan Gevorg | ARM | 2446 | Армения | 6,0 | 42,5 | 39,5 | 5 | 10 | 5,6 |
---