Velammal MHS Mogappair clinch Gold at World Schools Team U-12, Bronze for Velammal VA in U-18 2023
Velammal MHS Mogappair scored a perfect 16/16 to become the inaugural World Schools Team Under-12 champions. Just like at the National championship, once again they scored 100% to win the Gold. They finished four match points ahead of the field. Lviv Academic Gymnasium (UKR) scored sole 12/16 to secure second place. National Physics and Mathematics (KAZ) edged past four other teams to finish third scoring 10/16. The Under-18 category was won by Istanbul ENKA High School (TUR). They also scored a perfect 16/16 to become the champion. Republican School of Phyics and Mathematics (KAZ) and Velammal Vidyalaya Alapakkam, Chennai scored 12/16 each. They were placed second and third respectively according to tie-breaks. Both champions won their respective categories with a round to spare. Trophies andmedals were the prizes for the top three finishers in each category. There were also top three board prizes for all five boards.
Velammal schools win medals in both categories
Lyceum School No. 8 for gifted children (KAZ) lost to Velammal MHS Mogappair 1.5-2.5 in Round 7 for the latter to become the champion in Under-12 with one round to spare 14/14. Similar thing happened in Under-18 category too as Istanbul ENKA High School (TUR) defeated Gymnasium Theodorianum Paderborn (GER) 3.5-0.5 to clinch the Gold with a round to spare 14/14. Both teams won their final round matches too and they won their respective categories with a perfect 16/16 score.


Aarav A scored a perfect 8/8 for his team. Tanish Ragavan S scored a crucial 7.5/8. Shanmathi Sree S contributed 5.5/8.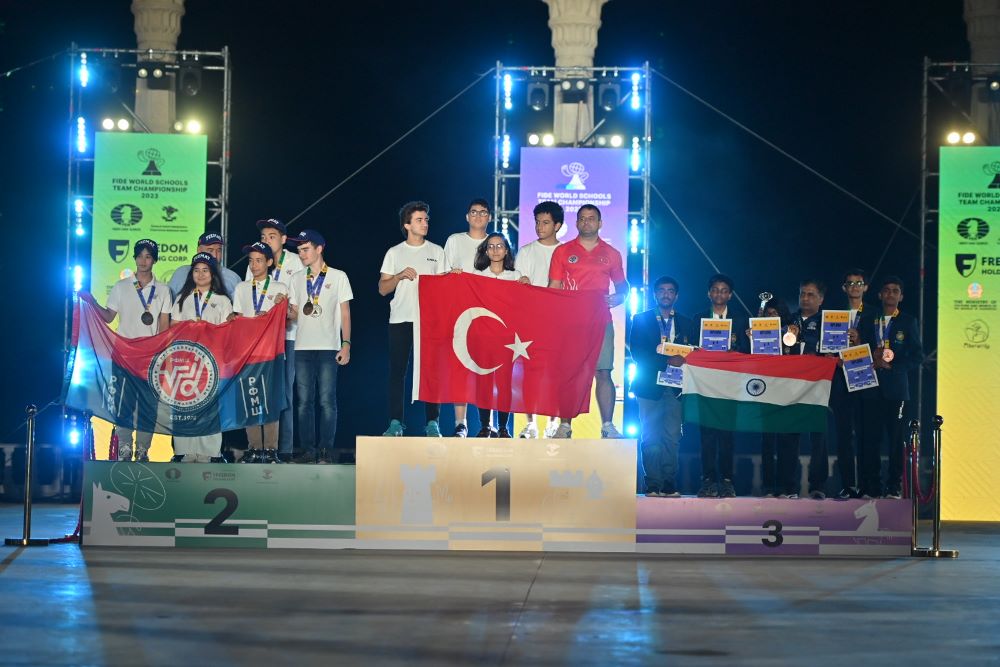 Individual Board prizes
Photo Gallery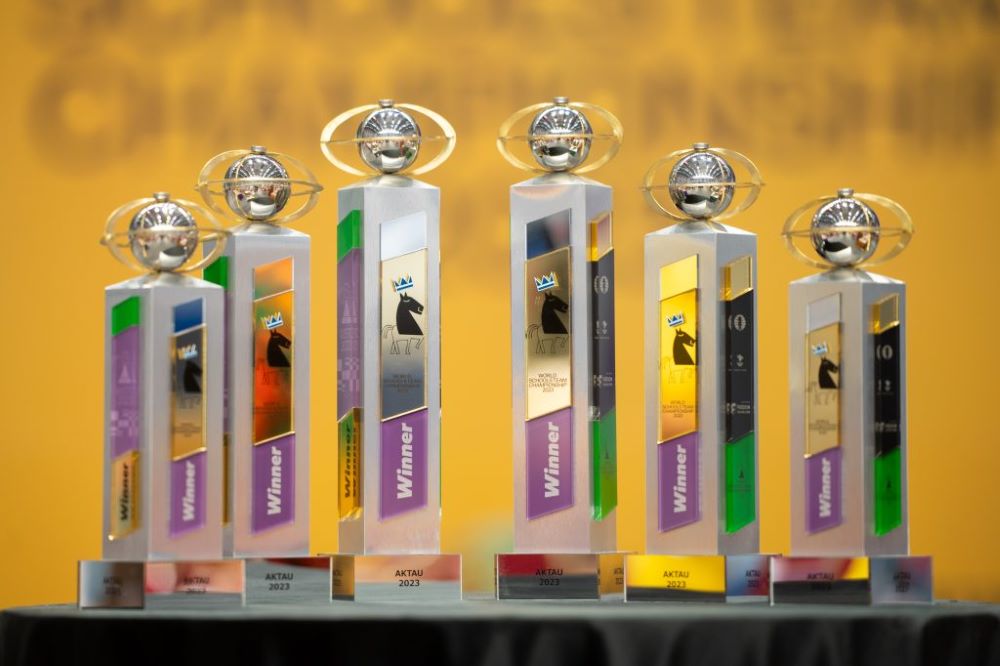 A total of 121 players represented 27 schools in Under-12 and 198 players represented 43 schools as a team in Under-18 category from 53 countries across the world in this four-day eight-round Swiss League Rating team tournament. The tournaments were organized by Kazakhstan Chess Federation in Aktau, Kazakhstan from 4th to 7th August 2023. The time control of the event was 45 minutes + 10 seconds increment from move no.1.
Replay all available Under-12 games
Replay Under-18 games
Final standings in Under-12
| | | | | | | | | | | | | |
| --- | --- | --- | --- | --- | --- | --- | --- | --- | --- | --- | --- | --- |
| Rk. | SNo | FED | | Team | Games | + | = | - | TB1 | TB2 | TB3 | TB4 |
| 1 | 2 | IND | | Velammal MHS Mogappair | 8 | 8 | 0 | 0 | 16 | 204 | 24,5 | 70 |
| 2 | 3 | UKR | | Lviv Academic Gymnasium | 8 | 5 | 2 | 1 | 12 | 165 | 20,5 | 70 |
| 3 | 5 | KAZ | | National Physics & Mathematics School | 8 | 3 | 4 | 1 | 10 | 172 | 19,5 | 73 |
| 4 | 1 | KAZ | | Lyceum School No. 8 for gifted children | 8 | 5 | 0 | 3 | 10 | 171,5 | 22 | 71 |
| 5 | 9 | KAZ | | IT lyceum No 9 named after O. Zholdasbek | 8 | 5 | 0 | 3 | 10 | 168 | 22,5 | 69 |
| 6 | 4 | KAZ | | School of Astana, number 72 | 8 | 5 | 0 | 3 | 10 | 129,5 | 17 | 72 |
| 7 | 12 | PER | | Saco Oliveros | 8 | 4 | 2 | 2 | 10 | 114,5 | 17,5 | 68 |
| 8 | 13 | POL | | Szkoła Podstawowa nr 48 im. Szarych Szer | 8 | 4 | 1 | 3 | 9 | 135,5 | 19,5 | 61 |
| 9 | 8 | ESP | | El Altillo International School | 8 | 4 | 1 | 3 | 9 | 116,5 | 17 | 66 |
| 10 | 18 | KAZ | | "School-Lyceum No. 7 named after N. Mara | 8 | 3 | 3 | 2 | 9 | 98 | 16 | 58 |
Final standings in Under-18
| | | | | | | | | | | | | |
| --- | --- | --- | --- | --- | --- | --- | --- | --- | --- | --- | --- | --- |
| Rk. | SNo | FED | | Team | Games | + | = | - | TB1 | TB2 | TB3 | TB4 |
| 1 | 1 | TUR | | Istanbul ENKA High School | 8 | 8 | 0 | 0 | 16 | 227,5 | 27,5 | 69 |
| 2 | 2 | KAZ | | Republican School of Physics and Mathema | 8 | 6 | 0 | 2 | 12 | 202,5 | 24 | 77 |
| 3 | 11 | IND | | Velammal Vidyalaya Alapakkam, Chennai | 8 | 5 | 2 | 1 | 12 | 190,5 | 22 | 77 |
| 4 | 26 | UZB | | No 5 Xatirchi | 8 | 5 | 1 | 2 | 11 | 161 | 21 | 66 |
| 5 | 12 | KAZ | | M. Gandhi Specialized Lyceum No. 92 | 8 | 5 | 1 | 2 | 11 | 161 | 21 | 62 |
| 6 | 14 | ARM | | Photon Gymnasium | 8 | 4 | 3 | 1 | 11 | 150 | 19,5 | 71 |
| 7 | 9 | PER | | Saco Oliveros | 8 | 5 | 1 | 2 | 11 | 141 | 18,5 | 68 |
| 8 | 4 | MDA | | Theoretical Lyceum "N. Gogol" | 8 | 4 | 2 | 2 | 10 | 153,5 | 19,5 | 74 |
| 9 | 17 | KGZ | | Author's educational complex of the gymn | 8 | 5 | 0 | 3 | 10 | 138,5 | 20 | 64 |
| 10 | 16 | MGL | | Mongeni Complex School | 8 | 4 | 2 | 2 | 10 | 133 | 18 | 66 |
Links
---