Lucknow Chess lights up with UP 32 Knights' first OTB event
You are a chess lover, who got hooked onto the game during the lockdown. You love playing the sport, but are craving for Over the Board (OTB) events to begin! Unfortunately due to the lockdown like situation nothing is moving in your city. What do you do? Does it make sense to form your own chess club, tie-up with a cafe, create an instagram page and hold your first chess event? Sounds too good to be true, right? Well, this is exactly what Akshay Natu, a regular viewer of the ChessBase India YouTube channel and a chess enthusiast, did. He setup the UP 32 knights chess club in Lucknow and on 7th of February, held the first over-the-board meet! Learn from the report how he did it, and maybe you too can start something similar in your city!
Powering Chess in Lucknow
By Akshay Natu
Chapter 1 - The Prologue:
Even though I work in Mumbai, I was stuck in my hometown Lucknow due to the pandemic. Then Samay, ChessBase India, the comedians, top GMs and the community hit me like a beautiful storm. I was bitten by the chess bug and I started binge-ing the Improving Chess series from May-June. This helped me improve my rapid rating from 900 to 1300 and I started playing online subscriber tournaments Like a regular fan, I started superchatting and eventually Sagar and Vidit started recognizing me a bit. I also started a Twitter thread petition which you stand for: #ArjunaForChess which was retweeted by Ramesh Sir. Got a name Shayar OP for my absurd shayaris in chat. Went to Pune for an event, hungout with Samay, played Over The Board with him in Baner (defeated him twice! #flex), had an instant realization of how much fun over the board can be. That's where the idea of UP32 Knights - Lucknow Chess Club came into my head.
Chapter 2: The Inception of an Idea
Back home in Lucknow, I started frantically calling academies, Chess centres, Coaching Classes, Local Chess Teachers just to play OTB chess or to find out if a club even existed? But to no avail. Standard response:- "Lockdown ke baad se wapis chalu nahi hua sir" (It has started back after the lockdown). One of your streams with Vaibhav and Anirban struck my head (combined with my own visit to Kolkata) where they were talking about The Gariahat Chess Club. It's a place under the flyover where people meet and play chess! Saw Tania's video on the Saint Louis Chess Club channel on the Gariahat Chess Club, loved the concept and wondered: "Agar yahi main Lucknow mein start karu toh?" (What if I start something like this in Lucknow!)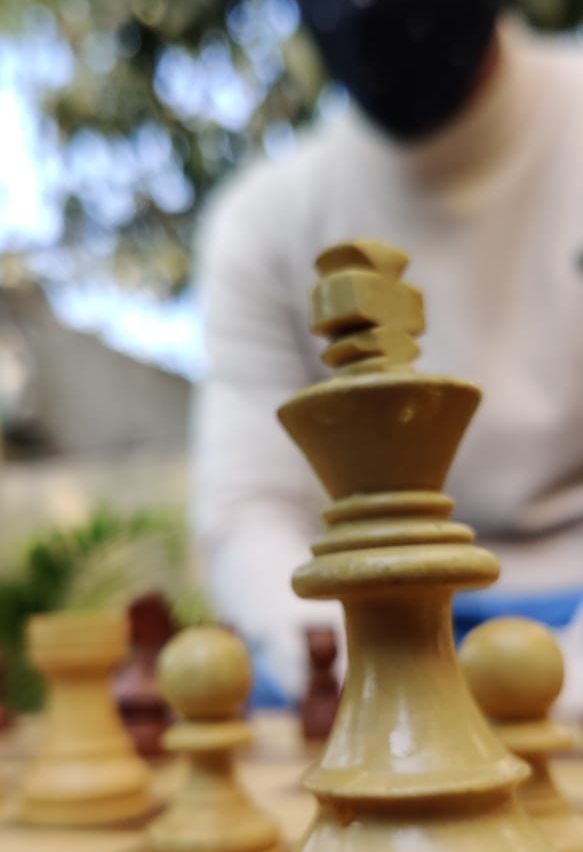 Chapter 3: A bit of History
Lucknow has a history with chess. The Lucknow railway station called Charbagh, built around 1923, partially appears like a chess board from the top view with each of its turrets and domes that look like the chess pieces.
The magnificent domes, smaller towers, windows and archways are so built that they look like the pawns and bishops. In the great Satyajit Ray's Shatranj ke khiladi there's a famous scene that depicts Wajid Ali Shah, the nawab of Lucknow leisurely playing chess as the British soldiers marched in.
Chapter 4: The Idea of UP32 Knights - Lucknow Chess Club:
Who are we? We are a community of chess lovers and enthusiasts in Lucknow who aim to meet during the weekends, play chess and grow the game in this beautiful city of ours. Why did I name it UP32 Knights, you ask? Majorly because UP32 is Lucknow's official registration number and there are 32 pieces on the chess board. As we saw recently at the Tata Steel Chess tournament held in Wijk Aan Zee, Over-the-board (OTB) chess has its own charm.
The major inspiration for this has to be ChessBase India. I was part of the chess boom which was powered by the enterprising comedian Samay Raina, taken forward by many comedians like Biswa, Vaibhav, and chess geniuses like Vidit, Adhiban, Tania, Anish, Radjabov and many others. I realised there was an unserved market. I formed the Group on Sunday, 31st January, 2021, created it's social media pages, a temporary website, did some promotions and voila! We had digital Partners in a streaming company called Sportrecs, venue Partners in a popular Cafe Franchise called Mr. Sandwich and some local media also covering our inaugural event on 7th February at 2 p.m!
Chapter 5 : The Actual Event on Sunday, 7th Feb
The response had been overwhelming to say the least. Thanks to Sagar Shah and Amruta Mokal supporting me during their livestreams, a lot of followers came in! Then Chess Puns promoted it on his page, we had an official event setup on Townscript and we had almost 50 registrations. I bought 8 Chess Boards, Set them up at the venue and 40 people actually showed up! We setup 8 boards, top board 1 to bottom board 8.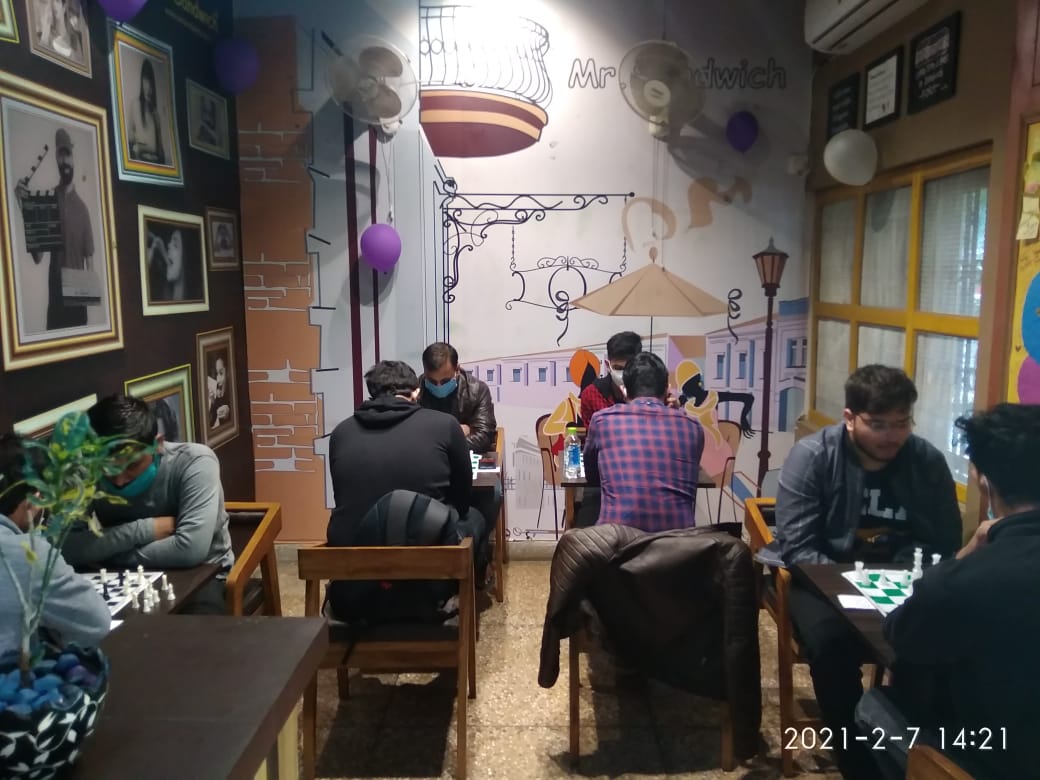 The highlight was, we had 5 young female Chess players, so I decided to allot one special board for the girls. The girls later told me that the environment was comfortable and they felt totally in-place among the Lucknow Chess Crowd. That's the beauty of Chess - gives a safe intellectual thriving environment.
Here are some more pictures to give you a feel of this event:
Did you miss out on the first event? Don't worry, UP 32 Knights have their next event on 14th of February 2021 at 2 p.m. You can be a part of it, by filling in this Google form. More information can be found on the Instagram page of UP 32 knights.
Videos and Links:
Full Live Stream Coverage Video on Our Digital Partner's Portal - Sportrecs
Local Media Event Coverage Video with Akshay Natu interview
Enroll for the 14th February event
Instagram page of UP 32 Knights
Facebook page of UP 32 knights
---