Grandmaster Timur Gareyev flies high during Chess Life cover and video shoot
When you think about popularizing the game of chess, a lot of ideas can cross your mind. But no idea can be crazier than what Timur Gareyev did in collaboration with US Chess Federation. The American GM is well-known to have tastes which are different and off-the-beaten-path. Recently, a video was published of Timur Gareyev sky-diving. This is nothing new for Timur who has close 150 solo jumps to his credit. This time, however, he dived with a chess board which had position from a 18th century classical romantic game! In this article we show you this amazing video and also IM Sagar Shah recounts his meet with Timur Gareyev. There's a lot each one of us can learn from the Blindfold King.
Irrepressible chess star's adventurous spirit leads him to skydive with chess set and board
By Daniel Lucas
When Timur Gareyev won the 119th edition of the venerable U.S. Open (from 28th July to 5th August) over almost 400 other players, Chess Life magazine knew it had to do something special with the adventurous grandmaster. Ultramarathoner, yoga enthusiast, blindfold-chess Guinness World Record holder—all of his various activities lent themselves to a potentially exciting cover with the Kansas-based player (born in Uzbekistan). But it was when his manager Jennifer Vallens told the magazine's editors that Timur is also a skydiver with close to 150 solo jumps that US Chess knew a cover was born.
Vallens coordinated the cover and video shoot with Joe Jennings of www.skydive.tv, who is experienced filming stunt dives with everything from snowboards to bikes, all-terrain vehicles, and even jeeps. Seemingly a chess board would be simple compared to those other shoots, but a square piece of wood is anything but aerodynamic. Imagine how your hand reacts to the wind when you stick it out a car window at 60 mph; Timur would be falling at 120 mph while "flying" the board. This required Jennings to not just permanently attach the pieces but to also doctor the board with a cone attached underneath to help provide aerodynamic stability.
And what is the position on the board? Gareyev chose to set up a position based on a game from 1760 between Jean-Jacques Rousseau and the prince de Conti, played in Montmorency, France. Rousseau wrote, "I have always said and felt that true enjoyment cannot be described." While that may be true, the enjoyment on the irrepressible Gareyev's face is palpable.
Timur Gareyev in India
By Sagar Shah
Amruta and I began our homeless, nomadic journey for a year towards the end of 2017. We began with the four major tournaments in India - Bhopal, Mumbai, Delhi and Chennai. We thought we were doing something crazy and bold, but it faded when we compared it to the man whom we met on this journey - GM Timur Gareyev! He was our constant companion through these 35 days of tournaments in India. Everyone knew him as the blindfold king, but I am glad that I could get to know him better through our interactions and interviews. These are the things that I learnt from the American GM:
1. Never afraid to experiment!
When Timur arrived at the Bhopal tournament he was given a garland at the opening ceremony. The round was about to begin in thirty minutes...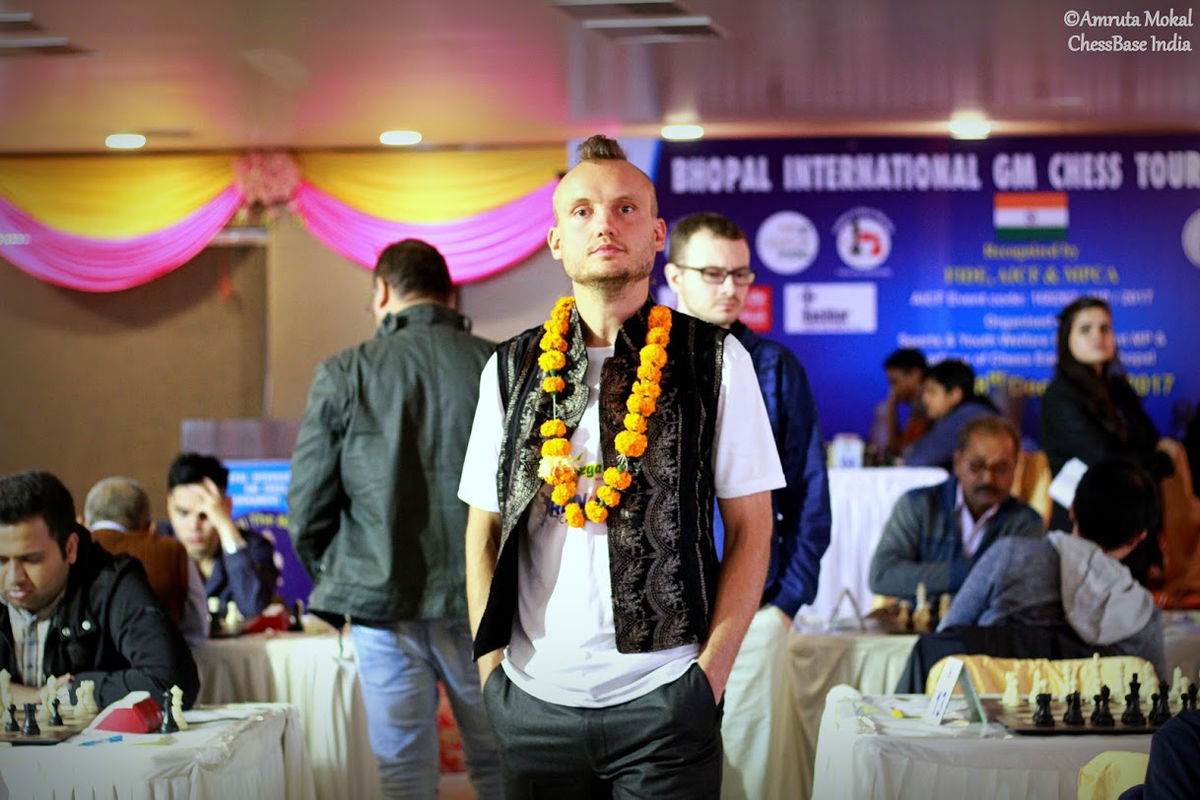 2. Now is the time!
After a nice dinner at the Bhopal GM I asked Timur if we could a video with him on the Trompowsky on any one of the following days. It was already 11 p.m. and I expected all of us to go to our respective beds, especially because there was a morning round on the following day. But Gareyev asked me, "What are you doing now? Why don't we have a look at it right now!" And the location? Gareyev was in the mood for some fresh air and we chose the garden outside the playing hall. It was pitch dark and filled with mosquitoes! But I truly enjoyed the session.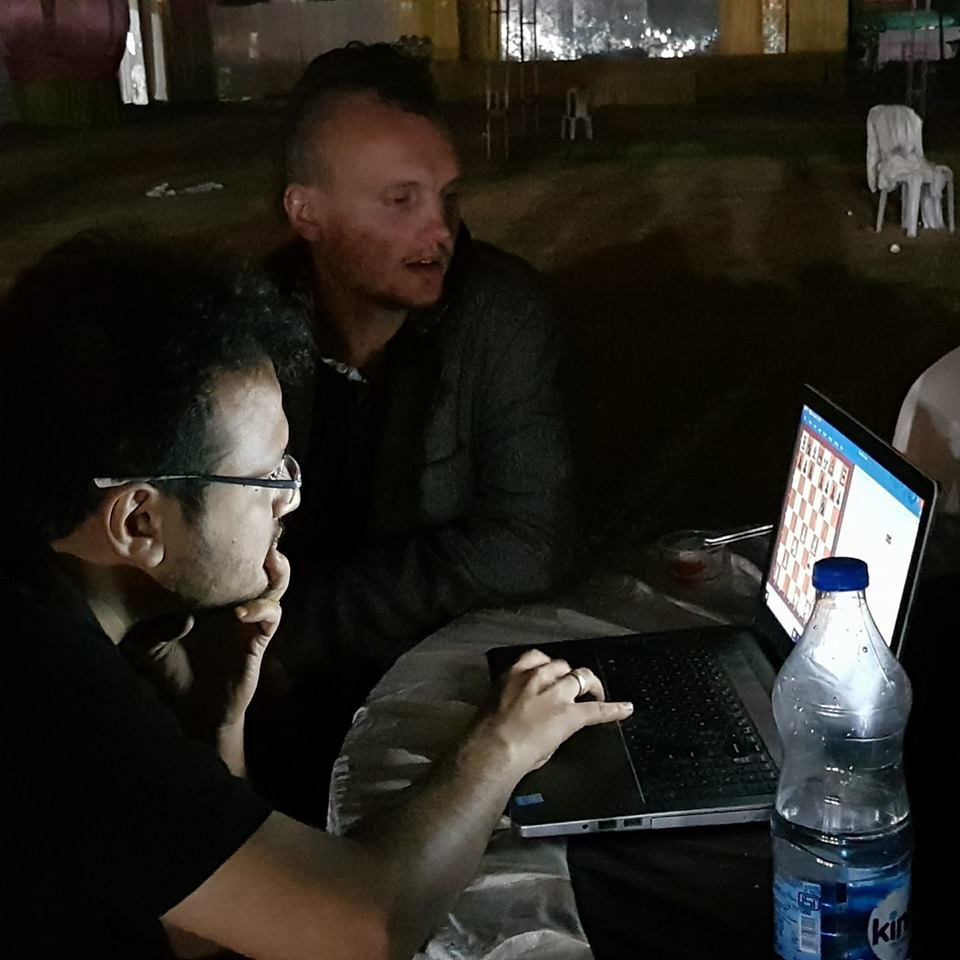 If you too want to learn the bold Trompowsky Opening from Timur Gareyev, get his DVD from the ChessBase shop!
3. Always ready to help others!
His highest rating was 2680 Elo, he is the best blindfold chess player in the world. Yet, Timur Gareyev is always ready to help others. His affection towards kids was visible at just about every event that he went to.
It didn't matter what your rating was Timur always cared for the feelings of people around him. Check out this video where he interviews youngsters around him:
At the Bhopal tournament when I was giving a lecture to the parents and players, I suddenly saw Timur passing by. I called him and asked him a few questions about how to become a better blindfold player. In the video below you can see the great conviction and accuracy with which Gareyev tries to explain the basics of his art. It's like world's greatest scientist trying to explain basic physics to the listeners. Timur never really behaves like a star, and that, in my opinion, made him one!
4. Serious about chess!
With all the things he was doing, it is easy to believe that Gareyev was not really interested in chess. But nothing could be farther away from truth. When he was at the board Gareyev was a complete picture of concentration.
5. Eat healthy
To become the best blindfold player in the world, Timur Gareyev had to ensure that he remains physically fit. Playing blindfold against multiple opponents (sometimes even 48!) means that you cannot take your health lightly. When Timur was in India, he didn't let junk things enter his body. Sometimes he would tell me that he needed to keep his body hydrated and hence would only eat cucumbers and tomatoes! Don't believe me? Check these pictures:
Some more videos on Timur Gareyev:
Epilogue:
When Timur Gareyev went for the sky-dive with the chess board, a lot of people wanted to know about the position on the chess board. You can find the game between Jean Jacques Rousseau and Louis Francois De Bourbon in the Mega-Database! Here's the game from 1801:
The interesting thing to note is that Timur Gareyev went for the jump with the final position of the above game, but with colours reversed! Why was that the case? We hope Timur can clarify this for us in the comments section below.
---