This Diwali, get you favourite ChessBase products! Upto 50% off!
Diwali, one of the biggest festivals of India, is here. ChessBase India comes up with massive discounts for all its buyers. From 10% going all the way up to 50% off. And the good news is that you can now make use of these discounts to buy the latest released ChessBase products. Few of the very important ones include Houdini 6 - the best chess engine out there, Correspondence Database 2018, Fritztrainer DVDs with repertoire against White's 1.e4 and 1.d4 and much more. You not only get a discount for your current purchase but also a coupon for the next one. Here are all the details.
The Great ChessBase India Sale
The festive occasion of Diwali is here, and we are here with the great ChessBase India sale from 18th to 20th of October 2017. Now you can get up to 50% discount on your purchase from the ChessBase India shop. These are the conditions of a discount:
If you buy between Rs. 1 to Rs. 1,000 you get 10% discount + 10% discount coupon for your next purchase!
Rs.1001 to Rs. 5,000 you get 15% off + 15% discount coupon for your next purchase!
Rs. 5001 to Rs. 10,000 you get 20% off + 20% discount coupon for your next purchase!
Rs. 10,001 and above you get 25% off + 25% discount coupon for your next purchase!
Latest products introduced in the shop: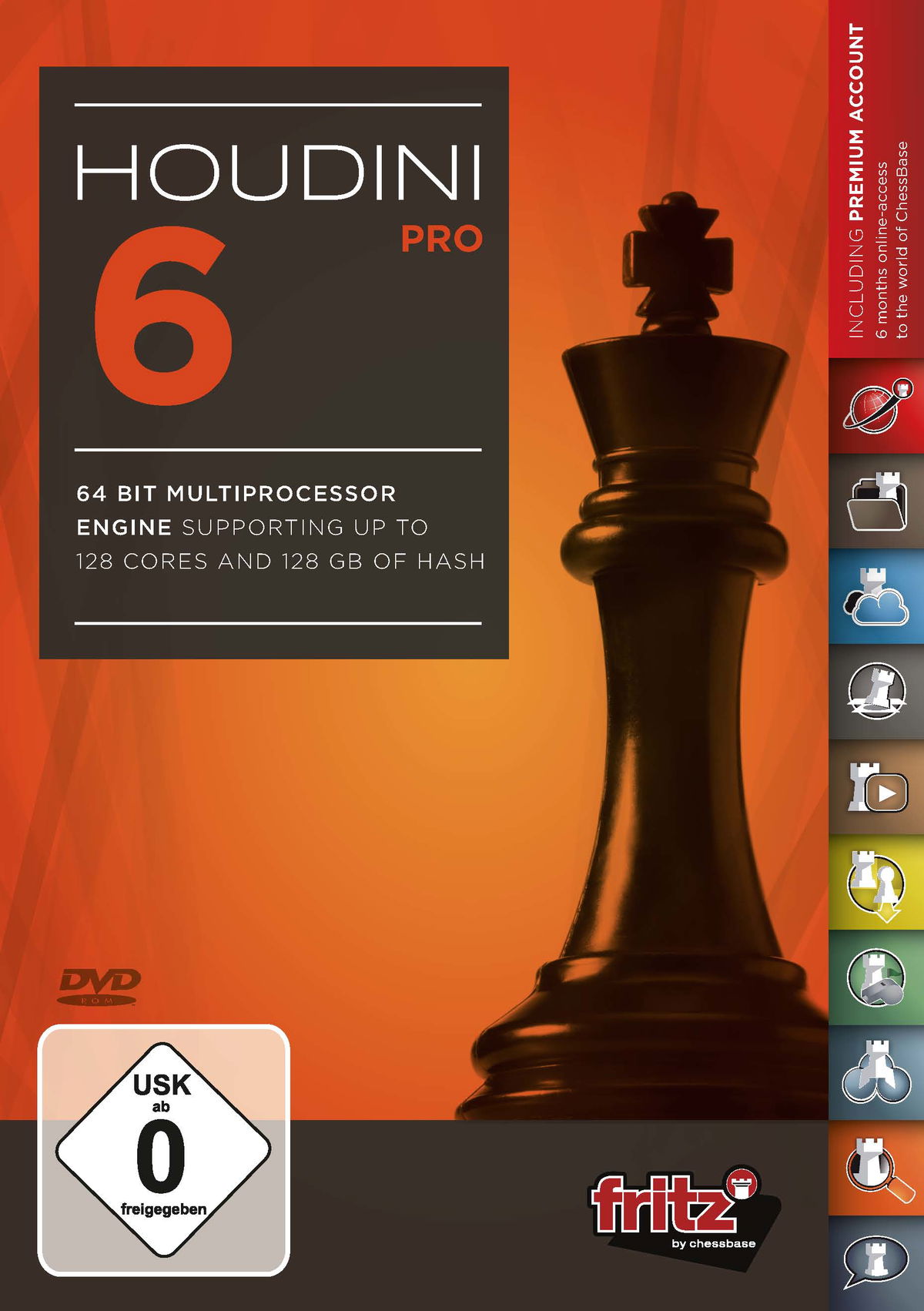 This engine has gained 60 Elo points over its predecessor. Houdini 6 comes with two versions: Pro and Standard. The Pro version can support up to 128 processor cores and 128 GB of hash memory. The standard version of Houdini 6 can support up to 8 processor cores and 4 GB of hash memory.
Many deep and amazing novelties are found in correspondence play. When players have a lot of time at their disposal for analysis they can find new ideas which over the board players are not able to. Hence, studying correspondence games can be a very useful means of opening preparation. There are in all 14,31,813 games in the database.
A repertoire against 1.d4
Usually a serious chess player has a good opening prepared against 1.d4. But sometimes it is good to have a side weapon also prepared and in this aspect Simon Williams' "The Tactical Chigorin" is a very good weapon. The Chigorin arises after 1.d4 d5 2.c4 Nc6!? This leads to fluid structures and exciting piece play, something which your opponent might not have prepared too deeply.
A repertoire against 1.e4
Christian Bauer is an experienced French GM who has very good experience with the Scandinavian (1.e4 d5). He goes into the depth of this opening which has not been considered as a very popular system for Black and shows you why it would be a good idea to add this to your repertoire. He recommends to take on d5 with the queen.
How the Diwali discount works
Let's say I am interested to buy the latest Engine Houdini Pro 6, the correspondence Database 2018 (I want those secret games!) and build up my black repertoire with the Chigorin and the Scandinavian. Totally it would cost me Rs.2999 + Rs. 5999/- + Rs. 999 + Rs.999 = Rs.10,996/- My subtotal (i.e without any taxes) has surpassed Rs.10,000. Hence I am eligible to a massive 25% discount!
I not only get that, but I also get a 25% discount coupon for the purchase of any product from the ChessBase India shop for the next time. You could even buy a product worth Rs.999 the next time and you would get Rs.250 off.
You can find the new releases in the our "latest products" category.
---