Manu David - From Elo 1970 to 2418 in four months
Back in the summer of 2016 an incredible feat was achieved by a Bangalore based 17-year-old Ojas Kulkarni when he jumped from 2000 to 2405 Elo in mere 37 days! The phenomenal feat was achieved by Ojas by playing in four tournaments, all of them a part of the Catalonian circuit. We want to share with you a similar inspiring story. This time about a 18-year-old from Chennai. Meet Manu David Suthandram, who went from being 1970 in October 2018 to 2418 Elo in February 2019. A phenomenal 448 Elo point jump in just five months. In this article FM R.Manu David shares with us his incredible journey and take us from one tournament to the other with lot of pictures and annotated games for the readers of ChessBase India to enjoy and learn from.
My chess journey from 1970 to 2418!
by Manu David
Last year in October 2018 my rating was 1970. The breakthrough came when I played the World Youth Chess Championship at Greece in October 2018 where I drew my game against GM Nguyen Thai Dai Van of Czech Republic and followed by 6 more draws with 2250+ players. I also won two games and lost two.
At the end of the 7th round, seeing my good performance and perhaps after a complaint by a player or a coach an arbiter told me that they had to check me for electronic devices and asked me to bring my parents or any Indian coach if necessary. As I had nothing to fear I told him to check me and he frisked me with a metal detector and my jacket too with another arbiter watching. And finally the words came "Thank you for co-operating with us".
My win before the final round on 29-10-2018 is memorable as it was my birthday and I will cherish the beautiful game with FM Carnicelli Valerio. Also the Indian team made my day special with their presence and love.

The game which made Manu's birthday more special:
My next tournament was on November 15th at Chennai in which I missed the first game due to fever and won all the 7 remaining rounds and gained 22 Elo rating points. My next destination was abroad in Spain and on December 14th 2018 I played at Sunway Sitges International Chess festival at Spain. It was a good start for me as I was paired against GM Praggnanandhaa in the first round and I drew the game.
In that tournament I drew with 5 other 2375 + players and won against 2 players including a FM rated 2303 and lost only one game. If I had won the last round then I would have got my first IM norm but unfortunately my opponent did not turn up due to stomach pain. I won the 2nd prize for below 2300 and also first prize in Two night blitz in B category.
A game from Sunway Sitges against FM Antova Gabriela:
My next tournament was on December 26th 2018, The Lorca International Chess Festival in which I won my first game against a GM. I faced GM Gascon Del Nogal in the 4th round and won the game. I went on to win against 3 other players whose ratings were 2274, 2391 and 2383.
Manu's employed 1.b3 to win his first game against a GM:
In the 8th round I had a rating performance of 2475 which fulfills the IM norm criteria, and I also finished other criteria required for IM norm. I was in need of a draw in my last game to get my first IM norm but unfortunately I lost the game which resulted in 2430 rating performance, 20 points lesser than the required mark.
Here is the 6th round game against GM Vasquez Igarza Renier which Manu drew:
FM Manu David vs FM Domingo Nunez Ruben: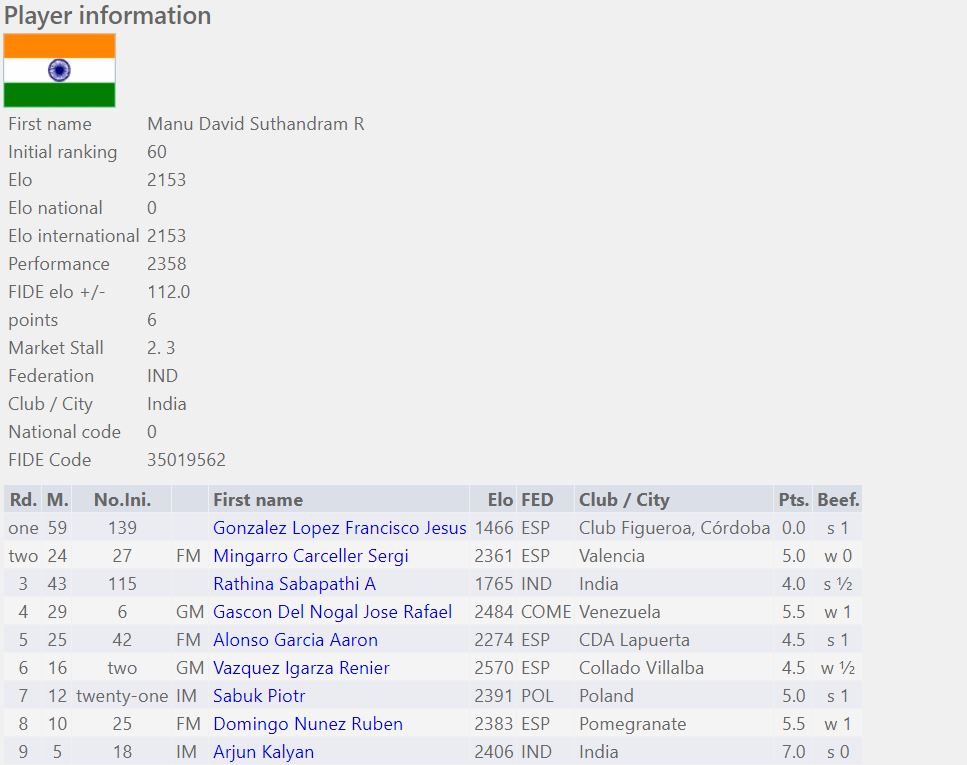 I played my final International chess tournament at Roquetas, The "Roquetas De Mar 2019" in Spain started on 2nd January 2019. I played with my new Fide rating of 2252 and drew against six players including 3 GM's and 3 IM's. I won against 2 low rated players and my only loss came in the last round against a GM. Once again I missed my IM norm. But anyway I was very happy with my performance at these 3 tournaments in Spain.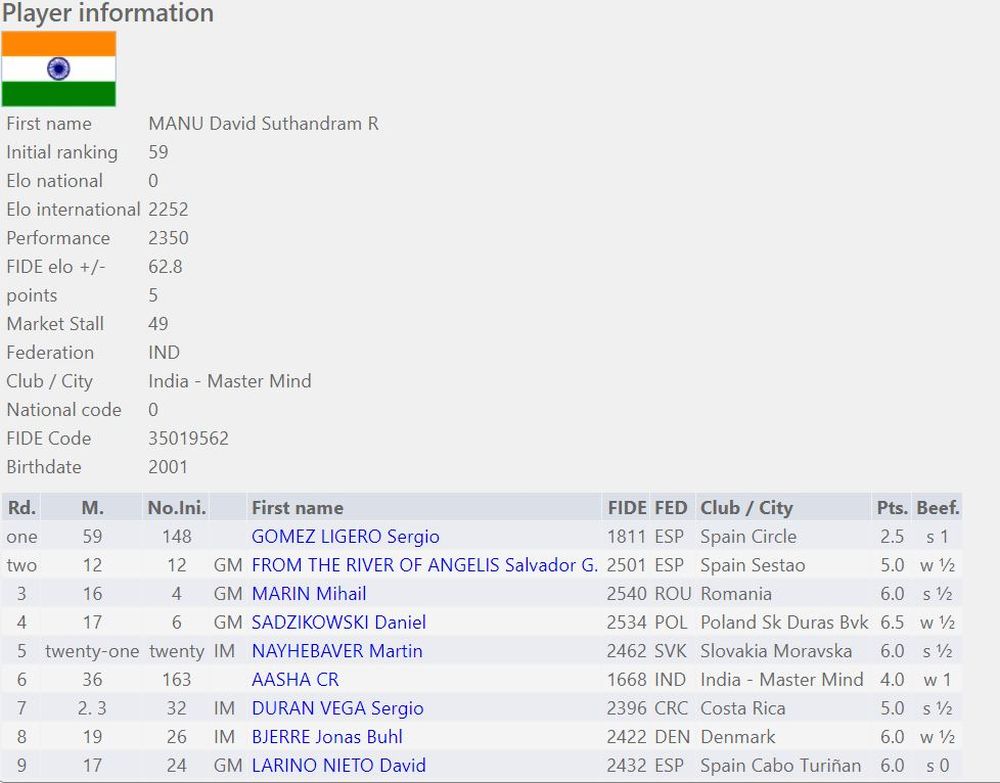 I was introduced to chess by a parent of my school who informed me about Sakthi Academy in September 2011. Mr Sakthi Prabakar the director of the Academy said to my parents after few months that your son is winning against players more experienced than his age and if he had joined at a younger age he would have been a champion by now. These words by the kind-hearted gentleman only gave hope to my parents to develop my chess skills. My rating was 1362 in March 2012 and I was in Sakthi Academy till I reached 1537. During my chess training at the Sakthi Academy I also took individual part time chess classes from Mr. Swaminathan who gave me 3000 tactics to finish in 3 months which I finished in just one and a half months.
Later I moved to the Master Mind Academy run by Sir Natarajan. Until my rating was 1748 I used to take individual classes occasionally with Swaminathan Sir. And from 1748 until now Sir Natarajan has been my kind coach. I had no other individual coaches so far and I have also worked hard to reach this level.
I give thanks first of all to Lord Jesus Christ for bringing me to this level so far and to Mr. Sakthi Prabakar, Swamy Sir and Mr. Natarajan for their chess training at different stages for making me grow till date.
Nongsha Angom has edited this article
---