19 years old and 2585 Elo - the story of Delhi boy Aryan Chopra
Born in 2001, Aryan Chopra learnt the game at the age of 6. Playing less than 50 events, the youngster from Delhi achieved his GM title in 2016 at the age of 14 years, 9 months and 3 days. As on today, Aryan is 19 years old and already has a FIDE rating of 2585. As compared to his peers, Aryan has a completely different vibe to himself. Calm, cool and collected, the youngster may come across as someone who is laidback. But behind that meditative approach is an ambitious youngster who aims to conquer the world of chess in the years to come. We bring you a portrait of one of the brightest stars of Indian chess - GM Aryan Chopra.
Aryan Chopra: The beginnings
When Aryan Chopra was 6 years old, he was hit by a vehicle in an accident and was confined to his home for many months. To keep him engaged, he and his family would invite his friends from the neighbourhood to play chess with him and this was how he began interacting with the sport. Following this initial start, he told his father one day, "A knight covers 8 squares." This really surprised his father and since he saw his young son say something like this, he decided to go enquire with the school principal about chess coaching.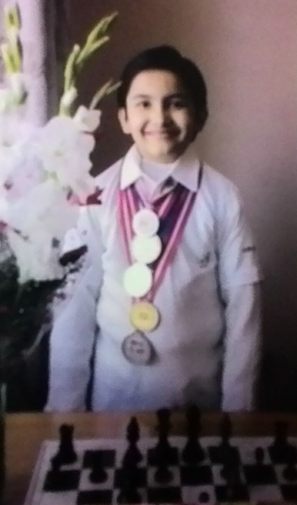 The Young Achiever
The school did not show much interest maybe because he was only a six-year-old and this forced the family to hire a private trainer. Coach Prasenjit Dutta was Aryan's first trainer, and he was the one who taught Aryan the basics of the game. This training of 5-10 classes helped him emerge as the Delhi Under-7 champion.
What started off as being the state age group champion has now led to Aryan becoming a Grandmaster and today, he is ranked 15th in the World Junior rankings. When he became Grandmaster, he was the second youngest Indian to hold the title of GM. He achieved it when he was just 14 years 9 months and 3 days. The mind boggling thing was that Aryan had not even played fifty tournaments, when he became a GM.
Aryan has been serious about his chess from a young age. He studied in DPS Dwarka till he was in 9th Standard but post this due to the stress of board exams, he switched to open schooling. He is now giving his 12th Standard Exams while being affiliated to the National Institute of Open Schooling. Open schooling has provided him with the flexibility that he needs to train for his sport while also taking forward his formal studies.
Online vs Over the Board
In this time of the pandemic, where many players have adapted seamlessly to the online world, it is interesting to see Aryan being different from many of his contemporaries. He says, "I actually have not played much on the internet. I do not like it that much. It is fun from time to time, but I don't play regularly. I prefer the board and even while training I usually use a lot of board." The prodigy from Delhi prefers to take his time and thoroughly analyse his games, and this is what works best for him.
In addition to this, he gives two more reasons for why he does not enjoy playing on the internet. First, due to an unstable internet connection, his games get affected and this has happened to him in online tournaments. Second, in online games, everyone wants to play 3+0 or other such short time controls and he feels that this prioritizes speed over thinking and analysis. Aryan likes to play all formats of chess but prefers to play classical games and those with longer time controls. He has not played too many blitz or rapid events, and this is even reflected in his FIDE profile where you will see that he is unrated for rapid and blitz. The youngster from Delhi intends to play these formats too, in the coming years.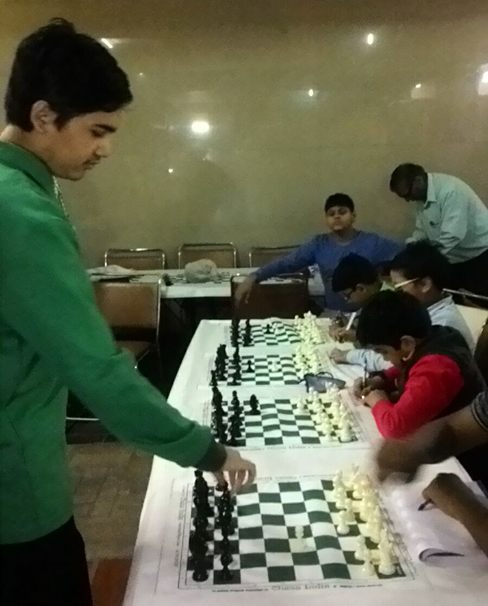 Chess Career thus Far
This lack of blitz and rapid experience takes nothing away from his immense achievements at a very young age. One of his first successes came at the Commonwealth Chess Championship. Aryan won the Gold medal in the under-10 category, when he was just 8 years old. He recounts, "In that tournament I was playing really well but I lost the last round. I was very upset after that and was in tears. Then my father came and told me that I played well, and that the result was not in my hands. I had to wait to see how the other games played out and then tiebreaks if required. In the end I got (the) gold so that was a great moment."
The rising star has also been the National Silver Medalist in the under-11 category and he won this medal when he was 9 years old. He is also a two-time Commonwealth Gold Medalist, Asian Youth Silver Medalist and an Asian Schools Gold and Silver medal winner. In 2016, Aryan Chopra achieved his final GM Norm at the Abu Dhabi Masters but there was a small twist in the tale. "That was a very memorable game which I won and made my 3rd GM norm. People thought I became a GM because my rating which was shown at the tournament was 2485 and I got 16 rating points in the tournament. What they didn't know was that I lost 5 rating points in the previous tournament and this wasn't updated at the venue." But his wait was not a long one and, in a few days, he gained 7 rating points in Malaysia and became a Grandmaster.
Chopra achieved his first grandmaster norm at the 2015 Riga Technical University Open where he remained unbeaten. He earned his second GM norm at the 35th Zalakaros Open in May 2016 by putting up a strong performance and defeating multiple grandmasters. Aryan adds that the final norm was extra special, "So, my 3rd GM norm was close and at that point, I wouldn't say (I felt) pressure, but I had an especially important game in the last round. I was ranked around 2480 and the opponent was ranked around 2620. I got double black i.e., black in the previous game and black in this game which I had to win." Aryan took his chances and with a win in the last game, earned his final norm.
Samvel Ter Sahakyan vs Aryan Chopra
Aryan does not single out any one memory though. He says, "Other than these, I have many others. ln the beginning, State Under-7 was very important, and I have vivid memories of that as well. Then it was Asian Under-8 and so on." In 2017 at St. Louis, the young grandmaster was a part of the winning Under-17 World Team in the Match of the Millennials (USA vs The World).
The Support System
Throughout his career, Aryan's parents and brother have been a constant source of support. It is usually his father and sometimes his mother who accompanies him to tournaments. Till Aryan became a GM in 2016, his brother, Ishan Chopra was also a major part of his career and would take care of their grandmother when the parents Mamta and Rajeev would travel with Aryan. In the chess circle, his closest friend is fellow Grandmaster, Abhimanyu Puranik and he plays several games with him on a regular basis.
FM Prasenjit Dutta was one of the major forces behind Aryan's early career. Post this, Aryan trained with IM Suvrajit Saha when he was 7-8 years old. At the moment, he trains with Szabo Krisztian who is a Hungarian Grandmaster. He says, "I am having some training sessions with him but it's not like I train very regularly with him. I spend much more time, training by myself. From time to time, we have a few sessions where I learn a lot." Aryan has also trained with Shailendra Bajpai, IM Saptarshi Roy Chowdhury, GM Parligras Mircea and has been assisted by his practice partner, Chandal Mandal. It is interesting how, Aryan at this elite level, does most of his training on his own and just has a few sessions with his coaches to help push himself to the next level.
What does Aryan do when he needs to take a break from chess? "I like to play video games very much and over the years, I have played many games." Aryan also listens to music and tells me, "That's relaxing for me during tournaments." He enjoys Hindi music of the era from the 1940s to the 1980s and has probably listened to thousands of songs from this time period.
The Quest for Improvement
One memory that Aryan has from his career as a young chess player came in 2011. "When I played the 2011 London Chess Classic, that was the first time I saw all these great top players of the world. Carlsen, Anand, Kramnik and so on. So, that was very inspirational for me. They were playing in the Super tournament and I was playing in the Open event but still I could really see what it was like to be a top player."
Despite all the admiration that he has for these players. It is interesting to listen to Aryan's thoughts about his chess idol. "Well, actually no one really, now. I am just trying to improve so, no one really. Maybe you can say, I want to be as great as possible. I am trying to develop a style and improve. Of course, they are all great players and inspirational but idol, I wouldn't say." He responds in a similar vein when asked about how he would describe his own game. He says, "Well, I am still developing a style so I wouldn't say that I am a tactical player, or I am a positional player. I am still in the development phase and don't have a concrete style. I am working on everything and hope to improve on everything."
Behind the Scenes!
Aryan's immediate focus is to clear his board exams and post that, "I want to train and improve a lot in chess that's the main goal after I finish my exams. One end goal is, I think for most players, to become the world champion but I am taking things step by step." To help achieve his future goals, Aryan would need more support. He has got some sponsorship from the government and some through private contacts. The youngster from Delhi has been able to manage with this support, but he feels that more sponsorship would be helpful.
2020 and Looking Ahead
Aryan began the year of 2020, in great style and says, "I was fortunate that I could play 2 tournaments in 2020 because many players couldn't play any events in 2020. I played the Gibraltar chess tournament and Aeroflot open in January and February, respectively. I played decently at the Aeroflot Open, but I had the best tournament of my life in Gibraltar." In Gibraltar, he finished 11th in the tournament amongst a field that had Andrey Esipenko, Wang Hao, Maxime Vachier-Lagrave etc. He was only half a point behind the eventual winner in the master's section, David Paravyan. His tournament performance rating was 2709!
Now in early 2021, Aryan is waiting to see how the vaccine and travel situation evolves. He plans to put his full effort towards chess once he is free from his academic commitments. The GM from Delhi hopes to be ready to play and compete whenever travel opens up. As Indian chess fans, we all look forward to Aryan moving forward in his career and eventually through his step-by-step approach, we all hope that we can have another Indian World Champion.
About the author
Saishyam Srikanth is a journalism student who is currently studying in the final year of his bachelor's programme at St. Joseph's College, Bengaluru. He has been a sports fan from the time he can remember and one day, aspires to translate this love for sport into a career as a media professional.
Previous coverage of Aryan on ChessBase India
Aryan scores his final GM norm
A crushing 27-move win by Aryan Chopra at round 9 of Gibraltar Masters 2020
---