The new Opening Encyclopaedia 2023 - More content, More ideas
Anyone who seriously deals with openings cannot avoid the opening encyclopaedia. Whether beginner or grandmaster. The Opening Encyclopaedia is by far the most comprehensive chess theory work: over 1,396 (!) theory articles offer a huge fund of ideas and high-quality analyses! In the 2023 edition, 66 new major articles and 384 new or updated opening overviews have been added. In addition: 70 top-class videos with 29 hours of playing time! For beginners, there is a tutorial for each opening area in which the most important ideas and goals are presented. The icing on the cake: Grandmaster Dorian Rogozenco presents the current opening trends in world-class chess. Secure the decisive advantage for yourself with this unique opening library! Photo: ChessBase
The ChessBase Opening Encyclopaedia 2023
The comprehensive theory work for the beginner to the grandmaster. A preview:
1,396 opening articles by Grandmasters and International Masters, with high-quality analyses and sample games.
New in this issue: Grandmaster Dorian Rogozenco presents in video-format opening trends in world-class chess. With 3 videos he explains trends after 1.d4, 1.e4 and 1.c4/1.Sf3 on the basis of selected key variations and games, from the whole year 2022 up to spring 2023, e.g. trends from games played in the 2022 Candidates Tournament or at the 2022 Olympiad in Chennai among other important encounters.
Trends from top chess after 1.e4 in video format with GM Dorian Rogozenco, e.g. Nepomniachtchi – Firouzja, Candidates tournament, Madrid 2022.
In addition, the menu structure has been updated. Above all, all 1,396 opening articles have been added and been given a unique designation. Each article is specified not only by the opening name, but also by the opening moves which indicate the treated variation. A big plus for a faster search and for a better overview within the large offer of the Encyclopaedia!
Under the main categories "Open Openings", "Semi-open Openings", "Closed Openings", "Semi-closed Openings" as well as "Flank Openings" you will find all articles classified by the related opening name. You can call up any of them with a mouse click. And you can also switch from one article to the next just as easily. Like that you can find your favourite opening easily and quickly!
Each of the over 1,396 articles contains numerous games annotated by grandmasters:
Top-Level games and annotations by top-grandmasters:
In addition, the Opening Encyclopaedia 2023 contains a collection of 70 selected videos, updated compared to last year, presenting opening ideas by well-known ChessBase authors such as Daniel King, Dorian Rogozenco, Rustam Kasimdzhanov, Markus Ragger, Mihail Marin, Erwin l'Ami and many others. Over 29 hours of the best chess entertainment!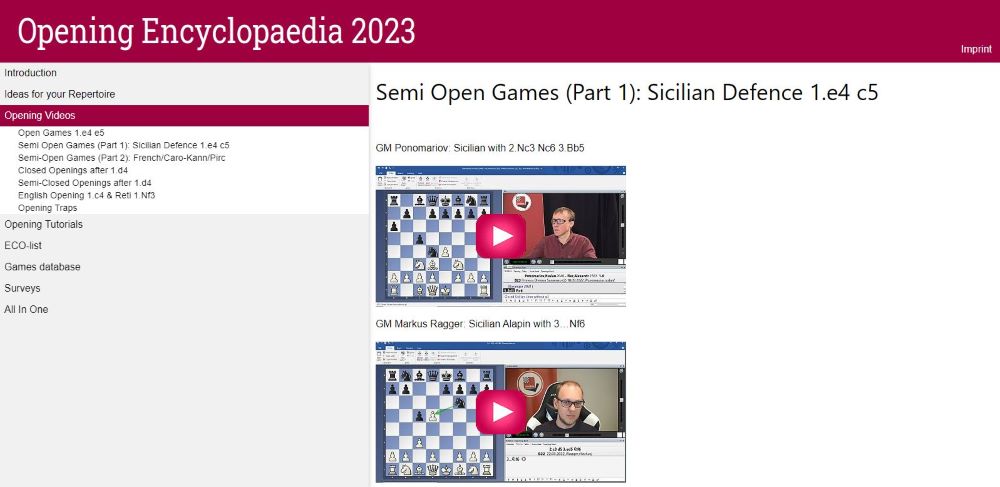 The opening tutorials offer a general introduction to all known opening systems and, in addition, with the help of links, specific further and more in-depth opening articles from the encyclopaedia. Have you already found the right opening for you? Let yourself be inspired and see which opening suits you best!
Opening overviews (Surveys) for deep grandmasterly insights compiled by GM Lubomir Ftacnik, here you will find 384 new & revisited opening overviews in Encyclopaedia 2023: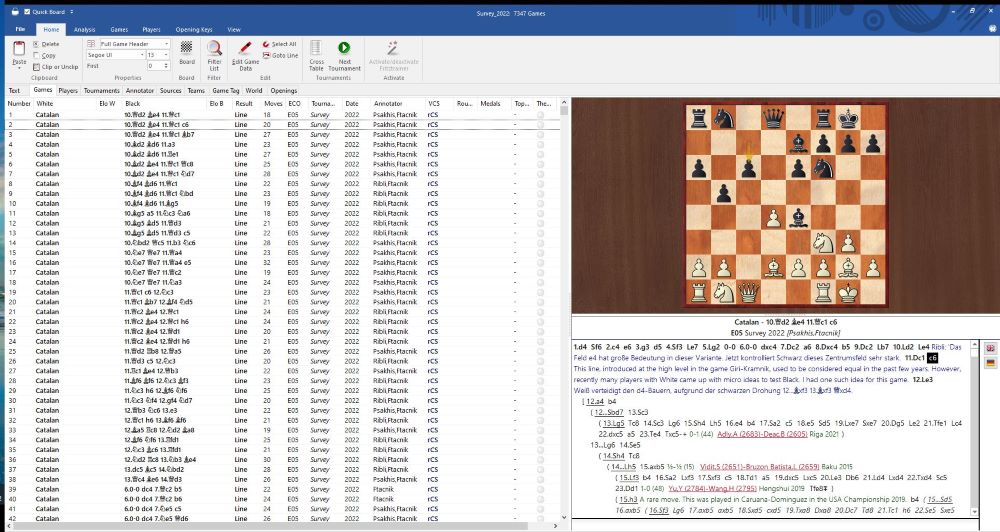 All novelties at a glance:
• Over 1,396 opening articles with professional analyses.
• 70 selected opening videos* (in English). Total running time: over 29 hours
• Opening tutorials introducing all known chess openings for beginners to get to know the different openings - with links to the more detailed opening articles
• 7,444 opening overviews, 384 of them newly created by GM Lubomir Ftacnik
• Intuitive menu structure, sorting openings by name, convenient access
Buy now
Upgrade Opening Encyclopaedia 2022 to 2023
If you already own Opening Encyclopaedia 2022, you can upgrade it at a discounted price
---