How did the Tal Chess Club begin in Madras in 1972
Today Vishy Anand is known as the Madras Tiger in the world of chess. But back in the 80s when he was a little cub, he sharpened his claws at the Tal Chess Club. This chess club started in 1972 by IM Manuel Aaron, backed by Soviet funds, was a key reason for Chennai becoming the capital of Indian chess. Today Chennai boasts of 25 grandmasters and there wouldn't be a single one who started playing chess in the 1980s who wouldn't have benefited from the existence of the Tal Chess Club. But how did it all begin? Why was it named the Tal Chess Club and not Botvinnik or Alekhine? Sagar Shah got in touch with India's first IM Manuel Aaron and brings you an important part of Indian chess history.
In 2012 when Vishy Anand won his World Championship against Boris Gelfand in Moscow. The next day both the champion and his rival went to meet the Russian President Vladimir Putin. In their conversations, Vishy mentioned that he learnt chess at a Soviet Cultural Center called the Tal Chess Club. "So, we brought this upon ourselves," replied Putin!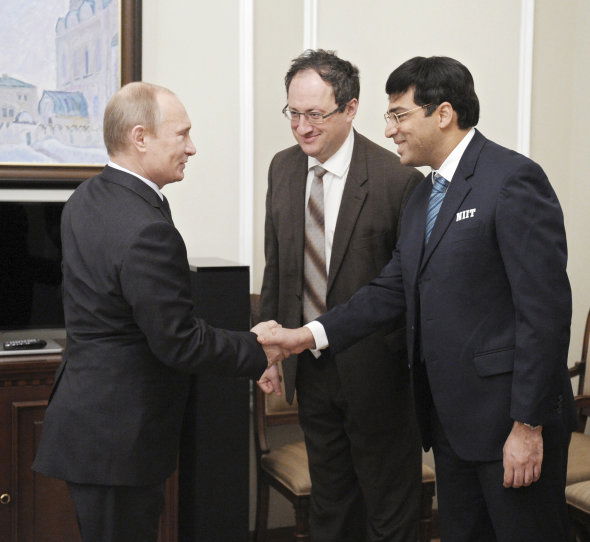 The Tal Chess Club is where young Vishy Anand grew up playing chess in Chennai. This Chess Club can be considered as the most important chess club in the country! It led to Vishy's development as a chess player, which led to him becoming a world class player, which led to India becoming a super power in the world of chess!
Although the Tal Chess Club is one of the most important institutions for Indian chess, very little is known about it. And hence, I decided to contact India's first IM Manuel Aaron and speak about how the club came into existence.
Sagar Shah (SS): How did the Tal Chess Club begin?
Manuel Aaron (MA): In 1972 I was a student of Russian language at the House of Soviet Cultural Centre in Madras. At that time there were many Russian publications on Chess available at this centre. I thought that if I could learn Russian and translate chess articles into English, hundreds of Indian chess players could benefit as Western publications like Batsford were very expensive in India. At the same time, I was at logger heads with the Madras State Chess Association as I thought that they did not do enough for the talented players in Madras. Optimistically, I thought that I could create a world champion with the right conditions in Madras!
Around that time, the Soviet Consulates in India were having many collaborations with Indians excelling in sports and culture and there was an Indo-Soviet Cultural Exchange Programme. When the Madras House of Soviet Culture saw that I was a Russian Language student visiting them two times a week, they approached me with the idea of starting a Chess Club which they would back to the hilt. I jumped at the idea and I went about structuring the Club with my chess friends. That is how, Tal Chess Club was born on 14 Aug 1972 in the Library of the House of Soviet Culture. I had wanted to start it on 15 August, but the Soviets said that they cannot do it as it was a holiday! When this Club was born, the controversies surrounding the start of the 1972 Spassky-Fischer World Championship Match was hogging headlines.
I told my friends that the object of the Club was to provide chess playing facilities for Madras chess players and to produce India's first World Chess Champion in 15 years. No, we did not produce a world champ in 15 years. But we produced India's first World Junior Champion in 15 years! And that champion was a product of Tal Chess Club – Vishy Anand.
The Soviet authorities helped us magnificently. They provided us with a hall which is now their "Exhibition Hall", free wooden chess sets made in Russia, chess clocks, books and magazines, all in Russian. We used to regularly get Schachmatny Bulletin, Chess in USSR, 64, etc. As the extra-ordinary, historical World Championship raged in Rejkyavik, Iceland, the Club's membership rose and we built a separate temporary complex for the Club within the House of Soviet Culture.
SS: Why was the name chosen as Tal Chess Club and not Botvinnik or any other Soviet World Champion?
MA: The choice of Club was left to me and I wanted Tal, my hero! The Soviets preferred Botvinnik or Spassky, but Tal prevailed. In Delhi, they named their Club after Botvinnik and in Calcutta after Alekhine. I vaguely recall that the Club in Bombay was also named after Botvinnik, but I am not sure.
SS: Who were the people who helped you in the foundation of the club?
MA: I was the founding President. R.Raghunathan, a keen player with a witty tongue from Mylapore, was the Secretary. Savak K Tarapore, a Parsi chess lover was the Vice President. R.Vijayaraghavan, a National "A" player was the Treasurer and K.R.Seshadri, who later on became famous for publishing affordable chess booklets, the Treasurer. We had appointed one Kesavan as the Club in charge to collect the small subscription of Rs. 4 per year, take care of the premises and its chess clocks which were hardly available in India at that time. The subscription entitled a player to an ID card which had to be produced at the entrance for admission! Later, well known personalities like G.S.Sivrajan, Prof Cecil Joseph became Presidents of the Club.
SS: Do you remember the initial days of little Vishy Anand visiting the club?
MA: When Tal Club started, Anand was only 3. I think that he started visiting the club when he was five or six, then disappeared for about two years. He had gone to the Philippines with his parents. In Tal Club, we had a corner which was only for 5-minute Blitz. There was only one clock for that and the condition was "Loser gets up!" Anand was constantly found playing in that corner as he almost never lost! There was a big crowd around it, not for getting the next turn to play, but to watch Anand and his combinations. He played sparkling chess, making incredible sacrifices left and right. He just took ones breath away!
SS: Who are the other notable stars who learnt from the Tal Chess Club?
MA: Almost any player of note in Madras (the old name for Tamil Nadu) was a member of the Tal Chess Club. It was the meeting point for all chess lovers. The chess careers of youngsters like Aarthie Ramaswamy, the sisters Vijayalakshmi and Meenakshi, T.S.Ravi, Ebenezer Joseph, the brothers R.B.Ramesh and G.B.Prakash, Ravi Sekhar, Parameswaran, Paul Arokiaraj, K.Visweswaran, the Aaron brothers Arvind and Ashok, V.Ravikumar, et al, were some way or the other connected with Tal Chess Club.
SS: Would you say Tal Chess Club was the first chess club in the country?
MA: No, it was not the first Chess Club in the country. If you look into Indian Chess History (2014) you would find that around 1850 John Cochrane, a contemporary and friend of Howard Staunton, ran the famous Calcutta Chess Club which brought to International lime-light India's talented chess players like Mohischunder Banerjee, Shyamacharan Ghatak and Petumber Mookerjee. And the openings that these men played gave birth to the nomenclature for the hitherto unknown Indian Defences – the Kings Indian, Queens Indian, Nimzo-Indian, etc.
During the close of the 19th century and the start of the 20th century, Calcutta which was the Capital of British India till 1912 spawned many chess clubs: Staunton Chess Club, Devanji House Chess Club, City United Chess Club and the Calcutta Chess Society. Approximately around the same time, there was the Beaman Chess Club in Bombay, Nagpur Chess Club organized by N.J.Roughton an Oxford University chess player and the Sangli Chess Society in Sangli. The Bamra Chess Board came into existence in the 1940s at Deogarh, Bamanda, in Western Orissa. Bamra was a Princely State of British India. In 1942, J.M.Joardar and K.C.Mitra organised the Ruy Lopez Chess Club in Cuttack, the then capital of Orissa. The Madras Chess Club was inaugurated on 26th April 1947. After three changes in its name, it is now the famous Tamil Nadu State Chess Association.
However, Tal Chess Club was the first chess club in India. after the Calcutta Chess Society (1914-1920) to invite strong players from outside Madras to tournaments held in the Club. Tournaments like the Indian Bank Open, D.B.Madan Silver Cup Open, Indo-Soviet Friendship Tournaments, Madras District Championships, etc., were held in the club's premises. We also organized an 8-Board match between Madras and Bangalore where certain boards were designated as Sub-junior, Junior, Girls and Women. In 1987, Asia's first ever Women Grandmaster Tournament was held here with sponsorship from Madras Refineries.
The Club also hosted some famous simultaneous displays. GM Averbakh gave a Simul here. So did Soviet Master Evgeni Bebchuk and others. On one occasion V.Anand gave a much publicized clock Simul against eight talented Tamil Nadu boys and girls almost all of whom became GMs and WGMs later. Anand beat everybody except M.R.Venkatesh who got a draw.
SS: What according to you has been the impact of this institution on Indian chess?
MA: Lots of people took to chess because of Tal Chess Club's easy accessibility, central location and a rock bottom membership fee. The 1972 Spassky-Fischer match as well as Anand's meteoric rise in the chess world in the 1970s and 80s, helped the Club's fame spread even more and kept the spirit of chess burning throughout the country.
When the USSR broke up into 15 separate countries on Christmas day, 1991 at the Kremlin, its ripples were felt far away at Tal Chess Club, Madras. The House of Soviet Culture changed into the Russian Cultural Centre. The new Russian Centre needed funds and asked the Club to pay rent. Unable to pay, the Club closed down.
Manuel Aaron in Chennai flanked by Microsense Managing Director S. Kailasanathan, greeting former World Champion Vladimir Kramnik and Challenger Boris Gelfand. Manuel Aaron is currently 85 years old. His contribution towards Inidan chess has been immense over the years. Right from winning the nationals nine time, beating world class players like Portisch and Uhlmann, to starting the chess-mate magazine in the country, Manuel Aaron has powered ches in India on a big scale.
---