The First and Last Game of Mikhail Tal
There is no chess player in the world that does not know or have never heard about Tal. He is genuinely famous for the absurd and miraculous queen sacrifice that he made out of nowhere. He had such a unique style of playing the game that at that time it was quite remarkable and to some extent, revolutionary. It had changed people's perspectives. In this modern era, many people are attracted to the game only because somewhere they came across Tal's game or seen his signature move, which is the queen's sacrifice. It was Tal's 85th birth anniversary on 9th November 2021. Ragib Shahriar writes on the maestro's first and last game. Photo: Ron Kroon/Anefo
Mikhail Nekhemyevich Tal was a Soviet Latvian Chess player and the eighth world chess champion. He was born on November 9, 1936. He is considered a creative genius, thus called 'The Magician from Riga'. Total unpredictable for the opponents, it has been said that 'Every game for him was as inimitable and invaluable as a poem.' He previously held the record for the longest unbeaten streak in competitive chess history with 95 games (46 wins, 49 draws) between 23 October 1973 and 16 October 1974, until Ding Liren's streak of 100 games (29 wins, 71 draws) between 9 August 2017 and 11 November 2018. Note: Ding Liren's Record was later broken by Sergei Tiviakov (110 games), and later Carlsen broke Tiviakov's record (125 games).
Mikhail Tal's first recorded game
Tal's first recorded game was with Ratmir Dmitrievich Kholmov. He was a Russian chess grandmaster. There is no must story about him on the internet, but it is written that he was one of the strongest Soviet chess players from the mid-1950s to 1970s, and according to chessmetrics.com he was ranked as high as No. 8 in the world from August 1960 to March 1961. He died on 18th February 2006. Till his last breath, he stayed active in competitive chess and maintained a high standard.
Tal's game with Ratmir Kholmov was actually in a simul in 1949 at Riga. He was only 13 years old then, and Kholmov was 24, the double of his age.
A twelve-year-old boy playing Botvinnik variation against a master and surviving is already amazing. But Tal's ability to spot tiny errors and win from them in such complications was even more impressive.
Note: Kholmov scored one of the best results of his career with a tied for first-second place, along with Smyslov, at the Moscow International 1960 with a score 8½/11. The same year, FIDE awarded him the Grandmaster (GM) title. In 1957, Tal became the youngest player to win the USSR championship at the age of 20. But he had not played in enough international tournaments to earn the title of Grandmaster. Nonetheless, FIDE decided at its 1957 congress to waive the normal restrictions and awarded him the title because of his achievement in winning the Soviet Championship.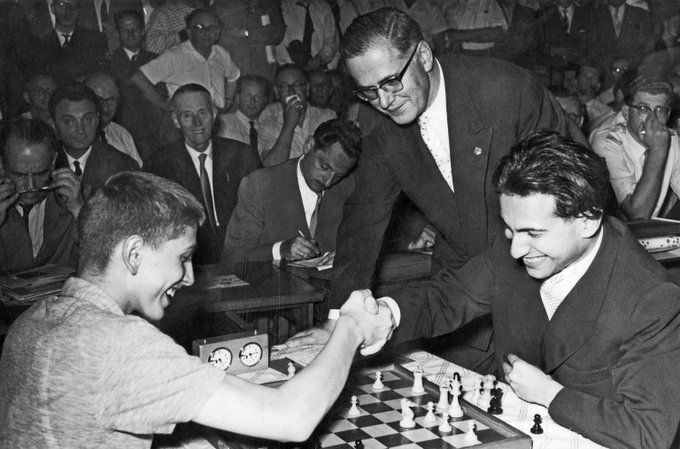 There are so many articles, books, stories about Mikhail Tal. He wrote a couple of books too, his literary skill was quite impressive. Why not? Tal graduated from the University of Latvia, wrote a thesis on the satirical works of Ilya Ilf and Yevgeny Petrov (two Soviet prose authors of the 1920s and 1930s. They did much of their writing together, and are almost always referred to as "Ilf and Petrov".)
So far we have seen Tal's first-ever recorded game. Now let's see his last ever game.
Tal's last tournament was in Spain, in April/May 1992, in Barcelona. At that time, his health was deteriorating quickly. His hospital visits were regular before, after, and even during tournaments. Tal used to drink a lot, even the organizer had to take all the alcohol from Tal's minibar but they couldn't stop him. He would go and buy from the supermarkets. In that regard, ChessBase Co-founder Frederic Friedel commented: "The most time I spent with Misha Tal was in 1988 when he played in the World Blitz Championship in [Saint John], Canada. He won that event ahead of the best players in the world and, I'm sure he would not be angry that I mention this, in an inebriated state. In fact, I had to help him to reach his table for one of the rounds after he had imbibed a stiff quicky at the hotel bar. Some years later when I chided him for reckless disregard of his health – I had quit smoking and strongly advocated that he do the same – he smiled broadly and said, "Ah, but is life worth living if you have to worry about so many things?"
Tal's last game
Mikhail Tal's last game of his life was against Vladimir Akopian.
Armenian Grandmaster Vladimir Akopian is a man of immense chess talent. Born in Baku (like Kasparov) in 1971, the first few years of his chess career convinced everyone that he was special. He won the World under-16 championships, then under-18 and also under-20. In 1995, playing for club "Yerevan", he became European Club Cup champion. Two-time champion of Armenia, four-time winner of Russian Team Championships. He also was part of the Armenian team that won the gold medal at three Olympiads — Turin 2006, Dresden 2008, and Istanbul 2012. His team won the gold at the World Team Championships in 2011. He very nearly became the FIDE World Champion in 1999 when he reached the finals but lost to Alexander Khalifman. - Sagar Shah wrote at ChessBase.
Again, the quality of Tal's health in the tournament was not up to the mark. With white pieces, he offered a draw to Akopian in just move 3! But Akopian, the beast of Baku wanted to play more. He rejected. But Tal played HIS game and won.
Tal vs Akopian: "The King Returns Home"
Some interesting facts about Tal
• Youngest World Champion until Kasparov.
• Played in eight Olympiads, 5 Best Board Results, 3 times Absolute Best Score.
• Six times USSR Champion.
• Lost only once to Kasparov & once to Karpov.
• A countback of Elo ratings revealed that Tal's rating during his peak around 1960 would be 7th in the all-time rankings with 2700 behind Fischer, Kasparov, Capablanca, Botvinnik, Lasker, & Karpov. In fact in 1979 following his wins in Montreal & Riga, he went up to 2710.
• 3rd in 1985 Interzonal thus qualifying for the Candidates at 49
• Only 3 men played in both USSR-Rest of the World matches - Tal, Larsen, & Polugaevsky.
• Kasparov won the World Championship, taking Tal's place as the youngest ever, on November 9th - Tal's birthday. A fact that Tal reminded him of in a phone call the previous day, wishing him well for the final game.
It was Tal's 85th birth anniversary on 9th November 2021. A belated happy birthday to the 'Magician of Riga' !
About the Author
Ragib Shahriar is a chess enthusiast, this is what he calls himself. Chess in literature, cinema, nature, science, psychology - almost everything about chess is his field of interest. He is constantly rummaging through the mysterious world of chess, looking for the creative mechanism of the moves.
---