Tata Steel Chess 06: Shakh beats Adhiban to take pole position
Halfway down the line, Tata Steel Chess 2018 found its first sole leader in the form of Shakhriyar Mamedyarov. In round six, the Azerbaijani GM got the better of India's Adhiban Baskaran to take the sole lead while his co-leaders, Anand and Giri, agreed to a short draw among themselves. Magnus Carlsen, who hasn't been doing extremely well so far, tried hard to bring home the full point against Peter Svidler but the Russian found a sneaky series of sacrifices to force repetition. In the Challengers, Anton Korobov uncorked a novelty in the Fianchetto Gruenfeld to beat Aryan Tari while his nearest rival, Vidit Gujrathi was held to a draw by Benjamin Bok. Round 6 report.
Masters: Adhiban's loss affects Anand too
The first elite tournament of the year, Tata Steel Chess has reached its halfway stage. Six rounds down, Azerbaijan's Shakhriyar Mamedyarov raced past his co-leaders Viswanathan Anand and Anish Giri to take sole lead in the tournament with his win against India's Adhiban Baskaran. Anand and Giri, who were pitted against each other in round six, settled for a short uninspired draw.
Mamedyarov was much worse – and at some point, even losing – in his game against Adhiban Baskaran. Out of a Symmetrical English Opening, the players got a roughly level position but soon Mamedyarov began to go astray. After shuffling pieces back and forth in an equal middle-game position, he decided to stir things up with a pawn sacrifice that gave him a passed pawn on the queenside.
Consequently, Adhiban also got strong passed pawns on the queenside – not one but two! After Mamedyarov's 41st move, Adhiban's position just looked winning. After the game, Mamedyarov pointed out that Adhiban should have attacked black's f4 knight with the move 42.g3 at this point. The knight could not move since there was a picturesque mate threatened.
But Adhiban missed this idea and went on rolling his pawns on the queenside. His still had the edge in the position but after his 45th move, the position began to look equal again. To stop Adhiban's queenside passers, Mamedyarov gave up an exchange and liquidated all pawns on the queenside.
The position looked fully equal after this until the first time control, when, perhaps under time pressure, Adhiban exchanged rooks and brought his king towards the centre where it was vulnerable to the black pieces. Mamedyarov took full control of the position, this point onwards and went on to win 26 moves later.
Before the rest day, after his fifth round game, Viswanathan Anand was pretty disappointed because of being caught in his opponent's opening preparation and finishing with a quick draw. Round six was no different for the former five-time world champion as he drew against the Dutch number one, Anish Giri in 20 moves. Just that this time, he had the black pieces and the opening was an Open Catalan.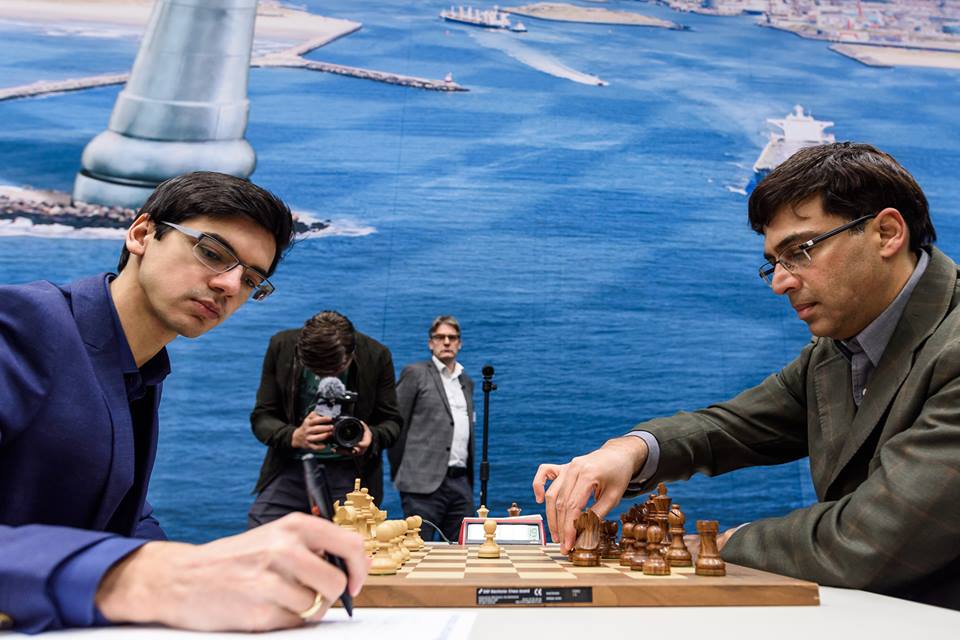 After the game, Anand said that Giri tried to use a different move order to get him out of his usual prep but he had reached the same position in his game against Magnus Carlsen very recently at the London Chess Classic and had already analyzed the line.
Out of the opening, Anand had sacrificed a pawn and got the bishop pair along with a big initiative as compensation. At the same time, he also felt if he had continued playing, the game would have been more dangerous for Giri than for him. But since Giri had, evidently, analyzed the position quite well, he decided to sign peace.
"At home, it looks like black is fine. But of course, at the board, you need to know some details but he (Giri) had also checked it. I think if we start playing, it can be more dangerous for white than for black because it's easier for white to miss something," Anand said after the game.
Magnus Carlsen and Peter Svidler played a fascinating game in round 6. Magnus, who hasn't won a game in the tournament since round 2, tried to discombobulate his opponent, Peter Svidler with a rare line of the English Opening. Giving up castling rights early in the game, Carlsen sought compensation in the gaping hole that while had on the d3 square. Also, Carlsen had a nice lead in development.
Making the most of all of his advantages, Carlsen generated a monstrous attack on the white king. But when checkmate was threatened in just one move, Svidler lashed out with a series of sacrifices that ended with his queen giving perpetual checks to sign the truce. Both players were pretty excited about the game and were seen analyzing together afterwards.
Results of Round 6
Rank after Round 6
Challengers: Korobov moves a full point ahead of Vidit
In the Challengers, Anton Korobov, with his win against Norwegian GM Aryan Tari, has moved a clear point ahead of his nearest rival, Vidit Gujrathi. Korobov has won all of his games – except his second round draw against Jeffery Xiong – in the tournament so far to propel himself to the pole position.
In round six, he came up with a nice opening novelty in the Fianchetto Gruenfeld to get the edge over his opponent. Aryan Tari, Korobov's opponent, was clearly unprepared for this line and went down pretty quickly.
After the game, Korobov said that he had prepared this line a long time ago but got an opportunity to play it only yesterday. "The problem is that black has to enter very sharp stuff without any preparation. So, my opponent opted for 10…Bh3 and then, white is better, I think," Korobov said after the game.
The Indian number three was pitted against local GM Benjamin Bok and was held to a draw for the second consecutive time after his fourth-round win. The two opened with the Catalan-Bogo Indian in which neither side was able to secure an advantage. After a mass trade of pieces in the middle game, players had reached an endgame with equal pawns and bishops of opposite colour. On move 31, they agreed to sign peace by mutual agreement.
Having drawn against five players rated above 2600, Harika has gained a few rating points for herself. Playing against the 2622-rated Dmitry Gordievsky in the sixth round she played a 96 move long marathon in a rook endgame where she was a pawn down to cling on to a draw.
Results of Round 6
Rank after round 6
About the Author
Aditya Pai is an ardent chess fan, avid reader, and a film lover. He holds a Master's in English Literature and used to work as an advertising copywriter before joining ChessBase India. He loves all things German and is learning the language. He has also written scripts for experimental films.
Previous reports on Tata Steel Chess
Tata Steel Chess 01: Anand off to a flying start
Tata Steel Chess 02: Adhiban crumbles against Magnus
Tata Steel Chess 03: Anand leads the Masters, Vidit the challengers!
Tata Steel Chess 04: Adhiban holds Anand to a draw!
Tata Steel Chess 05: Wei Yi's prep forces Anand to settle for a draw
Coverage on Firstpost
Tata Steel Chess Round 1: Viswanathan Anand off the mark with a win; other Indian participants held to draws
Tata Steel Chess Round 2: Anish Giri takes sole lead; Viswanathan Anand in joint 2nd after draw
Tata Steel Masters Chess: Viswanathan Anand crushes Fabiano Caruana's opening novelty to join Anish Giri in the lead
Tata Steel Chess Round 4: Adhiban Baskaran ekes out draw against Viswanathan Anand; Vidit Gujrathi beats Harika Dronavalli
Tata Steel Chess Round 5: 'Embarrassed' Viswanathan Anand draws with Wei Yi; Vidit Gujrathi slips to joint 2nd
---