A life for chess - T.K. Joseph Tharappel
Born in 1939, Kerala's former State Champion T.K. Joseph Tharappel passed away on 1st of April at 5 p.m. at the age of 79. Apart from being a strong chess player, he was also an excellent writer and his chess books have been appreciated all across Kerala and India. He was a pleasant personality who was easy to approach and always motivated young talents. In this article we have Dr. Sarin (father of Nihal Sarin) who writes about the contribution of late Mr. Joseph Tharappel towards Nihal's chess career. We also have an eulogy by Ummer Koya, former AICF Secretary, who knew TK Joseph very well. Finally we show an attacking gem from his chess career and tell you about how strong a chess player he was. TK Joseph is no more, but his writings, games and memories live on.
A life for chess - T.K. Joseph Tharappel
By Dr. Sarin Abdul Salam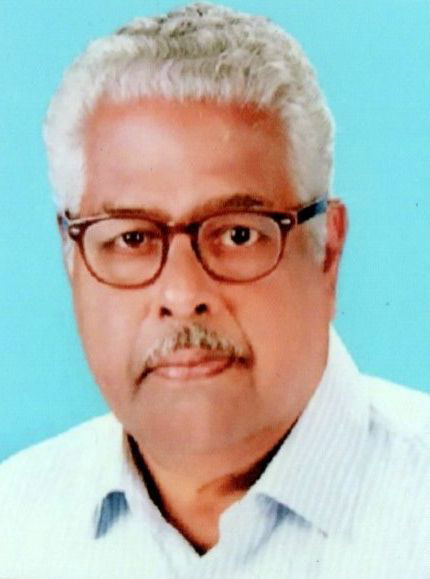 Being a chess ignorant doctor (which gives me an address among chess players!) I have often come across questions like how to have your child excel in the sport. I have always given intuitive replies like "better not to interfere; not to check engine during their games and argue that you could have easily played this" and so on. Is it the whole truth? In retrospect, no! Now, I think, it is the people we meet in our life's journey who shapes us finally.
In his formative years, Nihal was in Kottayam, a southern district in Kerala, where the general secretary of Kerala chess association, Mr Rajesh Nattakom also hails from. His early moves and initial formal coaching was almost wholly done by Mr Mathew P Joseph Pottoore who gradually became like one of our family members. Gradually we came to know that Kottayam had a state champion, who had represented Kerala for 15 years and still plays in tournaments, though over 70 years of age. His name was Mr. Joseph Tharappel. We met him in a tournament at Kottayam, most probably conducted by the YMCA Kottayam.
He was very much approachable. He said Jagathy Sreekumar (our ace comedian) reads a chess book to try and get better of Mohanlal (the superstar) in the film Yoddha. This book was written by him. This was how our first interaction began. The ice was broken. He had a knack of mingling with everybody and took special interest in Nihal after seeing his games. He used to write a chess column in the newspaper Deepika Chocolate with games and analysis and was the first to publish one of Nihal's games at the tender age of 7. Finally, this year he wrote a whole page article on him in Deepika Sunday supplement which was well appreciated as it was from a chess player's perspective.
He played and beat Nihal in a tournament in Kozhikode at the age of 75 years but appreciated that Nihal played well. Such words of encouragement from a master to a young kid of 8-9 years is what propelled his chess further. Like International Grandmasters, he was very much willing to analyse the games too.
We got transferred to Thrissur in 2012. Post that, we met him only occasionally during some tournaments. For sometime, he was nowhere to be seen. Then he reappeared with his trademark smile. When I asked about his whereabouts, he said , "I thought I would like to preserve my rating which is around 2200 by not playing any tournaments, but now I think I can't stay away. Anyway who cares at this age about ratings?" Such was his infectious enthusiasm for chess.
Another memory is when Nihal played against 50 kids in a simultaneous exhibition in CMI School, Amanakara (48 wins and 2 draw) Mr Joseph Tharappel was with Nihal all throughout the match and appreciated the result. Mathew sir and Tharappel sir were honoured on the stage by the Principal, Mr Figi and we will be ever grateful for that.
When health began to take its toll - may be only a couple of years back, he discontinued playing competitive chess. But his enthusiasm for chess never faded. Recently, he called from the hospital, telling that he is planning to organize a tournament in Pala and has to fix the dates. I was aware that when he was saying this he could not even turn around in the bed as he was in the terminal stages of his illness. He spoke to Nihal too. Tharappel sir (as we called him) wished him well and told him to send his special games to him (by whatsapp, notation/sending the link which he had learned by himself after 75 years of age just because of his life's passion) like he always does for the past 3-4 years. I had no premonition that this was going to be the last time.
Thank you sir from the bottom of our heart for your guidance and spirit. May your noble soul rest in peace.
TK Joseph's gem
A chess player always dreams that even after he is gone, his games would live on! The biggest achievement for a chess player is the fact that the younger generation are learning from his games and experience. TK Joseph was an aggressive and active chess player, as could be clearly seen from his games. One of the best games of his chess career came against Farook Ali at the National Championships in 1974. Let's have a look at this game.
Farook Ali vs TK Joseph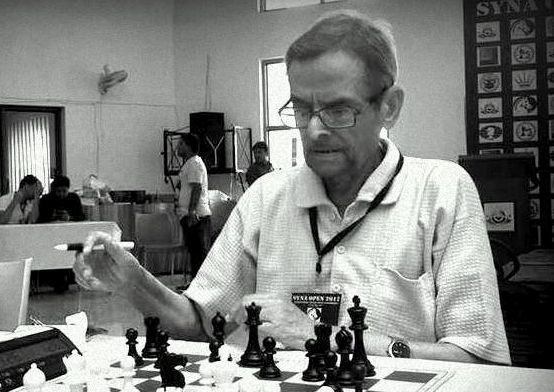 Gentleman chess player is no more
By P.T. Ummer Koya
T.K Joseph , Former Kerala state chess champion and renowned author of chess books passed away in his residence at 5 p.m on 1st of April. I vividly recollect the pleasant days I spent with him during 80s and 90s in connection with various chess tournaments. I also accompanied him and N Abdul Majeed along with other chess players as Manager to the National B chess championship held at Tenali, Andhra Pradesh 1983. The speciality of T.K Joseph is that he remembers every one who had met him during his tournament days and remembers the games he played with everybody. I also wish to indicate here that he came to appreciate me in my room at YMCA Ernakulam in respect of my victory over seasoned National chess player V.T. Thomas of Thiruvananthapuram in the Kerala State Senior Chess Championship held at Ernakulam in 1980.
He has been greatly admired by all for his simplicity and straightforwardness in dealing with everybody and also without giving any room for complaints with his ever smiling face. He always was careful to keep away from Chess Politics and never supported any group of players in any manner. His most popular chess book is " Chess Master " which had a reprint on more than seven occasions. He enjoyed the revenue derived from that book to meet his extra expenses in connection with his tournament travels. He remembered to congratulate me by email even from USA when I was elected FIDE Vice President in FIDE election in 1996, Armenia. His outstanding contribution for cause of Chess as a Champion in 1974 and Chess columnist in Deepika daily will be remembered forever.
My deep condolence to his bereaved family members. May his soul rest in peace.
Our deepest condolences to the family of TK Joseph Tharappel. He has inspired many chess players in Kerala and India with his games and writings. His contribution to Indian chess has been immense. If you have a memory about TK Joseph which you would like to share, please do so in the comments section below.
---