Stranded in Budapest – but rewarded by the world's best! + Anand returns!
Two months ago, just before his 14th birthday, Indian super-talent (Elo 2452) Leon Luke Mendonca played in the 1st Saturday tournament in Budapest, Hungary. He was scheduled to fly back on the 18th of March, but the Indian government closed the country on the 19th. So for over two months now Leon and his father Lyndon have been separated from their family in Goa. Only comfort: they are stranded in what Lyndon called "one of the most beautiful cities in the world." And they got to meet a wonderful lady who inspired the young chess player deeply. Latest: yesterday five-time World Champion Vishy Anand was able to fly back to India after being stranded for over three months in Frankfurt, Germany.
Meeting the chess queen Judit Polgar
By Lyndon Mendonca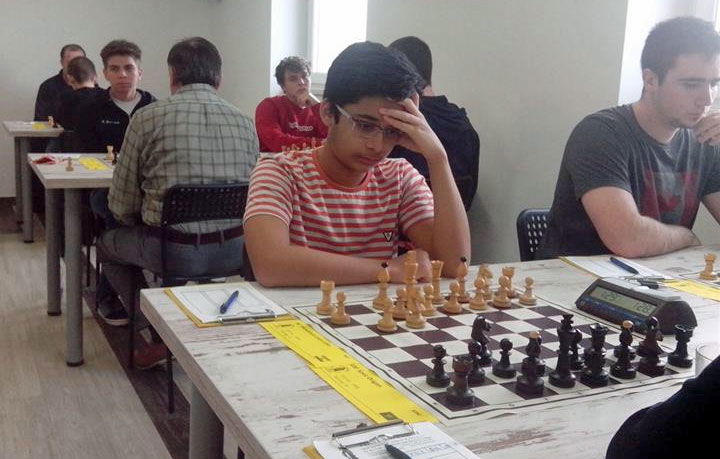 From the 11th to the 17th of March 2020, my son Leon Mendonca participated in the 1st Saturday GMRR tournament. Leon is an IM, having gained his title a year ago at the age of twelve. The 1st Saturday tournament in Budapest started two days before his 14th birthday. After nine rounds Leon was in fifth place, with 4½ points. He is currently striving for GM norms.
We were scheduled to fly out of Budapest on the 18th at 08:05 hrs. However, the Qatar Airways staff denied us boarding, saying that by the time we reached Doha we would have crossed the deadline of 18th, 12:00 GMT to enter Delhi, India. They would be compelled to fly us back to Budapest instead.
I immediately got in touch with the Indian Embassy and explained our situation. We were advised to register and wait for information regarding repatriation. Apparently there were around 130 Indians stranded in Budapest. We formed a WhatsApp group and constantly updated each other.
India initially went into complete lockdown mode from the 25th of March. Around 200,000 stranded Indians registered themselves in missions all over the world. India's first phase of paid evacuation commenced from 7th to the 13th of May, during which three naval ships and 64 flights were used bring back 15,000 stranded Indians from twelve countries, mainly the Gulf, UK, US, Singapore, Philippines and Maldives.
Leon and I were fortunate enough to be stranded in one of the most beautiful cities in the world during Spring. Budapest had sealed its borders on the 17th of March. No lockdown here, but restrictions in place and police constantly patrolling the streets. The transportation system has been operating and most essential services like supermarkets, pharmacies, etc. have remained open. Supermarkets are open strictly for seniors (65+) to shop till noon.
We have been separated from my wife and daughter who are back home in Goa. My wife is a doctor currently working front line at the Goa Medical College and Hospital. Leon and I are currently staying in an apartment booked through Airbnb. It is situated next to the Deak Ferenc Ter metro station and the Budapest Fashion Street. We do not venture out unless absolutely necessary. I pick up provisions once a week.
Leon has always been a no-fuss kid. He has been raised the hard way and never complains! He keeps himself occupied working on his chess, catching up on academics and playing online blitz. He is in regular touch with his Coach, GM Vishnu Prasanna, who conducts online training sessions along with Gukesh.
India has been consistently extending the lock down period by two weeks, hoping to keep the infections under control. The last extension was done from 17th to the 31st of May, with each state demarcating areas into Red, Orange and Green zones, easing restrictions in the less affected zones. The second evacuation phase has begun from the 17th of May to the 13th of June, and unfortunately Hungary does not feature in the list as yet.
In the midst of all this turmoil and uncertainty, we got an e-mail from Frederic Friedel co-addressed to the greatest ever female chess player, Judit Polgar introducing us and suggesting we meet up. Understanding our plight here, Judit immediately responded by inviting us over on the 18th of May.
We arrived at her place at three p.m. Leon gave her a bouquet of flowers, and I baked her a Portuguese-Goan cake called "Bolo de Laranja" (Orange Confectionery – try it yourself) which my wife usually bakes for special friends and on special occasions.
We were absolutely amazed by Judit's warmth and hospitality. It was a beautiful sunny day and we agreed to go for a stroll up the lush green Gellert Hill. En route she shared a lot of her lifetime experiences, which for Leon especially was nothing short of a dream. We walked all the way to the top next to the Liberty/Freedom Statue and took a lot of photographs along the way. We then returned and had coffee and cake, which she highly appreciated.
Judit gifted Leon an autographed copy of her book titled ' How I beat Fischer's record.' She signed Leon's autograph shirt from November 2013 which bears signatures of chess legends like Kramnik, Kasparov, Carlsen, Anand, Topalov, Gelfand (and Frederic). Judit was delighted to see her sister Zsuzsa was on it too.
Judit is an extremely beautiful woman with a very strong personality. We found her very approachable, simple, practical and down to earth. What amazed us both was her kindness and humility in spite of all her accomplishments. I keep reminding Leon that he is indeed extremely lucky and blessed to have been given this opportunity at this crucial and impressionable age to have an informal tête-à-tête with such a huge celebrity.
I wish to use this platform to express our most sincere gratitude to Frederic for making the Kramnik-Microsense Camps a reality, and making this encounter happen. You have given Leon and other talented kids the opportunity to train at such a tender age from legends like Kramnik and Gelfand. We hope that Judit will also consider training our kids in the near future.
We would also like to thank our sponsors Dr. Sagar Salgaokar of Geno Pharmaceuticals and Mr Kailasananthan of Microsense Networks for personally contacting us during theses challenging times and offering to transfer funds. We would also like to thank our dear families and friends for all their prayers, support and blessings.
Lyndon and Leon are still stuck in Budapest, with no information whatsoever regards their repatriation.
Ave Maria
Leon was one of the six Indian kids selected to train at the first Kramnik-Microsense camp held in Chens-sur-Leman, France (Near Geneva) from 15th to the 24th of August 2019. Sagar Shah recorded Leon practising his routine violin and posted videos on ChessBase India along with the training updates.
Frederic who is an amateur pianist himself, gifted Leon the music sheets of the legendary "Ave Maria" (Bach/Gounod). He instructed Leon and his sister Beverly, who plays the piano to practice their respective parts. He insisted that he would want to hear them perform at the next given opportunity. During the second Camp held in Chennai, Frederic and his son Martin were present, Leon was delighted to perform this Latin masterpiece with Beverly's piano recording in the background. Sagar recorded this performance.
Leon playing Gounod's Ave Maria, to a recording of Beverly playing Bach's preludium back home. Frederic told us the background of this piece: In Bach's time tuning a piano (or harpsichord or organ) was done according to the 'meantone temperament', which sounded excellent in C Major, but slightly out of tune in keys with many accidentals. Then the 'circular temperament' was invented, in which the strings were very slightly mis-tuned, with the result that they sounded great in any key. Bach, with his galactic creativity, sat down and wrote two sets of preludes and fugues in all 24 major and minor keys. The collection is called The Well-Tempered Clavier, and was intended as a kind of test suite for the new tuning method. But the pieces were so beautiful that they gained a place in the classical music repertoire.
in his biographical and general interest blog. Leon and his sister love the piece. In the 19th century the French composer Charles Gounod was so impressed by the first prelude that he superimposed an Ave Maria on the piece, which became one of the most famous musical pieces in history. Frederic has written about this effect.
Addendum: Vishy Back in India!
As we reported former World Champion Viswanathan Anand was stuck for over three months in his flat in Frankfurt, Germany, away from wife Aruna and son Akhil in their house in Chennai, India. The five-time world champion was in Germany to play in the Bundesliga chess league and was forced to stay put after the COVID-19 outbreak disrupted travel schedules across the globe.
Yesterday Anand was finally granted permission to board an Air India flight from Frankfurt to Bangalore, where he will spend 14 days in quarantine, according to the rules laid down by the Karnataka government. Only then can he be reunited with his family, with whom he had been in touch via video calls.
If you have been trapped in a foreign country due to Covid-19 for months please write to us at chessbaseindia@gmail.com, describing your experience.
---