Stev Bonhage: The man behind the camera
Stev Bonhage is a name that needs no introduction in the field of chess photography. Within a short period of time, Stev has not only managed to create a name for himself in the chess world but also won the hearts of millions of chess fans across the globe. However, many do not know that, despite his love for chess, Stev does not particularly come from a chess background. There is a lot more to that man apart from his love for chess and photography. In this article, we had the opportunity to have an hour-long conversation with the man himself, as he gets candid about his life, passions, struggles, and dreams.
"I don't like to shoot what I see; I like to shoot what I imagine."
By Sneha Tiwari
A well-known photographer, a great thinker, and a workaholic personality—how not to get overwhelmed while interviewing Stev Bonhage? I first came to know about Stev's work when I participated in the Chennai Chess Olympiad as a volunteer. It was a usual day as I was running around, just doing what I do, and there he was, a magnetic personality with multiple tattoos and a camera in his hand, posing for a photo with another volunteer. There was something about his aura that immediately caught my attention. I talked to a few friends and came to know that he is not a "chess photographer" and that he came to India to cover the Chess Olympiad. I followed his Instagram and his work, and it was not what I expected. His work portfolio showed a varied range of photos, which had very little to do with chess. However, his photographs were enthralling. The first question that popped into my head was how and why he was here.
I clearly remember myself thinking, "If only I had a chance to interact with him." And why not? I was intrigued by his journey and his story. I wanted to know about his life because that's who we are. We are just a bunch of stories revolving around this giant star called the sun. As time passed, I closely followed Stev's work and became a fan. His every photo spoke about a thousand unsaid stories. However, one photo that does not leave my mind to this day, is that of Ding Liren, which he captured after Ding became the world chess champion.
While all of this was happening, I had little idea what was in store for me. Not even in my wildest dreams did I imagine that I would get the opportunity to interview the man himself and have a long, one-hour conversation about life, photography, philosophy, and more. This article is a minuscule attempt to uncover the story of a man who likes to hide behind the camera while telling the stories of thousands.
Initial Life
Born in East Germany, Stev's parents moved to Sweden when he was just a child. That's where he spent his teenage years and got his education. In Germany, as a child, Stev was quite a loud kid, but due to the change in atmosphere, culture, and other circumstances, his innate personality got repressed, and he went on to be "the silent kid." At the mere age of 17, Stev was different from the other kids. He had an inkling of what he wanted to do with his life and did not possess the "herd mentality". He started travelling, living in different countries, and taking photos — the very beginning of the "artist life". With good connections, he started working with some of the most reputed names in the world, like Red Bull.
However, you ask anyone in the art business, and they will tell you life has not always been a bed of roses for them. The same goes for Stev; he recollects that life for him was such that one day he was sleeping in a five-star hotel and the next on a park bench. However, most of his days were spent sleeping on a friend's sofa. He had no money, but what kept him going was his passion for the craft. Photography was inbuilt into his soul to such a point that even when he went grocery shopping, he would take out his camera and click a photo of anything that captivated his eye. In his words, "That's basically what I did for 10 years—took photographs of everything that I saw".
Career: Early Days
Before interviewing Stev, I thought all I would hear about was photography, but I should have known better from my experience that the soul of an artist is not limited to one art form. Very few people might know this, but Stev was a semi-professional breakdancer back in his early years, and that's where he got an opportunity to capture those events. Dance gave him an opportunity to connect with Red Bull, as they were searching for people who were good at dance and could do videography and photography as well. While dancing is a difficult art form, shooting it requires a different kind of skill because, without knowing the environment, it is difficult to capture the essence of the art. Having a good knowledge of both worlds gave him an upper hand and a good opportunity.
Stev balanced both the worlds well for many years while trying to do the best he could. Fast forward a few years and an opportunity came, and he flew to South Korea for an event, and that is where his life took a turn for him because he knew he was not coming back. Everywhere he went, one thing that never left his side was his camera. Whatever opportunity came his way, he grabbed it, from shooting a Thai funeral, or a Muslim wedding, to just a random stranger on the street. Travelling and trying to make ends meet, he was doing everything in his power to put food in his mouth and pay for his visa. Somewhere along the line, Stev felt that in between meeting the deadlines and hustling between various projects, he somewhat lost the fun in photography and therefore took his next big decision in life.
For almost two years, Stev decided to take a break from professional photography while he was running a hostel in Laos. All he did was document the hostel and the people that came to it. Meeting many different personalities who came from different backgrounds and had different lifestyles gave him a different perspective on life and a new zeal to work. However, after almost a year and a half, he felt like he was back to square one. Having lost contact with Red Bull and other people, he was unsure of what to do next. But as it is said, when one door closes, another opens, and that is exactly what happened with him.
MMA (Mixed Martial Arts)
One day Stev saw a video on YouTube about a rather unpopular guy (at that time), Connor McGregor, and that is how he got into the world of fighting and MMA. That was another turning point in his life, which gave Stev the confidence he and his work needed. Through MMA, he learned that "It's not unpolite to be proud of your skills and to be vocal about what you are good at. If you stay humble to yourself, are ready to learn from your mistakes, and are not afraid to make mistakes, then you are doing good in life regardless of what others might think of you because it's only through failures that you learn." In the words of Stev, "Do whatever you want to do, go for it, and fail. Fail as much as you can. Because when you fail, it means you are doing something, and as long as you are working towards your goal, everything else will align by itself". That's how he went back to photography and took it to a new level. Before this, he was someone who just liked to click pictures, and now he was someone who was ready to learn the craft and become a professional photographer. Stev looked for an opportunity in fighting and got in touch with a person named John who held an underground MMA event in a strip club in Bangkok. That's where he got his break in the world of fighting. He shot that event and quickly realised the real story behind the world of fighting.
What glued him to the world of fighting was that there were no hidden intentions. There are always consequences to what one says, unlike in the real world. People today are very vocal about a lot of things, but when they must prove their point or stand up for their opinion, they go very quiet, very fast. In contrast to that, in the world of fighting, there is a lot of talking, but at some point, one will be in that cage, where the door behind you will close and you will be held accountable for what you have said. Joe Rogan classified MMA as "high level problem solving with physical consequences." Through MMA, Stev learned to be more confident and vocal about the things that he would like to do. Through that one single event in Thailand, Stev met a referee who worked for MMA, and he got him connected to more influential people in ONE Championship.
MMA, Muay Thai, kickboxing, and submission grappling competitions are often held by the Singaporean combat sports promotion known as ONE Championship. It is the biggest MMA promotion firm in Asia. After that, Stev covered many events in Southeast Asia on a regular basis. That's when he started to learn about the business side of being a photographer. Life and work took him to Bali and other different countries. Bali gave him an opportunity to get into yoga photography as well.
Having lived out of his suitcase for almost 15 years, Stev's life came to a standstill when COVID hit. That is when he got to settle down and pay real attention to all that he had done and wanted to do in the future. It was at that time that his love for photography was really tested. Stev believes that if you aim for the mountain, your eyes should be fixed on that, no matter what. If you divert your attention even for a little bit, you will falter, and therefore, he decided that no matter what, he will stick with photography.
"Quality will always win."
Chess
Stev had been playing chess on and off since he was 9 or 10 years old. Having loved the game since childhood and what it represents, Stev believes that he is a better chess player in life than on the board. At the time of COVID, when everything slowed down, Stev started playing the game more, and he soon came to realize why not try to work with chess. He loved the game so much, then why not work with them? Stev says that in life he just has a bucket list and works to tick boxes off that bucket list, and this gave him another chance to do something he never thought he would do. He wrote an email to FIDE saying that if there is an opportunity to take some pictures at the Candidates tournament, he would love to grab it. He was ready to pay for his own expenses, but life had other plans. After his email, David Llada contacted him, saying that they would not only love to work with him, but also would pay him. The Candidates Tournament was the kick-off for Stev's chess photography journey. Two different worlds collided, and magic happened.
The world of chess fully embraced Stev and his work, and there was no looking back. Shooting chess made him fully engrossed in the world, and he started reading about chess, games, and its history. After Candidates, Stev covered the Chennai Chess Olympiad and other events, which eventually led to the World Championship.
Stev expresses that his aim with chess photography is to take chess to another level. When asked, "Why Chess?" He says that it is his way to contribute to the world of chess. He is not doing this specifically for money but for his love of chess and photography. Stev says that he learned a lot from the game and applied a lot of its lessons to his life, which helped him immensely. It gave him the right tools in his head to learn about things and make the right decision, and he is thus very thankful to chess. In the words of Stev, "The decisions I have made in my life, I can very proudly say that I can die in the next 5 minutes, and I do not regret a thing, and that has been possible because of my chess learnings. This is why I want to give something back to chess. Which can only be done with what I have, and that is my photography skills."
Stev wants to modernize chess photography and change the way people look at the game. Before starting this journey, Stev had a goal to shoot the big three: Candidates, the Olympiad, and the World Championship, and he did that within a year. Going forward, Stev says he now aims to work with chess on a more human level. Therefore, he is working on a project that involves refugees in Kenya, where chess is taught in jails and then perhaps make a travelling exhibition book, where people can see chess and chess photography all in one place.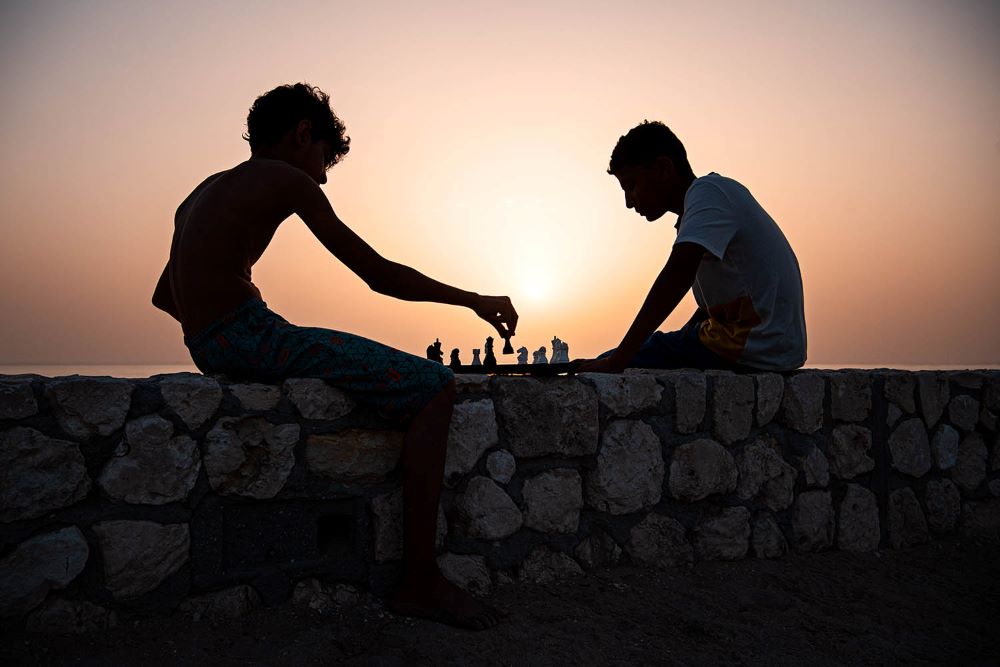 Stev is gradually turning his focus to work with more social chess programmes like Chess In Slums, The Gift Of Chess, and refugee projects in Africa and other parts of the world while still covering significant chess tournaments (coming up: FIDE Female World Championship in China and the FIDE World Cup in Baku). He briefly discussed the chess world's upcoming events for the coming year, including a travelling exhibition and a very special book on chess photography. He did not want to mention more, claiming that everything in life has its proper place and time.
One-on-one interview with Stev
Sneha: I personally feel that every photo of yours tells a story. The latest photo of yours that is stuck in my mind is of Ding Liren after he became a world champion, and that photo speaks of a thousand unsaid tales. Do you have any specific approaches while clicking photos?
Stev: I think that this is a misconception that people have, that I go in there with an intention. I don't have any idea what I am doing, and I think that is where my approach to photography differs from others. While not discrediting anyone else, I would like to say that for me, photography is not something that I do. It's something I am!
For me, photography is something that I am and how I see the world. When I take photographs of people, I connect with them. For example, when I was shooting Ding, I had the camera with me, and that tool gave me the chance to be close to that person and feel what he was feeling. Every time I click something, I kind of soak that experience up like a sponge. Here, I would like to tell a little story. The final of the world championship was one of the weirdest things that happened to me because I was there with those people for so long. You have followed their games, their emotions, and their journey. You get to know these people beyond their professional personas. In one of the games Then, when Nepo realised what had happened, you receive that aura, that frustration and that is when I realized I needed to capture his emotions.
He left, and then you are left there with Ding, and suddenly you feel this calmness. That was not just the joy of winning but also the relief. The pressure that Ding had on him was immense, and you could feel that burden lifting off him. Considering everything that happened, I would just like to say that when you look at that photo the next time, just remember there were two people crying at the same time there.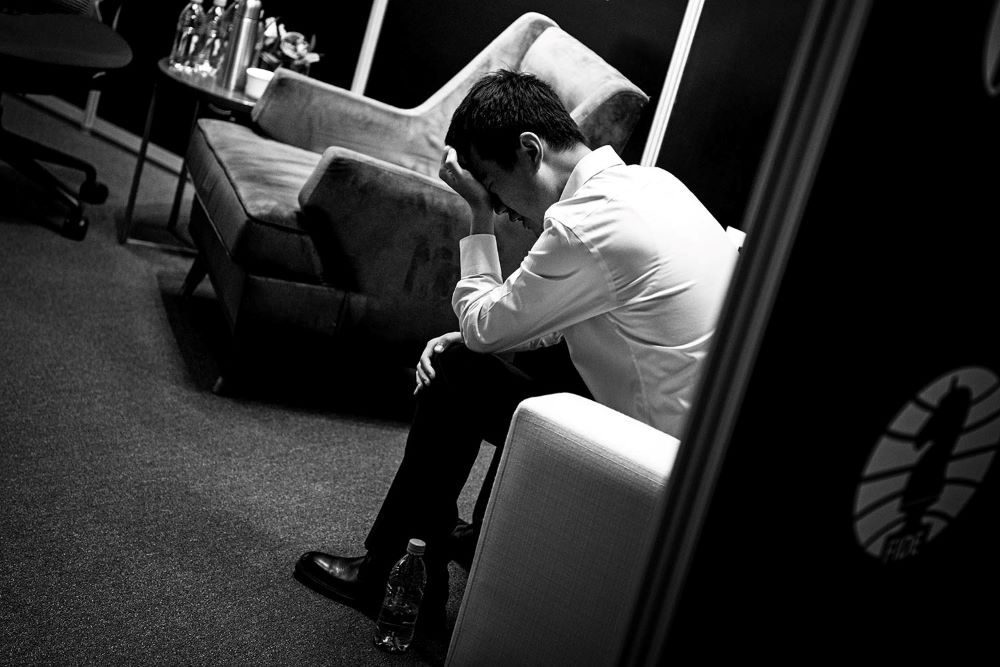 I am a very simple human being; I would never come close to winning a chess championship, and that was the closest experience I could have of what it feels like to win after everything. So many things in life I would never be able to do, but with photography, I can share that experience with someone. That is why I love photography so much. It feels like I could get to live so many different lives, even if only for a moment. It is like a cheat code in life. So, photography for me is much deeper; there is no specific approach; it's just being happy that you get to experience all of it.
Sneha: You said you danced for many years. Did that in any way help you in your photography career?
Stev: I try to take a little bit of everything that I do and incorporate it into my photography. The quote that comes to mind right now is, "Music is what feelings sound like". So, the same goes for dance and photography. The kind of photos you take depends on your mood, but the one specific thing I learned is that, like in dancing, you must do rehearsals every day. Same in the case of photography, you must shoot every day. "Whatever happens, make good art."
Sneha: What type of photographs do you like to take the most?
Stev: I like to explore, and I just want to shoot everything. A camera is my escape and my salvation.
Sneha: What is home for you?
Stev: Home is where my camera is! I just want to live life with no regrets, which is why I don't like to be bound by the idea of a permanent home. I want to experience everything. I would rather say I tried and failed than sit on my deathbed and say I should have!
Sneha: You said you wanted to make a mark in the world of photography before you died. How exactly do you plan on achieving that?
Stev: I want to modernise chess and make it look more interesting, but there are other small goals too. I told you in the beginning that I have a bucket list in life that is constantly changing and evolving, and I use photography to tick things off that list. I try to take things one at a time, do my best, and see where it goes. I believe that if I do my best, everything else will streamline on its own.
Sneha: How did you develop your interest in chess?
Stev: So, I met this Dutch kid when I was young, and that kid inspired me. He knew four languages at the very young age of 8 or 9, and he used to play chess with older people. So, one day, I saw him playing, and this old man asked me if I wanted to learn, and that was it. Apart from that, my parents were always into a lot of documentaries, and that is something I grew up with. So, I always had this interest in learning things and knowing about them. Being a German, I was always surrounded by history, and that fascinated me. So, we always had this interest in knowledge and learning about things we didn't know, and that is how I became interested in chess history as well.
Through the match of Deep Blue versus Kasparov, my interest in chess was piqued, and I went deep down the rabbit hole, in a good way. After that, it was hard to let go. It was interesting to me that there was no more talk now, just the consequences of your actions. What fascinated me the most was that there were nations fighting silently over a board game. One more thing that I like about chess is that there are repercussions to your moves, just like in real life.
Sneha: I love taking photos myself; it doesn't have to be picture perfect, but for me, photography is like capturing a moment. Immortalising something that is bound to fade away. It can be a blurred photo, but it takes me back to that moment when something captivated me so much that I had to capture it. That is why I wanted to talk to you, Ashwin, so much, and it is such a privilege. So, thank you!
Stev: I will tell you something that fits here perfectly. So, there is a Japanese term called "Ichigo Ichie". It means that no moment will ever be the same again, and I think photography bends that perfectly. It captures the moment, bends the space-time continuum for a brief millisecond, and immortalizes that thing "forever". One of my favourite lines from Pirates of the Caribbean is, "It's not just a keel and a hull and a deck and sails; that's what a ship needs, but what a ship is... what the Black Pearl really is... is freedom." And I say that with photography, "ISO, shutter speed, and aperture are what photography needs, but what photography really is…is freedom!" Through photographs, you can make a mark in history.
Sneha: Do you think that AI can replace humans in this field?
Stev: I have had many conversations about this lately, and while I think that advertisement photographers might be at risk, I am not too worried about that. I am rather excited to see AI filtering out true lovers from the craft. For me, AI is the new emotionless art form for the masses and mass production.
Sneha: Would you like to add anything at the end?
Stev: In the end, I would also like to add that there are many people in the world of photography who have inspired me and helped me become who I am today. In the chess world itself, I really respect and admire the work of all the other photographers. Having said that, I am on a completely different mission and therefore do not worry about pleasing anyone. The only person I care about pleasing is myself and my audience. I want to create images that can connect with my audience, please them, and make them feel like they were there with me. Everyone has their thing, and how can I compete with anyone in a bad way who loves the same thing that I do?
I would also like to add that even though I have made many good friends in the chess world and respect all of them, the person who inspires me the most is Dana (Reizniece Ozola). What that woman does and how she is chasing and living her dreams, I find so inspirational. She is the former finance minister of Latvia, a woman grandmaster, a mother, and so much more. Even though I am not a woman, I get so inspired by her. I find that so inspiring when people put their all into their dreams, and it is that women that does that in the chess world. I am sure there are other people, but this is one person who inspires me every time I talk to her.
Sneha: Is there any last piece of advice you would like to give to someone who looks up to you?
Stev: If you really want to achieve something, there's only one thing I would like to say. Get up and do it every day! There is no sugarcoating, but the reality is that it is up to you. No one but you can do it!
Important links:
About the author
From the city of nawabs and a graduate in mechanical engineering, I think "jack of all trades" is what would describe me the best. Interested in a lot of fields such as photography, chess, writing, reading, philosophy, psychology, gardening, and many others, I am someone who believes that constant learning is the way to grow. Having loved chess all my life, I have recently started studying it and want to play at least one professional tournament in my life. Chess and photography are my two loves and I would like to combine them and convert them into a profession someday.
---