Srishti Pandey becomes the latest Woman International Master of India
Srishti Pandey crossed 2200 in the live ratings at 24th Citta di Trieste Chess Festival on 2nd September to become the latest Woman International Master. The National Junior 2019 Girls champion became the second WIM from Nagpur. Srishti earned her first WIM-norm at World Junior Girls 2019. After two years and a month later, she scored her final two WIM-norms in consecutive events at IM Third Saturday Mix 223 and Third Saturday Mix 225 Open in Novi Sad, Serbia. However, she had to wait for almost a year to fulfill the rating criteria to become India's latest Woman International Master. Check out her favorite games annotated by herself among recent events. Photo: Niklesh Jain
Final two WIM norms in 13 days
Srishti Pandey was initially trained by Dk and Nisha Shrivastava and later she claims to be fortunate to train with Gurpreet Singh Maras who helped her build a strong foundation. Currently she is trained by Georgia no.4 GM Mikheil Mchedlishvili, GM Swapnil Dhopade and GM FT Swayams Mishra.
First WIM norm: World Junior 2019
Srishti scored her first WIM-norm at World Junior Under-20 Girls in October 2019. She defeated WIM Roxangel Obregon Garcia (CUB), then WIM Vantika Agrawal, drew with WIM Oliwia Kiolbasa (POL), then WIM Dinara Dordzhieva (RUS) and WIM Narva Mai (EST). Despite starting the tournament with a loss, Srishti scored 6/11, gained 142 Elo rating points to score her maiden WIM-norm. She also finished at 26th place after starting the tournament as the 63rd seed.
Roxangel - Srishti, Round 6
White seems to launch a devastating attack on the kingside. However, it is not a strong one as White's center is quite weak 16...dxe5 17.dxe5 gxf5 18.h6 Bf8 19.e6 Qd6 20.exf7+ Kxf7 21.Nf3 f4 22.Ng5+ Kg6 23.Qf3 Kxg5
Black seized everyopportunity she got. The position demanded her to play 23...Kxg5 and that is exactly what she did. 24.Qxa8 Qe5+ 25.Kd1 Bxh6 and Black won the game in another six moves.
Second WIM norm: IM Third Saturday Mix 223
The second WIM-norm was scored at IM Third Saturday Mix 223 in Novi Sad, Serbia in November 2021. Srishti scored 6/9, finished second overall, performed at 2347 and gained 65 Elo rating points. She defeated IM Milan Bozic (SRB), IM Dejan Leskur (SRB), drew with GM Milko Popchev (BUL).
Srishti - Bozic, Round 5
25...Rxa2 is a mistake. It allowed White to go for his rook for her two minor pieces 26.Nxc7 Qxc7 27.Bxd6 Qa5 28.Bxf8+ Kxf8 29.Qd6+ Kg8. The position eventually liquidated into a rook against knight and bishop with White having a couple of extra pawns. White won the game in another 47 moves.
Third WIM norm: Third Saturday Mix 225 Open
Srishti scored her final WIM-norm at IM Mix Third Saturday 225 in Novi Sad, Serbia. She defeated GM Sinisa Drazic (SRB), GM Alex Yermolinsky (USA), drew with WIM Isha Sharma, WIM Rakshitta Ravi and WIM Harshita Guddanti. She scored 4.5/9, performed at 2276 and gained 45.6 Elo rating points.
Sinisa - Srishti, Round 1
Once again we see Srishti's tactical alertness. When her opponent, GM Sinisa Drazic (SRB) made a mistake 20.Be3, she did not hesitate to exchange her queen for rook and two minor pieces 20...Nxe3 21.Rxd8+ Rxd8 22.Nf3 Nxg2 23.Kxg2 Rd4. Black won in 20 more moves.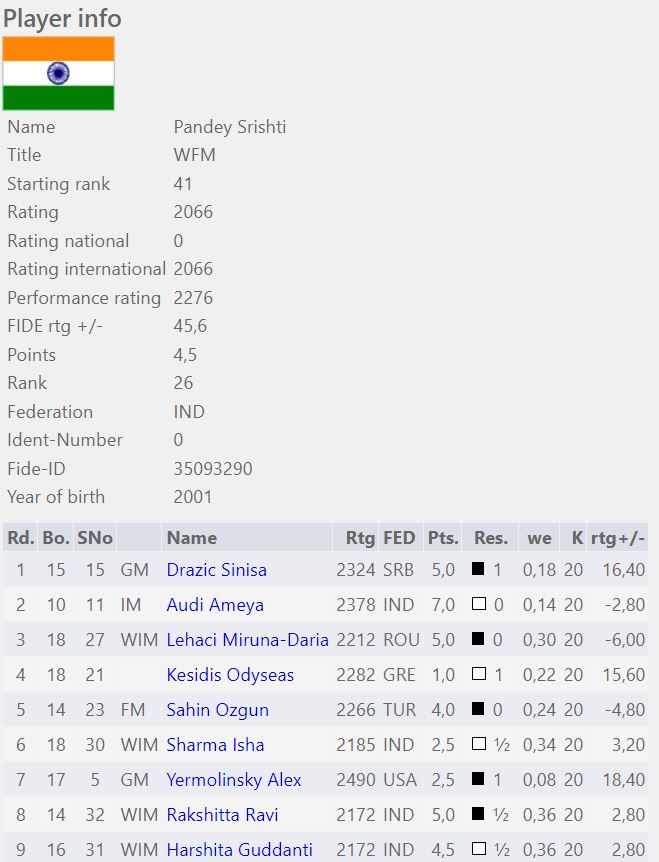 Live rating 2200: 24th Citta di Trieste Open
Srishti crossed 2200 in the live ratings after the second round of 24th Città di Trieste Open in Italy. She started the event with a draw against GM Lalit Rohit. She also drew with IM Federico Manca (ITA).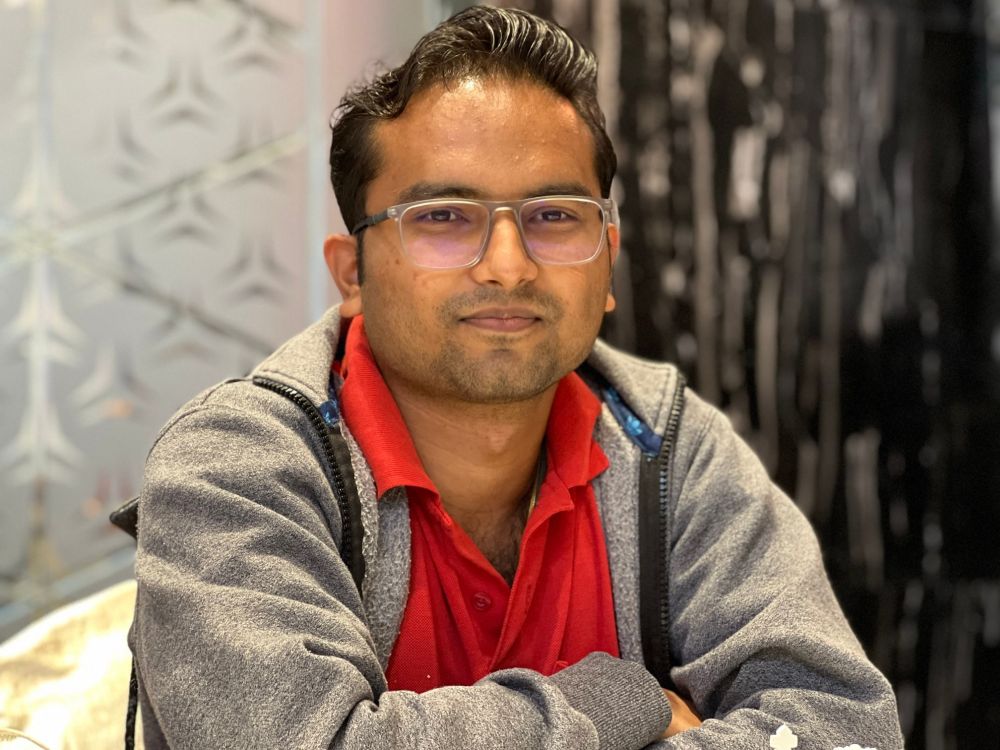 Srishti has a lot of Chess talent. She is also quite ambitious to achieve great results in her chess career. We started working about an year ago. We set future goals that we have to hit and we tried our best to work towards that. I also appreciate her curiosity in looking for ways to improve different areas of her game. I was impressed with her dynamic style of play. I am really proud that she crossed 2200 and secured her WIM title. But this is just the start. I am sure she will continue to achieve more milestones :)
Annotated games by Srishti
Check out Srishti's best games among the recent events, annotated by herself.
Srishti's Best Achievements
Srishti Pandey has won a lot of accolades in her chess career so far. Here are the best ones:
• Bronze in Commonwealth Under-18 Girls 2019
• Gold in National Junior (Under-19) Girls 2019
• Gold in National School Under-17 Girls 2016
• Silver medal in 63rd SGFI National Under-19 Girls 2017
• Champion in Maharashtra State Junior (Under-19) Girls 2016, 2017, 2018
• Champion in Maharashtra State Under-17 Girls 2015, 2016
• 3rd in Maharashtra State Under-19 Girls 2015
• Champion in 2nd Indiana All India Rating Open in Nagpur 2015
• Runner-up in G H Raisoni Memorial Rapid Rating Open in Nagpur 2019
• Third in Mirandela Woman Blitz 2022
Replay Srishti's games
---