Coach GM Srinath Narayanan speaks about India's silver at World Youth Olympiad 2018
GM Srinath Narayanan started the year 2018 with an Elo of 2527. In 12 months, he has managed to reach a career high Elo of 2572. While he is personally growing as a chess player, he has also involved himself with multiple roles which go beyond just playing. He helped Team India at the Olympiad as one of the seconds. He came to Tata Steel Chess India 2018 as a coach cum friend of Nihal Sarin and he capped off the year with a silver medal for Team India as the coach and captain for the World Youth Olympiad 2018. Having a coach like Srinath boosted the morale of the team. In this article Srinath talks about his role in the team, what he thinks about the players and also what he learnt from this experience.
Being a coach as well as the captain of a team can be quite exhausting. As a coach you have to ensure that all the players are well prepared before the game. As a captain you have to make sure that you are wide awake when the games are in progress because it is quite possible you will have to decide whether one of your players should accept a draw offer or continue playing. It's a stressful job and it fell on the shoulders of GM Srinath Narayanan when he went with the World Youth Olympiad Team 2018. The Indian youth (under-16) Olympiad team consisted of GM Arjun Erigaisi, IM P. Iniyan, Sankalp Gupta, Koustav Chatterjee and WIM Divya Deshmukh.
Although Srinath has played the role of a trainer and a second on multiple occasions, this was the first time he was the coach and the captain of the team. It is very important that the coach merges himself with the team, makes the entire unit feel comfortable. For Srinath it was not clear how much of a role he was going to play especially because each player had their own personal trainer. But it turned out that as the tournament progressed Srinath started to realize that he would have to play a more proactive role. After ten days of grueling chess, Team India managed to win silver, behind Uzbekistan, but ahead of powerhouses like Russia, Armenia, Iran and many other teams.
Final standings
Rk.
SNo
FED
Team
Games
+
=
-
TB1
TB2
TB3
TB4
1
1
UZB
UZBEKISTAN
9
8
0
1
16
264,0
26,5
91
2
3
IND
INDIA
9
7
0
2
14
230,0
22,0
98
3
25
CHN
CHINA
9
6
1
2
13
228,0
23,0
94
4
13
BLR
BELARUS
9
6
1
2
13
213,0
21,5
92
5
5
IRI
IRAN
9
6
0
3
12
242,0
25,0
95
6
6
ARM
ARMENIA
9
6
0
3
12
202,5
23,5
84
7
9
UKR
UKRAINE
9
6
0
3
12
182,5
21,0
90
8
4
AZE
AZERBAIJAN
9
6
0
3
12
175,5
21,0
83
9
16
KAZ
KAZAKHSTAN
9
5
2
2
12
174,5
22,0
77
10
8
USA
USA
9
5
1
3
11
169,0
19,0
90
11
14
ISR
ISRAEL
9
5
1
3
11
164,5
21,0
78
12
21
TUR
TURKEY - WHITE
9
5
1
3
11
159,0
20,5
84
13
2
RUS
RUSSIA
9
4
2
3
10
174,0
19,0
93
14
7
GRE
GREECE
9
4
2
3
10
163,5
19,0
80
15
17
GEO
GEORGIA
9
5
0
4
10
162,5
20,0
86
16
12
FRA
FRANCE
9
5
0
4
10
140,5
19,0
76
17
36
TUR
TURKEY-GIRLS
9
3
4
2
10
140,5
19,0
68
18
20
MDA
MOLDOVA
9
4
2
3
10
138,5
18,5
81
19
10
SRB
SERBIA
9
5
0
4
10
138,0
19,0
79
20
22
SVK
SLOVAKIA
9
5
0
4
10
131,0
20,5
75
Naturally this was a big success for Srinath. I have always considered him to be a deep thinker when it comes to chess and hence an interview with him is always very interesting. In this interview below, Srinath speaks about the different fascinating encounters and also tells us about his role in the team and at the same time we also get to know his impressions about the five talents, who will be the future of Indian chess in the years to come.
Interview with coach and captain GM Srinath Narayanan:
Sagar Shah (SS): When did you get to know that you would be the coach of the Indian team?
Srinath Narayanan (SN): I consented to the role about 45 days before the event was scheduled to begin.
SS: Was there any time to prepare before the event begun? Was there a training camp?
NS: No, there was no camp with me, although the players had the Junior and Sub Junior camp under GM Konstantin Landa before the World Youth Chess Championship. A few days of camp before the event with the team members might have been a valuable addition.
SS: What was your main role as a coach? Was it to keep the players in good spirits or to help them in preparation?
NS: Initially, I didn't expect a lot of preparatory work. I just tried to keep everyone in good spirits. I assumed that everyone would've their own private coaches and I didn't think it might be productive to interfere much. However, as the tournament progressed, I realized that some amount of micromanagement might be useful. For example, for the second round, everyone had prepared for the wrong opponents till 11 o'clock, with the round on the morning the next day. I started taking a more active part in the preparation.
SS: Team India started off well, but a loss to Belarus must have come as a surprise. What went wrong?
Belarus played well and outplayed us. On the first board, Zarubitski played quite energetically and had Arjun under pressure throughout the game. Arjun barely managed to scrape a draw. On the second board, Iniyan's opponent counter-attacked quite well and didn't give him much chance. On the third board, Sankalp also tried with all his might. He played Benoni, which he hasn't played before, and got a fighting position. However, his opponent defended quite solidly. We had our best chances on the fourth board. Divya's opponent was around the same age as her, and their ratings were also similar. I felt that it would be a good contest. He fell into a trap in the opening and she was clearly better after 10 moves. But her opponent handled the rest of the game better and played quite well, considering his age and rating. I don't think there's anything to be surprised or ashamed of the loss. On that day, we gave our best, but the team that played better won. Divya had come into the tournament directly after having written her exam. She was a bit rusty initially, and this showed. A bit of time with her before the tournament would've been quite useful in this respect. However, she kept getting better and better as the tournament progressed.

SS: Tell us a bit about Arjun Erigaisi. He performed tremendously. What are some of the qualities that help him to be so strong?
Arjun is, of course, a remarkable talent. Right now, his opening repertoire and range appear a bit narrow, but it seems clear that expansion can be done rapidly. He has an excellent natural understanding of chess and absorbs new chess information like how a sponge absorbs water. I don't have a lot of information about how he grew up to become so strong, but I suspect that it may have something to do with his special, secret diet, which we won't reveal in public for now! Given his qualities, I suspect that, if he is able to receive good infrastructure and support, he has a good probability of progressing far, rapidly.


In this tournament, he more or less pulled the team forward. Arjun's presence reduced a lot of pressure from the other boards. In this tournament, I tried to push him a bit in some games which went quite successfully. He showed great versatility and never seemed to tire of chess.
SS: Against Armenia, the Indian team fired on boards three and four. The win must have been very special.
SN: Against Armenia, I felt that we had chances on all the four boards. Although it's traditional for teams to press with White and hold with Black, in this case, I felt that Armenia was a little more vulnerable on the 2nd and 4th boards against us. It happened as I expected, as Iniyan's opponent got into trouble. He overlooked that he was losing a pawn, and his teammates on the 3rd and 4th board were laughing quite openly. These things may have played a role in distracting Iniyan. For some reason, he lowered his guard and made a critical mistake in his calculation. By the time he saw it, it was too late to defend.
By this point, I had become active in participating in the opening preparation of the team. For this game, I so happened to pay a lot of attention on the 3rd and 4th board games for preparation. What we prepared came exactly on the board in these games. It wasn't difficult to predict and catch them in the opening. Sankalp had a huge time advantage and a little bit of pressure, which he converted flawlessly. Koustav's game wasn't all concrete preparation. But, I urged him to play this setup and we managed to spend considerable time analyzing the resulting position with the Qd2-Qf4 idea. The computer likes to show a high value for White there, but without engines, I think the position is very complicated with a lot of play. The f5,gf6 idea with the Queen on g4 and knight on e4, the subsequent Rg8 and possibilities of Nc2 were all discussed in preparation. It was a good victory, but then all victories that come after considerable effort taste sweet.
SS: How was the mood in the camp after the loss to Uzbekistan?
SN: Before the event, in a little team meeting, I already mentioned to the team about my experiences in the Under 16 Olympiad in 2010. Before the rest day, I began very badly, with 2.0/6, against an opposition that averaged around 2100. I and Vidit had lost the important game to Armenia, thus ruling us out of contention for the gold. Armenia had also beaten Russia then, ensuring the first place, but India, Russia and Belarus were still in fight for the silver. The day after the rest day was a double round day, and we so happened to be paired against Russia and Belarus. I managed to win both the games that day, thus helping the team win. I and the team won the rest of the rounds, and we successfully won the silver medal. This was a useful reference point to illustrate to the team that no matter how badly the tournament was going, it was still possible to turn it all around in the space of one game and make valuable contribution.


It so happened that we were paired against Uzbekistan and Russia post rest day. Of course, it was a painful loss, but there wasn't much time to think about the loss. As for myself, I was quite happy with the way they played and fought on all the boards against Uzbekistan.
SS: A win against Russia in round 7 was huge! Can you tell us a bit about that match?
SN: As mentioned, this came right after the loss against Uzbekistan in the morning. Iniyan was quite mature and handled the loss seamlessly. I suggested a minor technical adjustment which may have helped. In any case, he was clearly stronger than his opponent and won as expected. Sankalp was clearly emotionally affected and went on full tilt. We again got what we prepared, but he couldn't remember it during the game. The game was completely wild, but he handled it better than his opponent. Sankalp seems to be quite skillful in complicated positions with tension and he demonstrated it more than once here.
Koustav was clearly affected by his previous round loss and couldn't recover in time. He got a fantastic position and a big advantage that helped the team put pressure. But his 12-year-old opponent played in such a carefree and active way and Koustav lost the plot at one point. But even so, despite the loss, his contribution to the team's win was quite vital as he was completely dominating in the first half of the game. This helped us exert pressure on the other boards. The most unexpected win for all the parties concerned was Arjun's victory over Esipenko. But this happens quite often - you stay calm, make good moves, and often the result can surprise you.
SS: In the last round it was Divya Deshmukh who fired. How was it?
SN: Divya has an excellent record in the last rounds. In those tense moments in the end, with something at stake, while most people struggle against tension and melt away, Divya manages to raise her level to an altogether different state, compared to her normal self. During my pre-tournament preparation, I tried to gather as much information as possible. It is, of course, important to know thyself and I started with our team members first. In one of the interviews for Scroll, I read about how Divya didn't take to chess initially for the first 6-7 months, but when her parents persisted and she started playing tournaments, she started enjoying chess. It seems to me that she enjoys these competitive moments and that seems to stretch and bring out the best from her.
She knew she would play in the last round and we also managed to predict the opponent and the colour, although we weren't completely sure. She was fired up right from the start and had an early advantage. Then she went directly for her opponent's king. Despite having a huge time lead at the beginning, in the end she was the one playing with seconds on the clock. However, at that point, she completely outplayed and overwhelmed her opponent. Objectively, the game contained a lot of mistakes, but I also played similar games at a similar age and rating. While the objective level is expected, her sporting qualities stand out.
SS: Are you happy with the silver medal?
SN: Yes, I think the results turned out quite well. However, I am happier with the effort and dedication shown by the team. I also hope to have had some sort of mid-term impact.
SS: Can you tell us a bit about your impressions of the four players. Naturally they are talented, but you being a strong grandmaster must have found something special in each one of them. We already spoken about Arjun, so let's begin with Iniyan:
Iniyan
He is the oldest and clearly the most mature of the lot. He is quite strong. However, with maturity, there can sometimes come a bit of rigidity. I think how well he progresses from now will depend on how successfully he can bring some changes within himself. It won't be easy, but he has an opportunity to grow in many dimensions if he manages to navigate this successfully.
Sankalp Gupta
Sankalp has a lot of drive and energy. He seems to excel especially in situations with tension around.
Koustav Chatterjee
Koustav is quite intellectual. At present, he is quite capable in gathering knowledge and research related things. Before the last round, he was quite useful in assisting Arjun to prepare against Firouzja, and came up with very useful suggestions and ideas.
Divya Deshmukh
Divya is very competitive and her will to win was perhaps the highest amongst us. She is also smart, creative and has the ability to learn new things quickly. I feel that the best thing she can do for herself to improve is to upgrade her environment of competition. I feel that if she competes against the best, then with a little bit of support and feedback, she can grow very well. I think some of the great players like Judit Polgar, Hou Yifan and Koneru Humpy are good examples in this respect.
All of them have got to this level because they've become quite skillful in certain parts. How well they progress from here depends on a lot of external factors. But within the things under their control, I think it'll depend on how successfully they achieve growth in the areas which don't come as well to them as naturally, and how successfully they make the changes within themselves.
SS: Finally, what did you learn from this experience?
SN: It was a new experience for me, as a captain as well as coach. A coach's role is mostly restricted to the chess part, but as captain, there's a little bit of management involved. I think this was a very good management experience for me. It was my first time in such a position and I think I had a very good set of people to work with. Apart from that, it's always a nice experience being around the younger people. It tends to rub off in a very positive way.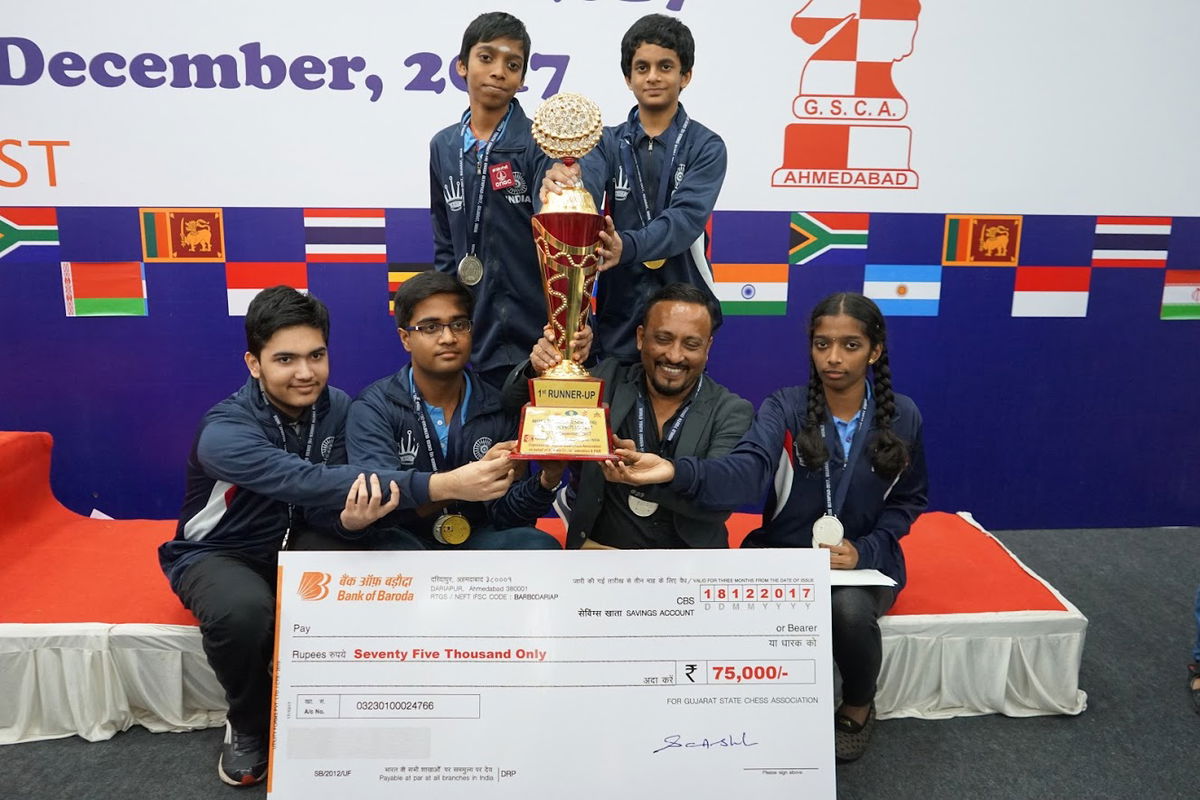 A detailed report will follow shortly about the games of Arjun Erigaisi and his performance of 2678!
If you would like to know more about Srinath, check out the 14th ChessBase India show with him, where he speaks about his journey from a talented youngster to a full fledged GM:
---