South Point reclaims 14th Chessmate Inter School Team Rapid Rating 2022 after five years
South Point High School A defeated their B team to clinch the 14th Chessmate - Inter School Rapid Rating Team 2022. Since the defending champion, Garden High School did not participate, a new champion was guaranteed to be crowned. South Point A finished first 13/14, followed by Aditya Academy Senior Secondary at second place 12/14. Both teams remained undefeated. Delhi Public School Ruby Park secured second place 10/14 due to better tie-breaks. Among the Girls teams, Lakshmipat Singhania Academy won the first place in the Girls category for the fourth consecutive year. Shri Shikshayatan School finished second and Gokhale Memorial Girls School third. South Point alumni, India's 72nd GM Mitrabha Guha was the Chief Guest at the prize distribution ceremony. Photo: Shahid Ahmed
Back after a three-year hiatus
A lot of tournaments around the world were forced to go on hiatus for a year, two or longer, due to Covid-19 pandemic. This is the only Inter-School Rapid Rating Team event in the country which has no entry fees, yet cash prizes and trophies, returned to over-the-board after three years. Children were obviously delighted to compete with and against their friends on the board, push the actual pieces and press the physical clock in a unique team which completed its 14th edition on 13th August 2022.
The highest rated player and the Captain of the team, CM Aayush Bhattacherjee led from the front and scored 6.5/7. The remaining three members suffered a loss each, yet their contributions were valuable too - Ritabrata Chakraborty 6/7, Shounak Mazumder 5.5/7 and Shresth Mahapatra 4.5/7. South Point won this event for the first time since 2017.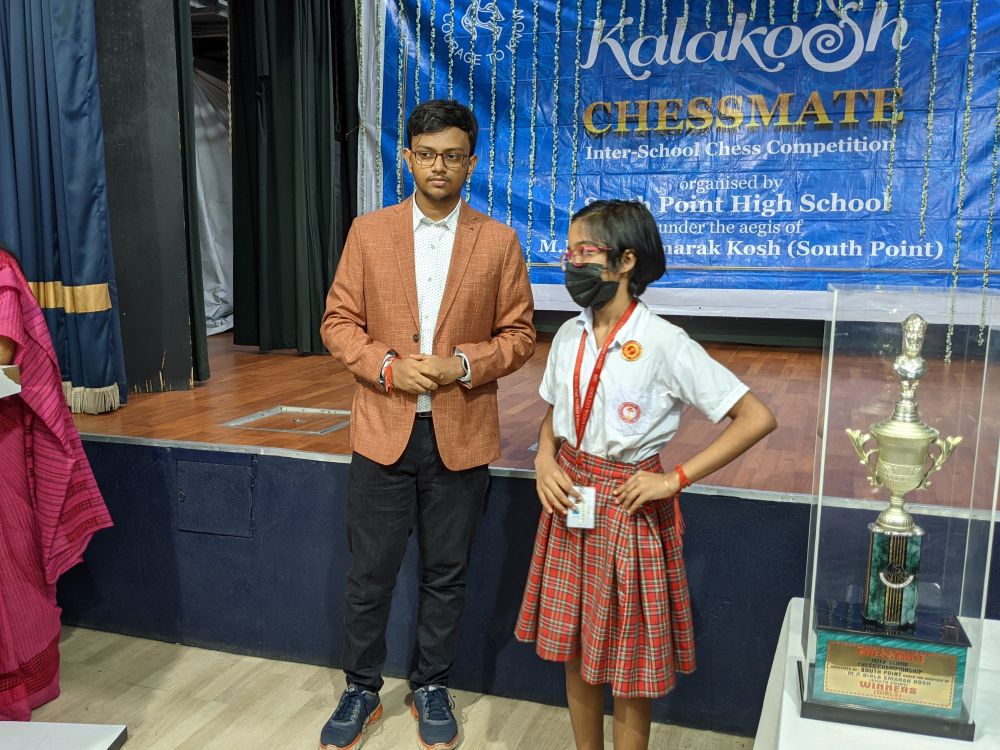 Board Prize winners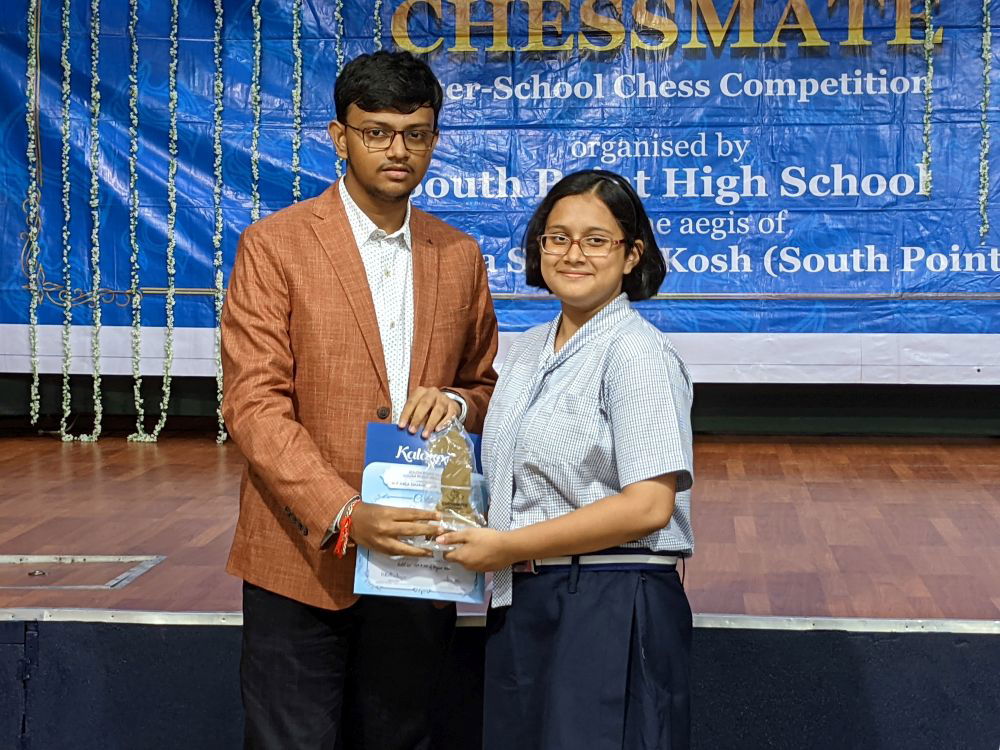 Photo Gallery
The tournament was organized by and at South Point High School on 12th and 13th August 2022. A total of 134 players from 35 schools across West Bengal took part in this two-day seven-round Inter School Rapid Rating event. The time control was 25 minutes + 5 seconds increment.
Final standings
| | | | | | | | | | | |
| --- | --- | --- | --- | --- | --- | --- | --- | --- | --- | --- |
| Rk. | SNo | Team | Games | + | = | - | TB1 | TB2 | TB3 | TB4 |
| 1 | 2 | SOUTH POINT HIGH SCHOOL A | 7 | 6 | 1 | 0 | 13 | 0 | 22,5 | 116 |
| 2 | 1 | Aditya Academy Senior Secondary | 7 | 5 | 2 | 0 | 12 | 0 | 18,5 | 118,5 |
| 3 | 4 | DELHI PUBLIC SCHOOL, RUBY PARK | 7 | 5 | 0 | 2 | 10 | 0 | 19,5 | 114,5 |
| 4 | 3 | LA MARTINIERE FOR BOYS | 7 | 4 | 2 | 1 | 10 | 0 | 17 | 112,5 |
| 5 | 5 | SOUTH POINT HIGH SCHOOL B | 7 | 3 | 3 | 1 | 9 | 0 | 16 | 114,5 |
| 6 | 10 | BHAVAN'S GANGABUX KANORIA VIDYAMANDIR | 7 | 4 | 1 | 2 | 9 | 0 | 16 | 106 |
| 7 | 14 | INDUS VALLEY WORLD SCHOOL | 7 | 3 | 2 | 2 | 8 | 0 | 17,5 | 110 |
| 8 | 8 | LAKHMIPAT SINGHANIA ACADEMY BOYS | 7 | 3 | 2 | 2 | 8 | 0 | 17 | 112 |
| 9 | 13 | M. P. BIRLA FOUNDATION H. S. SCHOOL | 7 | 4 | 0 | 3 | 8 | 0 | 16,5 | 113,5 |
| 10 | 6 | KOLA UNION HIGH SCHOOL | 7 | 3 | 2 | 2 | 8 | 0 | 16,5 | 107 |
---