Schaakweek Apeldoorn: Pragnanandhaa finishes with all decisive games
Praggnanandhaa might have missed a shot at his final GM norm at the Schaakweek Apeldoorn closed round robin but his will to win was undeterred. Out of his nine games in the tournament, Praggnanandhaa did not sign peace in even one. He either won with pride or lost with dignity. In the end, he finished with a meagre score of 3.0/9 but his vehement desire to win his games is a clear indication that the boy is not too far from his final GM norm. | Photo: Lennart Ootes
No draw, play on!
In our previous report, we mentioned that IM R Praggnanandhaa had missed a shot at his final GM norm at the Schaakweek Apeldoorn closed round robin. After five rounds, he had managed to score only one point and all that remained for him was to amass as many points as he could to improve his tournament standing. In a situation like this, many a master might have gone all defence and tried to save as many games as they could. Even if it came at the cost of a miserly score, some rating points would be saved at the very least.
But Praggnanandhaa chose the brave route. He went for broke in his quest to win. The results were, perhaps, not quite encouraging, one might argue but the games were definitely very entertaining. Not a single one of Praggnanandhaa's games finished in a draw. Either he won or fought tooth and nail until bitter defeat.
After his fifth-round loss to GM Tiger Hillarp Persson must have been a very painful one for the Chennai lad, not only because he lost his shot at the GM norm with this but also since he had fair chances of holding the game well towards the end. But despite all dejection, Praggnanandhaa came back strongly with a win against IM Stefan Kuipers in the sixth round.
Praggnanandhaa tried to side-step theory in the game by essaying a flank opening with 1.g3. A fairly balanced position was reached out of the opening when Praggnanandhaa tried generating an attack against the black monarch. Kuipers mistimed his pawn move f6 which eventually allowed his 12-year-old opponent establish a strong pawn on the e5 square and eventually a knight on d6.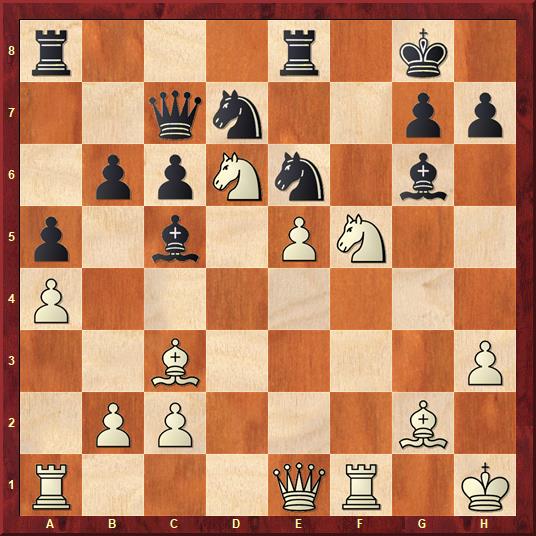 Steinitz had once said that if a knight can establish itself on the sixth rank, the game will win by itself. The finish of this game fully adhered to the first world champion's maxim. As soon as Praggnanandhaa's knight landed on the d6 square, Kuipers resigned. The resignation perhaps came a bit too early, but it was very clear that Praggnanandhaa was in dominating position.
In the next round, Praggnanandhaa was struggling for almost the entire game against IM Arthur Pijpers. Out of a Sicilian Kan, Praggnanandhaa tried keeping white's kingside initiative in check by pushing his pawn to f5, closing the b1-h7 diagonal. But this gave his opponent a juicy target to play against – the weakened pawn on e6.
In the remainder of the game, Pijpers coordinated his pieces beautifully to not only win the e6 pawn but also deliver a mating blow on the black king.
This was Praggnanandhaa's fifth loss of the tournament. But he continued undeterred. In the penultimate round, Praggnanandhaa pulled out his third win against IM Thomas Beerdsen. The Dutch IM tried to steer the game into the lines of a Dutch defence but Praggnanandhaa continued in the spirit of the King's Indian Attack and reached a rather unorthodox position. It's hard to tell whether it was due to being unfamiliar with the position or a misjudgment that Beerdsen made a few inaccuracies that gave his opponent the advantage. Within merely five moves after his 18th turn, Beerdsen, who had a strong grip over the f-file not only lost control over it but also had to give up his queen there in order to prevent getting checkmated.
Praggnanandhaa had climbed up to 3.0/8 with this victory. But this turned out to be his last win of the tournament. As much as he would have liked to finish off on a high note with a win against the top seed of the tournament, GM Alexander Fier, it was tough to win with black against a strong grandmaster like Fier.
Play kicked off with the closed variation of the Ruy Lopez in which Fier lashed out with a fiery but thematic kingside attack in the middle game. Soon white's pawns swarmed in banging on the floodgates of the black castle. At this point, just one inaccuracy could have spelt doom. And in this high-pressure situation, Praggnanandhaa caved in. Unable to find the best defence, he was forced to give up a piece to avert mate.
Despite Praggnanandhaa's poor show, however, one could not overlook his uncompromising play throughout the event. He fought valiantly despite all the setbacks he suffered. In the end, his performance might not have been up to scratch but his vehement desire to win is a clear indication that the boy is not too far from his final GM norm.
Two norms were also scored in the tournament. With a score of 6.0/9, IM Hugo Ten Hertog scored his second GM norm alongside clinching the title of the maiden edition of the Schaakweek Apeldoorn. He was also the only player to score a GM norm in the tournament. FM Max Warmerdam scored the other norm of the event. Scoring 4.0/9, he reached the required score for an IM norm. Since this was his third IM norm, all he needs to do now is to touch the required rating threshold of Elo 2400 to earn his IM title.
Final Standings
All Games
About the Author
Aditya Pai is an ardent chess fan, avid reader, and a film lover. He holds a Master's in English Literature and used to work as an advertising copywriter before joining the ChessBase India team.
Previous report on Schaakweek Apeldoorn
Praggnanandhaa misses a shot at his final GM norm in Schaakweek Apeldoorn
---