Indomitable Samarth Rao wins silver at the World Juniors for the disabled 2019
The 3rd edition of FIDE World Junior Chess Championship for the disabled took place from July 9th to 15th in Cherry Hill of New Jersey, USA. Sixteen players from eight different countries under the age of 20 had taken part in the event. Among them India's Samarth J Rao secured an overall second place with a score of 5.5/7 and won the physically disabled section of the tournament. 19 years old Samarth is more than 75% disabled and is fully dependent on others for his day to day life activities. But over the years, despite having such impossible limitations, he has trained hard in chess to become one of country's strongest disabled players. Today, with this article we wish to congratulate him for his latest achievement at the World Junior event and also thank him for being an inspiration to countless chess aspirants of the country.
Born different, Born Special
"Our actions may be impeded, but there can be no impeding our intentions or dispositions. Because we can accommodate and adapt. The mind adapts and converts to its own purposes the obstacle to our acting. The impediment to action advances action. What stands in the way becomes the way" - Marcus Aurelius
Samarth had no say in the way he was born but he ensured to make the most from what he was given. When in December 2018 ChessBase India received several applications for the Dennis Kow Scholarship for specially abled chess players, it was hard to select just one recipient. Each applicant was special; born with challenges, each of them had fought their own tough battles to achieve something in chess. However, the story of Samarth J Rao clearly stood out among all of them. Here was a boy who just never gives up on chess and despite being more than 75% disabled, despite not being able to stand or walk properly, fights on the chessboard with all his might.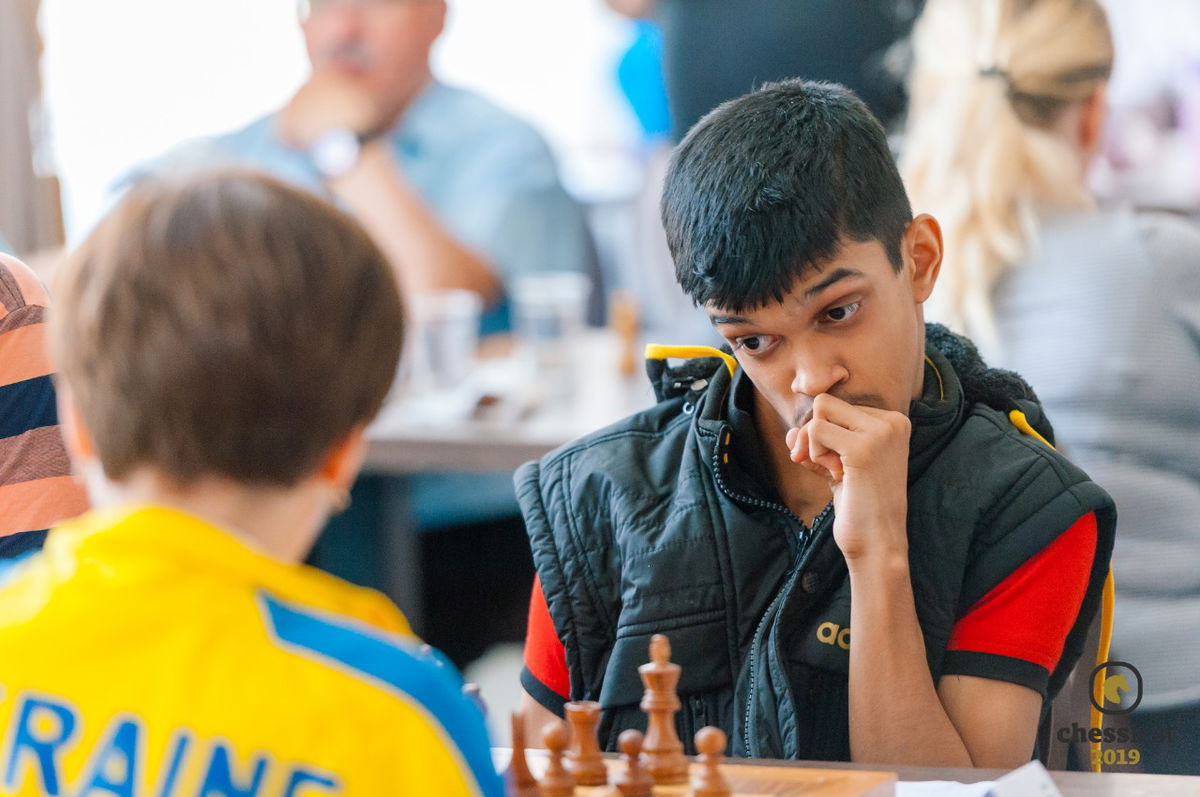 Samarth learnt adapting to difficult circumstances early in life. When going to school was a problem or writing for exams was difficult he compensated with his mental acuity. From an early age he had a phenomenal memory and ability to grasp things quickly. His limitation were of the body and not of the mind, he knew this and used his intellect to the fullest. When he was in the seventh standard he learnt chess to make up for his inability to join his friends on the playground and this became a turning point in his life. What started as a hobby turned into a great passion. He fell in love with the sixty-four squares and since then there has been no turning back.
The World Junior Championship for Disabled
Chess is about uniting and including, being a mind sport it is a great leveller and gives even a disabled player the unique opportunity to compete like a normal person. True to its motto - "Gens Una Sumus" - the International Federation Of Chess (FIDE) recognizes this and the same ideal was resonated through the organization of this year's World Junior's event. Sixteen young players from eight different countries got the platform they needed to showcase their excellence as sportsmen and as chess players irrespective of their backgrounds, ethnicity, or even physical limitations. Main sponsors of the event were KIND and the US Chess Trust, the New Jersey Chess Federation, the US Chess Federation. The value of their gestures can never be underestimated.
Coming back to Samarth, his performance in the event was rather impressive. He lost only to the winner of the event Ilia Lipilin from Russia, drew against Pranav Shankar from USA and won rest all of his games.
Speaking to ChessBase India, Samarth's father Jagadish Rao said, "Samarth has taken coaching from Late Prof. V.R. Shastri Honnavar, Prasad Hedge Sirsi, Jyotiprakasam from Madurai, Mrs. Srinidhi Sripati from Chennai, Mr. Swaraj Palit from Jharkhand, Halsagar Chincholimath, Mr. Kapil Lohana and Mr. Ajith M.P from Mysore. Mr. Sagar Shah from ChessBase India has supported Samarth's chess journey. I should not forget the three days of coaching in USA by GM Thomas Luther of Germany that greatly helped Samarth. I thank all these individuals for their training and support.
---