Reykjavik Open 05: Nihal joins Yilmaz in the lead
Reaching halfway stage, the Reykjavik Open witnessed some thrilling games and results. The biggest result of the round was IM Nihal Sarin's win against GM Elshan Moradiabadi. With this win, not only has Nihal joined Mustafa Yilmaz in tournament lead, he has also made a huge stride towards his GM norm. As of round 5, his rating performance stands at a whopping 2858! In another exciting game of the round, GM Vladimir Hamitevici tried to catch Richard Rapport by surprise by playing 1.a3 on his first move. However, the boot was on the wrong foot when Rapport answered with 1...h6?! A report with games and pictures.
Round 5: Yilmaz's draw helps Sarin & Lenderman catch up
The Reykjavik Chess Open reached its halfway stage on Saturday evening. At the conclusion of the fifth round, overnight leader, Mustafa Yilmaz was joined by Nihal Sarin and Alexander Lendermann in the first place. Lenderman and Sarin, who were both half-a-point behind Yilmaz before the round, scored emphatic victories on the second and the third board respectively.
Yilmaz, with the white pieces, opened with the Catalan Opening but wasn't able to gain much out of the first phase of the game. His opponent, Can, had neutralized comfortably out of the opening and had broken open in the centre, rendering the position dead equal. A queen exchange soon followed which inflicted pawn weaknesses on Black's queenside. Yilmaz even succeeded in winning a pawn but with his active king, Can seemed to have no problems regaining it. By the 31st move, players had repeated moves and signed the truce.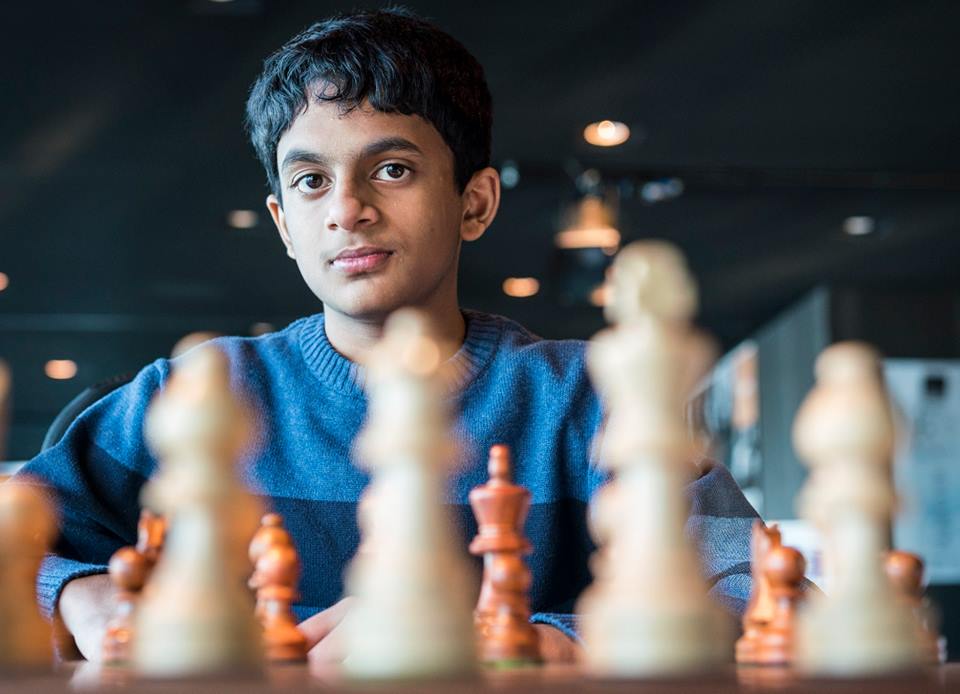 With the top board game drawn, six players who were half a point behind Yilmaz got a chance to catch up. However, only two succeeded. On the third board, 13-year-old Indian chess prodigy, Nihal Sarin was pitted against American GM Elshan Moradiabadi. Sarin had the black pieces in the game and chose the Gruenfeld Defence to counter his opponent's queen pawn advance. The position was fairly balanced from the very start of the game and players soon reached an endgame where both sides had two rooks, a bishop and five pawns. With his extra space, Sarin seemed to have the advantage but it didn't really look serious. But Moradiabadi made some bad moves in the endgame that drastically changed the evaluation of the position in Sarin's favour. After Sarin's 44th move, Moradiabadi was about to lose a significant amount of material and decided to throw in the towel.
Adhiban had had a relatively slow start to the tournament with two draws in his first three games. However, with back to back wins in the last two rounds, he has made his way back to the top.
In the fifth round, he won against English IM Ravi Haria on board four. Adhiban had the black pieces in this game. Haria opened with the non-committal 1.Nf3 which eventually transposed into a Sicilian Rossolimo. Adhiban played energetically and tried generating an initiative from the very start but timely exchanges kept the position under control for Haria. Before the 30th move, a rook endgame was reached where both sides had seven pawns. The only advantage Adhiban could boast of was that it was his rook which controlled the only open file on the board.
In the next phase of the game, however, Haria went for a rook exchange that turned out to be fatal. With his active king, Adhiban was able to break into Haria's position and win a couple of pawns in the next few moves. Both sides had promoted their pawns to queens by this point but the deficit of two pawns was too much for Haria especially since Adhiban was threatening a queen exchange. Haria resigned on his 60th turn.
The game with a crazy opening
Tournament's top seed Richard Rapport. Rapport, like Adhiban, had to win his fifth round game against Moldovan GM Vladimir Hamitevici to make it into the tie for second. The opening phase of this game was especially amusing.
Hamitevici, who had the white pieces in this game, decided to give Rapport a taste of his own medicine by playing the ridiculous Anderssen's Opening which begins with 1.a3. Rapport, in response, played 1…h6, an even more fatuous looking move! However, these rather zany opening moves by both sides brought about a fresh position on the board which far from the well-trodden paths of established opening theory. Believe it or not, black's second move was an opening novelty as per the databases.
Twenty-six moves into the game, players reached a dead equal queen endgame with each side having seven pawns. Rapport tried pumping some life into the position by activating his king and trying to push for a win. Hamitevici, on the other hand, merely shuffled around with his queen and ended up giving Rapport the advantage. Making the most of his piece activity, Rapport built up a dominating position and forced resignation three moves after the first time control.
In round six, Nihal Sarin will be playing the former five-time US Champion, Gata Kamsky. So far the young lad has performed exceptionally well in Reykjavik. In fact, his performance rating so far in the tournament is a whopping 2858. If he could continue this amazing run for at least a round or two more, he's sure to earn himself a grandmaster norm, not to mention, as of now, he is a serious contender even for the title prize.
Standings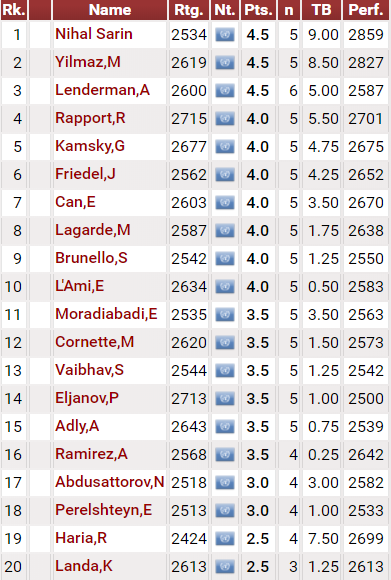 About the Author
Aditya Pai is an ardent chess fan, avid reader, and a film lover. He holds a Master's in English Literature and used to work as an advertising copywriter before joining the ChessBase India team.
Previous reports on the Reykjavik Open
Reykjavik Open Rd 1: Adhiban suffers an early upset
Reykjavik Open 02:Top seeds have a tough time
Reykjavik Open 04: Nihal Sarin beats Ahmed Adly; Yilmaz takes sole lead
Coverage on Firstpost
Reykjavik Open Chess: India's Adhiban Baskaran held to draw by compatriot Soham Das in Round 1
Reykjavik Open Chess: Vaibhav Suri takes joint lead; Nihal Sarin, R Praggnanandhaa share 2nd spot with 20 others
Reykjavik Open 2018: Nihal Sarin shocks Ahmed Adly, R Praggnanandhaa suffers bitter defeat in Round 4

---