The man who nurtured two prodigious talents from Nagpur
The role of the first coach is highly critical in creating a world class chess player. That's because he is not just teaching the basics of the game, but laying the foundation and igniting the love for the game, that may or may not last forever. A seed that is planted in the right way and nurtured properly results in a tree with strong roots and great height. Rahul Joshi is a chess coach in Nagpur and the founder of Anand Chess Acadmy. His core competence lies in laying down the foundation for young talents who come to train under him. A few years ago two toddlers came to him to learn chess, and today they are the best talents of India. Read on to know who they are, and how Rahul is able to bring the best out of young chess players.
The role of the first trainer is extremely important. Not just in chess, but in any sport. Apart from teaching you the basics, it's the first coach who lays the foundation. He/She is the one who ignites the love for the sport. Years later when the sportsman is working tirelessly, pursuing the dream of becoming a world champion, it's the words of the first trainer that more often than not ring through the head. For Vishy Anand it was his mother, for Sachin Tendulkar it was Ramakant Achrekar, for Roger Federer it was Peter Carter and for Raunak Sadhwani and Divya Deshmukh from Nagpur it was Rahul Joshi.
Born in 1979, Rahul Joshi has a FIDE rating of 1721. He decided that people who want to begin playing chess in Nagpur should receive the correct guidance. And hence, he founded the "Anand Chess Academy". Rahul believes in hard work and he makes sure that his students inculcate in themselves this important habit. His methods might be unconventional, but the results are here for all to see. Raunak Sadhwani became an IM in the year 2018 at the age of 12 and Divya Deshmukh achieved her WIM title at the same age! Currently the duo work with many grandmasters and world class trainers, but how was the initial base laid down? How did Rahul Joshi identify their talent and develop them? We spoke with Rahul on these important questions:
Sagar Shah (SS): How did you begin coaching students?
Rahul Joshi (RJ): I was attached to chess since early days and have played chess at every level from local to international events. After playing for a few years, the thought struck me about coaching the bright students, who are not doing well only because they were not getting proper guidance. That's when I came up with the idea of starting the Anand Chess Academy and coaching the youngsters.
SS: Who have been some of your brightest students in the past?
RJ: There were many bright students. Everybody has his/her unique playing and understanding techniques. Differentiating between these qualities is difficult. But still some of my special players were Raunak Sadhwani, Divya Deshmukh, Prasad Aurangabadkar, Tanisha Boramanikar and Vaibhav Raut.
SS: When did your work with Raunak and Divya begin?
RJ: Both Divya and Rounak were my students from a very young age. When they came to me they did not know any basics of chess. Divya's journey started at the age of four years while Raunak's at the age of 6.5.
SS: When you first saw them (Raunak and Divya), what quality in both of them made you feel that these are special talents?
RJ: Both of the kids had a balance of patience and aggression. I could judge that if proper coaching was provided, both of them could make our nation proud.
SS: What are some of the techniques that you used to make their basics and fundamentals stronger?
RJ: Everyone wants to improve at chess but very few become chess masters. In fact, many chess enthusiasts study a lot of books and hire personal teachers but never reach a high rating. Why is that? Because they do not study a serious chess course with a structured program of study and training for long term. With our core chess course, 'ACA one year Program', the students have to follow a structured plan of study and improvement of one year (more exactly, 13 months) designed for students with high goals in chess.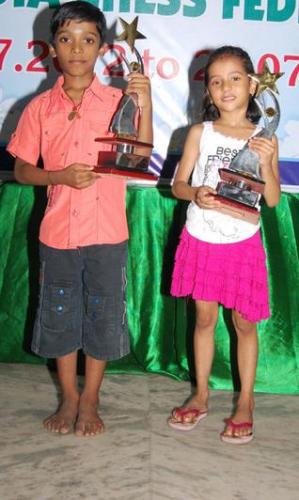 SS: Many coaches do not really know when is the right time to give up a student and let them train under a stronger coach. How do you decide when a student has outgrown your training?
RJ: Yes, it's tough to part away from the students that you have nurtured so long, taking them to the top of their age category. But it's essential to think big if you really care for them. As in life every body passes through different stages of study, and switches from school to college, it's the same. My forte is to build a strong base for the student and I think I am good at that.
SS: Who are some of the people you would like to thank for making you a good coach?
RJ: I would like to thank all our Chess Coaches from Nagpur especially Anup Deshmukh sir, Saurav Kherdekar sir, Vinod Bhagwat sir, Akash Thakur and Gurpreet Maras for their mentoring roles.
SS: And, finally what do you have to say about chess in Nagpur?
Rj: Nagpur is a hub, having immense potential. They could be national assets. There has to be a professional atmosphere and everybody has to stick to his job. It will be good for our chess society and we could see more 'Anands' coming from Nagpur!
Speaking to ChessBase India, Heena Sadhwani, Raunak's mother, said, "Rahul Joshi pĺayed an important role in early age of Raunak's career. (until under 9). He taught him how to work hard. Helped him a lot in under 9 state and under 9 nationals. Motivated him a lot during Under 9 Nationals and was with him in Pondicherry. He was fully dedicated and focused on Divya and Raunak. Raunak was with Rahul sir until he was 9. He showed him the dream of becoming a world champion by showing many games of Bobby Fischer. All the time telling him to 'Dream Big'.
Divya's parents spoke to ChessBase India. They said, "It was Joshi sir with whom Divya started chess. She was with him until December 2013. Divya won her first state and national championship, second national championship and her WFM title by winning Asian youth during this period. He contributed in developing Divya's love for chess.
Facebook page of Anand Chess Academy
---