Donate and play in the Rafiq Khan Memorial Online Blitz - A total prize fund of Rs.51,000
On 6th of October, ChessBase India will hold a unique online blitz tournament in the memory of Rafiq Khan, India's first Olympiad medal winner, who passed away a couple of months ago on 18th of July 2019. Friends and admirers of the great champion have contributed a total sum of ₹51,000, which is the total prize fund of the tournament, the first prize being Rs.10,000. The entry fee of the event is Rs.500 but players are requested to donate as much as they can, as all the money collected will be donated to Rafiq Khan's wife. In spite of being such a great champion, all his life he lived in grave financial difficulties. It would be a nice gesture on the part of the Indian chess community to come forward, contribute towards this noble cause.
Rafiq Khan Memorial ChessBase India Online Blitz Tournament on 6th of October 2019
Indian chess history and accomplishments go back a few years now. While we are busy investing in our young generation, looking for future World Champions, it makes sense to remember and preserve the legacy of the great masters who graced the beautiful game and laid down the seeds of chess becoming a popular sport in the country.
A month ago we wrote a big obituary on the life of Rafiq Khan and many readers got to know what a gem of a chess player he was. An absolutely natural player, who in spite of being a carpenter, receiving no formal training in chess, went on to become one of the greatest champions that India had produced.
A few of his friends and admirers from India have come together and anonymously contributed Rs.51,000 to hold an online tournament. Their aim is that many people would take part in the online blitz tournament, remember the legacy of this great master and at the same time all the funds that will be collected as entry fee will be donated to Rafiq Khan's wife Zahida Khan.
"All his life Rafiq Khan fought poverty. A chess player of his calibre, a national asset, should not have had to think about his daily living costs. Yet, that was the truth of his life. At least after his demise we hope to collect enough funds through this online event. The amount collected will be donated to his wife," said one of the person who has instituted the prize fund and wishes to remain anonymous.
GM Karthikeyan Murali one of the first GMs to confirm his participation. He won a blitz tournament last month | Photo: Amruta Mokal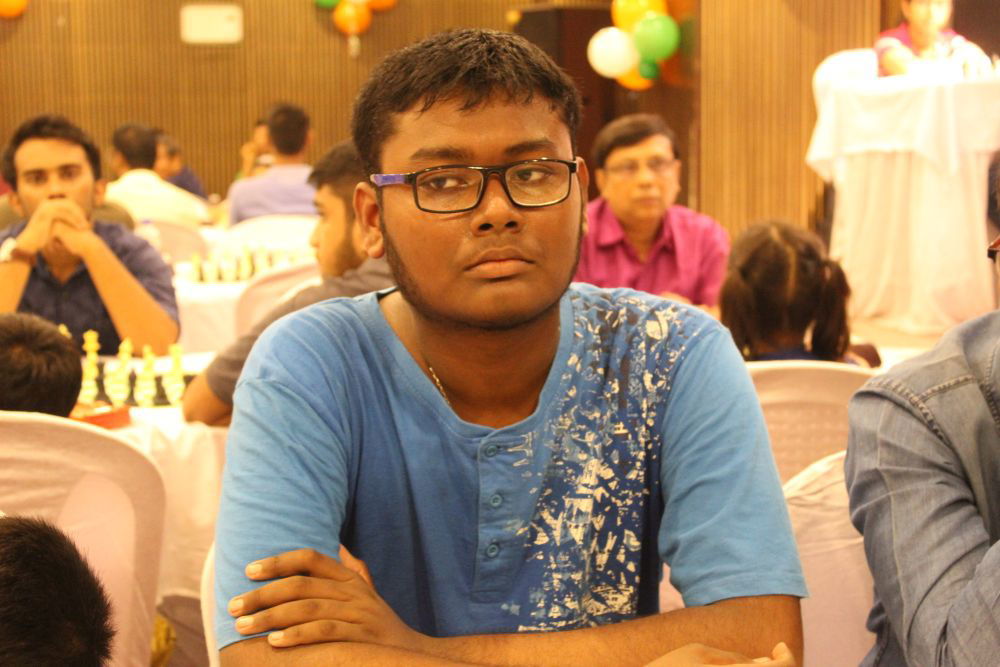 Details of the online tournament:
Date: 6th October 2019, Sunday
Time: 8:00 p.m. IST
Time control: 3 mins + 0 second increment
Number of rounds: 9
Venue: Vishy Anand Arena in Playchess
Total Prize: ₹51000
Main Prize:
| | |
| --- | --- |
| Place | Prize |
| 1st | 10000 |
| 2nd | 8000 |
| 3rd | 6000 |
| 4th | 5000 |
| 5th | 4000 |
| 6th | 3000 |
| 7th | 2000 |
| 8th | 2000 |
| 9th | 1500 |
| 10th | 1500 |
Woman:
Special prizes:
| | |
| --- | --- |
| Place | Prize |
| 20th | 800 |
| 30th | 800 |
| 40th | 800 |
| 50th | 800 |
| 60th | 800 |
| 70th | 800 |
| 80th | 800 |
In order to win a special prize you need to play all the rounds.
Note: Each player is eligible for one and higher prize only.
Donate to the cause:
The entry fee of the event is Rs.500. This is the minimum amount you have to pay to play in this event. However, if you would like to donate more towards the cause, you are most welcome to do so. If the date of 6th October doesn't fit in your schedule, you can skip playing the event, but still donate towards this cause. Each one of us can definitely afford Rs.500. It is our request to everyone to help the family of Rafiq Khan. As already mentioned, the entire amount will be donated to Zahida Khan, wife of Rafiq Khan.
If the above button doesn't work, you can contribute from here.
People who live outside India and would like to contribute, can do so from here: https://www.paypal.me/chessbaseindia
How to play the tournament:
Please ensure that you have a valid Playchess id. You can create one here.
Contact:
For registration queries contact:
Mr. Shahid Ahmed (Tournament director) - 9038139510
Email - teamchessbaseindia@gmail.com
• We request all players to check their internet connection before the tournament. Minimum requirement should be at least 2 mbps. No phone calls/messages will be entertained once the tournament starts from 8 p.m. IST onwards. All queries must be resolved before the tournament.
List of players:
Donors who will play the tournament:
| | | | | |
| --- | --- | --- | --- | --- |
| Serial No. | Full name | Rating | Playchess ID | Donation amount |
| 1 | GM Karthikeyan Murali | 2617 | fighter64 | 0 |
| 2 | GM Aravindh Chithambaram | 2609 | Refresh | 0 |
| 3 | GM Gukesh D | 2535 | gk06 | 0 |
| 4 | GM Vishnu Prasanna V | 2505 | | 0 |
| 5 | IM Raunak Sadhwani | 2479 | devil1234 | 0 |
| 6 | IM Ravi Teja S | 2455 | Ravi Teja S | 0 |
| 7 | GM Laxman R R | 2444 | LAXMAN | 1000 |
| 8 | IM Mohammad Nubairshah Shaikh | 2434 | NubairshahShaikh | 1000 |
| 9 | IM Konguvel P | 2374 | | 10000 |
| 10 | IM Neelash Saha | 2334 | gamechanger | 1000 |
| 11 | FM C J Arvind | 2208 | Junosource | 500 |
| 12 | Rahul Anil Bhagwat | | | 1500 |
| 13 | Somasundaran M | | | 500 |
Donors who will not play the tournament:
| | | |
| --- | --- | --- |
| Serial No. | Full name | Donation amount |
| 1 | Ramesh Balasubramanian | 6464 |
| 2 | Sethuraman S P | 5000 |
| 3 | FM Akash Thakur | 1000 |
| 4 | Maruti Naik | 1000 |
How to play tournament?
1. Download the free Windows software of Playchess
Firstly you have to download the free native Windows software from here. If you have Mac OS or Mac Computer, then you have to use some VMWare to run it as Playchess Desktop Client has native support on Windows OS only.
Login or Create account
After you have installed the Client. You must login.
Enter your Playchess username and password if you have one. (Note, for all the ChessBase Account Premium members, your login credentials will work). If you do not have a Username, you must click on "Create New Player Name" and create a new account. Alternatively, you can also create it here. This is free of cost and gives you free access to Playchess for a few days.
The tournament will take place in the Vishy Anand Arena in the ChessBase India room. Registered players should be online and logged into Playchess at least 30 minutes before the start of the tournament to confirm your entries on 6th of October. 7.30 p.m. would be a good time.
Click on the 'Players' Tab and then click on 'Join Event'. The Sysop (Tournament Director) will accept your entry. Only those who have donated the money will be allowed to play.
Note: The Playchess id, while donating the amount and playing the tournament should be the same.
About HelpChess
ChessBase India Foundation has indulged in raising funds not only for the talents of Indian chess but also on issues of national importance by galvanizing the chess community together.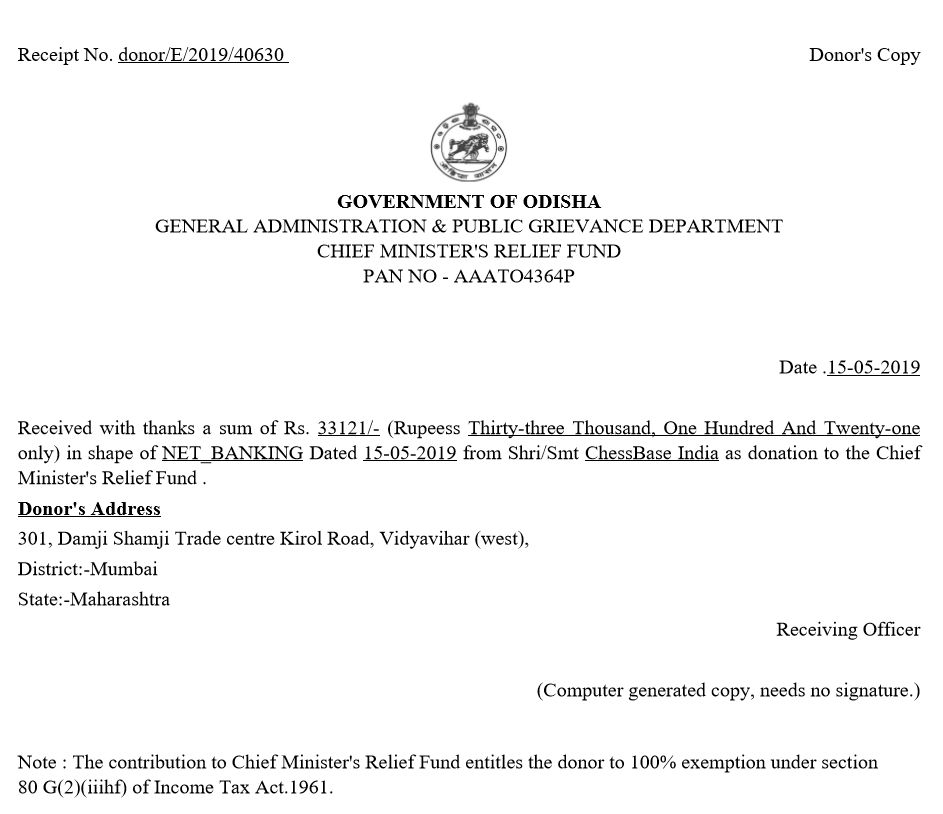 You can also make a direct donation to the bank account of ChessBase India Foundation which will be added to the amount of donation for Rafiq Khan:
Name :- ChessBase India Foundation
A/C. No. :- 50200031999591
Bank Name: HDFC Bank.
Type of Account: Current Account
Branch Name :- GHATKOPAR EAST-TILAK ROAD
Branch Address :- 001 / 002,Samyak Darshan,Junction Of Tilak Road& Vallabh Baug Lane,Mumbai,
IFSC CODE :- HDFC0000118
All the contributors will be mentioned in a separate article which will be published when the tournament ends and the donation is made.
About online tournaments on Playchess by ChessBase India:
ChessBase India has organized innumerable online events successfully. Here is some feedback about the quality of the events:
GM Vaibhav Suri, winner of 2nd ChessBase Online Blitz tournament
The tournament was conducted quite smoothly and a quite "fun Sunday" event. The participation of Adhiban & Sethuraman definitely added the spark to the event. I guess an Online Blitz Festival would be the next way to go (with different formats - Chess960, Bughouse, Bullet etc). Overall really happy with such events. Way to go!!
GM R R Laxman, reigning National Blitz Champion
I thank the Chessbase India team once more for their strenous and tireless endeavour to popularise blitz events in India. Considering the fact that the present day time control even in classical format ( unlike the yesteryears) demands quick reflexes and blitz skills , I feel that the entire Chessbase India team is doing an exemplary and praiseworthy job. A boon for Indian chess !!!. Though my performance this time was not satisfactory ,I hope to excel and cherish more pleasant memories from my side in the forthcoming editions of Chessbase India blitz events.
IM Ravi Teja S, former National Challengers Champion
We (Ravi Teja&Anusha NLV) thoroughly enjoyed the tournament.it was exciting!
Tushar Bohra, father of Kanishk Bohra
Thanks for enrolling Kanishk for the event. He had a great time playing the games. And a great overall experience.
D Gukesh
I am extremely happy to have participated in my first online blitz tmt conducted by ChessBase India and loved the experience and thrill. from the start to the finish its professionally conducted and got the rare opportunity to play several high-class players in a single event and looking forward for its next event
Priti Mahendru, mother of Jaiveer Mahendru
This was our second chessbase online blitz event. My son is 8 years and it was an absolute thrill for him to be playing against titled players ! Thanks a lot for organizing this. We look forward to more such events !
Kushagra Mohan
I was happy the way the tournament was conducted. No problems at all. You just keep increasing the prize money and that is a big improvement.Cannot hope for more.
---