"Anish Giri did not pay me, so I cannot afford a Martial Arts teacher!"
Things in Indian chess could not have been better! It's like a situation where you want to say "Touch Wood" just to ensure that nothing goes wrong! The All India Chess Federation (AICF) brought together all the players for a Pre-Olympiad training camp, it also got India's top player Vishy Anand back to the team after a gap of 12 years. And not only that the federation ensured that the fans get a chance to interact with their heroes by holding a live Q&A session on Facebook. The show was broadcast on ChessBase India, AICF, DCA and Nurtr. A lot of people asked questions, including a Dutch super GM who owes money to an Indian talent who wants to learn martial arts!
Question and Answer session with Indian Olympiad team 2018
I think the last 3-4 days have been a breakthrough in Indian chess. First of all, AICF was able to get all the top Indian grandmasters together for a training camp in Delhi including Anand. Secondly, the respect that the national federation has shown towards the players has been nothing short of amazing. Thirdly, AICF did not forget the chess fans out there and held a live Q&A session where all seven Indians (Anand, Harikrishna, Vidit, Ganguly, Adhiban, Sethuraman and coach Ramesh) answered questions posed to them by chess fans on Facebook and Twitter. This turned out to be a huge success as not only a lot of interesting and pertinent questions were answered, but overall we got a feel of what the mood in the camp is like.
Anand is like the guiding angel of the team. Having him in the team brings tremendous confidence and belief to the youngsters. Here is a man who has seen it all and we will be playing with him on the same team! Anand seemed to be enjoying as he narrated some very nice and funny anecdotes. Harikrishna is the Mr. Cool of the team. If there is a lot of noise and commotion around, things calm down once Hari starts speaking! The man likes to keep it simple and believes in just giving his best in every chess game that he plays. Vidit is Mr. Flambouyant. He is young, he has passed the hurdle of 2700 and is knocking on the doors of becoming an elite player just at the age of 23 years! Even when tournaments don't go well for him he rarely loses! Just from the way he sits, you know that he likes to do things in style.
Mr. Livewire of team is definitely Adhiban. AD (as he likes to be called) keeps narrating quotes and breaks down any tension if it exists in the environment. He is extremely positive and there is absolutely nothing that can break him down. Ganguly is the man who has been closest to Anand assisting him in many of his World Championship duels. Gangs is a wonderful storyteller (Mr. Storyteller) and it is a pleasure to be around in his company as he always has something interesting to say. Check out some of his lovely anecdotes below.
"Mr. Simple" of the team is surely Sethuraman. He is a man of few words, but enjoys the company of other players in the team. His past achievements make him a formidable player and a big asset. And finally the coach! Mr. Affable! Ramesh is loved by every player in the team. They respect him, he respects the players and everything is just so positive. Everyone knows what he is capable off as a coach and Ramesh knows that his role is more to motivate the players and to bring out the best in them rather than teach them something in chess which they already know very well.
Anand coming back to the Olympiad team after a long time:
Anand: I am excited at the prospect of playing for India once again. I must say that India has performed admirably in the last two Olympiads winning a bronze in Tromso 2014 and fourth place in Baku 2016. I hope I could build on that. This training camp was a chance to bond with the team. Every team has some unique dynamics and this training camp helped us all to know each other better.
A lot of blunders taking place in the Berlin Candidates 2018:
Anand: All the participants are evenly matched in Berlin, they are all well prepared and have worked hard at home. On the board, they are trying to create their chances, and blunders happen! It is a part and parcel of the game.
AICF becoming more pro-active:
Anand: I think AICF has been building up well for a while now, but this year has been excellent by getting us all together for the Olympiad. The communication has been much better and they are trying to find out what we need.
How do you control your nerves at a critical moment:
Harikrishna: Why do you think we do not get nervous? [At this point, Adhiban intervenes and says that Hari is usually very calm. Ganguly adds, but that is only from outside!]
Anand: Everyone assumes that we have a fixed strategy. But that is not the case. We try to apply things that have worked for us in the past in the hope that they will work again and when they don't we just improvise.
Adhiban: I don't get nerves [laughs]
Anand: Someone asked what is that one quality required to become a GM and I am thinking what is the one quality that unites me with Adhiban! I can't think of any. [laughs]
Ganguly: You both are from Chennai!
Vidit's dream when he started playing chess
Vidit: I used to get these AICF magazines at my place when I was young. I used to read through them and see great players winning tournaments and getting trophies or medals. And I used to get really attracted to it. So I thought to myself why not I also try to get them! Also I really hate losing and my dad used to always beat me at the start. And hence, I worked hard to beat him and improve at the game!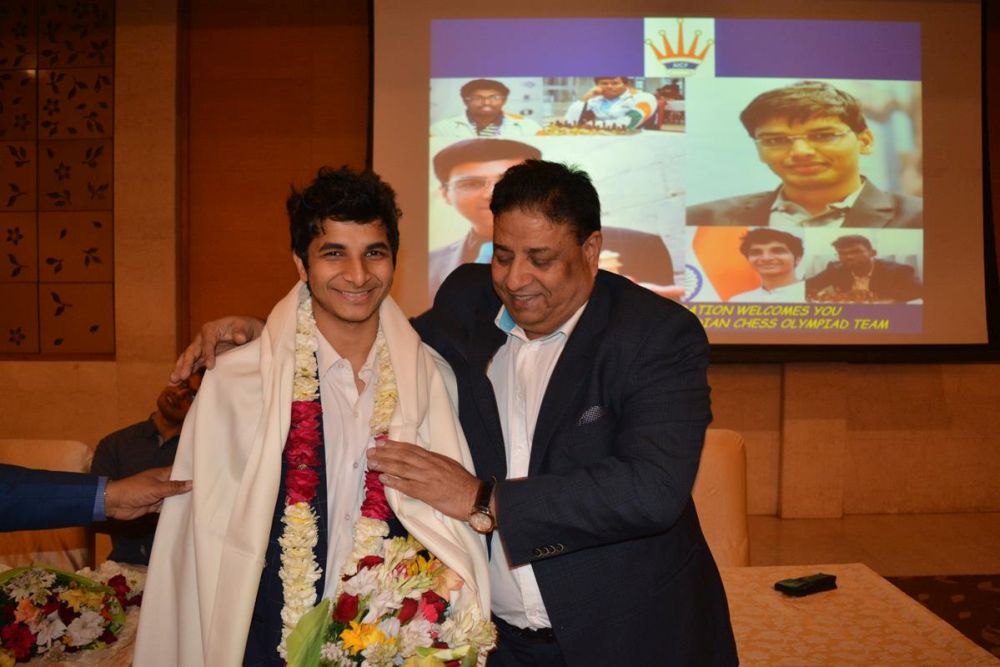 How to deal with losses:
Ramesh: How do you guys deal with losses?
Sethuraman: When I lose I don't like to prepare more. I just like to take a break and look at something else for a change.
Adhiban: I would like to remind that he (Sethu) won the match for India against England! So that's how you make a comeback!
Anand: I think Sethu said it correctly. If you have a rest day after your loss you can take your time to forget the loss, but if you have the game the next day then you have to find a way to block your thoughts related with the loss and focus on the next game. The worst way to deal with one loss is to lose two.
Ramesh: I have seen players repeating the same position in their mind after they lose a game. They replay it again and again and then draw some conclusions that they are not good at this or that.
Anand: I think self-analysis during a tournament is pretty pointless. Because you do not have enough time and you cannot come to any correct conclusions. The maximum what I think you should do is write your thoughts after the game. For example I saw these three variations, but I did not see this one and that's the reason why I lost. This gives you some closure in a way and let's you move on to the next game. We are talking about the losses, but also after the win, you can tell yourself for ten minutes how great you are but after that you have to move on to the next game. And why just for the next game, even during the game there are many times a lot of violent turns. Like you have a winning position, and after that you get a bad position, and then you fight for a draw and then you get winning chances again. So every time this happens you have to put the past behind and focus on the position on the board. But this is very difficult because your emotions get ahead of you. Whatever you can do to improve this will help you become a stronger player.
Ganguly: I think the best idea is to follow Anand. Whenever he has a bad tournament he just bounces back in the next one with an amazing performance. For example: He lost his World Championship match against Carlsen but after that he went to Khanty Mansiysk and won the Candidates. No one thought he could do that, but he did it. After a poor London Chess Classic 2017, he goes to World Rapid and becomes the champion staying unbeaten. So whenever you are having a bad tournament, look at some of Anand's bad events and then the next one to gain inspiration!
Harikrishna: I actually remember the FIDE World Championship Knock Out in 2001 when you (Anand) lost to Touzane Oliver in the first game of the first round and then went all the way to the Semi-finals!
[Ed-Anand subsequently beat Oliver Touzane in the next two games and then Peter Heine Nielsen, Tkachiev, Dreev, Shirov to reach the semi-finals before finally losing to Ivanchuk]
Ganguly: Losing a tournament game and losing a World Championship game is completely different. I have seen Anand losing to Gelfand and Topalov at the World Championship Matches and somehow you don't really get the feeling that he is upset. From within he might be burning but from outside he looks calm. He comes to us discusses the game with us, goes to the gym and when he is back he is focussed completely on the next game!
Anand: When you hit a rough patch, it is a good time to experiment, to learn something new. Because when things are going well, you usually do not want to change things.
Vidit: I should not hide the fact that I hate losing...
Ganguly (interrupts): Who likes losing!
Vidit: I just hate it more than others. So sometimes when I lose a game I will get really angry and prepare until three in the night, or sometimes I just distract myself after the loss. Different techniques work at different times. At the recent Aeroflot Open 2018 I had a disastrous tournament...
Adhiban: Yeah he had a disastrous tournament, but still he didn't lose a single game! Vidit is not the right guy to ask this question of how to recover from the losses because he hardly losses! At this point I remember a quote by Michael Phelps: He hates to lose, but he is not afraid to lose.
Vidit: If you want quotes, you can just call him anytime! (everyone laughs!)
Thoughts before a chess game begins:
Ramesh: When you go to the game do you have thoughts in your mind that I might lose to today, or do you think about something before the game or you just switch your mind off?
Ganguly: If I start getting such thoughts, it is not at all good for me. So I consciously try to block these thoughts before the game.
Hari: I don't know how to describe it but I have this excited/nerves kind of feeling before the game and I just want to go to the board and start playing. That's my feeling before any game of chess!
Vidit: Sometimes when I get tensed before the game, I just start singing! Not aloud, but in my mind!
Adhiban: I usually don't get nerves as I previously mentioned. At the Reykjavik Open until the last round everything was fine. But then the title was at stake and I started to get these thoughts. I think the desire to win should be greater than the fear of failure.
Adhiban's style of play in team competitions:
Ganguly: Only our heart rate changes during his games. His style doesn't change. So we consciously avoid watching his games, because they are such roller coasters!
Anand: The first thing that everyone told me when we started the camp was not to watch Adhiban's games at the Olympiad! Apparently that's the experience I have missed all these years.
Adhiban: I tried to be solid, but it didn't work out. So, I will remain true to my style. And perhaps my opponents will fear my style!
Hari: So basically what he is saying is: I will play my board, don't look at my board!
On superheroes and superpowers!
Adhiban: One of the rounds in Wijk Aan Zee I wanted to come to the round wearing my Superman shirt, but my dad did not allow me!
Parth: Who is your favourite super hero?
Adhiban: Batman - the Dark knight! (everyone laughs)
Parth: Imagine you wake up in a superheroes ecosystem and you had to play a simul against Sherlock, Batman, Dr. Shrink and Iron Man. Yuo are allowed to choose one chess player to help you. Who would you choose and why?
Adhiban: I would choose Rustam Kasimdzhanov because he is into this super hero stuff.
Parth to Adhiban: If you are to be a superhero for 24 hours which one would you choose and why?
Adhiban: There was once a girl who called me Flash. I think this is one superhero I can emulate in chess. I can try to calculate lines as fast as Flash and also be similar to the lightning kid of Madras!
Adhiban and his positivity:
Parth: How are you able to be so positive all the time?
Adhiban: Well, whenever something bad happens I just ask myself - is this going to stop me. And the answer is always a No! So I just forget the bad experience and look forward to the next big thing.
Anand: Basically he doesn't know anything else! (everyone laughs)
On Levon Aronian's performance at the Candidates
Ganguly: I would really like to see a match between Magnus and Anand again. But pity, it is not a possibility. My next favourite player is Levon but somehow he is unable to perform well at the Candidates. He does well in just about every other tournament and crushes everyone, but at the Candidates things are not working out for him.
Hari: Perhaps we should ask Anish Giri to tweet about this! (Everyone agrees!)
About Anish Giri's question:
Background about this tweet: A few days ago Vidit Gujrathi posted the following from his personal Facebook profile:
Based on this post, Anish Giri made the above tweet directing it at Vidit.
Vidit: I do not take his words seriously as he has not won a super tournament.
[ed: Vidit's comment is based on the following tweet by Magnus Carlsen to Anish Giri]
Come on, that is just weak. Win a tournament for the first time in your life, and maybe people will start taking you seriously https://t.co/WgF3fAmOvK

— Magnus Carlsen (@MagnusCarlsen) March 8, 2018
Ganguly: Do you think Anish should play in Lake Sevan. [Ed-Vidit has been the winner of Lake Sevan event both in 2014 and 2015]
Vidit: They don't really invite people who make a lot of draws!
Anand: I just think the question is really weak and that's why he (Vidit) is going to the Martial Arts Class!
Parth (to vidit): Did you find a martial arts coach?
Vidit: Well, I haven't got my payment for the time I worked for him. So I cannot afford it.
Adhiban (to the camera): Anish, if you are watching this, pay him!
Anand: It's worth pointing out that Anish is currently seconding someone in the Candidates. So it's an honour to get a question from him.
Hari: Anish will of course support the Indian team!
Vidit: Anish is really a great guy....
Adhiban (interrupts): No, No this does not count!
Anand: He (Vidit) suddenly realized he might not get paid!
[Of course we got reactions from Anish about this later on Twitter. Here are the tweets in chronological order]
@viditchess says that he hasn't been paid by @anishgiri for the work he did. So he cannot have a martial arts tutor! :D

— ChessBase India (@ChessbaseIndia) March 19, 2018
He "hasn't" been paid and he "shouldn't" have been paid are two different things! I am probably responsible for at least a couple of rooms in his new apartment in Nashik, no worries. 😆🤑

— Anish Giri (@anishgiri) March 19, 2018
As you haven't won any tournaments, I find it hard to take your questions seriously.

— Vidit Gujrathi (@viditchess) March 19, 2018
This is just weak you mean to say? Ok back to work now. The promissing 5.Qe2 trend in the Petroff needs to be investigated. 🧐

— Anish Giri (@anishgiri) March 19, 2018
Oh...I thought you will show your martial art skill in anti martial. Good luck with complex Qe2 petroff. I am sure you know which game to see for reference.

— Surya Sekhar Ganguly (@suryachess64) March 19, 2018
10/10 for the anti-martial pun, I didn't know it was possible to be funny yet not insult anyone. As for your Qe2 masterpiece, it indeed had a delayed effect on the chess history! Many confused brains.

— Anish Giri (@anishgiri) March 19, 2018
[Ed: Just in case you were curious as to which game it was that Ganguly and Anish were pointing to, it was Surya's last round win against Wang Hao from Bangkok Open 2015 which he had annotated for ChessBase. We reproduce it in full below. Also interesting to note is that in the analysis Surya had mentioned about Anish by saying, "I want to give the whole game as the finishing is very pretty. It was an outstanding game by Hikaru, who outplayed Anish positionally. Anish getting positionally outplayed is something that we don't get to see that often."]
Ramesh on teaching chess to his children
Ramesh: My daughter has got interested in playing chess since last one year, while my son is more into table tennis.
Parth: Is it difficult for you to coach your daughter more than it is to coach a student?
Ramesh: I tried not to differentiate. It's difficult to work with your own children. You cannot be as tough as you are to others!
Ganguly: You mean you are not as tough to her as you are with us!
Anand's love for chess and training:
Ganguly: I worked for Anand for the first time in the Kramnik match. Before meeting him I felt that I used to work hard. After meeting him my definition of hard work changed! We were working for 12-13 hours a month and then there was this Kramnik match, which was very intense and he won in grand style. He spent a day or two in Europe and then he came back to India where AICF felicitates him. The felicitation ceremony was on the next day itself and I was also invited. So I flew down from Kolkata to Chennai and stayed at Ramesh's place. At 6 p.m. in the evening the celebration was to be held. I messaged Anand that I have arrived. He replied, "Hey Surya, have you brought your laptop? If yes, then why don't you come home, we will have some training!"
Anand: Surya usually has very interesting ideas up his sleeve. It's nice to call him over and take a few from him!
Message from the players:
Adhiban: All the teams out there, we are coming for you guys!
Hari: I would like to thank all the viewers and all those who posted the questions, including Anish. I hope you will support us at the Olympiad and we hope to do our best.
Anand: Thanks for all your questions and enthusiasm. Our team is very strong and the Federation is doing a great job, I will try to keep my feet firmly on the ground! We have four strong players and Adhiban, so I am sure we will do well!
Ganguly: Do not follow the games played with an engine. It is extremely detrimental for your chess. And if you are a heart patient, do not follow Adhiban's games!
What will the team be for the Olympiad?
There will be five players in team India. The first three - Anand, Harikrishna and Vidit are confirmed thanks to their high rating. The fight is now between Sasikiran (2671), Ganguly (2657), Adhiban (2650) and Sethuraman (2649). The average rating for the months of March, April and May 2018 will be taken for the selection of the remaining two players in June 2018. As all the four players are participating in a lot of tournaments it will be interesting to see who are the two who get selected on the basis of the average rating in these three months.
Live show in video format:
Due to poor internet connection the quality of the video is not so great. We however would like to thank Paritosh Anand from Nurtr.com who made it possible for the viewers of ChessBase India to view this historic team interactive session. We also thank AICF for putting this event together.
---