Read this 18-year-old girl's heartfelt lines about her chess and life
Picture a 10-year-old girl, happily working on chess and academics, bagging trophy after trophy, living a carefree life with no real worry in the world. Now picture what her life would be like if her loved one was taken away from her, and reality collides with her ambitions. Stricken, the girl struggles to cope and keep up with her old hobbies, and is wracked by sadness. One day, with much encouragement from those who believe in her, this girl picks up her passion and strives through financial hardships, unfortunate incidents to a prospering chess career. Inspiring story right? This is the life of WIM Priyanka K, now aged 18, who composed two poems that dictate the two contrasting sides of her life so far. You'd be surprised as to the maturity she possesses! Read on for more.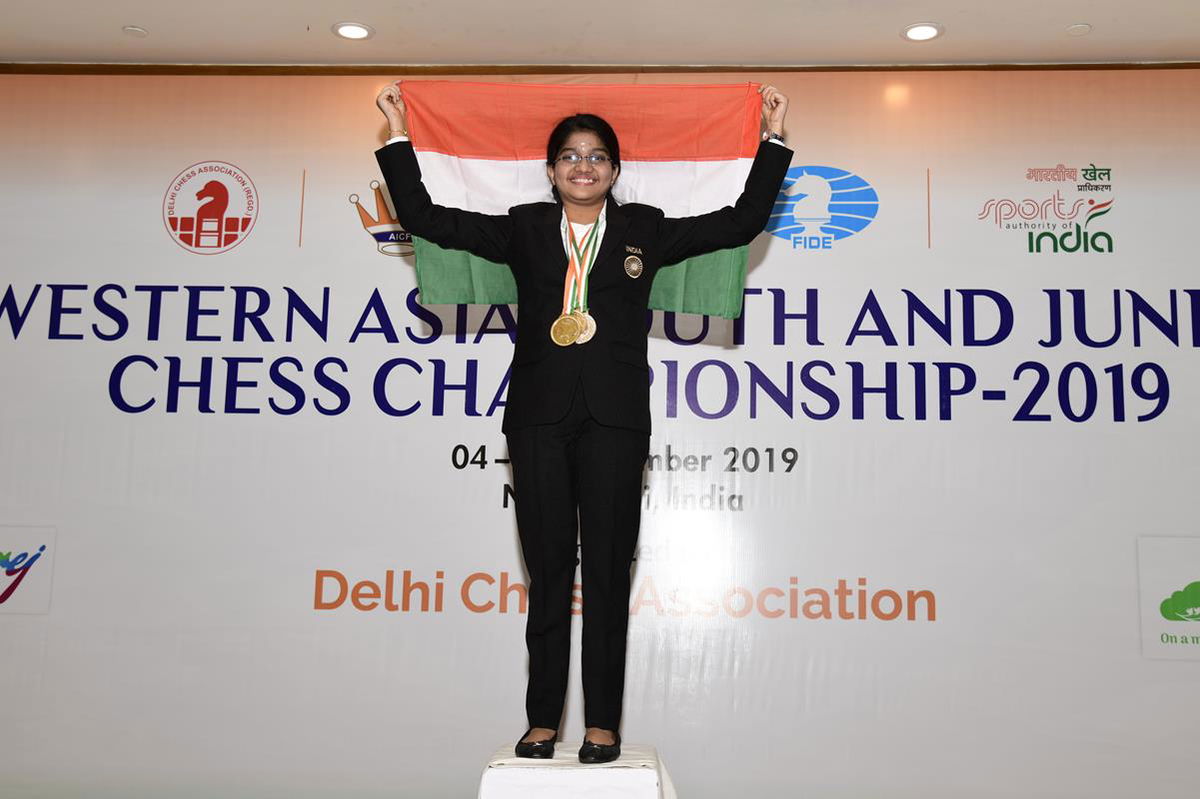 Priyanka K was born on 3rd August 2001 in Coimbatore. She was always looking at chess as an ambition and took quite the interest in the game, surprising her parents and leading them to believe in her potential. It was the shiny trophies which were irresistible for young Priyanka! Being 8 years old, her journey had begun, with her father as a mentor to guide her. She soon won the U-9 TN State championship in 2010, and was a close competitor in the Nationals and Asian Schools of the same year. She was leading a happy, carefree, life, with a wonderful hobby, when in Feb 2012, she was struck with a tragedy; the passing of her own father. The aftermath was not a pleasant one, and both her happiness and chess were in turmoil. Recovering from the wounds slowly but surely, she picked up her old love for the 64 squares and carried it from then on. This was 8 years ago, and now the 18-year-old looks back on these moments with acceptance.
The first few years since the unfortunate event did not fare well for young Priyanka. There were always thoughts and sadness taking away the focus from the game, and for the first few months it was a struggle to concentrate. Her loving mother, K. Maruthambal, and coaches like RB Ramesh kept her motivated to push forth and do her best. Sponsors were not easy to find and it seemed like she had to give up on her passion. But she did not! She fought hard and people around her supported her dreams. She won MKG scholarship by ChessBase India for a sum of Rs. 50000, and also the 2nd MKG scholarship for the same amount, which helped her afford to keep pursuing the game. (details of both can be found at foundation.chessbase.in).
Lockdown left her submerged in her thoughts, and over that period she composed two poems, one of which is titled 'When Chess turns into Life' and the other remains untitled. If observed, one would notice a deeper emotion hidden amongst the lyrics and verses. Here they are below, decipher what you may!
Never thought time flies as fast as light!
The journey was for sure hard,
But guess what,
I've survived and I'm proud of it!
From a 10 y'o kid,
desperate to bring back father from heaven,
To an 18 y'o who understands and accepts life as it is.
Life has given me a lot of experiences,
Missing my loved one, loneliness, betrayals, poverty and what not!
But guess what,
I've survived and I'm proud of it!
Over the years,
Things have changed, people have changed, life has changed,
But something that has not changed,
And will never change,
Is that SMILE on my face!
I smile today not because my life has been easy,
But because I've survived the worst!
I smile today because it has given me the strength to face life,
And a reason to wake up everyday!
Life is not a fairy tale!
It is definitely not!
But now, if at all needed in future,
I have the courage to survive yet again!
But this time with an even bigger and brighter SMILE on my face :)
- Priyanka Kalidhas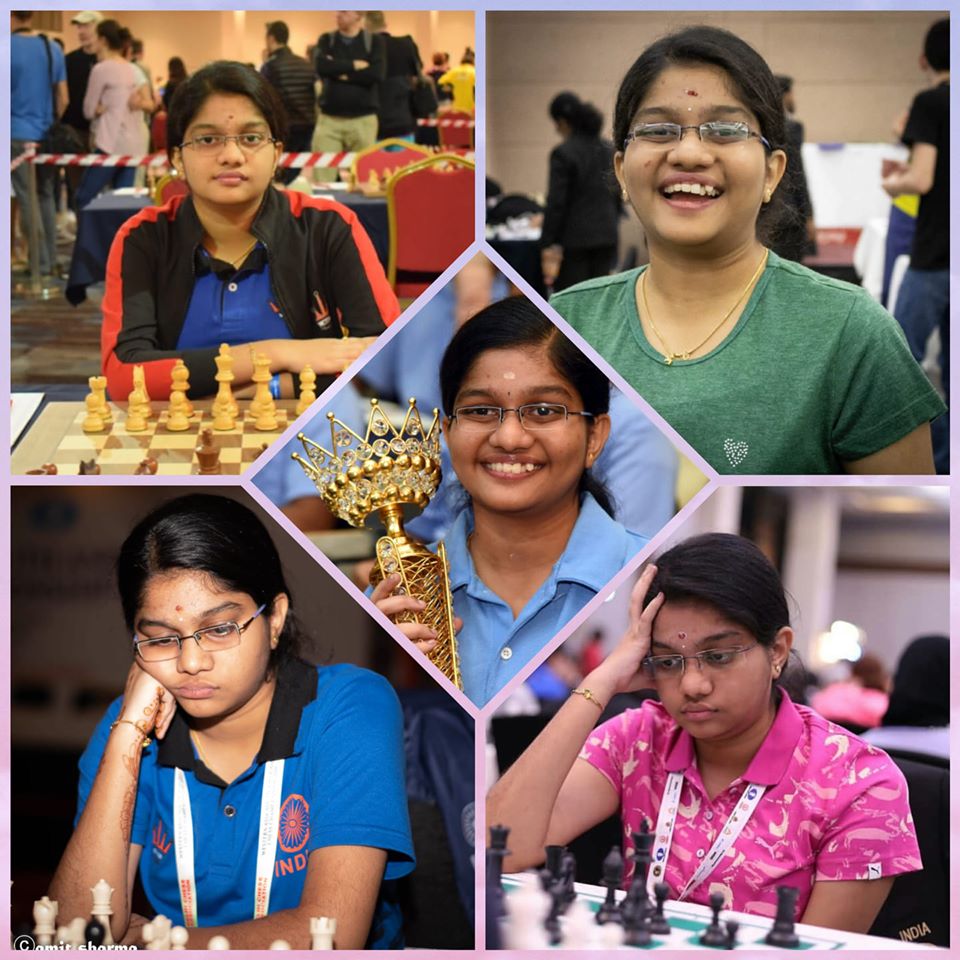 Priyanka has been through a lot so far but she has kept her smile intact. In this next poem, she talks about how she channeled her love for chess as a hobby into something to pursue, or as she calls it better, into life.
When Chess turns into life
Priyanka Kalidhass
As the city falls asleep
Alone I sit, bringing back all our memories!
Down the lane...
Never knew, 64 squares would hold me tight (together)
When I was about to fall apart!
When me being a restless kid,
You taught me what patience is!
You made me sit in awe for four long hours
When boredom used to strike me hard!
You became a rainbow in my cloud,
A dictionary in my life,
Adding more meaning to my soul!
Slowly, from being a part of my life,
You became my life....
You became the reason, I smile and laugh
And the reason, I cry hard!
No matter what,
I win, I lose, I feel ecstatic, bliss, I weep, I stumble, I breakdown, I hate that I love chess,
But the next day, I go and sit in front of the board, leaving everything else behind, ready for the battle, for a new beginning,
With the same amount of Love and Passion!
Maybe that's what Chess is!
Makes you fall in love with it, unconditionally, over and over...
At times, I wish we met long before!
while sometimes I wish we never met..
And now all of this makes me wonder
What are you?
A sweet lie or a bitter truth?!
Or maybe a version of Bittersweet Life!?
More about Priyanka K:
Priyanka K wins the MKG Scholarship for Rs.50,000
K. Priyanka becomes the latest WIM of India and dedicates the title to her mother
Priyanka K. wins under-17 Nationals for second time in a row!
Aren't they brilliant? Let us know your thoughts in the comments section below. You can also submit your own poems and other content too! Just write to us at chessbaseindia@gmail.com if you'd like to see your material appear on the front page!
---