Play chess in 'The land of the Gazelle', Abu Dhabi
The Abu Dhabi Chess Festival is just around the corner and its premier event, the Masters' Tournament, features an exciting list of players. Some of the bigwigs include Richard Rapport, Alexander Morozevich, Anton Korobov and Vladimir Fedoseev. With such a strong field, the tournament offers an ideal opportunity for aspiring masters to earn norms or gain rating points.
A tournament amid beaches and deserts
One of the biggest chess festivals of the year, the Abu Dhabi chess festival is scheduled to be played from 6th to 16th August 2018. The 12-day chess festival will consist of four events: A masters' tournament, an open tournament, a juniors' tournament (for players under 16 years of age) and a blitz. The headliner, of course, is the Masters' event which has attracted 38 GMs – of whom 5 are rated above 2700 – and 12 IMs so far. Some big names in the fray include Le Quang Liem, Richard Rapport, Ivan Cheparinov, Wang Hao, Vladimir Fedoseev, Daniil Dubov etc.
The Venue:
Abu Dhabi, the capital of the UAE, is a coastal city that boasts of a splendid skyline and sandy beaches. The event will be held at Hotel Dusit Thani, one of the top 100 hotels in the world.
Players can avail accommodation at the venue with full boarding (breakfast, lunch and dinner).
Booking rates:
Who can participate?
In the Masters' segment, all players – with the exception of players from the UAE – rated above Elo 2100 will be allowed to participate while the Open tournament will be open to everyone below the rating of Elo 2100 (as of July 1, 2017). The Juniors event is open to all players born on or after January 1, 2002.
Also, it is compulsory for all players to have a FIDE Id. Players without a FIDE Id will not be allowed to participate.
Why Play in Abu Dhabi?
Well, there are players like Morozevich Rapport, Cheparinov, Le Quang Liem, Wang Hao, Korobov etc in the line-up. So, if you're playing at the Masters' event, you might just end up crossing swords with one of your chess heroes! Besides, with this strong a field which consists of players from around 25 countries, the tournament provides an excellent opportunity for norm seekers earn their GM or IM norms.
And if money is your motivation, there's a lot to be made in the Emirati capital. Just take a look at the list of prizes below.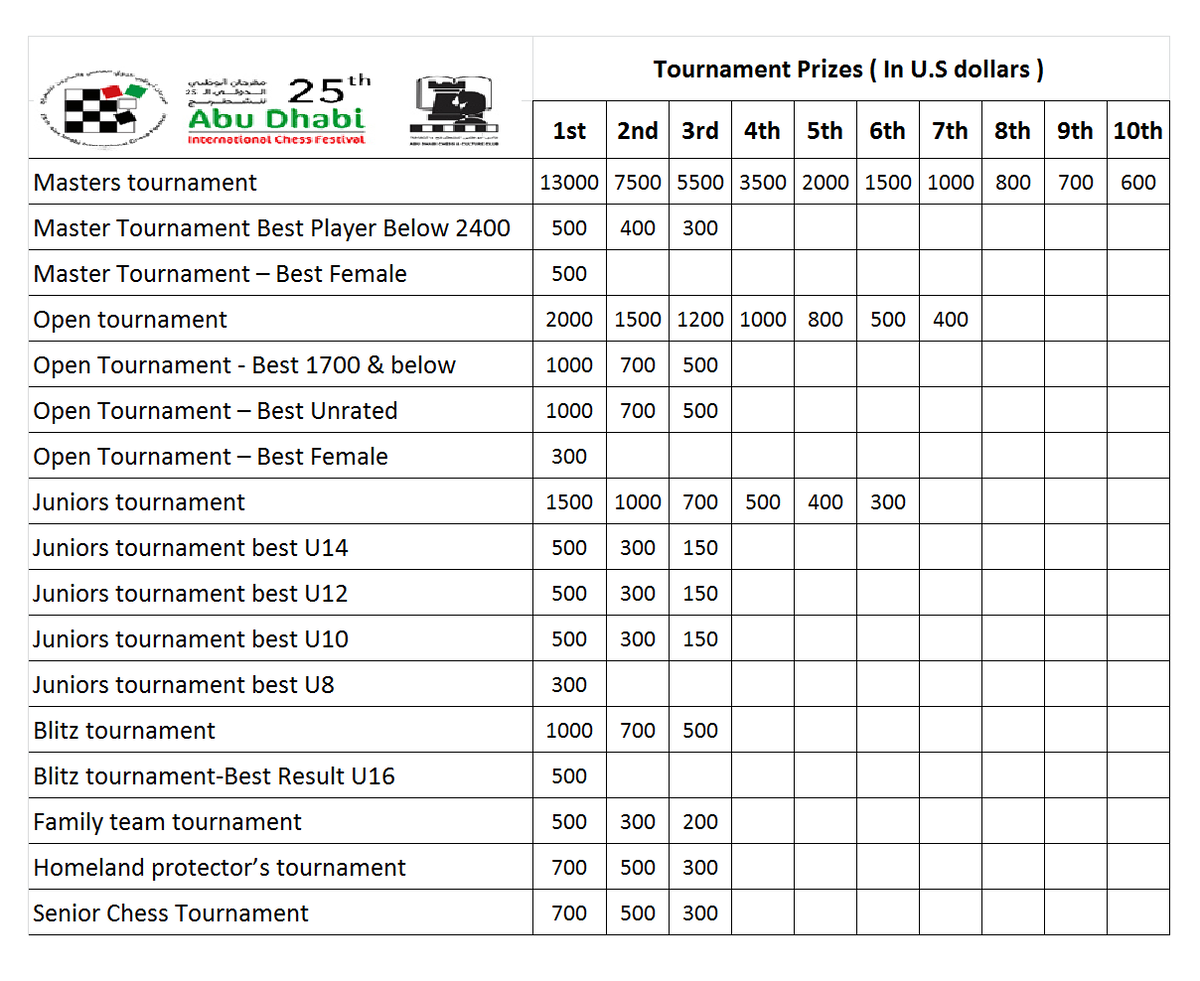 What's more? From culture to adventure, the 'Land of the Gazelle' has a lot to offer to all comers. The city boasts of some stunning architectural marvels like the Sheikh Zayed Grand Mosque which features the world's largest hand-woven carpet; the Formula Rossa, world's fastest rollercoaster; and of course, lots of beaches and bazaars. Also, if shopping is your thing, it is tax-free in Abu Dhabi.
Tournament Schedule
The Festival will begin on the 6th of August 2018 and will conclude on August 16, 2018. Rounds of both the Masters' Tournament and the Open will be conducted simultaneously from 7th to 15th August. The detailed schedule of the festival is given below.
Entry Fees
Entry Fees can be paid on or before 6th of July (post which a late fee will be charged) via bank transfer in favour of The Abu Dhabi Chess and Culture Club. Details for the transfer have been mentioned below.
Name: Abu Dhabi Chess & Culture Club

Bank: Abu Dhabi Islamic Bank

Branch: Najda Street Branch

Swift Code: ABDIAEAD

Account Number:10079393

IBAN: AE51 0500000000010079393

Currency: AED

Address: Al Najda Street Branch, Abu Dhabi, United Arab Emirates
Kindly mention your FIDE Name & FIDE ID in your transfer and send a copy of the transfer to adchessfestival@gmail.com
Masters Tournament:
Entry Fees AED 370 (US$ 100). GM, IM with standard Elo Above 2400 and WGM are exempted from entry and registration fees.
Open Tournament:
Entry fees AED 200 (US$ 60). IM's & GM's are exempted from this condition
Juniors Tournament (under 16 years):
Entry fees AED 100 (US$ 27). IM's & GM's are exempted from this condition
Blitz tournament:
Entry fees AED 100 (US$ 27). GM, IM with standard Ello Above 2400 and WGM are exempted.
Late Fees:
Late registration fee is AED 100 (USD $27) starts from 7 July till 1st Aug 2018. All participating players accept to fully comply with the regulations of the tournament and the organizer. Organizing committee reserves the right to accept or deny a participant's registration according to FIDE Rules and Regulations and UAE Laws.
Entry fee and related payments must be paid in FULL prior to the deadline (1st Aug, 2018) either in cash at Abu Dhabi Chess & Culture club or through Bank Transfer/ Deposit to the following Address: adchessfestival@gmail.com
Plan your travel with ChessBase India Power
Don't let travel arrangements come in the way of your preparation. Chess players should only play chess. With this in mind, ChessBase India Power offers you the best travel packages that include flight tickets, visa assistance and accommodation within three kilometres from the venue. All you need to do is drop us an email on accommodations@chessbase.in

You can also call us on 09106908500 (10 a.m to 8 p.m.) or send a WhatsApp message on the same number.
Important Links
About the Author
Aditya Pai is an ardent chess fan, avid reader, and a film lover. He holds a Master's in English Literature and used to work as an advertising copywriter before joining the ChessBase India team.
---