10 years of Mexico 2007: The road leading up to the tournament (1)
Vishy Anand became the World Champion by winning the knock-out tournament in 2000. However, it was not an undisputed title as Kramnik, the newly crowned classical world champion did not participate. Also Kasparov and Karpov gave the event a miss. The Indian champion won his first undisputed world title in 2007 when he triumphed at the eight-player double Round Robin tournament in Mexico. We are celebrating ten years of this memorable event when India got its first undisputed World Champion. And Peter Heine Nielsen who was Anand's second at the event tell us all about it.
On 29th of September 2007 Vishy Anand drew his 14th game of the World Championship tournament in Mexico against Peter Leko and became the undisputed World Champion. This event has been etched in the memory of every chess fan, especially Indians. We are now nearing the tenth anniversary of this great achievement. ChessBase India's Sagar Shah met with Peter Heine Nielsen, who was Anand's second in 2007, in Vilnius Lithuania towards the end of August 2017. They discussed the various games of the event with Peter giving his impressions on each of the battles.
What we are going to do is recreate the entire scene just as it took place ten years ago. The first game of the Mexico World Championship took place on 13th September 2007, so you can expect an article on it on 13th September 2017. And so on. The final article will be published on 29th September 2017 when Anand lifted the winner's trophy. Along with the games and photos, we will also be giving you Peter Heine Nielsen's impression of each of these games.
We begin with the interview which tells you about how Anand and Peter Heine Nielsen began working together and how they prepared for this World Championship tournament together.

Interview with Peter Heine Nielsen
Sagar Shah (SS): Peter, you might be the only second in the chess world, when asked how many titles your students or people with whom you have worked, have won, has to think.
Peter Heine Nielsen (PHN): (Smiles) No, I remember each one of them vividly and the number is six. Four with Vishy Anand and two with Magnus Carlsen.
SS: You played a huge role in Anand winning his first undisputed title ten years ago in Mexico 2007.
PHN: I was his regular second. I was with him in San Luis 2005 as well, but there he finished 2nd. I was happy that I was asked again to work as his second in 2007. So we were three people in Mexico: me, Vishy's wife Aruna and his German manager/supporter Hans Walter Schmidt.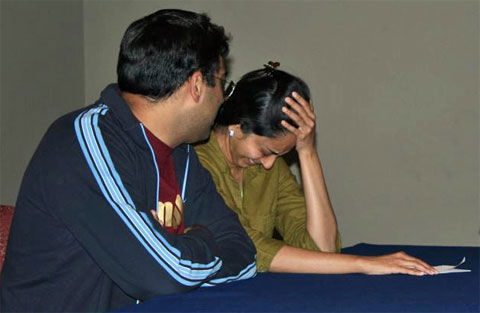 SS: So contrary to the big team that Anand had later, in Mexico you were only three?
PHN: Well, Mexico was a tournament and not a match. It may sound odd that you need less seconds to prepare against more opponents, but that's how it is I guess. In a match you are preparing for months, while in a tournament you can have an attitude that if something didn't work against one opponent you will make something else work against the others. It was the norm to come with one second in this tournament. For eg. Kramnik was in Mexico with Loek van Wely.
SS: Peter, before going to the match and discussing it in depth I would like to know what made you become a trainer and a coach? You were one of the strongest players coming out of the Scandinavian countries. You had a rating around 2670. So how did your career change from a player to a second/trainer?
PHN: It all started with my World Championship Match against Anand in 2001. I was playing against him in round two. I had the white pieces and I was able to get an excellent position out of the opening thanks to a new idea that I had prepared. But soon he made a move that I had not seen at home and I had to start thinking over the board and this didn't go to well! (laughs). Vishy won the game, but saw that I was reasonably well prepared in the opening. In that tournament Anand was not able to defend his title as he lost to Vasily Ivanchuk in the semi-finals. So instead of playing the World Championship Match in February 2002, he held a training camp. A lot players were invited here and I was one of them. It was a very nice experience and our work began on and off since early 2002 and went on this way until 2005 when he asked me to be his second for the World Championship in San Luis. Since then you could say I began working for him full time for the next nine years!
Peter Heine Nielsen vs Vishy Anand, 2001 (annotated by Nielsen)
SS: Anand was at the peak of his career at the Mexico World Championship tournament in 2007. He was world number one, almost 2800. Did you think he was one of the favourites to win the title?
PHN: Well, for sure. But I was thinking the same even in the World Championship in San Luis in 2005. Anand performed much better than his Elo in San Luis, so it was a good result. However, Topalov won the title. In such tournaments it's basically just two results - either you win the tournament or you don't. When I didn't help him to win in 2005, I thought that's the end of my journey as his second. But he asked me again and that was great.
Participants of Mexico 2007
| | | | |
| --- | --- | --- | --- |
| Player | Nat. | Rtn | Birth |
| Viswanathan Anand | IND | 2792 | 1969 |
| Vladimir Kramnik | RUS | 2769 | 1975 |
| Alexander Morozevich | RUS | 2758 | 1977 |
| Peter Leko | HUN | 2751 | 1979 |
| Levon Aronian | ARM | 2750 | 1982 |
| Peter Svidler | RUS | 2735 | 1976 |
| Boris Gelfand | ISR | 2733 | 1968 |
| Alexander Grischuk | RUS | 2726 | 1983 |
It is all very absurd now when everyone is joking about Vishy's age, I am sorry about that Vishy. But back then, even in 2007, some people were saying this is late in Vishy's career, can he still pull it off, will he ever be able to win a World Championship Match and so on. After becoming five-time World Champion this seems hilarious now, but back then we also thought that if not the last chance, this was at least a very important one. We took the tournament very seriously and had a month long training camp before the event, where we prepared various openings and also focused on physical training. We were stationed outside Madrid, where Anand had a house and those were some very nice days. Good memories!
SS: These training camps before such an important event. Are they all about openings?
PHN: Mainly the work revolves around the openings. You have seven opponents that you will play with either colour and you need to have a clear idea of what you are going to do against each of these opponents. I remember that we used to go to the gym every day and also went to the mountains for physical exercise. There were also guests who visited us. Young Magnus Carlsen came over to play some training games. And then me and Magnus went to play the basketball. Vishy is not much of a basketball player! So he didn't join in.
If it was a younger player I would have prepared some exercises for training or something like that. But Vishy was very experienced and hence, my role was mainly to help him in the openings.
SS: When you talk about opening preparation, the lines run into pages and pages, right?
PHN: Sure. And the things have got much worse since then! But even back then some of the preparation was pretty insane. You will see that when we discuss the games. Some variations went as deep as 30 moves and there was this line in the Anti Moscow Gambit which was very popular. We looked through this system with what we thought was very advanced computer technology. By today's standards it would be nothing more than a weak laptop! (smiles). The training camp was fun because we looked at some very aggressive stuff. I don't know how useful it was for his games, but he got into a very positive frame of mind and that helped.
SS: What do you think about Vishy's memory? People say that its phenomenal.
PHN: I generally also think so. You can surely remember some instances where Anand's memory let him down. For example game one in Sofia, in his match against Veselin Topalov. There will surely come a time in your career when you start forgetting stuff, but I think this goes for everyone. With the information explosion that is happening currently it is very difficult to remember everything. So you usually tend to remember some patterns and then reconstruct your analysis. I think this is exactly what happened in game one in Sofia.
Usually in order to be a top player you need to have a good memory. First of all it helps you to remember important opening theory, but on the other hand it also helps you remember positions and store them in your head and reproduce them when required. This is what we call intuition. Kasparov has spoken about this on numerous occasions and Magnus is also someone with a phenomenal memory. These World Champions including Anand are just a cut above the rest.
SS: Seconds hardly get to sleep in such gruelling tournaments. What was your schedule like in Mexico?
PHN: It depends. The game usually began at 2 p.m. in the afternoon and ended in the evening. We would discuss the plans for the next day and he would give me some directions and I would work on them. I would then meet him in the morning and show him my work and he would review it and then suggest a few points. I would once again work on them and meet him before the round and give some final updates. He would then go and play the round.
I would say the main work I would do was between the 10 p.m. in the night and the morning when I would show Vishy my analysis. The night lies in between and if I slept there wouldn't be much of work done! (smiles). When we played against Kramnik I got very little sleep and this completely clouded my judgement. But let's talk about it later when we go over the games.
A technology that we used a lot was computer games - engines playing against each other. So before going to bed and getting a few hours of sleep I would put the engines to play match against each other. The only closed space in the room would be the toilet, so I would put my laptop there. In the morning I would wake up and check the games. I don't know how useful this ritual was, but we did have fun with that material. In general you very much look forward to the night before the free day! Because then you get some serious sleep! I am glad that there is a myth that being a second is very difficult. (laughs). It's very enjoyable also.
SS: You have been doing this for 15 years for now. So it seems you survived this!
PHN: Yes, I am still here. I agree that it is a bit stressful, but I guess being a player is much more stress. When you start taking tension as a second, all you have to do is play a few games and then you realize that being a second is not so bad!
Here is the schedule of the 2007 World Championship tournament, so that you get an idea when the next installment of our article will be published;
Background to the 2007 Mexico tournament
This championship was unusual in that the World Chess Championship was decided by a tournament rather than a match. The FIDE World Chess Championship 2005 was also a double round robin tournament, but at the time the world title was split, with that tournament being for the FIDE world championship, and with Classical World Champion Vladimir Kramnik refusing to take part.
Soon after the 2005 tournament, FIDE announced that the 2007 World Championship would also be a double round robin tournament. In 2006, FIDE announced the World Chess Championship 2006, to reunify the world chess championship. Because the organization of the 2007 tournament was largely in place, conditions of that match included: If Classical champion (Kramnik) defeated FIDE Champion Veselin Topalov,
1. Kramnik would take Topalov's place in the 2007 tournament.
2.The 2007 tournament would be a world championship.
Kramnik won the 2006 match. In June 2007, Kramnik confirmed that he recognized the 2007 tournament as the world championship, while expressing a personal preference for the championship to be decided by a match. FIDE later announced that future world championships (beginning with the World Chess Championship 2008) would be decided by matches between the champion and a challenger. At the same time FIDE announced that, as compensation for being denied entry to the 2007 tournament, Topalov would have special privileges in the World Chess Championship 2010 cycle.
Related articles:
Mexico countdown: preparations and technical meeting
2007 Mexico World Championship starts in two weeks
---