Paracin Open 2021 R4-6: Arjun Erigaisi in the championship fray
Arjun Erigaisi is the only Indian who is closest to the sole leader IM Raven Sturt at the conclusion of Round 6 of Paracin Open 2021. Arjun is a half point behind the leader, along with three other players. Both IM Sankalp Gupta and IM Aditya Mittal are at an unbeaten 4.5/6, Pranav Venkatesh also has the same score. Sankalp is on his way to score a GM-norm if he can maintain his form in the last three rounds. Aditya and Pranav will also be eyeing to score their second GM-norm. Untitled Shantanu Bhambure had a good opportunity against GM Misratdin Iskandarov, but unfortunately for the former, it ended in a draw. The tournament can still be won by anybody. Round 7 starts today at 8 p.m. IST. Photo: Rupali Mullick
Raven Sturt takes sole lead 5.5/6
IM Raven Sturt (USA) has taken a sole lead at the end of the sixth round. Four players are at a half point behind him. They are - IM Muradli Mahammad (AZE), IM Mikhail Bryakin (RUS), GM Arjun Erigaisi and IM Mamikon Gharbiyan (ARM). Arjun faces the top seed of the tournament GM Samvel Ter-Sahakyan (ARM) in the seventh round.
Round 4: Safarli - Sankalp: 0.5-0.5
IM Sankalp Gupta had a well-fought draw against GM Eltaj Safarli (AZE).
Arjun - Agibileg: 1-0
Arjun got a fantastic position in the middlegame against IM Uurtsaikh Agibileg (MGL).
The game continued 27.Nf1. However, there was a better continuation. Find out what it is.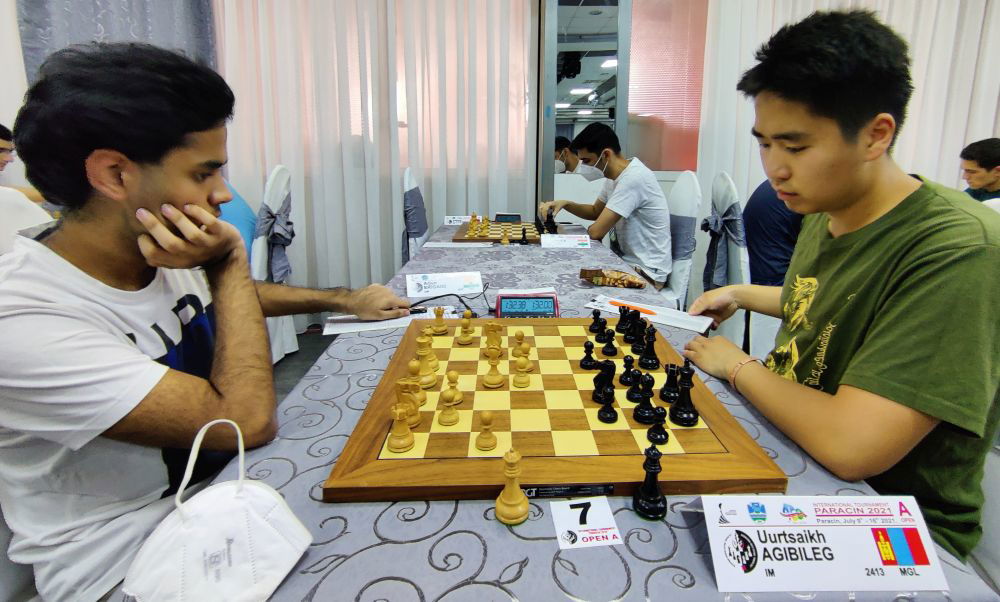 Pikula - Aditya: 0.5-0.5
IM Aditya Mittal was completely winning against GM Dejan Pikula (SRB).
The text 37...Rb2 is not the best move here. There is a better and definitive continuation for Black. Find out what was it.
Black has got one more chance to push for a win. The king at g2 is vulnerable, how can Black capitalize on that fact?
Round 5: Gavrilescu - Arjun: 0-1
Arjun won the rook and opposite color bishop by showcasing the correct technique against GM David Gavrilescu (ROU).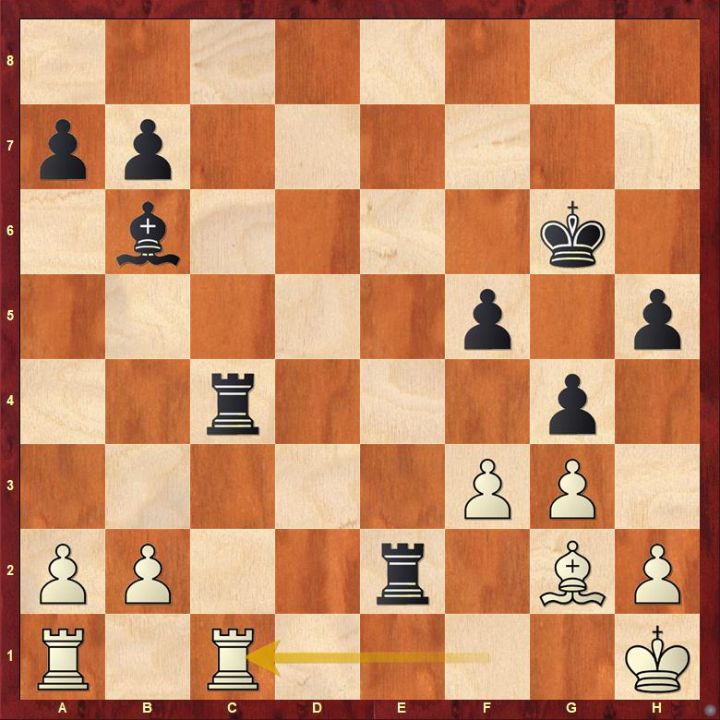 32.Rfc1 was not a good idea as the resultant rook and opposite color bishop ending is winning for Black because after 32...Rxc1 33.Rxc1 Rxb2, Black not only gains the b2-pawn but h2 also falls.
Rithvik - Abhimanyu: 0.5-0.5
GM Abhimanyu Puranik provided strong resistance against IM Rithvik Raja R's attack in the middlegame. However, in the endgame, it was Rithvik who once again got the upper hand and this time there was a clear way to make the most out of it.
Black's king is in a precarious situation. White would like to gain the e6-pawn, but how? 53.Rf8+ Rf7 54.Rxf7+ Kxf7 and the pressure got relieved for Black. Puranik got rewarded with a draw.
Raahil - Harshit: 1-0
IM Harshit Raja cornered his own rook and got it trapped against IM Raahil Mullick.
The rook at a1 is trapped. Find out the best way to capture it. Black should have played 18...Rb6 and things would have been fine.
Nikitenko - Vatsal: 0.5-0.5
FM Vatsal Singhania was completely winning against IM Mihal Nikitenko (BLR).
Find out the correct continuation for Black in the above position. The text 18...Rf6 was also good, but it was not the optimum one and White got a chance to get back in the game and salvage a draw eventually.
Pranav - Savic: 1-0
Pranav beat his first GM of the event in Round 5, against Miodrag R Savic (SRB).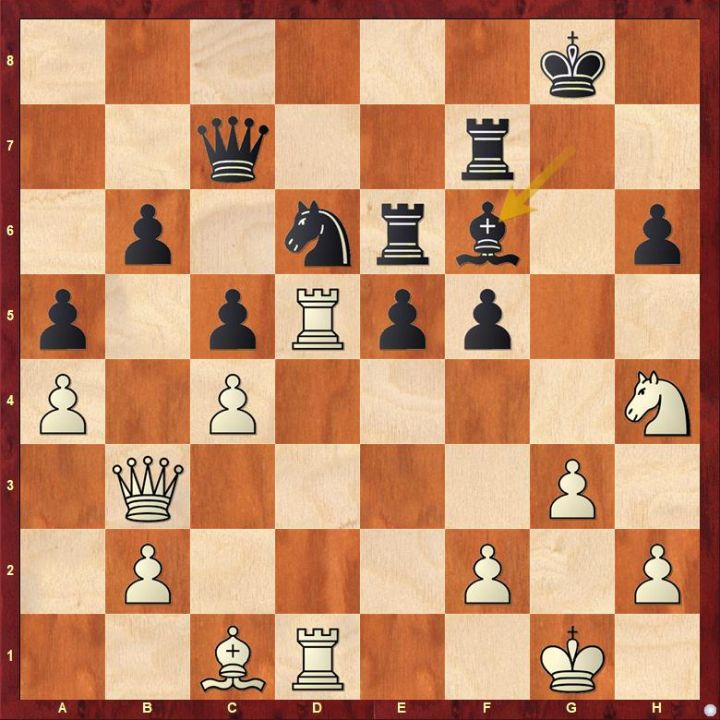 Find out the winning combination for White, which Pranav did in the game.
Round 6: Arjun - Muradli: 0.5-0.5
Arjun Erigaisi had a well-fought draw against IM Mahammad Muradli (AZE). However, it was not without chances.
White could have tried to extract something out of this position. How should have White capitalized here?
Highlights
Here are a couple of interesting finishes from Round 6.
Replay Round 4-6 games
Round 4 results
Round 5 results
Round 6 results
Round 7 pairings
Links
---