Noora - a bestselling book on the thoughts of a blind girl written by a chess player!
Abir Sinha is a International FIDE Rated player with an Elo 1832. Some of his chess achievements include finishing runners-up at the Philadelphia Open (under-2000) and winning the Hawaii Open (under-2000). Recently, he wrote a book on poetry, not related to chess, but about the feelings of a blind girl called Noora. The book smashed all records as it raced up to number 16 position among the four lakh books on Amazon. In this article, Abir tells us not only about the book, but he also shares with us the secret of how chess helped him to write this book.
On 17th of April the following book was released all over the world:
'Noora' is a reflection of the battle you wage against yourself everyday. The poetry book touches the two most essential themes of life-'falling and rising' through the epiphanies of a blind girl. It aims to provide fresh insight to your struggles on the days you want to be left alone. The emotional realm of a man is never unidentified. It's all about his loyalty to a moral ideal. Noora is inside everyone.

Here's an example of a short poem:
In the first week of pre-order itself, it was ranked #16 in the amazon bestsellers list out of over 4 lakh books.
Why are we publishing this on ChessBase India?
That's because the author of this book Abir Sinha is an internationally rated chess player with an Elo of 1832. He was the winner of the Hawaii Chess Championship (below - 2000) and he also finished runner-up at the prestigious Philadephia Open (under-2000). He won the 'young humanitarian' award for his notable initiative 'rise of the girl child' under hon'ble Prime Minister's 'Beti Bachao, Beti Padhao.' In this project he taught blind girls the game of chess.
How chess helped me in attaining my lifelong dream of being an author
-by Abir Sinha
Chess has helped me reach my lifelong dream of being an author. It has shaped my perspective in ways that I could not even dream of. I was a hyper active and truculent child. Chess made the raging sea inside me calmer than ever. I could smell a sense of tranquility in my life only because of the beautiful 64 squares.
Thanks to chess, in my college life, I was appointed as the Sports Secretary of the Delhi University students' union. I just want to urge every toddler to take up chess at some point in their life. Not everyone is destined to become a grandmaster, neither was I. It was all about the million things that chess taught me. It'll turn a boy into a man. It develops a sense of self, which will make you stand out.
How can you get the book?
Noora - A collection of Poems by Abir Sinha is now available on Amazon India for just Rs.250. If you use kindle it is available for Rs.199. You can order it from here:
Reviews:
"Abir's style is simple yet effective. His poetry takes you on a voyage of discovery, a promising beginning." - Rajdeep Sardesai (Consulting Editor of India Today Group)
"Abir has so wonderfully captured the true meaning of struggles and appreciating the light at the end of the tunnel. -Gautam Dutta (CEO ,PVR Cinemas, India)
"Full of unconventional poems – from spellings to themes – and poetic sentences, this book feels more like a gallery of emotions. This is more than a book. This is an experience for the eyes!" - Ayush, Amazon buyer
"This has touched my heart . I wasn't a huge fan of poetry before i read this book." - Ankur, Amazon buyer
"It's beautiful! Touched my heart!" - Bhavya Burnwal, Amazon buyer
'Noora' is so heart-warming; it takes you to her world! You can feel the pain hidden in the exceptional choice of words...and then 'Rising Phoenix' (my favourite part) gives the book its wings! - Aashna Jain, Amazon buyer
Here are a few more poems from the book: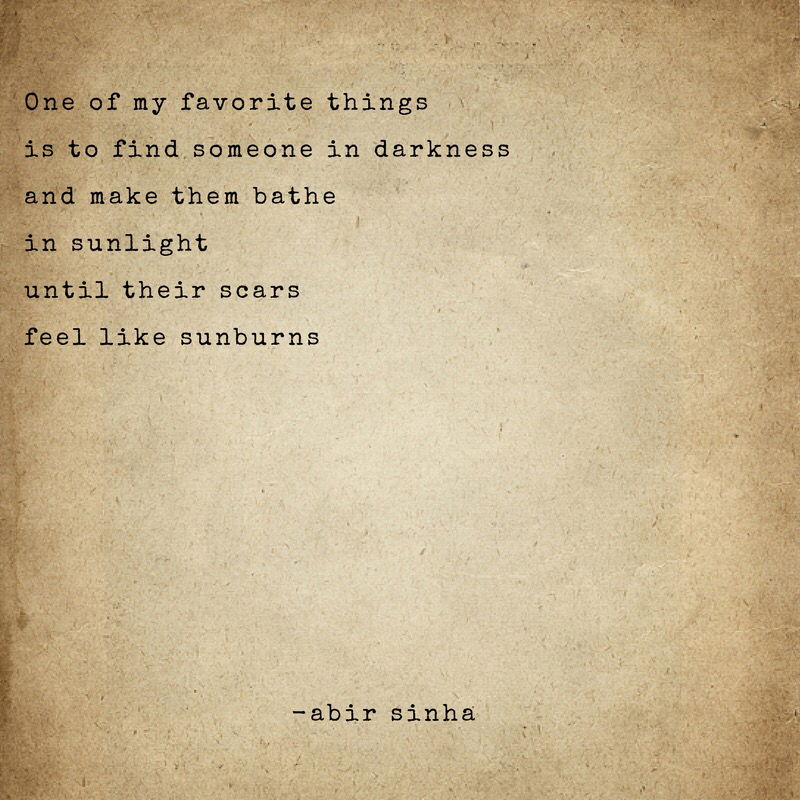 Enjoy Abir's poems by ordering Noora!
---