Nitish Belurkar becomes the latest International Master of India
20-year-old Nitish Belurkar crossed 2400 in the live ratings on 9th November as he drew with GM Andrei Kovalev at First Saturday GM November 2021. The Goan lad scored his maiden IM-norm over five years ago, August 2016 in the Czech Republic. The second one in April 2019 at GM Third Saturday 110 in Novi Sad, Serbia. He reached his then peak rating of 2353 in June 2019. Then he earned his final IM-norm at 26th Abu Dhabi Open 2019. However, he was only missing the 2400 rating requirement until a few days ago. He made two more IM-norms before crossing 2400 in the live ratings to become India's latest International Master. Photo: Niklesh Jain
Five IM-norms in 5.25 years
While it is possible to score three IM-norms in quick succession, sometimes things just do not align the way you want them to be. Like many other players, Nitish scored a multitude of IM-norms, five to be exact, before crossing the 2400 rating barrier in the live ratings to become an International Master.
First IM-norm
Nitish scored his first IM-norm at Olomouc Chess Summer 2016 - B2 - Proclient Cup turnaj IM in Czech Republic. He scored 6.5/9 with a performance of 2486, including wins over WIMs Kristyna Havlikova (CZE), Uuganbayar Lkhamsuren (MGL); drew with IMs Richard Biolek (CZE) and Lukas Klima (CZE). He increased his rating by 51.6 Elo rating points.
Daniel - Nitish, Round 6
Nitish captured a pawn at e4 and things would have been fine if White takes on 15.Bxe7. However, White decided to go 15.fxe4 Bxg5 16.exd5 cxd5 and so on. Black eventually capitalized on having a bishop pair on the board to gain material advantage and win the game.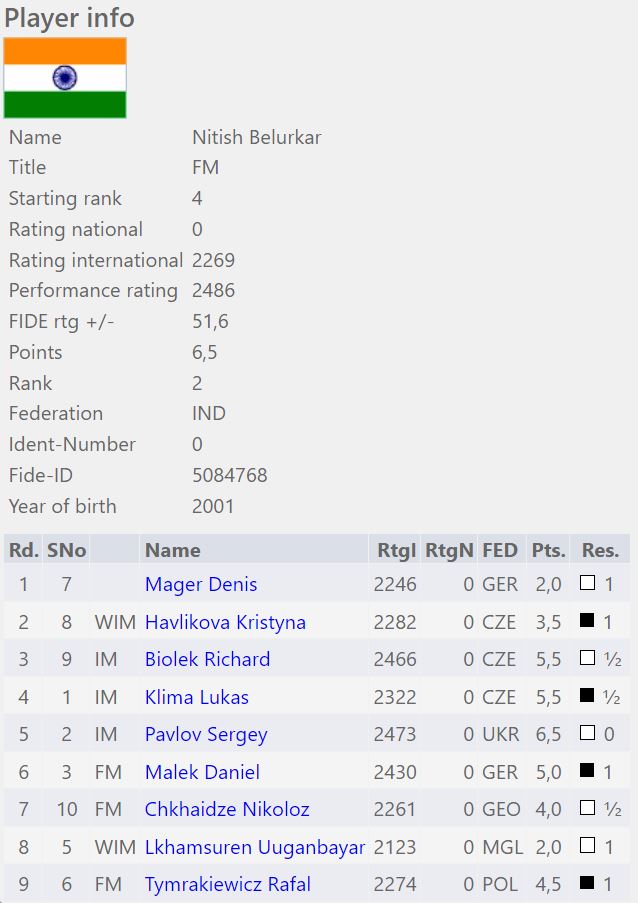 Second IM norm
Nitish scored his second IM-norm almost three years after he made his first one at GM Third Saturday 110 in Novi Sad, Serbia. He scored an unbeaten 6.0/9 and performed at 2541. He defeated GM Branko Damljanovic (SRB), drew with GMs Sinisa Drazic (SRB), Slavisa Brenjo (SRB); IMs David Gorodetzky (SRB) and Ravi Teja S.
Nitish - Branko, Round 5
White launched a devastating attack 19.f5, against which Black does not have a good way to defend.
Third IM-norm
Nitish scored his final IM-norm within four months after securing his second one. He started 26th Abu Dhabi Open with a draw against GM Praggnanandhaa. He defeated GM Monika Socko (POL), drew with GM Petr Kiriakov (RUS), IMs Javad Alavi Sayed (IRI), Oliver Dimakiling (PHI) and Raunak Sadhwani.
Nitish - Monica, Round 6
Black had to play 33...gxh5 to continue the fight, instead 33...Qb3 completely shifts the balance in White's favor after 34.hxg6. White won the game in three more moves.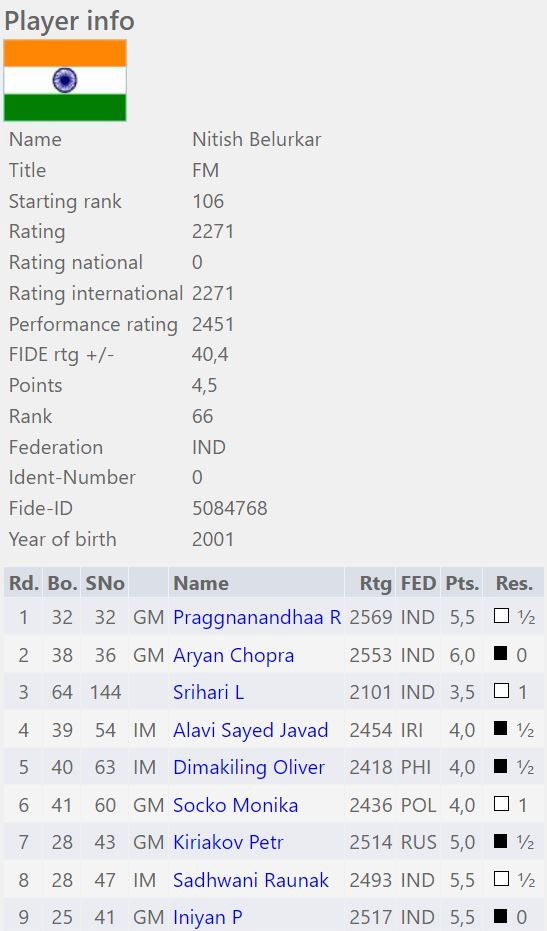 Fourth, fifth IM-norm and live rating 2400+
Nitish scored his fourth IM-norm at Aeroflot Open 2020 B before the pandemic delayed his title hopes. Almost 20 months, he got back to playing Classical chess. He gained 11.2 Elo rating points in the first event and scored his fifth IM-norm at the next one in Vezerkepzo GM Oct-Nov, taking his live rating to 2387.4 He crossed 2400 in the live ratings as he drew with GM Andrei Kovalev (BLR) in the fourth round of First Saturday GM November 2021. The draw brought his live rating to 2400.4
Replay Nitish's games
---