Nihal Sarin scores his second GM norm with two rounds to spare!
The seventh round of the Reykjavik Open brought some great news for Indian Chess fans. IM Nihal Sarin, after his draw against GM Mustafa Yilmaz, has recorded his second Grandmaster norm with two rounds to spare! As of round 7, Nihal's rating performance stands at an incredible 2767. In his run so far, Nihal has not lost a single game -- not even against bigwigs like Richard Rapport and Gata Kamsky! This is a huge achievement for the 13-year-old and given that he has already crossed 2500 Elo, all that remains between him and the GM title is just one more Grandmaster norm.
Nihal Sarin has been one of the biggest names in Indian Chess since quite a while now. After all, at only 13 years of age, the boy has already earned the title of International Master and is the number one player in the world in the under 14 age group.
Currently, the little genius is in the Icelandic capital of Reykjavik to play the GAMMA Reykjavik Open 2018. Seven rounds into the event, the Indian wunderkind has just slipped down to the joint second spot on the leaderboard after his draw against Turkish GM Mustafa Yilmaz. But despite losing his top spot (which he can still regain), the 13-year-old from Thissur has a lot to be cheerful about. With this draw, he has completed all requirements for his second Grandmaster norm. And mind you, there are still two more rounds to go!
A norm refers to a high-class performance in a chess tournament. In order to qualify for the International Master and Grandmaster titles conferred by FIDE (Federation Internationale des Echecs, the world governing body of chess), one must complete three of these norms and reach the required rating mark i.e. 2400 for International Master and 2500 for Grandmaster.
Nihal has performed stupendously at the Reykjavik Open right from the very first round and his performance rating after seven rounds is an incredible 2767! So far, he has scored an unbeaten 5.5/7, winning four and drawing three of his games. This includes wins against some strong GMs like Ahmed Adly and Elshan Moradiabadi. More importantly, he was never in trouble in any of his games. Even while playing against world-class GMs, Nihal had no problems holding ground.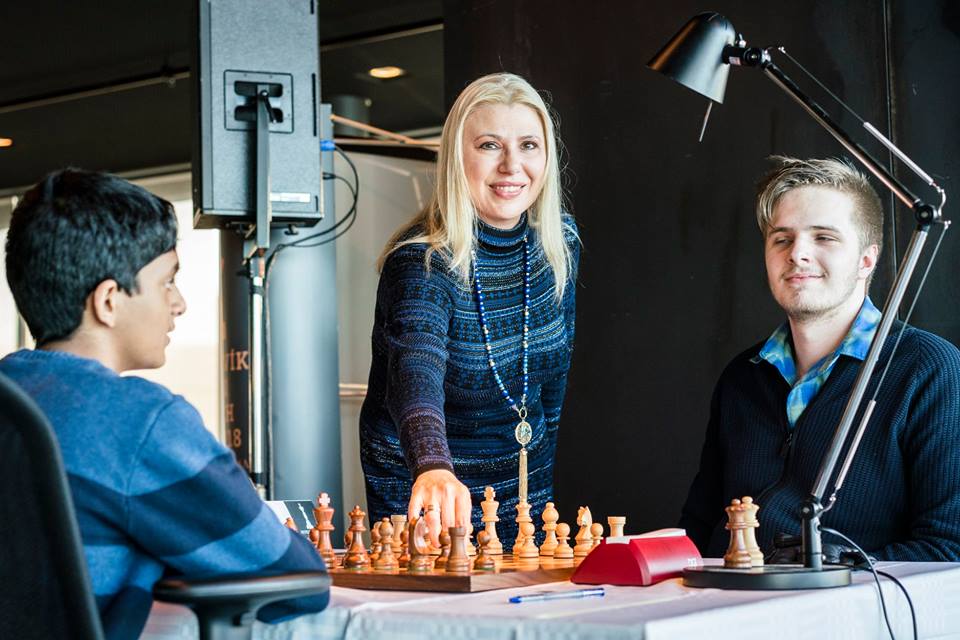 In round three, Nihal was playing against Richard Rapport. Besides being the top seed at the Reykjavik Open, Rapport is also one of the fiercest attackers over the chess board. Given half-a-chance, he could have ripped Nihal's position apart with one of the monstrous attacks he is so famous for. Not to mention, he is almost 200 points higher rated. These odds, however, did not seem to bother Nihal at all. In fact, he even allowed his kingside pawn formation be shattered voluntarily. Against someone like Rapport, this could have had deadly consequences. But Nihal knew exactly what he was doing and made the draw look absolutely effortless.
Again, in his sixth round game against Gata Kamsky, who has once been the fourth strongest player in the world, it was, in fact, Nihal who was pushing hard to find a way to break into his opponent's position. With the white pieces in a King's Indian Defence, Nihal succeeded in getting a nice space advantage out of the opening. But since Kamsky had closed the position from all sides, there was no point to penetrate from and, in the end, Nihal had to settle for a draw.
What both of these games – of course, as well as the rest of Nihal's games – show is that no matter who his opponent is, Nihal plays in a fearless, zealous manner and makes a fair attempt to win every time.
This is Nihal's second grandmaster norm. The first one came at the Fagernes GM International Open held from April 9-16, 2017 in Norway. There Nihal had finished fourth in the final standings with an undefeated score of 6.0/9.
Since Nihal has already crossed the required rating mark of 2500 Elo, what remains between him and the Grandmaster title is one more norm. Given his exceptional talent and his ongoing form, it is safe to predict that this 13-year-old chess genius is sure to clinch the Grandmaster title in the not so distant future.
Nihal's performance so far
About the Author
Aditya Pai is an ardent chess fan, avid reader, and a film lover. He holds a Master's in English Literature and used to work as an advertising copywriter before joining the ChessBase India team.
Previous reports on the Reykjavik Open
Reykjavik Open Rd 1: Adhiban suffers an early upset
Reykjavik Open 02:Top seeds have a tough time
Reykjavik Open 04: Nihal Sarin beats Ahmed Adly; Yilmaz takes sole lead
Reykjavik Open 05: Nihal joins Yilmaz in the lead
Reykjavik Open 06: Adhiban joins the leaders; Nihal holds Kamsky
Coverage on Firstpost
Reykjavik Open Chess: India's Adhiban Baskaran held to draw by compatriot Soham Das in Round 1
Reykjavik Open Chess: Vaibhav Suri takes joint lead; Nihal Sarin, R Praggnanandhaa share 2nd spot with 20 others
Reykjavik Open 2018: Nihal Sarin shocks Ahmed Adly, R Praggnanandhaa suffers bitter defeat in Round 4
Reykjavik Open 2018: 13-year-old Nihal Sarin continues purple patch in Round 5, B Adhiban also makes good progress
Reykjavik Open 2018: Nihal Sarin holds five-time US champion Gata Kamsky, B Adhiban joins leaders after Round 6

---